Innovation in the hunting industry is rising, and some companies just get it. Here are the companies from the 2017 ATA Show that got it right.
Taking the time to perfect a sport like hunting can be extremely rewarding. Often times we use stories passed down from generations to get us closer to the game. Success is measured in many different forms and is defined by none other than the hunter him or herself.
Today, knowledge and skill can still trump technology, however working smarter not harder can culminate success. As we made our way out to the 2017 ATA Show in Indianapolis we visited several booths and companies. What we found, however, is a line of products that could help even the least knowledgeable and skillful hunter, succeed.
Here are our top 14 2017 ATA Show innovative products that are or will be available to you in 2017.
1. Scent Crusher Tote
Last year we were introduced to the Scent Crusher line, and it's already responsible for the successful hunts of many hunters. Harvesting trophy whitetails can sometimes only be achieved if you can beat their nose.
For that reason, we have made Scent Crusher our number one innovative product of the 2017 ATA Show. Specifically, the Scent Crusher Roller Bag has done well in our personal review, with its large capacity for hunters who travel. This year, Scent Crusher introduced to us their new Scent Crusher Tote and you can now say, "What's left? They have thought of it all."
The ability to kill the bacteria that causes odor, not mask it, gets the hunter to the root of the problem. Problem solved? We like to think so.
With the Scent Crusher Tote, you are now able to have a tote that is mobile on wheels, but also has the ability to be put just about anywhere. Concrete floors, dirt, mud, the back of pickup trucks, the list goes on. There isn't anywhere this tote can't thrive.
Some things, like camera equipment, treestand straps, and other supplies, cannot be washed. The Scent Crusher Tote can hold much of your equipment and kill the odors that formulate within, leaving you scent-free in any condition. The tote stands out this year as not only a scent eliminating phenomenon, but a genius idea that reaches the majority of hunters who are already using totes.
2. Advanced Take Down Tree Stand I2
When you think of hanging treestands, there are times it can be miserable. Aside from getting poison ivy, cutting shooting lanes, dealing with mosquitos and the heat of the late summer, let's face it: hanging treestands just isn't fun. Take all of that and add the heavy, metal treestand that you have to climb with and somehow manage to attach to the tree without falling or dropping the stand, it's miserable. That last part, however, is all about to change to hunters and brings Advanced Take Down Treestands to number two on our list.
The Advanced Take Down Treestand I2 series is a three-part treestand design that makes hanging your treestand easy, efficient, and quick. The treestand design has stems with an integrated ratchet system that allows the user to climb and hang only the stem without the cumbersome seat and platform to get in the way. Each stem has two patented integrated ratchet systems that make the stand extremely secure to the stand on a 360 degree tightening system. You are making the treestand and the tree one, not just attaching the stem around the tree.
With ease and comfort, the stem has a platform and seat receiver that will allow you to snap both into place quickly and securely. This year, the Advanced Take Down Treestand made the safest treestand on the market one of the most comfortable by adding a new folding mesh seat.
I was able to sit in this and without a doubt this is an "all day sit" type of seat. It's extremely comfortable. Aside from being lightweight, the three-piece design will make any hunter happy.
Stems are available for individual purchase, so if you get one treestand, you have the option to buy and hang several stems on your property and have (in theory) several different treestand locations. After hanging each stem, you can then choose which location you want to hunt, climb, and attach the platform and seat, making mobile hunting on large plots of land extremely easy.
3. Monster Meal Complete Nutrition System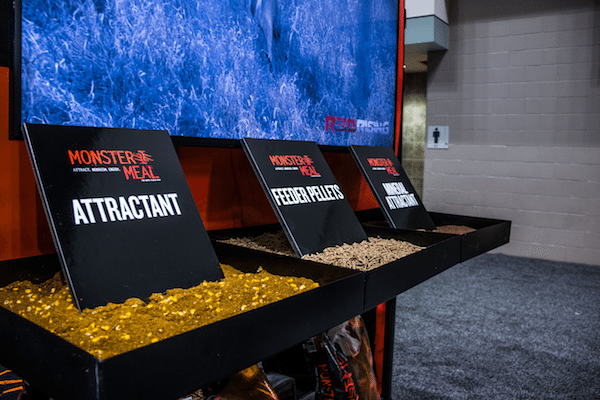 Let's face it, you probably think a salt block is a salt block is a salt block. If it has molasses in it, it will attract deer. If it has corn in it, deer will eat it.
The real truth is, there is much more to growing deer than just feeding and attracting deer.
At the 2017 ATA Show, we were able to learn just why that is and how that is when we made our way to the Monster Meal booth to learn all about deer nutrition. Monster Meal's complete nutrition system wasn't only designed by a successful hunter, but also a legitimate doctor.
Monster Meal is formulated by Dr. Paul Davis, who holds a Ph.D. in ruminant animal nutrition. That's better than backing a new car purchase with a lifetime warranty.
Unlike most competitors, Monster Meal has control of their entire system as they grow and store their own product. Palatability, nutrition and not just knowing, but understanding the likes and dislikes of deer, puts Monster Meal at number three of our list.
4. Wind Pro Scrape Vine
This is truly a product that makes you go, "Why didn't I think of that?"
When I bumped into these guys at the ATA Show, I was first intrigued by their golf ball-looking mock scrape kit. I am very big on mock scrapes and have had the best luck in obtaining both pre- and post-season analysis on mock scrapes.
I talked with David Healy who described his 100% synthetic attractant system, making it legal in all states, and how some people are skeptical because of it being synthetic. Results speak louder than words, and he showed me videos, pictures, and I got to listen to success story after success story from real hunters, not salesmen.
As I moved around in the booth, he introduced me to his new for 2017 Wind Pro Scrape Vine. Anyone who is familiar with mock scrapes knows and understands that deer love vertical hanging branches. Their glands on their head, preorbital glands, and overall ability to have a visible marking, (covered with scent, of course) drives deer to the location.
Most hunters know these as licking branches, but Wind Pro now calls them Scrape Vines. At least that is what they have designed for the market. Healy described to me how often times you want to create a mock scrape but the ideal set up isn't obtainable. By that, it's comparable to having to go to the bathroom and not having a seat to sit on or toilet paper to complete the job, it's often an incomplete set up.
By adding the scrape vine, deer are comfortable and attracted to the location. Success and proven results make this our number four.
5. Xpedition Xplorer SS

If compact power, accuracy and reach is what you seek, this may be your chance to get your hands on your new bow. The buzz at the ATA Show was the Xpedition line and hunters of all backgrounds were shooting their line.
Quality by design, quantity by performance puts the Xpedition Xplorer SS at number five. We were able to get our hands on one and shoot this light and compact bow that surpasses most speed bows. With an extremely fast 355 fps IBO, completely smooth draw cycle, dead in the hand recoil with a solid back wall, we knew we had shot a bow that was going to make competitors turn heads.
To top it off, we found the design is backed by Aerospace engineering. When I first heard this, I thought NASA and figured, what does that have to do with archery?
What I didn't realize, is that Aerospace engineering deals 100% with the characteristics surrounding aerodynamics. Lift, drag, control surfaces, sound, and air resistance is tested, and all completed in engineering platforms controlled by science. What does that mean for bowhunters?
That means extensive research, design, development, construction, testing, and technology went in to every bow. It doesn't just shoot arrows, it launches them with style and performance.
6. Trail Camera Guardian Maxx by Guardian Hunting
As I walked the floor of the ATA Show I found several products that caught my eye. I would thank them and continue walking, as I find some so-called "innovation" to be little more than gimmick. As I stopped at the Guardian Hunting booth, I can't lie, my first thought was gimmick. I of course didn't say that to the man's face, nor would I have said it behind his back, but I figured I could spend a minute confirming my assumption.
He showed me the straps that were on a few trees, securing trail cameras on the display. After less than a minute of talking with him, I learned he was a man that not only believed truly in his product, but was able to sell me on an amazing idea that frankly should have been invented and marketed by now.
What he was selling is a theft deterrent trail camera system that is not only cheap, but super effective. Let's face it, trail cameras are not getting any cheaper and are more of an investment today than anything. Although we like to think the hunting community is one of the most honest, we also have those who go against the grain. Trail cameras disappear year after year, it doesn't really matter where you hunt.
The design of the Guardian Maxx provides a larger strap than the original Cam Guardian, one made out of tensioned steel. This means a pair of shears can't cut through it, and unless someone is walking around with a hatchet or a star key, it's next to impossible to remove.
This strap creates a zero void area so nothing can get in between the strap and the tree. Odds are no one with the proper tools to break through something like this will happen upon your cams.
Also, there was one other unique Guardian Hunting feature I wanted to mention. As he handed me his business card, I noticed him put it in a deer tag case that will completely waterproof your tag while attaching it to a deer. How was I not gonna use that?! Two really cool products from Guardian Hunting make them our number six.
7. Nikon ARROW ID 7000 VR
"The number one problem with rangefinders across the industry is the ability for us to hold it steady enough," Jake Meyer told us at the Nikon booth at ATA. He described that as the drive behind the new Vibration Reduction or "VR" rangefinder series from Nikon.
Like all Nikon ARROW ID Rangefinders they come with Tru-Target technology, which allows you to use the rangefinder in two modes: First and Distant Target Priority Modes. This enables the rangefinder to range a target in the foreground, or even zero in on a target that may be behind some brush or in the background of a ranging scenario. Nikon also added their ID (Incline/Decline) Technology to this rangefinder, giving you precise accuracy from a horizontal platform for when you're above or below your target.
But let's back it up, we have this specific rangefinder on the list for a reason, those two letters "V" and "R." The Vibration Reduction and the first of it's kind to the market. I personally own the Nikon 7i VR rangefinder which Jake described to me as extremely similar to the ARROW ID 7000 VR.
While I first began to use this rangefinder, the initial thing I noticed was its extremely accurate and speedy measurements. I would eventually find out that this is due to what Nikon is calling a Hyper Read. As far as the Vibration Reduction idea goes, I first gave a quick eye roll and thought I might have another gimmick on my hands.
That was until I really put it to use and saw the results for myself. The commercials do this no justice, because in the back of your mind you think, "That can't happen." Truth is, it can, and it does.
Wind, cold, buck fever, and even just a good distance can lead to some slight shaking while ranging in the field. The new Nikon ARROW ID 7000 VR really does eliminate that movement by 80%, and gives you not just a still image, but the confidence that you are ranging the correct target and have the correct distance.
8. Tactacam 4.0
Today, everyone is filming their hunts, yet most are not doing it with much quality. That's where Tactacam made its mark this year. They decided they were not just going to be a point of view camera but rather THE camera.
With it's WiFi connectivity allowing you to control the device with an app on your smart phone, you can reach into even greater settings than before. Although the app is nice, you can also use this camera without the smart phone, making it a little more versatile.
The camera itself can be mounted on your bow, gun, or body. You can also order additional mounts, but here is where the camera sticks out: It has a 5x zoom and an automated focus that literally sees through branches in the foreground.
Some hunting videographers will record the target, but it looks to be miles away. Others can't help but get branches or trees in front of the game animal in focus. The Tactacam 4.0 has eliminated all the guess work, and allows you to record in 2.7k, 1080 and 720. It also allows from 60 up to 120 frames per second if you want to use the slo-mo setting.
Take this with you the next time you go hunting and live the hunt forever up close, in focus, and in full HD.
9. Sitka Gear
When you can take a piece of clothing and make it gear, you have achieved something in my opinion. I am someone who spends roughly 400 hours each year deer hunting along in the Northeast. I know a lot about camo, and it's clear Sitka does too.
Last year, Sitka introduced their Elevated II pattern in their line, and it was the most comfortable gear I've ever worn. Not only were longer sits in the treestand obtainable, but the feeling of being invisible to deer is unexplainable.
No pattern specifically takes the crown here, as they introduced their new for 2017 Subalpine pattern, but the whole Sitka Gear selection as a whole deserves the ninth spot on our list.
Sitka also saw a need to reach the ever-growing female hunter demo, and designed an all new female line. It's designed for women, by women, and even has some of the things that the male line does not have. Overall, if you are looking for gear that works for you and you have it in your budget, Sitka Gear is the way to go.
10. Field Torq Field Dressing Super Tool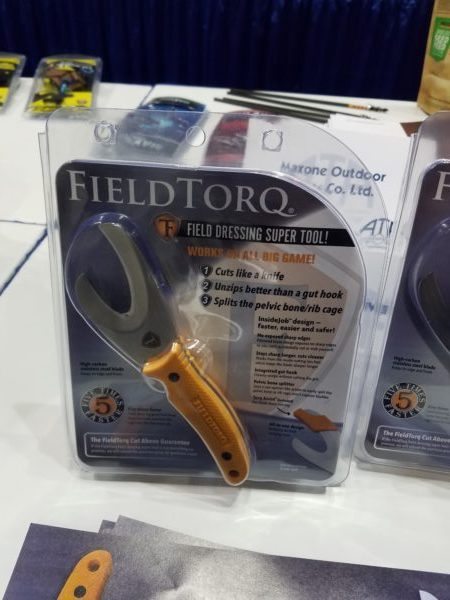 Unfortunately I was never able to speak with anyone from Field Torq, but was able to pass this item at the 2017 ATA Show. The can opener-like design caught my eye and I had to read up. The Field Torq Field Dressing Super Tool is a three-in-one tool that can cut like a knife, open like a gut hook, and even cut through bones.
According to their website, they claim to be five times faster than any other gutting system on the market. I like to think I am pretty quick at gutting deer, but that comes with experience and a desire to be quick.
If a tool can naturally make the entire process much easier, cleaner, and doesn't dull my knife or break the bank, I'm all-in. For that, we give the Field Torq Field Dressing Super Tool a spot at number ten on our list of innovative items at the 2017 ATA Show.
11. Dead Ringer "The Nasty" Broadhead Series
Mechanical or fixed? That's the question that everyone endures when they decide on a broadhead.
Hybrid is a new buzzword in the market today; many companies are saying their broadheads are both fixed and mechanical, and therefore a hybrid. With that comes multiple benefits, but with the Dead Ringer Broadhead's new "Nasty" line, there's also some nasty damage and impressive success rates when it comes to animal kill shots.
Most hunters look for a few things in a broadhead. They desire accuracy, dependability, cutting force, and cutting diameter. Is it possible that can all be done in one broadhead? The answer is yes, and it has been completed in Dead Ringer's Nasty Series.
If you are on the fence about front-opening broadheads or fixed versus mechanical, that's okay, you're allowed to take time to think through it. I'll at least try to back the theories with proven results, and not only tout innovation, but explain some ingenius design.
The Nasty broadhead series from Dead Ringer is extremely accurate. They fly exactly like a field point, even with my everyday hunting bow set up. I am far from an expert, but am someone who spends his hard-earned money on hunting, so I want to ensure something is going to work for me when I'm in the field.
What the results showed me after using them in a hunt was amazing. I have seen it happen first hand shooting my buck in Maryland this year.
The initial hole was the size of your normal fixed blade broadhead, measuring at one inch. I've killed several deer with a fixed blade broadhead, and Muzzys are my favorite, but I wanted to see if these could do more.
The Dead Ringer broadhead, extremely accurate in flight, hit my mark and penetrated like a fixed blade. It opened inside, destroying both lungs while also expanding wide enough to clip a bit of the heart. The exit wound was a giant hole that poured out blood, leading me to a deer that ran less than 80 yards.
For the confidence I've gained in this broadhead and the new series, I had to make sure they made the list this year.
12. Hercules Fiberglass Blinds
If you are like me, you usually look at these big box blinds and shrug your shoulders. You are a public land, boots on the ground kind of hunter. How are you gonna use that?
However, the other side of me is the one this product truly speaks to. That side is a deer and farm manager with focus on attainability and obtainability in hunting comfort. The name, Hercules Fiberglass Blinds, already tells you two things about the product they design: They're lightweight and strong.
Any hunter who hunts from a box blind understands that having something lightweight is important, especially if you cannot afford to haul a heavier blind to your location. The 4x6 fiberglass blind from Hercules weighs only 150 pounds. Let that sink in for a minute. Not only will you have an affordable, extremely durable blind, but it can be moved by two people with ease.
The blinds are unique in that they are "unbuilt." There are no holes from bolts or rivets and no seams; it is entirely a one-piece construction, leading you to a lifetime of reliability from a product that is made in America.
The pricing of the blinds start at $1,675, so it may not be for everyone. Compared to competitors, however, this falls way short in price and for that it has made the list.
13. Thermacell Repellent Line
As we walked the floor of the ATA Show we stopped in to see our friends at the Thermacell Repellent booth. Adam Goess gave us an inside look at what is to come for 2017, and described in detail the new innovation that surfaced. Two products stood out to us that put Thermacell on the list. The newly designed, handheld MR450, and the backpacker mosquito repellent.
The new MR450 has a new look and feel to it, but also adds a more user friendly (and specifically hunter friendly) design. It boasts a 50% quieter ignition system and a light indicator that lets you know when the unit is ready and working. The quiet ignition system leaves less of a chance of getting caught by sound while hunting, and like Adam says, stops the user from having to put the unit under the armpit to ignite the system.
For backpackers, we know that space and weight is everything. With that, Thermacell has designed a product that can work directly off your ISO Butane unit in which most backpackers are already carrying. The coverage area is over 225 square feet and packs without notice in your system.
Covering outdoorsman, hunters, campers, and fishermen with these two units, Thermacell has made the list of our top innovative products at the 2017 ATA Show.
14. Precision Peeps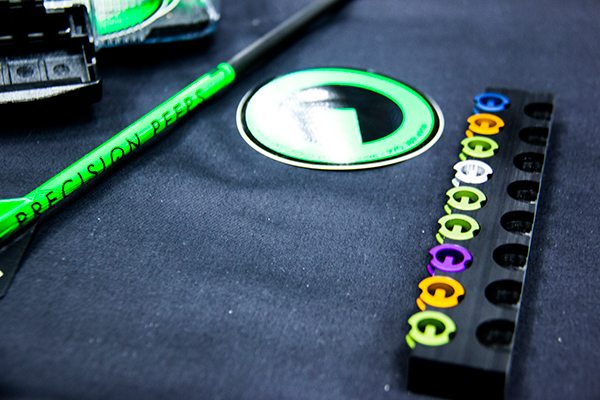 There are many things that can offset you when you are shooting, but you don't have to let consistency be one of them. I first heard of Precision Peeps last year when we did a review on them. They just flat out work.
The design is simple and helps archers be much more consistent and accurate in the field and while target shooting. "Military personnel just get it, which is why I never have to give a sales pitch to them. They understand the idea of it and theoretically, you use the rear post inside the Precision Peep and place your front sight on top of it like a golf ball on a tee, and you have yourself a consistent, accurate shot. There's now an additional reference point," Bas Wolf of Precision Peeps told us.
This year they have made their Precision Peep available in several different colors to allow you to customize your peep to your liking and eventually shoot more accurately. For their simple design with extreme results, they finalize our list of 2017 ATA Show innovative products.
There is no doubt hunters across the country will own at least one of these items as the 2017 season unfolds. Each product or company represents forward thinking in the archery and hunting industry.
The ATA Show for 2017 was extremely successful, and we were able to meet with a great deal of companies and products. Of all of those we were able to meet with, these take home the crown for being the most innovative products for 2017.
Like what you see here? You can read more articles by Dustin Prievo here. Follow him and his hunting team, Top Pin Outdoors, on Twitter, Facebook and Instagram.
NEXT: CHECK OUT THE CIRRUS VAPE WINDICATOR AT THE 2017 ATA SHOW