The 2017 ATA Show had one company that stood out when it came to treestand innovation: Advanced Takedown Treestands.
We are always looking for lighter, more affordable, and easy to use treestands. As hunters, when it comes to treestands, we want what makes the least amount of noise, is comfortable, and doesn't break our backs (or pockets).
As I walked the floor of the 2017 ATA Show, I was attracted to a design from Advanced Takedown Treestands. I was familiar with their design but never put my hands on one. I also wanted to see what they had out for 2017, and see if they are sticking to their name and truly releasing "advanced" stuff.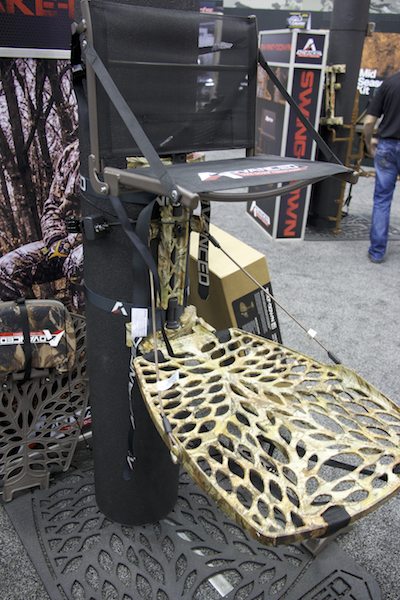 From this angle, it looks similar to that of any other treestand, minus the disguised leaf design platform. As you look closer, however, you will notice that it is a three-part treestand.
The stem, the seat, and the platform make up the three pieces. As you climb to hang your stand, you only need to bring the stem up with you. Once up in the tree, it's simple to attach the stem to the tree. Once the stem is attached, you can then attach the seat and the platform, and all in less time than it would take for you to normally hang a stand, with less risk and less sweat.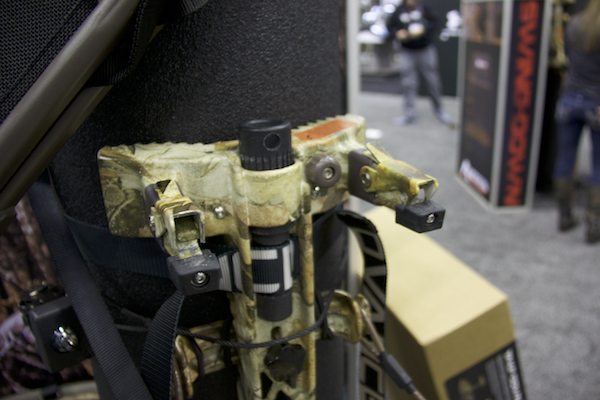 Advanced Takedown Treestands has two models: the i2 and the s2. The difference between the both is the i2 has an integrated ratchet system with two built-in ratchet rods that help crank the stem tight to the tree. The s2 is just a standard stem that uses a traditional style ratcheting system.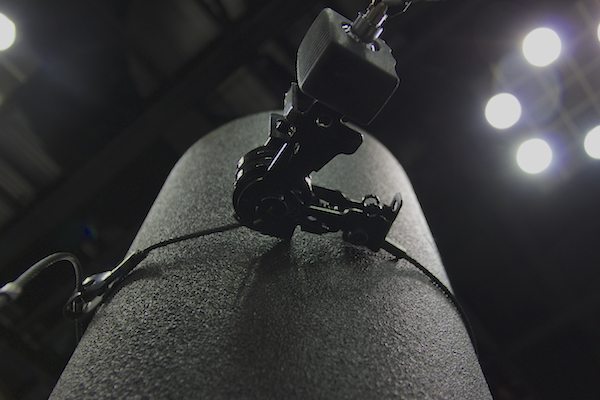 Speaking of ratcheting systems, while I was there I noticed Advanced Takedown Treestands had also designed a stainless steel cable ratchet system. It comes with a lock and key and can ratchet securely to anything.
They explained to me that this can be used for just about anything, however they are finding great use in ratcheting treestands for extra support and security. They also found that this works great at securing trail cameras and treestand climbing sticks. The stainless steel cable is strong and will help protect whatever investment you have.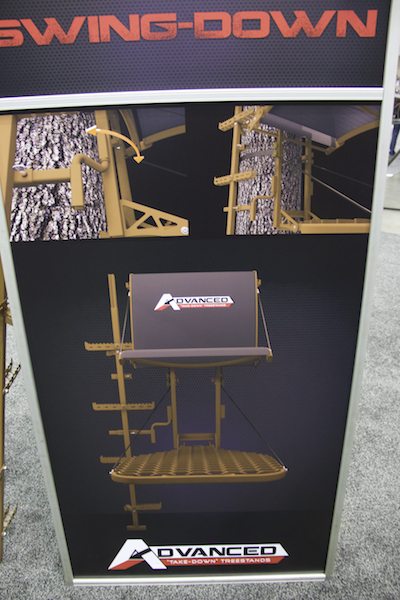 Before I left the Advanced Takedown Treestand booth, I had to ask what was new and exciting for 2017. They brought my attention to their new Swing-Down treestand. This product will be available in the Summer of 2017 but shares such a simple concept for hunters looking for ease of hanging their treestands.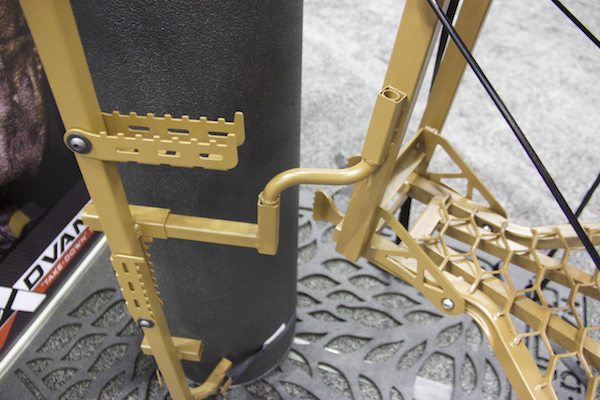 It features a hang on treestand that has a swing-down hook design, which sets into a receiver built in to the climbing sticks. As you secure your climbing sticks and bring your treestand up, you can throw that hook coming off the treestand into the receiver, leaving you hands free.
This makes hanging treestands safe and simple. It comes with a 300-pound load capacity and all of the climbing sticks are flip up traction steps. The treestand weighs 19 pounds and is made entirely of steel. Both the climbing stick and stand work together as a complimentary swing-down system to take the hassle out of hanging your stand.
Without a doubt, I am looking to get my hands on one of these this year, especially as I spend a good deal of time moving stands and most of the time using a climbing style. For those who are big safety advocates, this stand will go a long way. I certainly enjoy the ease of use, and think that's what's going to sell me on these Advanced Takedown Treestands.
Like what you see here? You can read more articles by Dustin Prievo here. Follow him and his hunting team, Top Pin Outdoors, on Twitter, Facebook and Instagram.
NEXT: YOU KNOW YOU'RE A NEW YORK OUTDOORSMAN WHEN