A portable toilet for camping isn't just for "glampers" anymore.
Human-kind is always trying to invent ways to make things easier for ourselves. Simplifying and solving problems is in our nature, especially when it comes to our comfort. And c'mon, relieving ourselves in the great outdoors is no exception! How to find and use a portable toilet for camping should be something we all know.
Even if you don't glamp, sometimes it is just nice to not completely "rough it" either. Having a hassle-free portable toilet on your camping trip can, for some, be the thing that makes or breaks a good time.
I've put together my top two choices for the best portable camping toilets. In addition, I've given instructions for how to build two different simple styles of portable camping toilets with items you may already have at home.
Best Portable Toilets
The easiest route to go with a portable camping toilet is to simply buy one. There are numerous styles on the market that range from composting toilets and bucket toilets to fold-up styles.
Make sure to consider the type of camping you will be doing. Will you be cruising the RV or driving fifteen miles down a winding logging road to a more primitive campsite? You don't want to lug any of these portable toilets on a backcountry trip, but for what it's worth, the lighter models could be carried a fair distance.
For example, on some extended hunting trips, I haul camping gear in a mile or so on my game cart to have a more comfortable base camp. I'll throw gear inside a large cooler, including a Reliance portable toilet, and wheel it in.
After years of hugging slightly leaning trees and using the typical old-school methods, sometimes a person just doesn't want the additional work-out. Heck, when I'm hunting, it is already "leg day" all week!
Knowing that, here are my top two picks for the best portable toilets.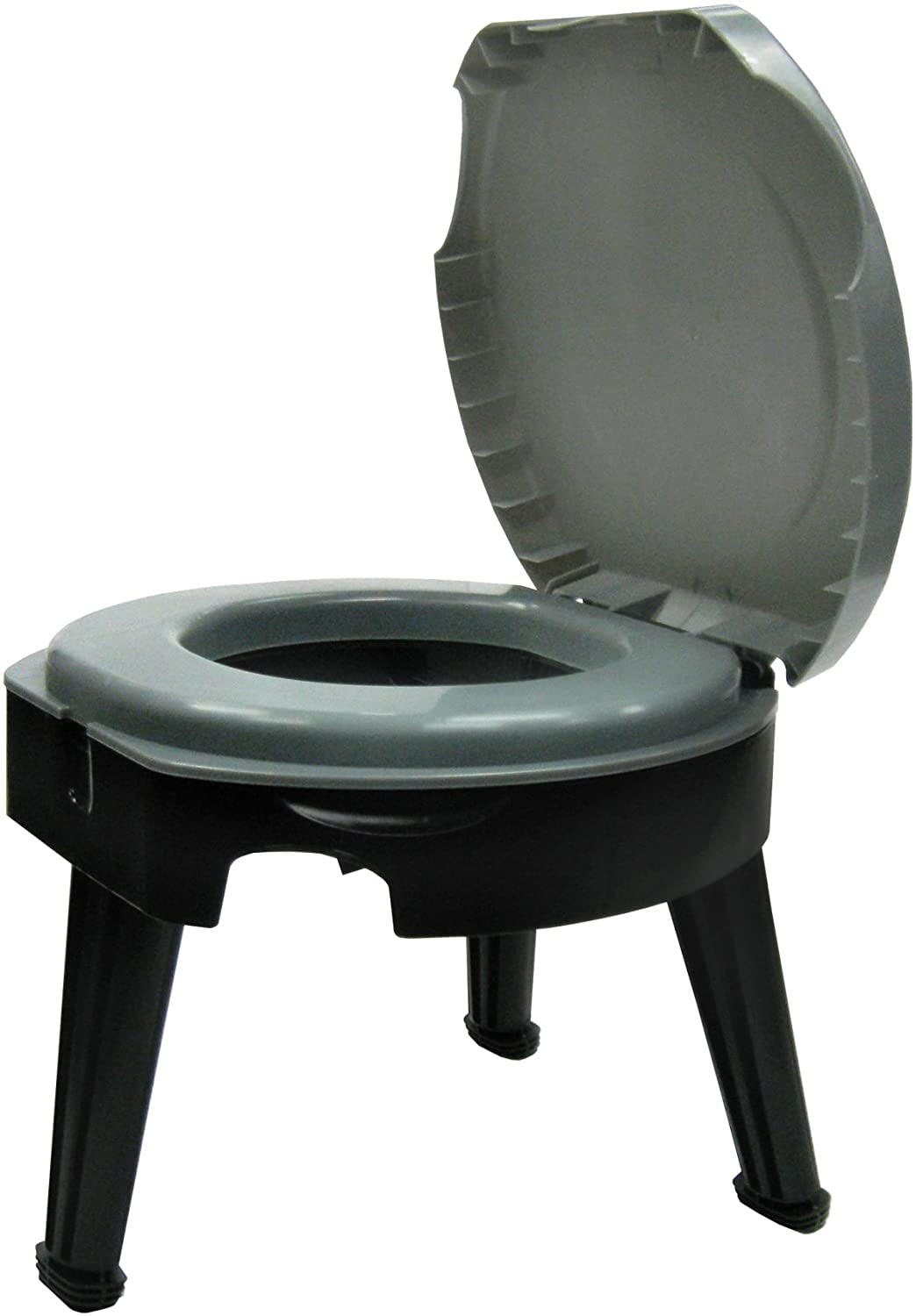 The Reliance Fold-To-Go is my go-to folding toilet. I bought one a few years ago and I love it. It is simple, compact, light, and has a couple of different ways to use it. It is also inexpensive.
You can either use the waste bags that come with it or you can dig a cat-hole and position the Reliance over it. You never have to worry about leakage.
One of the cons is that the seat itself is a little small. Anatomically, this can be a little challenging for some.
Another issue is the need to be gentle with the fold-out legs. They are sturdy, but they have a locking mechanism that can be tricky at first. If you put a little too much "oomph" into it during set-up or when folding it back up, you could break the leg locks. If that happens, they will flop around and it won't be very steady when you sit on it.
The Reliance Fold-To-Go is great for campers looking for a simple portable camping toilet without the need for toilet chemicals, waste bags, or dump stations.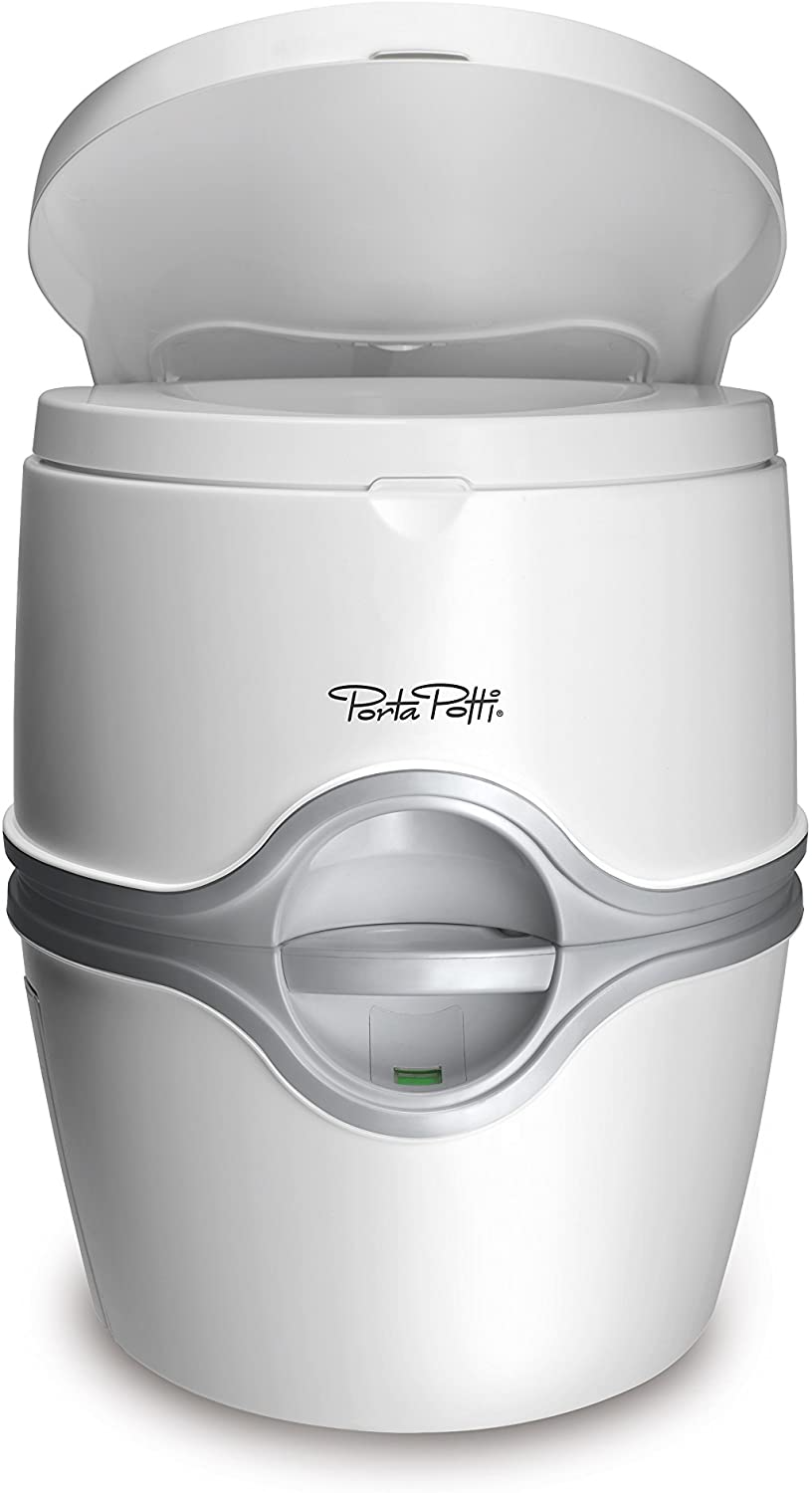 For the ultimate in luxury portable toilets for camping, not to mention containment, it is hard to beat the Thetford Porta Potti, Model 92306. The Thetford is a flushable toilet similar to what you would find in a camp trailer or RV. This award-winning "flusher" has some great toilet options.
You can use it as a portable travel toilet in your van or camper, or as a unit that you just set up outside.
It features an upper holding tank that your "business" goes into and a separate lower waste tank that the "business" is flushed into. By adding batteries and fresh water to the water tank, you have a portable toilet that functions as well as any RV toilet.
The Thetford includes level indicators for water and waste levels. You also have the option of using it without water to lessen the number of times you have to take it to the dump station or campsite bathroom.
The Thetford Porta Potti is easily carried wherever you need to dump it, although the fuller it gets, the heavier it is to carry. That is something to keep in mind.
A compartment hides a toilet paper holder that you can put a single roll of toilet paper on. Also, the upper tank comes off, revealing a moveable spout to facilitate pouring waste without splash or leakage.
It is a great portable toilet, but you are going to pay a premium for it. You will also eventually need to use a bathroom at a gas station or elsewhere to get rid of the waste.
Build Your Own DIY Portable Toilet
For the so-inclined DIY type, you can simply make yourself a portable toilet for camping. If the bells and whistles of a flushable commode are not a necessity, you can quickly build a camping toilet by scraping together some household items.
There are several ways to do it for cheap. You can probably make something that is more comfortable than the folding toilets and less costly than the flushable camping toilets.
Here are two methods that I personally like.
Bucket and Pool Noodle Camp Toilet
Maybe you have old pool noodles and an extra 5-gallon bucket lying around the homestead. If so, you can make a camp toilet for ultra-cheap using materials you already have around the house.
It may not be the most comfortable (and possibly a little small depending on the size of the person), but it will certainly be the most cost-effective. Another bonus, these are leak-proof if you construct them correctly.
The materials you'll need are:
Pool noodle
Two 10-gallon garbage bags
Steps
Measure the circumference of the bucket rim, then cut the pool noodle down 2 inches shorter than the circumference of the bucket.
Slice the pool noodle lengthwise from end to end.
Line the bucket with a medium-size garbage bag, with the top of the bag folded over the outside of the bucket rim.
Affix the pool noodle to the rim of the bucket, which will help lock the liner in place. Use an epoxy adhesive, or similar, to help stabilize the pool noodle. Coat the inside of the noodle with the adhesive and push the pool noodle down into place.
Let it dry for at least 24 hours.
When you go to use your new DIY camp toilet, you will line it with a second medium-size (10-15 gallons) garbage bag. Use a heavy garbage bag - the more durable the better. You will roll the top edge of this garbage bag over the pool noodle. This will be the plastic bag you will pull out and dispose of when you are done.
Plastic Chair, Toilet Seat, and Bucket Camp Toilet
I've often looked down at my folding camp chairs with the thought of possibly converting them to a camp toilet. It was a "what if" that occasionally crossed my mind until I realized that the fabric would rip and send my rear-end plummeting into... Well, I don't even want to think about it.
A better plan is to bust out your jigsaw and go to work transforming an old (but more sturdy) plastic chair into a portable camping toilet. It's a much more solid option!
Materials you'll need are:
Plastic patio chair
Folding toilet seat and cover
10-gallon garbage bag
Steps
Position your new folding toilet seat in the middle of the chair. Using it as a guide, trace the inside of the toilet seat with a Sharpie. Using your jigsaw, cut along the guideline you just drew.
Drill two screw holes into the lower part of the back of the chair to secure the toilet seat to the plastic chair. Place the toilet seat back over the hole you just cut and align it. Mark the spots on the back of the chair for the two screw holes with your Sharpie. Match the drill bit diameter to the diameter of the plastic toilet screws (they should come with the toilet seat). Drill your holes.
Using the plastic mounting screws and nuts that come with the toilet seat, affix the toilet seat and cover to the back of the chair.
Line a 5-gallon bucket with a durable 10-gallon garbage bag and slide it under the chair. Your camping toilet ready to go! You could also just dig a cat-hole for this DIY camp toilet too.
Take Your Portable Toilet Camping
Whether you choose to buy a portable toilet for camping or make your own, comfortable pooping in the woods can be easier to achieve than you thought!
Campers have options and they don't always have to buy composting toilets or other more expensive commodes. There is also no need to run around the woods, desperately seeking out that perfect-looking log or tree that is well-secluded and ergonomically correct to get the job done.
To keep odors down, don't forget to bring sawdust or kitty litter, and remember you can even use dirt to cover the solid waste. For a flushable porta-potty like the Thetford, you can use the included toilet chemicals or vinegar.
In any case, take the proper steps and necessary care that comes with responsible relief and enjoy your time out in the wilderness!
NEXT: PULL START FIRE: THIS $5 GADGET STARTS A CAMPFIRE WITH THE PULL OF A STRING
WATCH