More and more, hunting is becoming a woman's world. The presence of female hunters is on the rise, and women are no longer quite the novelty they once seemed. That said, a wide variety of women's hunting clothes is still in the works. While many retailers fall short of fully stocking the necessary gear in women's sizes, certain major chains, like Cabela's and Bass Pro Shops, do.
With options steadily on the rise, it's important for the new woman hunter to make sure she has everything she needs for a successful hunt.
Of course, different hunting seasons call for different hunting clothes, and we've got the warm and the cold covered.
Summer wear
Obviously, camouflage is going to be a woman's best friend when it comes to hunting clothes. Women tend to look at hunting, and the outdoors as a whole, as an opportunity to forget about styles and colors and focus more on fit and comfort. Let your surroundings dictate what camo pattern you choose. If you plan to hunt in a northern locale, look for green and moss-colored patterns as well as browns that can mimic the changing leaves as autumn sets in.
Long pants, preferably ones that are lightweight and breath well, are good choices. Jeans can become too hot if you hunt in the heat of the day, but the most important thing you can do is keep your legs protected.
A long-sleeved shirt, even though it's hot, will help fight the risk of sunburn and bug bites. Be sure to go with something lightweight that thoroughly covers your arms and neck.
Sunglasses can be helpful, and if possible, go for a pair that enhances rather than inhibits visibility. A hat with a brim will protect your face and your neck from the sun. Bug repellant can be a big plus, but make sure you choose a scent-free brand.
Last but not least, sturdy hunting boots are an essential for any addition to a woman's hunting clothes. Waterproof is best if you hunt in wet areas. If you can, avoid wearing brand new hunting boots for the first time out in the field. As with all shoes, try to break them in first.
Check out our holiday gift guide for the female hunter.
Winter wear
Again, camo is the best decision, and mirroring the wilderness around you and your hunting grounds is the smartest way to go. For areas that receive heavy snow, white-based camo patterns make the most sense.
Coveralls may be the most difficult bit of clothing for a woman to acquire. They are hard to find in women's sizes. If no women's sizes are available through your preferred website or sporting goods store, try on a pair of men's coveralls a size or two smaller than your usual size.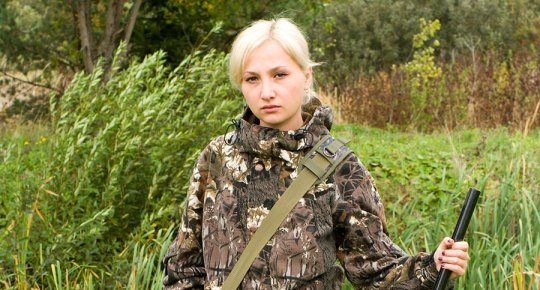 A nice, warm scarf tucked under your coveralls could be just the thing to keep your neck and chest warm and cozy on a cold day. Also, an insulated hat with ear flaps will go a long way in keeping you warm. Long johns are easy to forget, but vital to your comfort throughout the day. This layer could be the difference between lasting through the day and turning in early.
Socks are important; if one pair isn't enough, try doubling up on two pairs of thick, winter socks. And finally, warm insulated boots finish off a moan's winter hunting ensemble. There's nothing worse than cold feet on a long hunt. If you're hunting in a wet or snowy area, a pair of insulated, waterproof boots could keep you warm and comfortable throughout the day. If you intend to wear multiple pairs of socks, make sure the shoes are large enough to accommodate them.
Take a look at our thoughts on the best women's hunting clothes available.
Wool or neoprene gloves are good for hunting, but avoid mittens or anything than can limit the mobility of your fingers. If you prefer to hunt at dusk or dawn, sunglasses may not be necessary, but on a sunny day, particularly if you find yourself staring across bright blankets of snow, a little protection can be invaluable.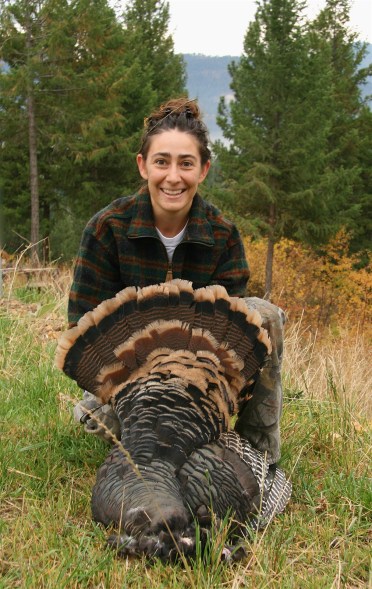 Other tips and tricks for your hunting apparel:
Avoid pink camouflage. As fun a fashion statement as it may be, pink camouflage is not functional on a hunt. The pattern alone will not be sufficient to hide you.
Wear blaze orange; deer are not "red sensitive." As a result, they cannot tell red or orange from green. Humans, however, can. In national parks and certain states, blaze orange is required as a means signaling your fellow hunters to your presence.
Check out this post on blaze orange jackets for under $100.
Remember that duct tape is your friend. Tuck your pant legs inside your boots and duct tape the seam. Do the same for your sleeves and gloves. This can prevent ticks and other bugs from getting inside your clothes. In all your preparation, don't forget to wash or spray your clothes with scent eliminator. The last thing you want is for your game to catch your scent.
Hot or cold, Under Armor could be just the thing to keep you as warm or cool as you need to be. It is readily accessible from most major retailers, and available in a variety of colors and sizes. Just be sure to choose appropriate colors for hunting.