When it first came out back in 2015, the rear access helmet from Australian company VOZZ Helmets was unlike almost every other motorcycle helmet on the market. It doesn't have a chin strap, and that's only the tip of the iceberg.
The VOZZ helmet opens from the back and closes like a clamshell around the rider's head. This gives the rider a more aerodynamic helm that also keeps the visor stable no matter how strong the wind may be. On top of that, to prepare for an accident, a special QR code sticker was included to help paramedics learn how to safely remove the helmet if the victim is unconscious. It also has all the standard features included with most helmets like vents and tinted visors.
In the below video, Mark Bryant, the Managing Director of VOZZ Helmets, breaks down some of the helmet's features, and this thing really is a sight to behold.
Read More: THIS HUBLESS HARLEY IS AN ABSOLUTE BEAUTY OF A CUSTOM BIKE
Now, if you're in the market for a new helmet, but don't have the funds for a VOZZ helmet (the latest edition VOZZ RS 1.0 runs for nearly $700), there are plenty of affordable helmets available for purchase on Amazon. Take the Full Face Motorcycle Street Bike Helmet from ILM, for example.
Equipped with two different visors and a neck scarf for winter riding, this helmet is lightweight, durable, and aerodynamic.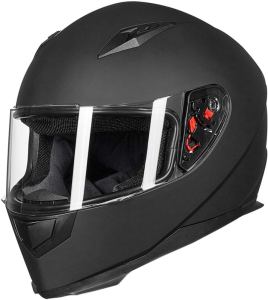 The Full Face Flip up Modular Motorcycle Helmet from AHR, on the other hand, has a double visors design and, with a heavily cushioned interior and easily removable liner and cheek pads, is specially designed for comfort and convenience.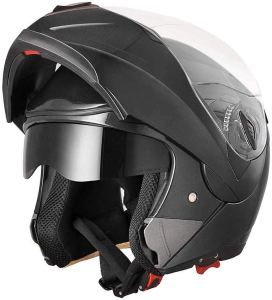 Finally, the Motorcycle Modular Full Face Helmet from 1Storm is as lightweight and durable as they come and also comes with dual visors.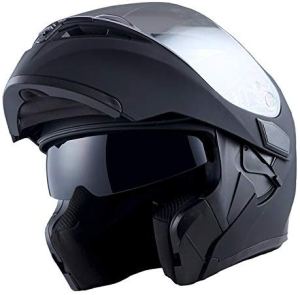 All of these helmets will run you about $50, so while they may not be as badass as a VOZZ helmet, they're definitely a lot more cost effective.
Read More: 4 COOLEST MOTORCYCLE ACCESSORIES WE COULD FIND
Enjoy the outdoors?
Sign up for daily stories delivered straight to your inbox.