Celebrated hunter Randy Newberg shows you how you can plan and budget for a successful elk hunt for the paltry cost of only around $1,000.
Here's a great article from well-known outdoorsman Randy Newberg for the budget-minded hunter. Newberg goes through the process of showing you how you can plan your own elk hunt and keep the total cost at just around $1,000.
I'm going to condense Newberg's article to a list - the nuts and bolts of where the money goes.
Securing a Tag
Newberg maintains that elk tags are relatively easy to get. He says that Colorado and Idaho, for example, have plenty of over-the-counter tags, as do other states. They may not be in ideal locations, but they're there for the taking.
Tags are your biggest cost. When hunting on a tight budget, Newberg recommends considering a cow tag. Here are some numbers to give you a rough estimate:
Colorado: bulls or either-sex = $564/cows only = $364
Idaho: either-sex = $572
New Mexico: bull = $555/cow= $345
Wyoming: cow = $302 (add $48 each for doe antelope or doe mule deer)
Check these and other state's costs and fees for current pricing for the year you want to hunt.
Choosing a Weapon
This is surprisingly simple and easy. If you deer hunt whitetails you won't need any special weapon. Your deer rifle will do just fine, or if you're drawing 60 pounds on your bow, that'll do the job as well. Just make sure you can hit where you're aiming. Practice.
Ammo
Newberg places a priority on high quality ammunition. You'll want to put out the extra money to get the best ammo. One box should do the trick.
Getting Your Buddies Involved
Here's where the real cost savings comes into play. You'll want to go with at least two good, reliable, familiar and dependable hunting buddies. He goes into this in a little more depth in the article, so I'll direct you there, but needless to say, you want two buddies who you can rely on to carry their weight and who you can get along with.
You'll be splitting the gas and travel expenses between the three of you. Ballparking his figures, Newberg estimates that most hunters will travel around 1,200 miles each way and will get around 15 mpg. That's 160 gallons round trip. At $4.00 per gallon that come to $640, or $213 per hunter. You get the idea. Do the computations for your location.
Lodging and Meals
Nope. You sleep in the car or in a tent. Don't waste money on hotels. Your goal is to keep this at $1,000.
For food, you bring everything you will be eating. Pre-planned meals and water and coffee to drink. Newberg writes, "If you can't bring it from home, it's off the list. I haven't budgeted anything for food. Why? You're going to eat, regardless if it's in elk camp or at home. Eating on the road or heavy snacking at gas stations wastes $150 per hunter. This is an elk hunt, not a feast."
Packing Out, Preserving and Processing
Pillow cases for game bags. Process the elk yourself. Says Newberg, "Who is going to process this elk? You. Don't know how? Learn. It seems daunting, but dive in. You'll save hundreds of dollars."
It's going to cost you around $50 in dry ice to preserve the meat. And you'll also need four 80- to 120-quart coolers, which he assumes that between you and your buddies you should already have. Freezer paper, tape and cling-wrap to neatly package the meat will run you around $30.
Incidentals
$50 for incidentals.
That's everything. You'll have to know how to organize and pack everything well. Most of the gear you should have in your camping supplies already. Bring plenty of water and water filtration systems. Be organized and plan, plan, and plan again. Again, I refer you to Newberg's article for more details.
Here's the expenditures/cost chart. As you can see, he kept it just under $1,000: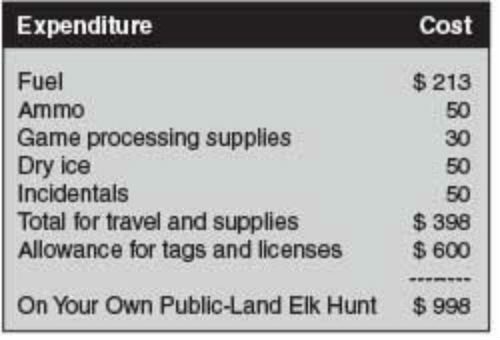 Like what you see here? You can read more great articles by David Smith at his facebook page, Stumpjack Outdoors.
https://rumble.com/embed/u7gve.v3trbv/
NEXT: Gigantic Ice Age Elk Antlers Sell Big at Auction