While packing up your dog and taking him on a road trip might seem like a great summer vacation, doing so successfully involves a lot of planning to make sure everyone makes it back home in one piece. Great summer weather inspires the traveller in us all. Summer means sun, fun, explorations, and road trips. You're used to packing your bags, stocking up on snacks, putting your destinations into your phone, and checking your car, but are you prepared to take your dog with you?
A road trip is a great excuse to spend some extra time with your dog, and unlike cats, dogs travel pretty well. Road trips with your furry friend also means no boarding or doggy daycare! But taking your dog cross-country involves a lot of challenges that don't come with a quick trip to the dog park. If you're hoping to bring your pup with you the next time you go exploring for an extended time, check out these tips to make the trip enjoyable for you and your four-legged co-pilot.
We're GIVING AWAY a full-year subscription to BarkBox or Meowbox, and you could be the lucky paw-rent making your pet's dreams come true each month with adorable toys and tasty treats delivered right to your door! Enter here to win.
Dog Road Trip Survival Guide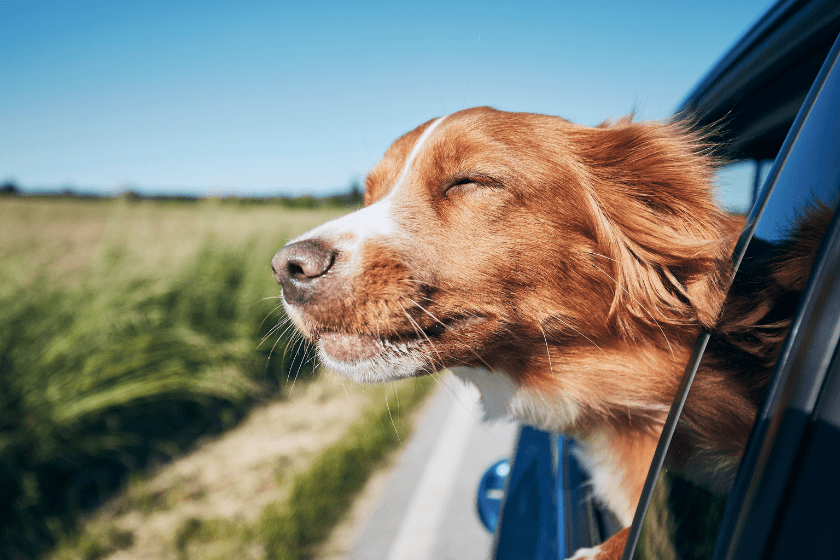 1. Be Prepared
Before you start your own packing, make sure your pooch has everything she needs depending on where you're going and how long you'll be gone. Pack extra food, and you'll need a storage container big enough to fit it all.
If you don't have a car crate or safety harness, consider investing in one for this long trip. Safety should always be a top concern, and you don't want your pooch flying forward every time you slam on the brakes.
You'll also need a doggy first aid kit, blankets and pillows that smell like home, a few toys, and a lot of poop bags (a lot).
2. Plan Your Route Carefully
Spontaneity is great, but when you're road-tripping with your dog, it may get you in trouble. Whether you plan on staying at hotels or ruffing it at a campground, you'll need to find pet-friendly accommodations. Use the Yelp app to find places to stay along your route, and research nearby vets, just in case. Your pooch will also appreciate you knowing where the nearest dog park is.
If you have a pit bull, you need to be aware that some areas have breed restriction laws that prohibit your square-faced friend from even entering the town. You don't agree with their prejudice, but you do want to avoid a run-in with the law.
If you're hoping to visit national parks with your pup, make sure to double check if they allow dogs at all. Many national parks have limited trails available for dogs, but dogs are often banned outright both to keep the local wildlife as well as dogs safe. Check before visiting to avoid a disappointing experience.
3. Pack Your Car Strategically
When it's just you and your human best friend, you can cram your suitcases in any which way you want as long as your basic essentials like snacks and phone are close at hand. When you have to accommodate a four-legged passenger, however, things get trickier. Your dog needs a "safe zone" where she can sleep and relax.
Try putting the back seats down and configuring suitcases to create a cozy backseat nook. But make sure the suitcases are secure and won't shift during the drive. While you're at it, make sure all your dog's essential items, like toys, food, and water, aren't buried with the rest of your stuff.
4. Stop Early and Often
You and your pooch may be world-class bladder-holding champions, but that doesn't mean you should drive past every rest stop. You'll both benefit from frequent bathroom breaks, and you'll need to give your dog a chance to work out some of her energy, even if it's just stretching her legs at the gas station.
A hyperactive dog tearing up your backseat while you're doing 80 on the highway is the last thing you need. Instead, go for a brisk walk at every potty break, and remember: a tired dog is a well-behaved dog.
Finding Dog-Friendly Hotels and Parks
On your way to your destination, you will want to stop and take in the sights. If you're on a long road trip, you will probably plan a few hotel stops and take a minute to check out the local hiking trails.
For dog owners who like to road trip with their dogs, BringFido is essential to have on your phone! While visiting national parks and national forests is on everyone's to-do list, along with hitting some state parks, not all of them allow pets. In addition, for some parks, pets are limited to a particular area.
The app helps you and your pup have the perfect road trip together since there won't be any surprises if you check for dog-friendly places ahead of time. While on the open road, you can also check for pet-friendly hotels, so you and your pooch have a dog safe place to stay.
Key Health Checks Before Travel
RELATED: Dog Hiking Backpacks & Other Needs Your Pups' Adventures
If you are taking your pup across state lines, you should get them checked out at the vet beforehand to make sure they have the all-clear. You might want to get a printout of their vaccinations to have on hand. It is always good to keep an updated copy of your pet's medical records. If you have not done so already, it may be time to microchip your pup.
There is nothing worse than them running off while you are hundred of miles away from home. At least with a microchip, if they are picked up or taken to a kennel, they will automatically check the microchip and give you a call. If you will be in an area with spotty cell service, have one of your family members' phone numbers down as an additional person to call.
If your dog already has a microchip, make sure your information is current before leaving for your trip. Even if you're just going on a day trip, it's good to verify that your information is up to date. You have enough to worry about as a pet owner on a trip, so the last thing you need to deal with is outdated information after your pet makes a run for it.
There's nothing better than exploring the country with your best friend by your side. Now that you've taken the time to prepare, it's time to grab your pup and start your engine!
Do you go on road trips with your dog? Tell us how you prepare on our Wide Open Pets Facebook page!
This article was originally published on September 1, 2021.
Enjoy the outdoors?
Sign up for daily stories delivered straight to your inbox.