Try as I might, I'll never forget it. I was on a tour of historic (and historically lovely) Bedford Springs Resort, which is snuggled within the verdant forests of southeastern Pennsylvania. Because the property was dog-friendly, I'd brought along my pug, Lola. Now, pugs are a notoriously needy, clingy breed. But I had no idea that as soon as I left the room, Lola would begin howling at the top of her little lungs and not stop until the general manager, a man of infinite patience, whisked her away to his office. There, he installed her beside his desk and fed her doggie cookies to keep her quiet until I was able to pick her up.
While I learned my lesson and never brought Lola on another trip, there are plenty of people with dogs who are far better behaved than my pug. And like Bedford Springs, there are now an abundance of luxurious dog-friendly hotels, inns, and B&Bs across the United States that will happily welcome these well-mannered furballs with special amenities that can range from treats to entire canine menus. Some, like The Point Resort in Saranac Lake, New York or The Pittman in Dallas, Texas, don't even charge extra fees for four-legged guests. If you're thinking about taking a vacay with your hound, read on for our suggestions of the 25 best dog-friendly hotels in the country.
1. Nemacolin - Farmington, Pennsylvania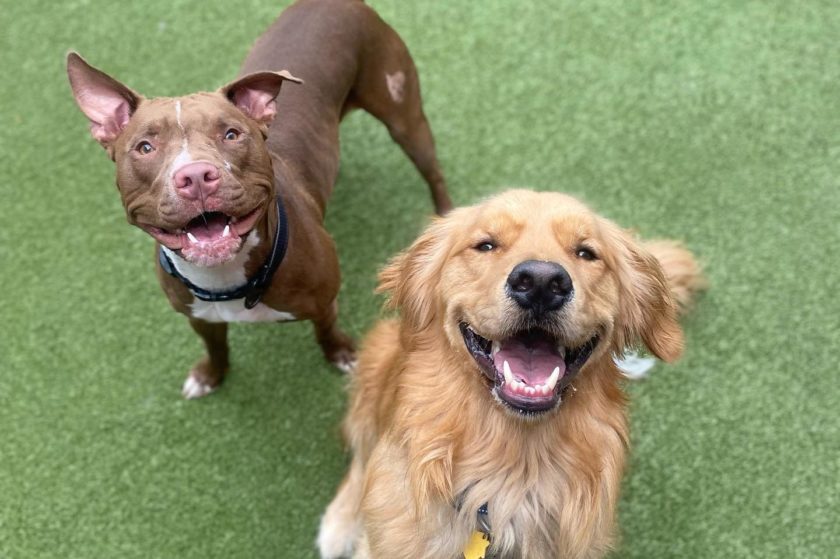 At this chic resort tucked into the rolling Laurel Highlands of western Pennsylvania, pet parents and their canine kids all get to experience fine dining, a sumptuous spa, and fun-filled activities. Nemacolin's on-site Wooflands Pet Resort and Spa offers dogs the chance to swim, hike, and more, all while under the watchful eye of a team of pet-care specialists. Doggos under 35 pounds are welcome to join their human counterparts at Nemacolin with a non-refundable $225 fee, which doesn't include Woofland services.
2. Cypress Inn - Carmel, California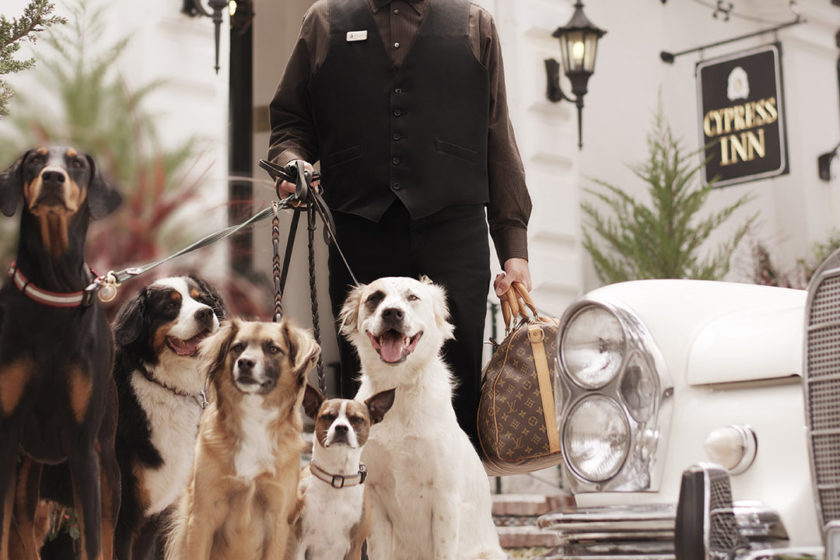 The Cypress Inn was co-owned by famed animal lover Doris Day for more than two decades, and dogs are still allowed in the hotel's guest rooms and public areas, such as Terry's Lounge, which offers a popular "Yappy Hour." Other thoughtful touches include a courtyard with free poop bags and a spot to wash Fido off after a walk on the beach. There is a $30 pet fee per night for one pet, a $50 fee for two pets, or a $70 charge for three pets per night.
3. La Fonda on the Plaza - Santa Fe, New Mexico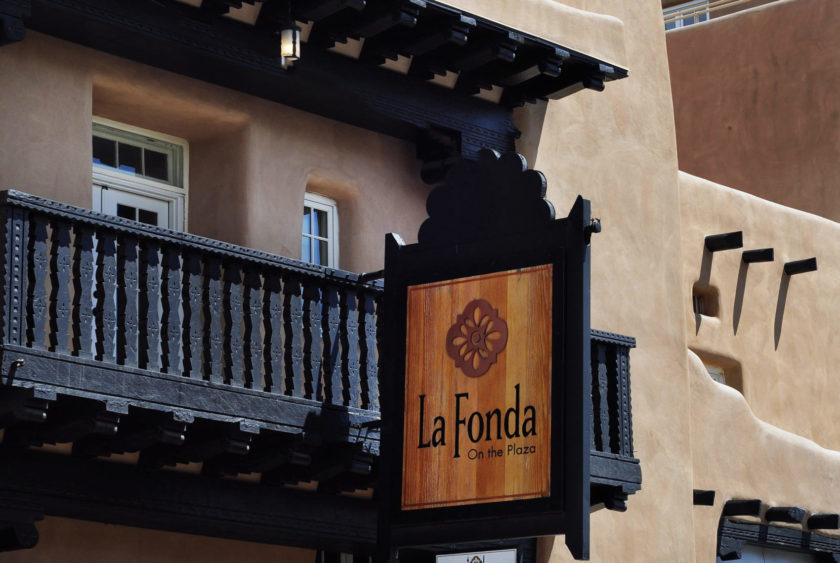 True animal aficionados will appreciate that 20% of the $50 per night fee for La Fonda's dog guests goes to the local Espanola Valley Animal Shelter. This exquisite southwest-style hotel, which perches prettily on Santa Fe's historic plaza, also offers canines a welcome gift complete with treats, toys and waste bags upon arrival. Note that a maximum of two dogs under 45 pounds each are allowed.
4. Inn at Perry Cabin - St. Michaels Maryland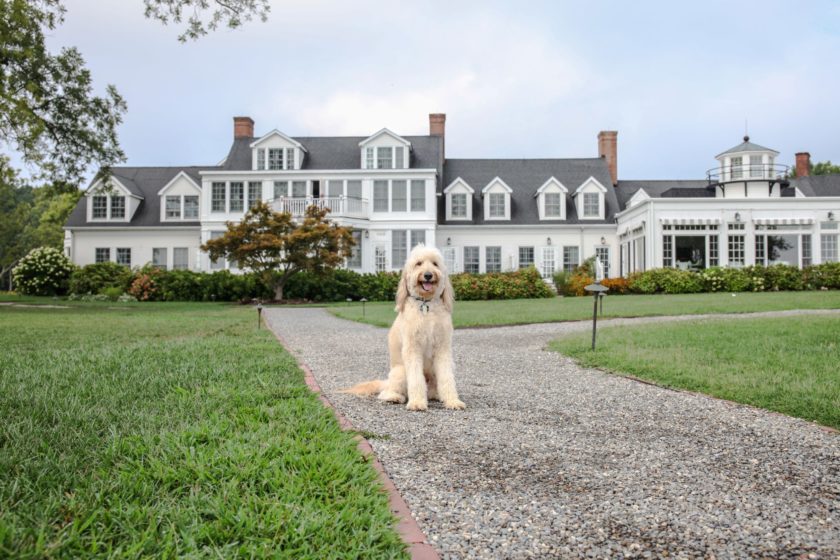 Inn at Perry Cabin might be best known to the general public as the site of the big nuptial scene in the comedy Wedding Crashers. But people who love traveling with their pups should also recognize it as one of the most dog-friendly properties in the country, thanks to amenities like the bed, bowls, and toy that are waiting in rooms upon check-in, plus a special canine menu featuring handcrafted selections such as rockfish and Maryland crab cakes. There is a limit of two dogs, under 60 pounds each, per room. Fees start at $200 per dog.
5. The Willcox - Aiken, South Carolina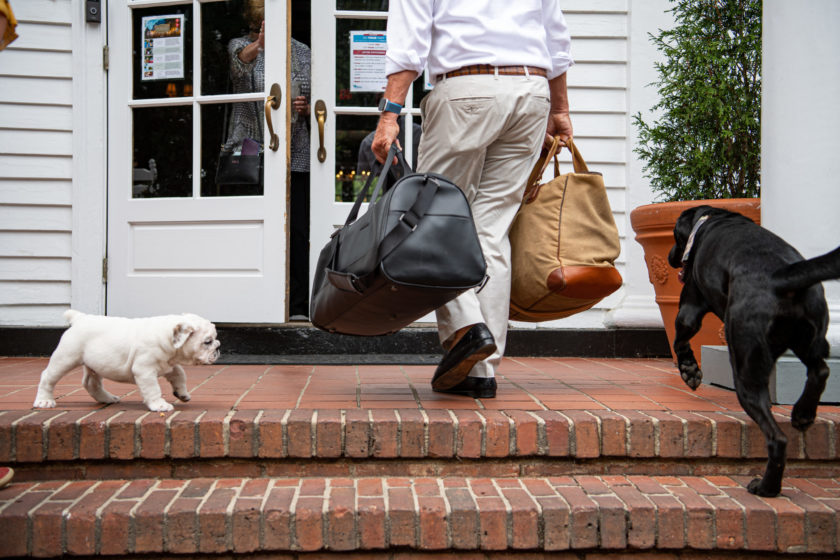 This grand dame of the South boasts an entire "Pet Package," which includes a welcome snack for your dog, a "Guest of The Willcox" tag for their collar, turndown service with turkey jerky, and a treat for the road upon check-out. Package prices vary. Possible add-ons include dishes from the Willcox's Pet Cuisine Menu, such as baked chicken bites and poached salmon, and a dog welcome basket.
6. The Point Resort - Saranac Lake, New York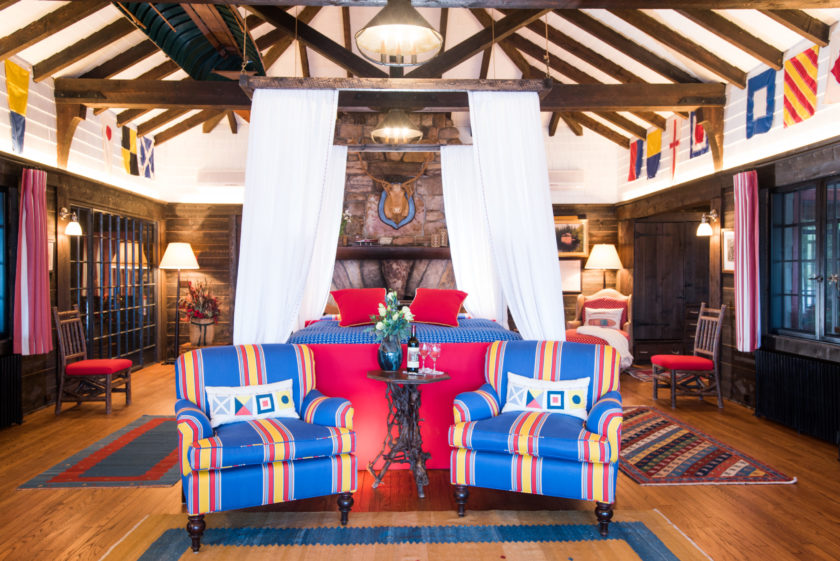 Originally built for William Avery Rockefeller II in the early 30s, The Point sits lakeside on 75 acres in the Adirondacks. The resort rolls out the red carpet for its canine guests, with special meals and even a doggie libation: "Bowser's Beer." Beds, bowls, and toys for pooches are placed in rooms upon arrival, and there are dog life vests provided for boating adventures. Dogs of any size and breed can roam almost everywhere on the property, and there is no extra charge to bring them.
7. The LINE - Washington, D.C.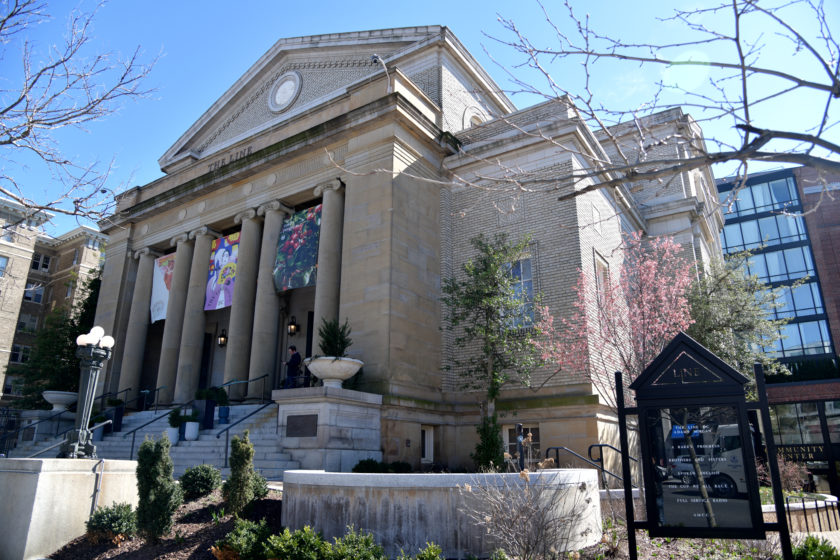 The too-hip-to-skip LINE hotel, which is located inside a century-or-so-old former church in the city's trendy Adams Morgan neighborhood, brings in the dogs with a pet policy that's described as "no fees, no weight limits, and no hassle." Ask at the front desk for treats, waste bags, and bowls, while the guest experiences team can direct you and your goodest boy or girl to neighborhood parks and pet-friendly establishments.
8. Fairmont Copley Plaza - Boston, Massachusetts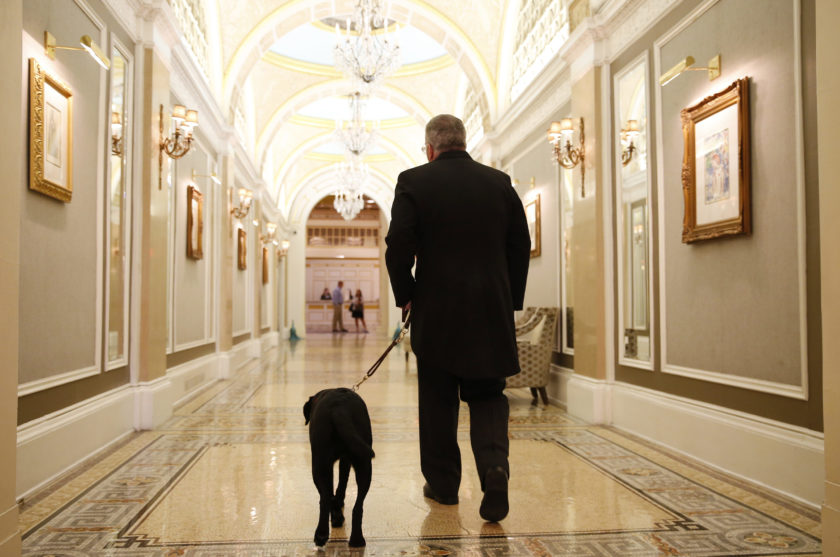 There are loads of reasons for you and your four-legged best bud to love Fairmont Copley Plaza, including the famous green across from the hotel, great for potty breaks, and Cori Copley, the black lab who greets guests as part of the hotel's Canine Ambassador program. Then there's the Fairmont Furiend package, which includes a dog-friendly guide to Beantown; a bed, bowl and waste bags; and even a hotel-themed Boston Barkery Biscuit Box. Up to two dogs, regardless of size, can stay for a $50 fee; the package is priced separately.
9. Mission Point Resort - Mackinac Island, Michigan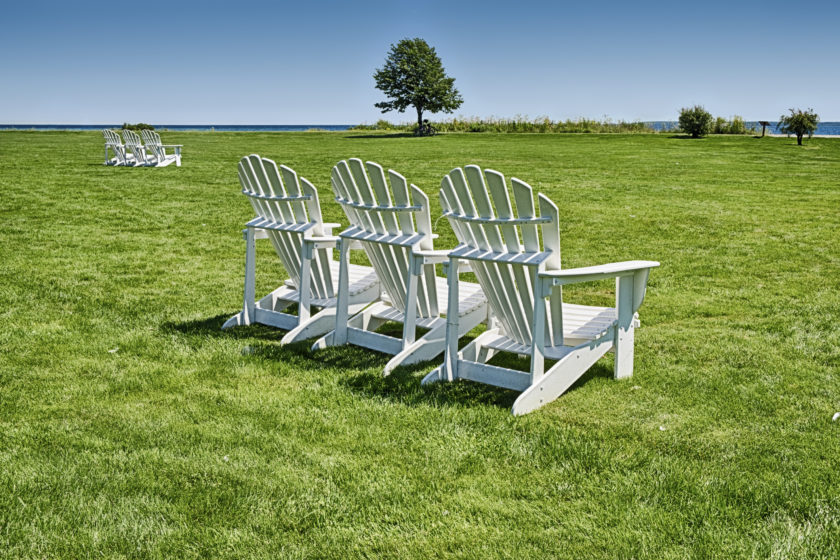 The only pet-friendly resort on the legendary Mackinac Island, Mission Point recently underwent a massive, multi-million-dollar renovation. But that doesn't mean it's gone human-only! The resort offers Pooch on the Point, a dog-friendly package that includes a kitted-out room with a canine treat bag and a Carhartt bed for a $100 pet fee. There are also plenty of doggie-themed items to be found in the property's gift shops, while the Great Lawn beckons for a good game of fetch.
10. The Harpeth - Franklin, Tennessee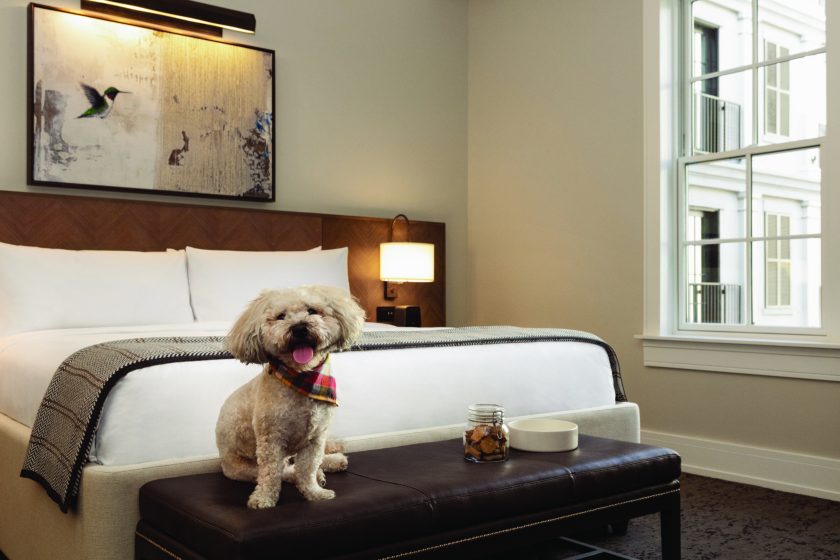 It's not surprising that The Harpeth, a smart-looking property tucked away on the banks of the Harpeth River, should offer man's best friend niceties like a treat bag, use of custom-made food and water dishes, and a personal dog bed. After all, Franklin was the pilot city for Mars Petcare's Better Cities for Pets program, with nearly 100 local businesses pledging to welcome pets just as they do humans. There are many more dogs downtown as a result, hanging out with their people in places like shops and restaurant patios—and just about everywhere in The Harpeth. There is a $100 non-refundable deposit for pets.
11. The Lodge at Spruce Peak - Stowe, Vermont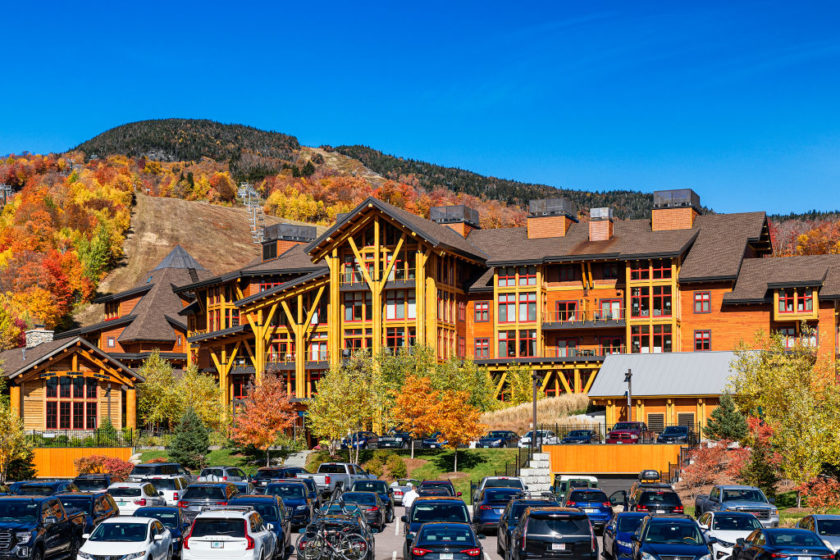 Family-oriented right down to furry kinfolk, The Lodge at Spruce Peak provides a dog bed and chewy upon arrival. The recently-renovated resort also offers plenty of trails cut throughout the surrounding 2,000 acres so you can go hiking with your puppy, and its on-site "village," filled with retail stores, coffee shops, and even an ice rink come winter, is suitably dog-friendly, too. There is a non-refundable $125 dog fee per stay.
12. The St. Regis Aspen Resort - Aspen, Colorado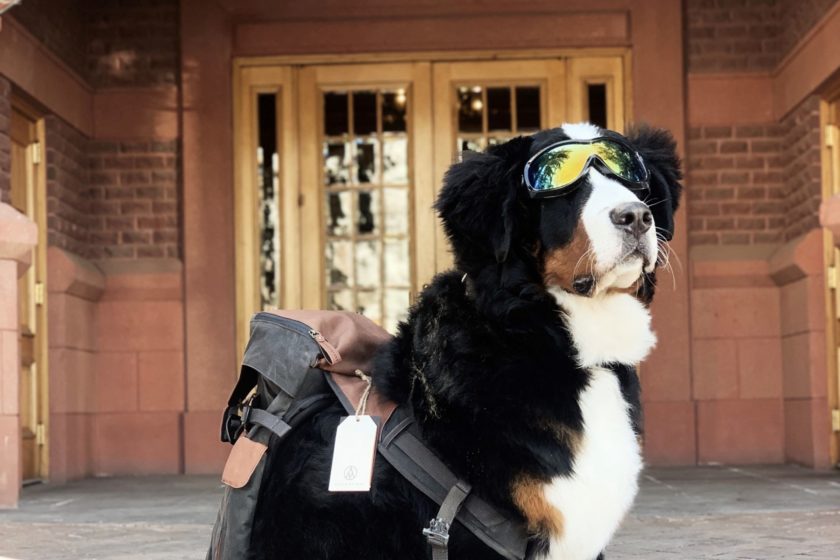 This super-luxe hotel features a canine-in-residence (the whimsically named Kitty, a Bernese Mountain Dog), so you already know it's gone to the dogs. Furry guests can also enjoy monthly "Bark'n'Brews" and a "pawty on the patio" where pups are invited to attend an event that raises funds for Lucky Day Animal Rescue. The hotel also issues a dog bed and bowl at check-in, and dog-sitting and walking services are available for an additional cost. Pet fees for rooms, not individual pets, are $100 for the first night and $25 for each night thereafter.
13. The Tides Inn - Irvington, Virginia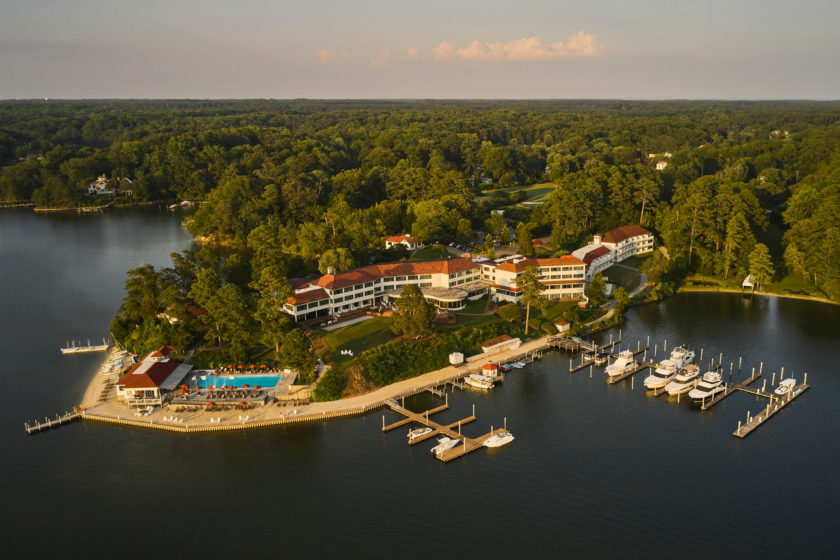 Situated on a private peninsula alongside the sparkling waters of the Chesapeake Bay area, The Tides Inn pampers pooches with goodies like a custom bed from upscale brand Harry Barker, custom bowls, and even an in-room biscuit barrel. Should they want to make friends, the property is home to a retriever named Riley who is as graced with Southern hospitality as the rest of the staff. The resort assesses a $150 pet fee, with a maximum of two dogs under 75 pounds each permitted.
14. L'Auberge de Sedona - Sedona, Arizona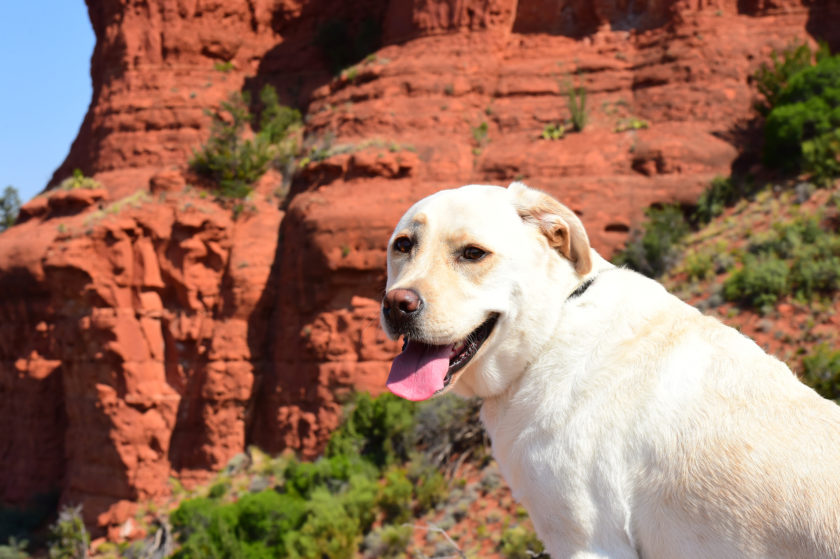 Along with its stunning red rock formations, Sedona has become synonymous with wellness. At L'Auberge de Sedona, canines get the kind of treatment that encourages just that, offering comfy beds sized for the dog, goodie bags filled with healthy treats, a map of nearby trails, and a list of local veterinarians. There's dog walking available upon request, too, so you can be sure your pup is getting the exercise they need. Dogs of all sizes are accepted and the fee is $50 per pet, per day.
15. Anchuca Historic Mansion & Inn - Vicksburg, Mississippi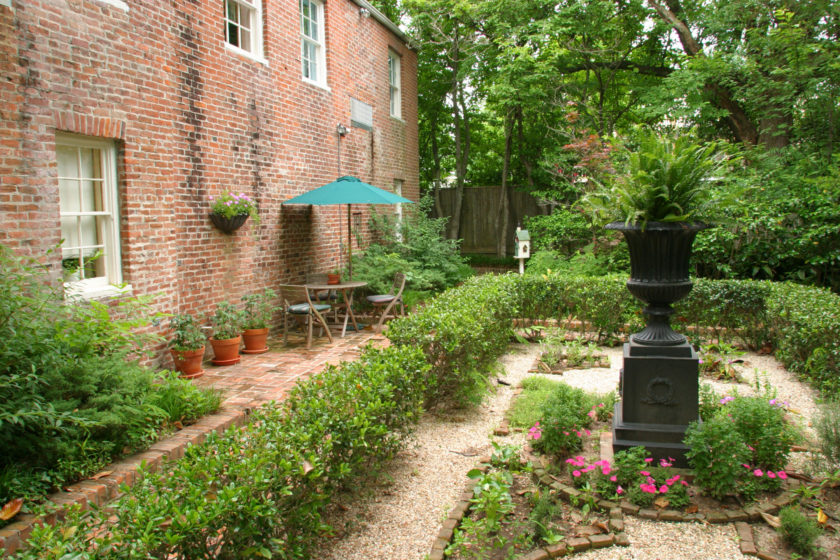 For people with pups who are in Vicksburg to explore the charming downtown or the historic Vicksburg National Military Park—where dogs are welcome—there is no better place to lay your head than Anchuca Historic Mansion & Inn. Housed in a gorgeous Greek Revival mansion built in the late 1840s, the B&B charges no fees for dogs. There are also dog parks just two blocks away, and the friendly staff will be pleased to point the way to them.
16. Moonrise Hotel - St. Louis, Missouri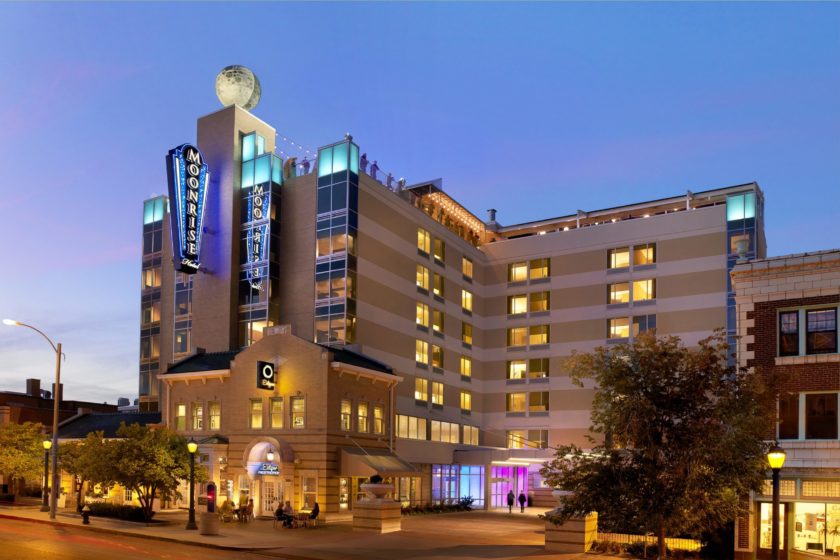 Sleek, stylish, and a little quirky, Moonrise Hotel benefits from its killer location on the city's famed Delmar Loop, with more than 25 neighboring shops and restaurant patios accepting doggie customers. The property itself hands furball parents accessories their dogs can use, like bowls, a treat bag, and even a day pass to Bar K, a dog park with a bar and restaurant for humans. There is a one-time fee of $50 per pet to stay at Moonrise Hotel with your happy hound.
17. City Mills Hotel - Columbus, Georgia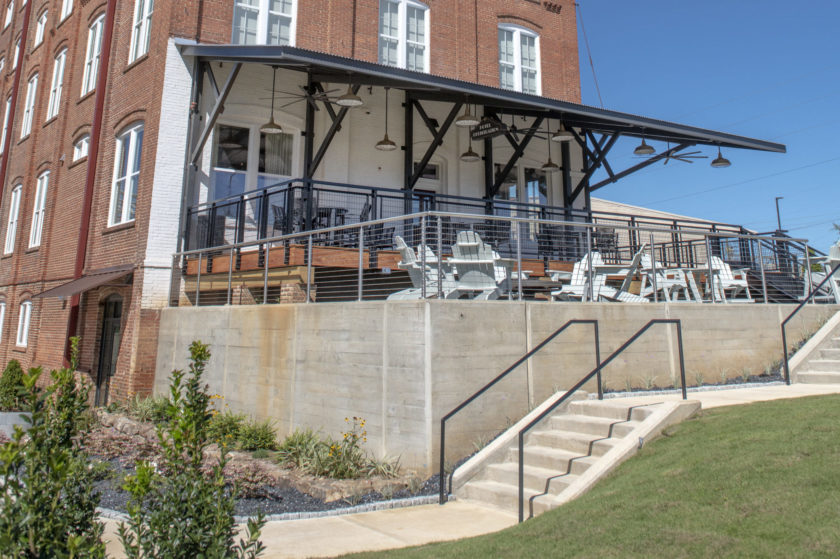 From the moment you walk in the door of this beautifully-designed boutique hotel, which is ensconced in a former grist mill steps from the Chattahoochee River, you and dog are greeted with open arms. In the lobby sits puppy toys and water dishes, while upstairs in your room City Mills-branded pet bowls made by local Columbus artist Molly Jenkins await. Outdoor seating along the Riverwalk is available to humans and canines; when it's time for walkies, the staff is happy to provide a list of the city's other fine pet-friendly restaurants, parks, and attractions. There is a one-time fee of $75 to stay with your dog at City Mills.
18. Waldorf Astoria Park City - Park City, Utah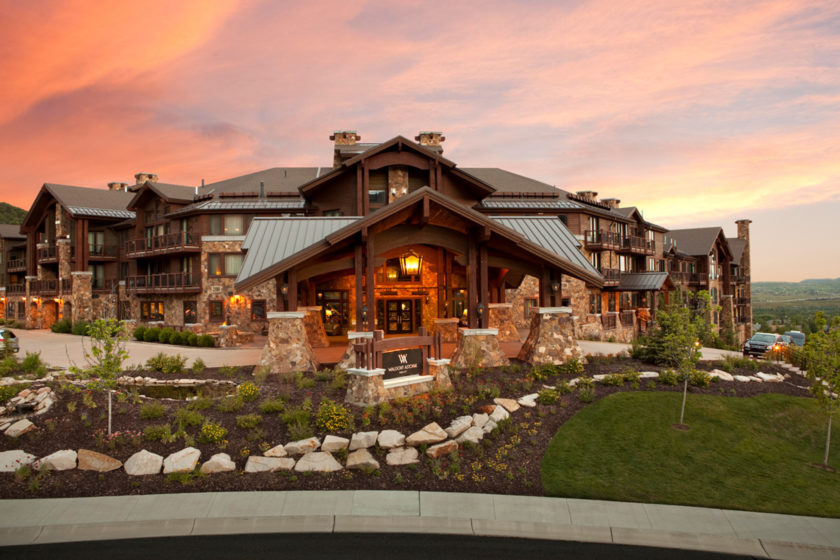 Waldorf Astoria properties are recognized for their devotion to their guests' comfort, and that includes guests with names like Rover and Spot. Though this particular hotel is tucked against the Wasatch Mountains, with slopeside access to the largest ski resort in the country, you can be sure it isn't just for snow bunnies. In-room dog amenities include bowls and logo beds, and even better, the hotel partners with a local pet rescue, with Waldorf employees doing good deeds like walking dogs. There is a one-time $100 fee for canine guests.
19. The Oxford Hotel - Bend, Oregon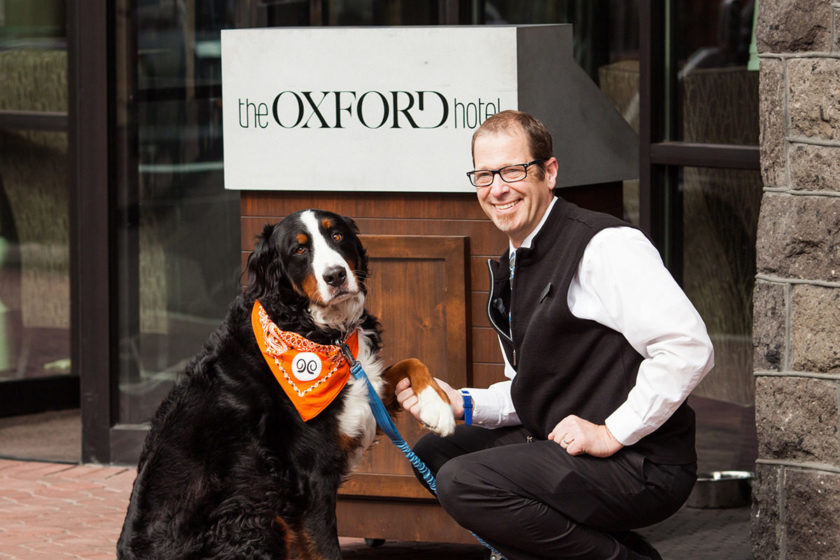 Thanks to Bend boasting one of the planet's highest per-capita canine populations, the funky Pacific Northwest City offers pleasures like eight off-leash spots and more than 50 miles of dog-friendly trails. Smack dab in the middle of it all is The Oxford Hotel, which dishes up a pet package that includes a bed, two travel bowls (you can keep one!), organic dog treats, and dog-walking services. The whole shebang costs $59 per stay, per pet, with a two-pet limit.
20. Kimpton Pittman Hotel - Dallas, Texas
Kimpton is probably the most dog-friendly of any hotel brand, and Kimpton's Dallas property, which is located downtown in a gorgeous 1916 Beaux Arts building, is no exception. To start with, there's no size limit or a limit on the number of pets allowed in the Pittman, and there's no pet fee. Dog beds are provided, as are feeding mats and courtesy bags, and pet-sitting is available thanks to a partnership with pet retreat Urban Paws. Now doesn't that make you sit up and say "Woof!"
21. Streamline Hotel - Daytona Beach, Florida
Newly restored, this sophisticated 1940s Art Deco hotel in the heart of Daytona Beach accepts doggos under 25 pounds for a fee of $25 per dog, per day. Canine gift baskets are supplied upon arrival, and thirsty pups will find water bowls both in the lobby and the rooftop bar. Speaking of that stunning outdoor space, the Streamline is now hosting "Yappy Hour" every Thursday from 5 p.m. to 7 p.m., with dogs welcome to enjoy the splendid 360-degree view alongside their humans.
22. The Roosevelt Inn - Coeur d'Alene, Idaho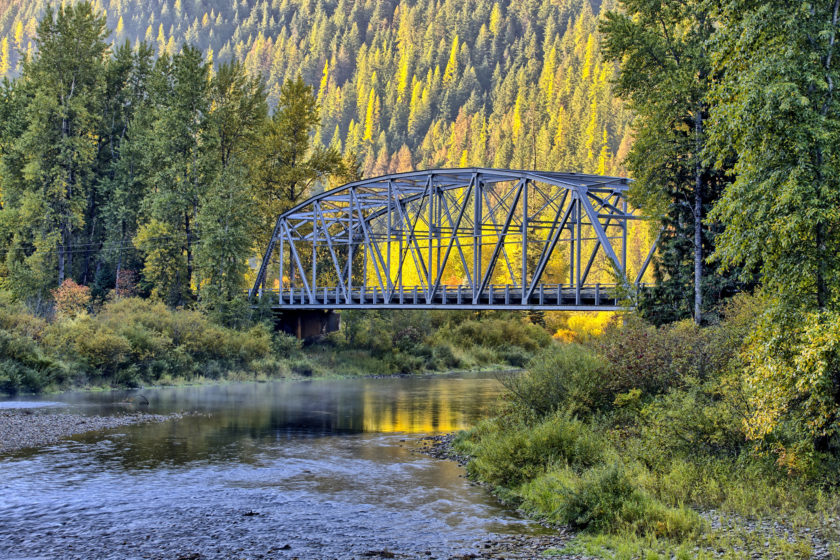 Formerly a schoolhouse and now a well-appointed B&B owned by a pair of dog lovers (the couple's golden retriever and golden-lab mix can often be found roaming the property), The Roosevelt Inn breaks out the creature comforts for canine guests, which include bedding, bowls, bags, a ball, treats, a towel, and even a bandana for keeps. There's also a gated half-acre enclosure for pup playtime. Pet fees are $55 per stay, which covers all dogs bunking in the room.
23. Hewing Hotel - Minneapolis, Minnesota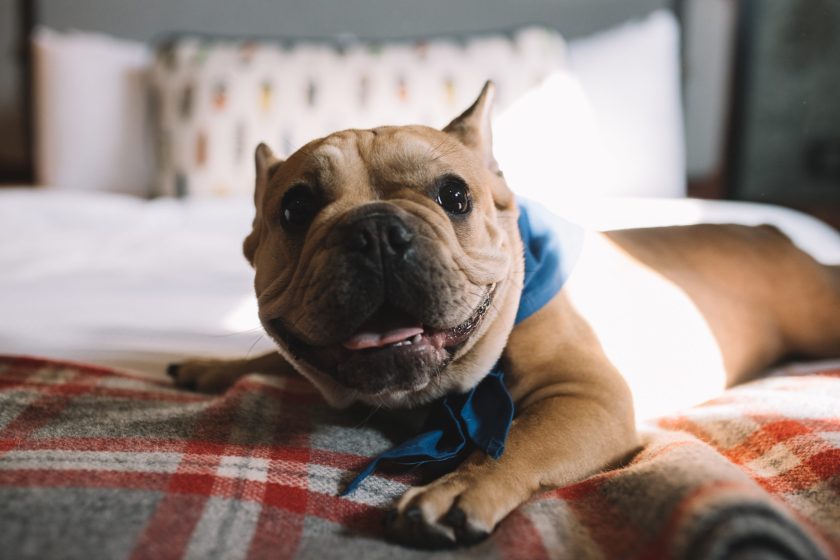 Dogs are treated like the leader of the pack at Hewing Hotel, which greets them with a chalkboard bearing their name in the lobby, next to an unlimited bowl of treats. The boutique property, which skillfully mixes modern conveniences with a rustic vibe, charges $75 per stay for any size or breed of dog. Or, choose a Doggie Boarding Package to get a bed, bowls, and additional treats.
24. The Bayview Hotel - Bar Harbor, Maine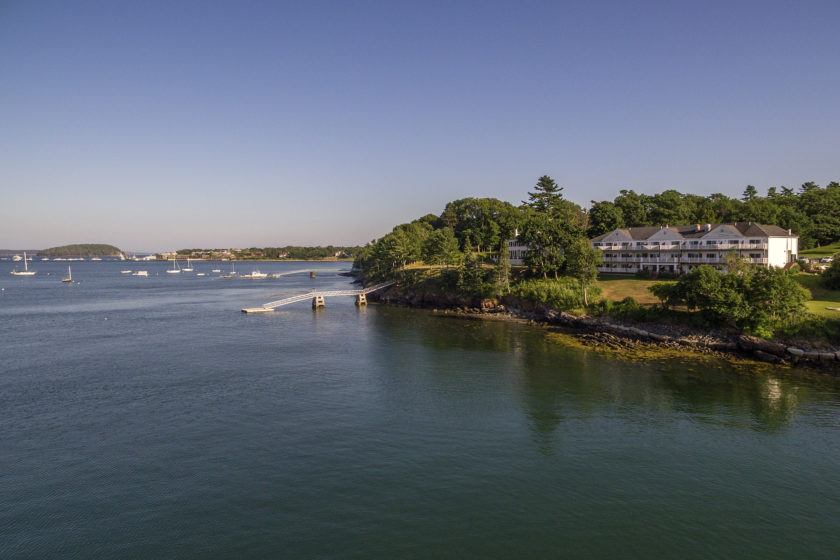 Within a stone's throw of both the glorious Acadia National Park, offering almost 150 miles of dog-friendly trails and roads, and the equally pooch-welcoming Bar Harbor, The Bayview Hotel boasts its own delights so entrancing pets and their parents may never want to leave. We love the new ocean level rooms that feature decks with stairs going straight down to the lawn so dogs can more easily take potty breaks. And then there are the beds, bowls, treats, and custom-made bandanas that are placed in each room. Two dogs under 40 pounds each are allowed in rooms for a $50 per night fee.
25. Chicago Athletic Association Hotel - Chicago, Illinois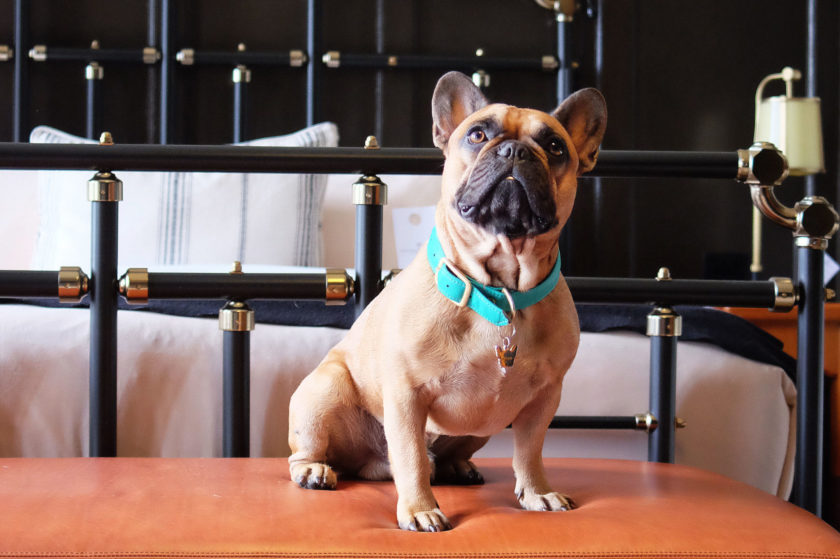 Set in a former private club built in the late 19th-century, Chicago Athletic Association Hotel plays ball with its canine company by providing beds, bowls, bags, and cookies graced with the property's logo. Even better is the welcome letter, addressed to pup and parent, that's filled with helpful suggestions about the best dog-friendly places in the city. Any size pooches are permitted, but only two can stay in one room.
What's the best hotel you've ever visited with your dog? Tell us on the Wide Open Pets Instagram!
Enjoy the outdoors?
Sign up for daily stories delivered straight to your inbox.