Summer is a great time to visit national parks around the US. National parks are usually extremely affordable, and showcase the beauty of nature, making them perfect to visit with your pooch. Finding a dog friendly hotel can be a difficult task, but surely national parks welcome our four legged friends with welcome arms, right?
Unfortunately, many national parks don't allow dogs. It seems a little odd for a dog to not be allowed into a natural place like a national park, but many of these places are off-limits to dogs for a reason. Sometimes dogs are banned because owners are irresponsible, but at other places, restrictions might be in place to protect your dog. Some parks have predators like mountain lions or bears that could be a threat to your pet. Other parks might be trying to protect a particular species that your dog can pose a risk to.
While these reasons are perfectly valid, it's still upsetting to plan a trip to a national park only to find that it's off limits to your pup, and by extension, you. Fortunately, we've found 5 national parks that happily allow dogs. Happy summer trip planning!
Dog Friendly National Parks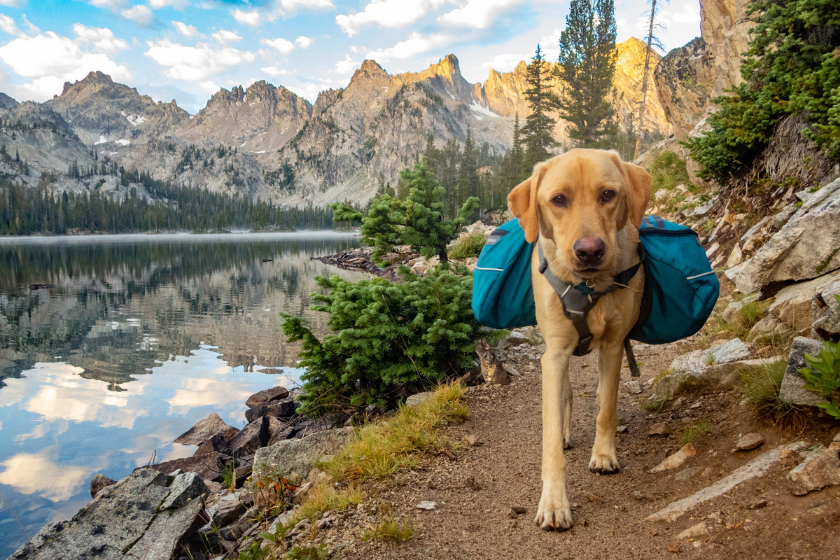 1. Redwood National and State Parks
Many trails in these parks allow dogs in both with and without a leash, depending on the trail. Make sure to check the details of which trails your dog is allowed to free roam on, as regulations can change depending on breeding seasons of local wildlife. It's always a good idea to call before you take off to make sure nothing has changed and that your dog is free to frolic in the woods with you.
One special consideration to keep in mind with Redwood National and State Parks is that the blue green algae bloom common in the waterways of this area can be harmful to dogs. Blooms can be spotted and blue green or brown foamy mats on top of the water. Dogs should not swim in or drink from this water.
2. Rocky Mountain National Park
While pets are prohibited on all trails, tundra, and meadows in this national park, you can still grab a bit of fun with your pup on Endovalley Road. Walking your dog is allowed here, and dogs can also accompany you at campgrounds, picnic areas, parking areas, and established roads. You'll have to leave Fido behind for the backpacking, though.
3. Zion National Park
This is another one where dogs are allowed, but only in certain areas. The only trail dogs are allowed on is the Pa'rus trail, which begins at the Zion Canyon Visitor Center. Pets aren't allowed on any other trail or in the visitor center, and owners are encouraged to clean up after their pup on the trail.
This is another park where blue green algae is a concern, so keep your dog out of the water.
4. Crater Lake National Park
This is one of the more pet friendly parks, with multiple trails available for you and your pup. Dogs are welcome on the following trails: Lady of the Woods, Godfrey Glen, Annie Spur Trail, Greyback Road, and Pacific Crest Trail. Dogs should be leashed and trails should be free of any significant snow before adventuring forth with your pup.
5. Cape Cod National Seashore
Several beaches are available for dogs to use in this national park. Make sure to double check the website, because seasonal shorebird migration can affect which beaches are open or closed to dogs. All pets should be leashed.
Other Considerations
Most national parks have designated trails for pets on leash. Some are more lenient than others but know that if you do get caught with a dog in a prohibited area there are some hefty fees that the ranger can issue.
There are good reasons for all national park rules. They're just trying to keep all their visitors safe!
Even if your dog is allowed, hiking trails in the backcountry at national parks still has guidelines! For your safety and your dog's safety, keep them on a leash. There are miles of trails that may be dangerous. Any wilderness area may have wildlife lurking that your dog shouldn't come into contact with while you're hiking.
Dog owners need to follow pet policies and should check the sites for any pet-friendly national park before they go! This includes hot springs, lakes, bike paths, and picnic areas. Every national forest has its own rules. Hikers may want to check the rules if they have a service dog too. The national park service is a great resource for this information.
What National Parks have you been to with your dog? Tell us on the Wide Open Pets Facebook page!
Enjoy the outdoors?
Sign up for daily stories delivered straight to your inbox.