Scandinavian design meets rugged environments; your journey could use a Db bag.
Living in Teton Valley, Idaho, there are always opportunities to get into action sports. Skiing peaks, climbing canyon walls, or cruising the trails and rivers that connect it all, one tip is certain in most situations: Having capable travel gear makes a difference in the quality of your excursions.
As someone who spends time outdoors hauling packs, I was really excited to take a Db journey with the new DB Journey Duplex Duffel.
There are a lot of different qualities needed in a reliable adventure bag. The common wisdom in bag design says that durability and space are top priorities, sometimes even at the loss of comfort, accessibility, and even style. No travel bag has it all. However, when it comes to the Duplex, Db clearly leaned into the company's Scandinavian origin to create a functional duffel loaded with smart features.
DB Journey's Duplex Duffel

Db is a company that produces high-quality products for travelers, athletes, and design-conscious individuals. The company was born by life in blizzard whiteouts and on the road. Conceived by freeskier Jon Olsson and "heady" entrepreneur Truls Brataas, the first Db bags were made from a desire to have utilitarian luggage that could function in the adventurous outdoors of Norway as well as it could in airports and transit stations around the world. So, Douchebags (the business) was born.
You read that right. Db means douchebags. Or, at least it used to. The cheeky name was a community wisecrack that stuck. While the joke proved memorable enough to keep around for branding purposes, Olsson & Brataas's company eventually transitioned to the shorter version of the name their bags carry today. It may have all started in fun, but Db bags are seriously inventive— especially the new Duplex Duffel. Let's get into some of the details.
My ideas on duffels always revolved around their convenience. We're talking about a simple style of bag: They open down the middle, have excess storage space, and aren't really intended for keeping gear orderly. Duffels are soft-sided bags that work best when your top priority is just getting a move-on. Toss everything in and worry about fishing out your stuff later, right?
The Duplex from Db Journey unzips the common notion of a duffel bag. For starters, there's no flimsy material here. Db's Duplex is made from heavy-duty recycled 840D carbonate fabric and PU leather, both of which are insanely durable. It feels (and looks) like a high-end roller bag, but carries like a rugged technical pack with adjustable shoulder straps. An embedded set of soft ribs help maintain the bag's unique modular shape. That increased structure makes it easier for athletes, travelers, and adventurers to store technical equipment without losing it in the uncharted depths of an ordinary gear bag.
Organization & functionality is top of mind for the designers at Db. Inside the main compartment, you'll find a mesh laptop pocket along with several other zippered storage slips. These mesh sleeves overlay the primary storage area, which comes in volumes of 50, 70, or 90-liters.
On the front exterior, the Duplex has a length of daisy chains that can be used to connect and stack other bags like Db's Hugger 30l or Backpack Pro. Journey with Db's patented Hook Up System; an innovative connection that provides an extra hand while traveling and has netted Db multiple ISPO design awards.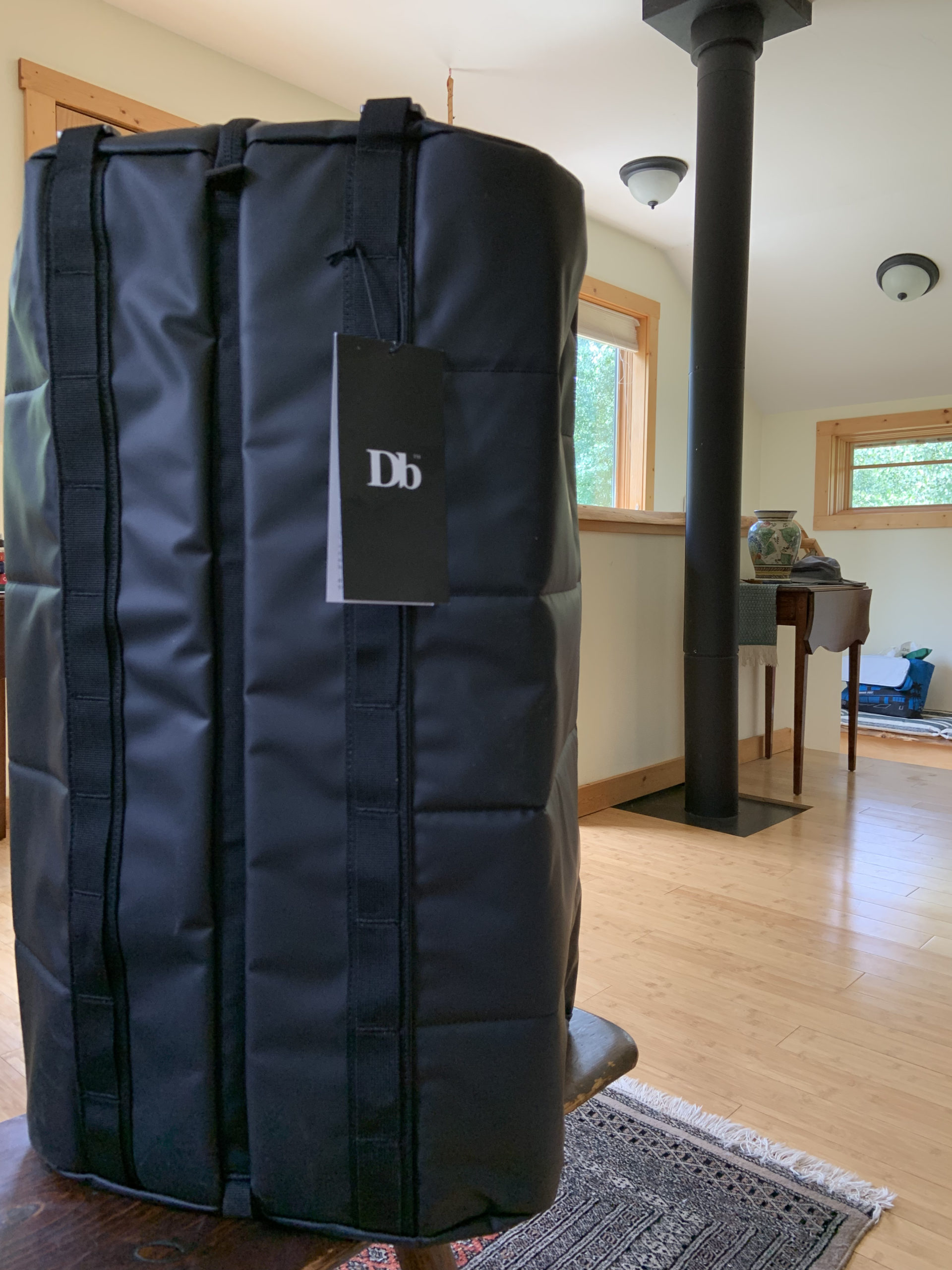 I was able to test out the 90L Duplex Duffel and there is so much to say about this bag. First off, for a 90L bag, it's comfy as all get out. At 34 x 45 x 63cm, my 90L Duplex isn't close to carry-on size. However, I would feel comfortable lugging it around the airport or using it as a substitute for my current backcountry pack, just based on how well it sits on my shoulders. For the record, the 50L bag would pass as a carry-on bag.
As far as technical aspects go, I appreciate that the zippered laptop compartment is the perfect size to keep a Macbook steady in place. That's less crucial for when I use the bag outdoors, but still an important attribute, especially for traveling. This duffel can store climbing gear one day, and professional assets, cameras, and tech on another.
Speaking of travel, there is a lot of on-the-move accessibility to the Duplex. Unlike other center-zipped bags, it can be worn like a backpack, held by the straps as an old-school duffel, or gripped on the top carrying handles as if it were a piece of luggage.
The Duplex has a hidden external pocket for easy access to my personal effects (wallet, keys, phone). With a basic duffel, I would have had to root around inside the pack for those things.
Overall, Db Journey promised a bag that would make duffels exciting. I believe that they delivered on that, but there are some things I hope Db will improve in their next line of adventure duffels.
The biggest drawback I found to the Db Duplex was that quick access is limited. While there is an exterior pocket, it's not large enough to hold more than the essentials. For example, if you are carrying the pack outdoors there isn't any sort of sleeve to hold and grab a water bottle from quickly, which is a present feature on other designs.
Getting to your things requires you to stop, remove the pack, unzip, and then locate what you need. It's an organized carryall, but at times it felt more like a backpack suitcase than a backpack duffel.
Overall, the solid structure of this bag outweighs it all. Most hikers, skiers, and climbers are not stopping mid-trail to rummage through their bags anyways. That's what camps are for.
You can join the Db family through their newsletter, or their exclusive Db Black membership which provides first access to new products, secret sales, and free shipping. The Db Journey Duplex duffel starts at a price point of $259 USD. Db has designed tons of more traditional styles too, like the Scholar Backpack. I honestly can't wait to figure out which bag I'm going to be stacking on top of my Duplex duffel.
NEXT: GEAR REVIEW: THE EXTREMELY AFFORDABLE NORTHSIDE SNOHOMISH WATERPROOF HIKING BOOTS