If you choose wisely, a good range bag will last years and become one of your most cherished pieces of gear.
A range bag might seem like a simple piece of gear, but it's important to buy the right one after thinking long and hard about how it will be used.
All shooters are different, and therefore all accessories (especially bags) can and should be chosen based on your needs and wants.
We'll set some standards to go by, and make some suggestions on what you can easily find online, but the main idea is to find and purchase something you now you'll get good use out of.
Characteristics All Range Bags Should Have
First and foremost, a range bag needs to be rugged and well built. Look for high quality stitching and heavy duty ballistic nylon construction, which will help guarantee durability over the long haul.
You're not using it to tote around dirty gym clothes—you'll be packing it with heavy things, including ammo. And nothing attacks lousy stitching like a bag full of 12 gauge shotgun shells being tossed around the bed of a truck.
Finding the right size for you is also important, and we'll get into that in detail below. A bag that has too much gear stuffed into it makes it impossible to find anything. Likewise, a bag that's too big and cavernous will let your gear intermingle and you'll be sifting through it like you're looking for a nail in a junk drawer.
Though they're not as common as they should be, bags with light colored interiors are really advantageous. They help you easily distinguish your gear from the bag, especially in lower light conditions. Using a black bag when most of your gear and pouches are also black is a bad idea. Lighter camo patterns, like Multicam, aren't a bad choice, and the popular flat dark earth tone works well too.
Organization
I find people often fall into two categories when it comes to organizing their range bags for a trip to the shooting range, the first being people who like a bag with tons of pockets that let them dedicate a spot for each and every piece of gear. Some people do the same thing with small gear pouches and bags organized in a single compartment bag.
Others prefer a divider in a large main compartment and simply dump everything in, still in an organized way, of course. Even those types of bags need smaller pouches for easy-to-lose tools and parts.
Some range bags include MOLLE webbing on the inside and outside of the bag, so you can attach and position gear pouches however you want them. This also makes them removable so you can, say, grab your toolkit and bring it to the shooting bench without bringing your whole range bag.
No matter what kind of shooting you're doing, you're gonna want to make sure you have room for these shooting range essentials so you can stay range ready. Though you'll likely be hauling quite a bit more than this, those are the bare essentials.
Ear protection and eye protection (ear muffs and plugs)
Staple gun and staples
Gloves
Cleaning kit with brass rod
Gun lube/Gun Oil
Ammunition
Of course, in the end, the best range bag is the one you can rely on not to fail no matter how much you pack into it, and one that fits all your gear and keeps it organized how you like.
It's also a good idea to look for a range bag with lockable zippers, just in case you have to leave it unattended for any reason with a handgun or ammunition inside.
Range Bags For Long Gun Shooters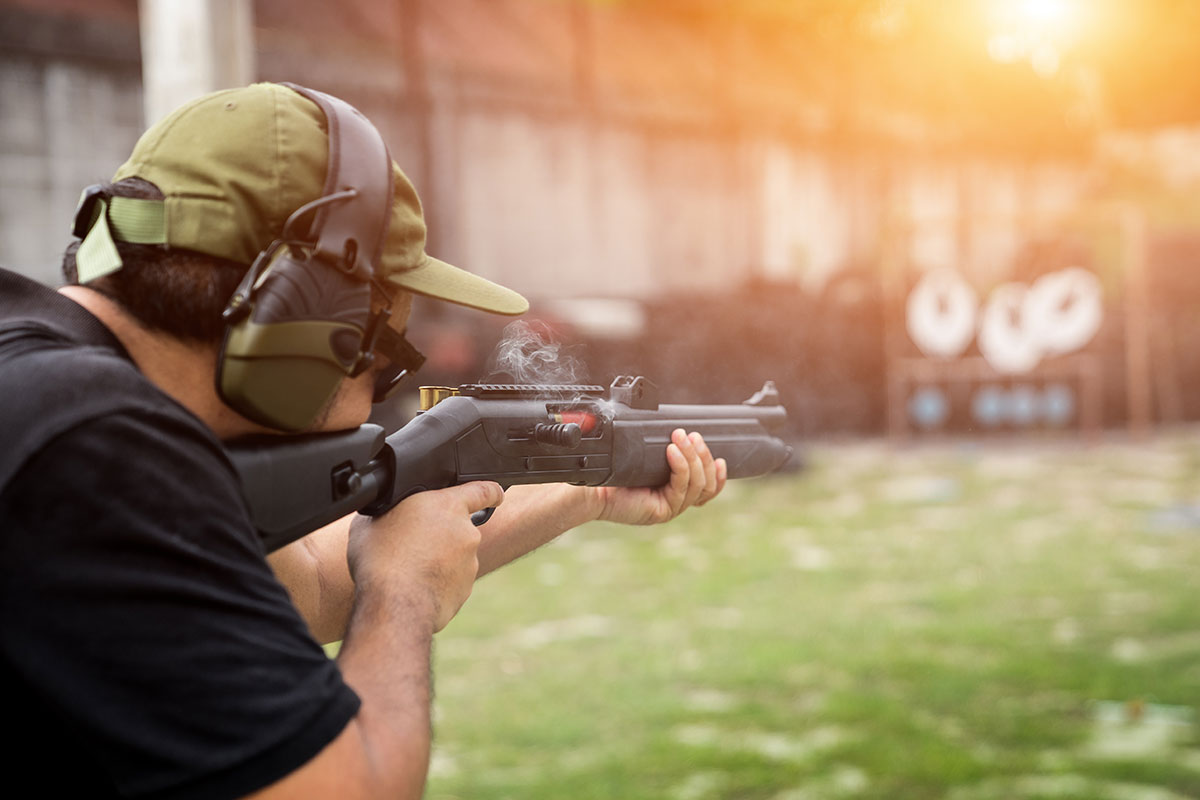 If you're mostly a long gun shooter, a smaller shooting range bag for ammo, some tools, and a few accessories like a laser range finder, might be all you need. If it can pull double duty as a shooting bag, all the better.
However, if you're hauling larger pieces of gear like a spotting scope and tripod, binocs, and a gunrest, you're going to want something larger that comes with external loops for that tripod or for a stack of rolled-up targets. Look for a bag with side pockets big enough to fit at least a couple boxes of ammo, which will save you space in the interior.
With bigger duffel-style bags, looking for one with a shoulder strap isn't a bad idea. At a range where you're only a few steps from your vehicle, it doesn't matter, but for some of the cooler shooting grounds you might encounter, you'll be glad to have it when also toting a rifle case or two.
And finally, since rifle shooters and shotgunners tend to do a lot of shooting in fields and on ranges that are out in the open, a bag with a water-resistant coating is a good idea.
What to Look for in a Pistol Range Bag
Nobody says a range bag has to be a duffel-style bag. Don't discount using something like a tactical backpack as a range backpack, especially if it has MOLLE webbing and velcro that makes adding and moving accessory pouches easier. And the big plus is it keeps both hands free to carry gun cases.
Pistol ammo boxes hold more rounds than boxes of rifle ammo, but they weigh more per box, so looking for sturdy bags for a handgunner is still important. If you're hauling a lot of ammo for a healthy range session, a separate ammo box is the way to go.
If you usually only take one or two handguns to the range at a time, having a bag that can fit a couple hard pistol cases or soft cases will let you keep all your gear in one bag, which makes leaving things behind a lot more difficult.
I find lockable zippers to be more important on a pistol range bag, as it can often house a firearm, the number one piece of shooting equipment you don't want to get stolen.
As you can see, there's a lot to think about, and these reminders will hopefully serve you well. ?To continue, here are some suggestions for great range bags that you can find on Amazon right now:
Range Bag Recommendations
Blackhawk Sportster Deluxe Range and Hunting Bag

This is a great mid-sized bag that is extremely versatile. It's padded with dual-density foam with open-cell foam on the inside for great interior protection. It includes a removable pistol rug and pistol pouch lined with soft fabric, heavy duty wraparound web handles, heavy seam binding with dual rows of locked stitching, multiple internal pockets, and a 600 denier polyester construction.
Osage River Tactical Range Bag

This bag is a bit larger and can double as a hunting gear bag when not at the shooting range. It includes zipper closures with heavy duty zippers, 600 denier ballistic nylon construction, nine large compartments, and two adjustable padded dividers for organizing the main compartment. It also includes five external zippered pockets and two removable pistol pouches along with a shoulder strap.
Orca Tactical Duffle Gun Range Bag

This bag packs a lot of storage space in a compact package that makes this bag extremely easy to transport and store. It can store at least three handguns along with all your essential gear. It can also be used as a backpack when hauling rifle cases.
Constructed of 500 denier polyester, this bag is reinforced and double stitched at all the major stress points and its closures are secured with high quality YKK zippers that are rust resistant and lockable (they're actually designed for luggage locks). The bag is also water resistant. The main compartment includes a removable divider and there are numerous fully padded compartments and pockets.
5.11 Tactical Range Master Duffel Bag

If you want a big ol' range bag that can fit everything, this 47-liter bag certainly fits the bill. It comes with a 5.11 Single Pistol Case, a Small Ranger Master Pouch, and a Medium Range Master Pouch which are great for organizing all kinds of small parts, tools, and magazines.
The compression molded EVA lid offers a rigid, rugged surface for gun cleaning or any other task. It also features a removable shoulder strap in addition to rugged carry hands and side handles. This bag is constructed from 500 denier nylon and the lid is made of 168 denier polyester.
Just remember, you'll probably go through plenty of guns in your lifetime, and ammo only stays in your possession for so long before you fire it through your barrel. You'll own gun accessories, cleaning supplies, and other gadgets, but a good range bag could, and definitely should, last as long as your shooting days will stretch.
Choose wisely, and you'll see the clear benefits of owning a good range bag.

NEXT: A RECORD-BREAKING 5.5 MILLION FIREARMS WERE SOLD IN THE FIRST THREE MONTHS OF 2021
WATCH