Berkley is out to re-define the way anglers look at jigs.
When it comes to bass fishing jigs, there has not been a ton of new innovations in recent years. Maybe some subtle changes to the hooks or head designs, but that is it. Berkley fishing decided they wanted to change all that and after more than two years of development, they are ready to unveil their new line of jigs to the world.
These jigs may look normal, but appearances can be deceiving. We recently traveled to the Pure Fishing/Berkley facilities in Spirit Lake, Iowa where they gave us the lowdown on what they have been cooking up in their lab the last few years.
With help from pro bass fishing legend and jigging guru Gary Klein, the company found a way to bake their innovative Powerbait formula into the skirt of their jigs for the first time ever. It was not easy as we quickly found out during a tour of their facilities.
Powerbait Silicone Skirts
The biggest thing that Berkley is excited about this year is the new silicone skirts they have developed that will be standard across all their new jig releases. Most anglers are familiar with the company's Powerbait formula that helps make their soft plastics so effective. Berkley has always been extremely secretive about what goes into the formula, but most anglers will agree it works quite effectively.
The company set out with a goal to bake that formula into the skirts of their jigs, which was easier said than done. During our tour of the lab, Keith Ostrum, Berkley's Senior Manager of Product Development explained that it was a delicate balancing act to get Powerbait to work in a skirt. If they tweaked the secret ingredients of the formula too far one way, it was not as effective on fish. Tweaked too far the other way, the skirt would become brittle, and the action would be impeded.
It took around two years, but Berkley believes they finally found the right balance between the two extremes. adding a smell and taste element to jigs that was severely lacking in the past. This means the fish hold onto the bait longer, giving the angler more time to get a good hookset.
Pro designed and approved.
This new line of jigs started development before the introduction of the Powerbait skirts however. Berkley teamed up with veteran pro angler Gary Klein to design a new set of jigs for practically all applications. Adding Powerbait into the skirt was simply the icing on the cake for Klein.
"It's never been done before," Klein said. "That's why everybody on the team thought 'You know, it's kind of a no-brainer for us to get our skirt material right,' and then come out with the line (of jigs) all at one time."
There are some features standard across the line. One is the Powerbait skirts, but these jigs also utilize Berkley's popular Fusion19 hooks in a variety of sizes and strengths depending on each jig and its intended purpose. Klein also designed and tweaked the weed guards for each of these designs himself. The company decided to keep the skirts at full length so the anglers have options on trimming them before their first fishing trip to suit his or her own tastes.
Berkley also wanted to re-define some of the classic jighead designs and that was where Klein came into the picture. His years of experience allowed the team to change up the designs to overcome some of the more common issues he's encountered on the pro fishing circuit.
Football Head Jig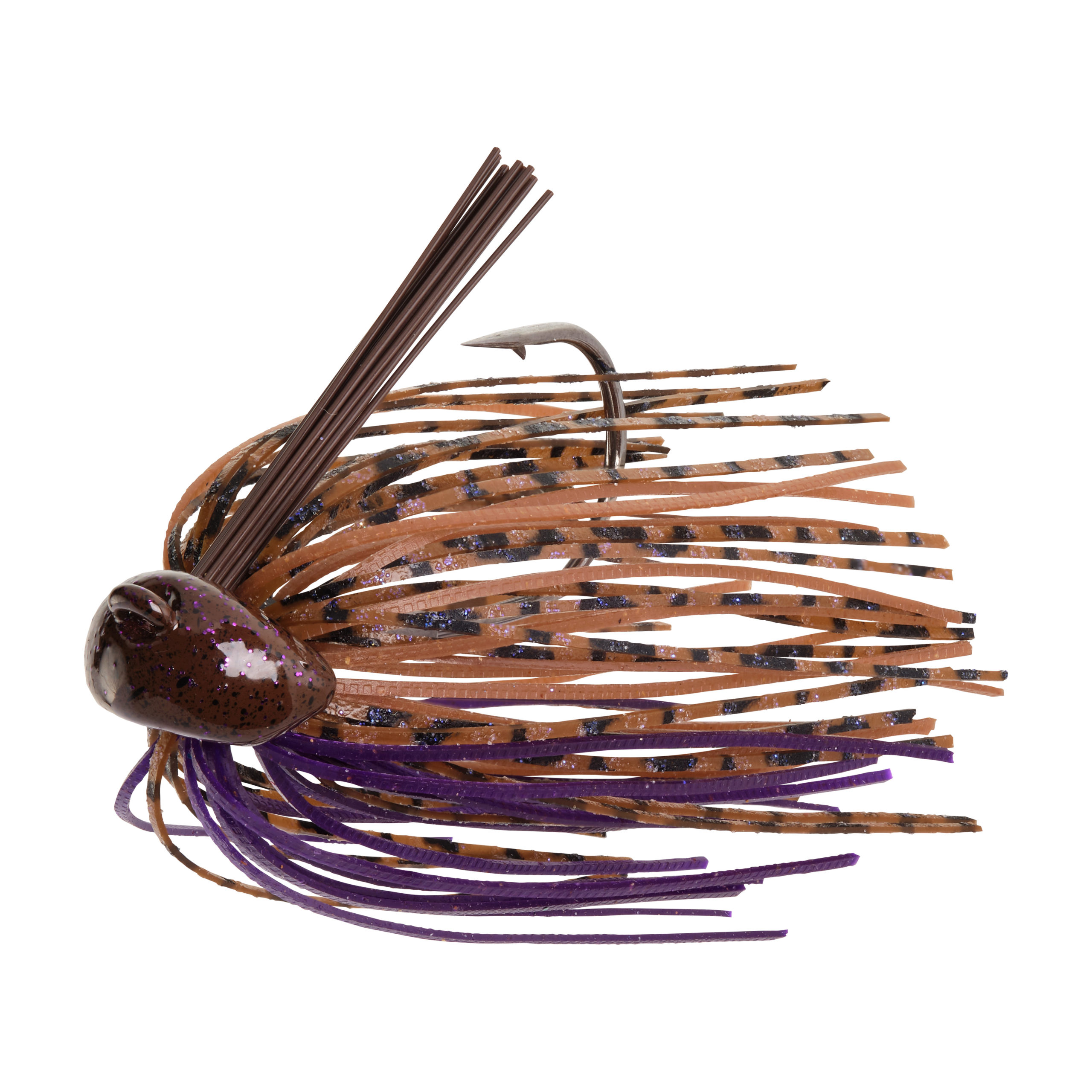 The first new addition to the Powerbait skirted jigs is a football head jig, although it may not look like any football head you have seen before. These are 40 strand jigs with 4/0 hooks in ¼, 3/8, ½, ¾, and 1-ounce sizes and 10 different colors. Klein asked the development team to help re-design the head of the jig to solve some of his common issues with the more traditional design.
More specifically, the football shape has been flattened backwards significantly, which Klein says helps give the lure a better contact point with the bottom.
"By taking the size of the football head and bending it backwards, it kind of addressed one of the issues I've always had with the football head jig," Klein said. "Sometimes it's hard to get out of the fish's mouth because there's so much lead forward. So, I was able to lay it back, increase contact on the bottom."
Swim Jig
For this one Berkley also enlisted the help of swim jig expert, pro angler Bobby Lane. Berkley reduced the strand count to 30 to give this one more of a finesse profile and made the head more pointed. This one is available in 4/0 and 3/0L hook sizes and comes in ¼, 3/8, and ½-ounce weights.
Berkley says because it is a finesse model, it also uses a slightly lighter wire in the hook. This one has a 3D eye design on the head to add a little more incentive to strike on a jig offering a little bit more of a subtle and natural action.
Skippin' Jigs
This one is a favorite of Klein's already and is meant to help you get the lure under overhanging branches, low docks, and other forms of cover that were previously inaccessible to bass anglers. Berkley upped the strand count to 60 on this one to give it a little more buoyancy and fitted it with a 5/0 hook. They are making 10 colors and two sizes, 3/8 and ½-ounces. The big innovation here, other than the Powerbait skirt, is the redesigned head of the jig. Klein had a lot of input there.
"If you were to hold these skipping jigs up, you'll notice I took and I flared the shoulders of the bait to give it more contact on the surface. That's where the slide or the skip begins," Klein said. "This bait slides like a flat rock."
Flippin' Jig
Considering that Klein was one of the first anglers to start using flipping techniques many years ago, it was only natural to ask for his input on this jig. This one has a 40-strand skirt with a 5/0 hook and comes in 3/8, ½, 5/8, and ¾-ounce sizes and 10 colors. Once again, the head has been specifically tinkered with and adjusted to lots of testing and data to back up the design. Klein says this design results in much better hook-ups.
"It's a bait that is designed to fish in cover," Klein said. "But the oval shape, it is the top shape that rotates the hook in an upward motion to catch the top part of the mouth."
Heavy Cover Jigs
Berkley recognized the need for anglers in places like Florida to punch through heavy hydrilla mats to get down to where the lunkers are lurking. The result is their new heavy cover jigs. The company will offer these in ¾, 1-ounce and 1 ¼-ounce sizes. They are fitted with 5/0 hooks and have 40-strand skirts.
Everything about this bait is more heavy-duty than the rest. Even the weed guard uses stiffer fibers and more of them to help keep the jig weedless on the messiest of lakes. Klein says he likes it also for punching through floating piles of debris on man-made reservoirs. It will be offered in eight colors.
Finesse Jig
The last new jig debuting from Berkley is a 30-strand finesse jig. This one is fitted with 4/0 hooks and will come in ¼, 3/8, and ½-ounce sizes and ten different colors. The slimmer profile of this bait allows anglers to give a more subtle presentation to slightly more finicky fish. For this one they kept a classic oval-shaped head design.
Price and release date.
We came away from our sneak peek at this new line thoroughly impressed with how Berkley is, for lack of a better phrase, trying to re-invent the wheel. It is a bold move, but a refreshing one at the same time. There has not been a ton of jig innovations like this as of late and this line looks normal enough on the surface, but deserves a second, closer look. This new line of Berkley jigs is set to be released in November of 2021. They will be showcased at ICAST 2021 before they are finally released to the public. Berkley says the estimated MSRP for each jig will be a highly affordable $4.99 each.

For more outdoor content from Travis Smola, be sure to follow him on Twitter and check out his Geocaching and Outdoors with Travis YouTube channels.
NEXT: PETA IS NOW GOING AFTER FISHERMEN
WATCH
Enjoy the outdoors?
Sign up for daily stories delivered straight to your inbox.