These poachers were all busted via social media.
We can debate the pros and cons of social media until the cows come home. But one thing for sure is that it sure makes things easier for law enforcement.
Poachers make all sorts of poor life decisions when they decide to steal the natural resources we all share. But, some of them have made the incredibly dumb decision to brag about their crimes to the whole world on social media.
Here are seven cases where poachers did just that.
Washington Cougar
Cody Young just couldn't resist sharing the photos of the big cougar he killed with his bow. So he posted them on Facebook in late September 2016. There was just one problem. The time stamps on the photos revealed Young posted them hours before he actually went in and purchased a permit!
A subsequent investigation also revealed text messages on Young's phone about the kill with times that revealed the same thing.
Young was later found guilty of the crime was awaiting sentencing last we heard, which could potentially mean prison time.
Roe Deer Kidnapping
Poachers bragging about their crimes aren't limited to the U.S. In September of 2015, Mian Zeshan Sahid somehow captured a roe deer in the United Kingdom and took it home with him.
He then bragged about capturing the deer on the Facebook group "Deer Stalkers International." It didn't take long for group members to contact the police.
Later it was found Shahid had killed the deer at his home. He was subsequently charged with poaching the deer and subjecting it to unnecessary suffering. He was sentenced to seventh months in jail, but the sentence was suspended for two years when he pleaded guilty in the case. We can only hope the public humiliation keeps him from doing that again.
Oregon Elk
David Maxfield Jr. shot a bull elk in August of 2016 and decided to share the photos of his kill on the Oregon Big Game Hunting Facebook page. But what Maxfield didn't know was that law enforcement was watching that page.
When an Oregon State Trooper saw the post, he ran Maxfield's name through a database and found Maxfield never purchased an elk tag. He later confessed his crime when confronted with the evidence. Additionally, Maxfield's friend Allen Boal was also charged in the crime, getting a year of probation.
Maxfield ended up getting $7,600 in fines and community service for the crime. Both men lost their hunting privileges for the next three years.
The Facebook page where he posted the photos subsequently banned Maxfield for life.
Deer Farm
It's already a bad idea to go out poaching. It's an even worse idea to do it at a deer farm—you know, a place where the owner knows every animal on his land.
But that's just what Aaron Griffis and Taylor Wise did in November 2016 when they broke into a Florida deer farm not once, but twice. As if that wasn't enough, they also took a video of themselves doing it and shared it privately on Snapchat and Facebook.
Eventually, someone tipped off the Florida Fish and Wildlife Commission who began an investigation. The two later admitted their crimes after being confronted with the evidence. In addition to charges for taking a deer at night and trespassing, they were also hit with felony charges for grand theft livestock because the deer were farm animals.
Perhaps the saddest part of the story was that Wise was also hit with a felony for child endangerment without harm because he brought his son along for one of the incidents.
Over-the-limit fish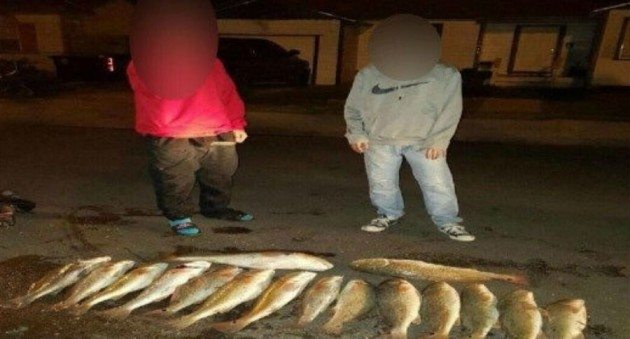 Two Texas men clearly weren't thinking when they posted photos of their day of fishing on a local Facebook group. That is because the photo clearly showed the men were over-the-limit for their day of fishing.
Of course, multiple people noticed this violation and it didn't take long for it to be reported to the Texas Parks and Wildlife. And when the game wardens investigated they found out not only were they over the limit, but one of them didn't even have a license!
The men were handed 11 citations and had to pay fines and restitution in the case.
Louisiana whitetail
Jacob W. Jones might've gotten away with his poaching crime. But then he made a Facebook post with photos of the 6-point buck he poached in December 2015.
Someone who saw the photo quickly alerted the Louisiana Department of Wildlife and Fisheries. A subsequent investigation found Jones didn't tag the animal properly and he didn't even have a hunting license.
Over-the-limit cottontails
Two men in New York shot 22 cottontail rabbits on Christmas Eve 2016 and shared a photo on Facebook. The only problem is the limit for cottontails is six per day. Oops.
So once again, people were able to easily point law enforcement in the right direction. The men told officials they didn't know there was a limit on cottontails, but ignorance of the law didn't excuse them.
NEXT: CAN-AM'S 2020 DEFENDER LINEUP CHANGES THE LANDSCAPE FOR HUNTERS, RANCHERS
WATCH