These are some of the largest wild bucks harvested by youth hunters.
Hunting season is finally on the way. For youth hunters, it'll be here sooner rather than later. Soon, kids and teenagers will be hitting the woods with an accompanying adult to take part in special youth hunting seasons.
It's a great way for them to build hunting experience and a chance to harvest a buck or other big game animal before anyone else.
Before these special youth hunting programs begin, we thought it was appropriate to use a #WhitetailWednesday to share some of the biggest whitetail bucks that youth hunters have ever harvested.
The Mitch Vakoch Buck
In 1974, 17-year-old Mitch Vakoch shot his very first buck in Minnesota. This was long before special youth hunting deer seasons and youth hunting licenses became the norm. But his first buck still likely drew a lot of jealousy from the veteran hunters in his area. His first buck was an incredible 43-pointer that netted 268 5/8 inches, which is still one of the biggest non-typicals anyone's ever taken in Minnesota.
The Albia Buck
This deer was the worst-kept secret in the whitetail world from 2002 until it was finally downed by 15-year-old Tony Lovstuen in Albia, Iowa, in September of the following year. Thanks to live photos published in North American Whitetail magazine, the deer hunting world was sent into a frenzy and many hunters flocked to Albia in hopes of bagging this beast.
Many were still trying to secure hunting spots in the area for the 2003 deer hunting season when the Lovstuen family took advantage of their own private lands and a special Iowa youth hunting season to put Tony in position to bag this buck with a muzzleloader. He did just that on Sept. 23, 2003. The buck later netted 307 5/8 inches and stood as the largest hunter-killed buck ever until Stephen Tucker's 312-incher eclipsed it two years ago. Not many young hunters can claim to have downed a world record that early in their hunting careers!
The Micalah Millard Buck
Youth hunting seasons are designed to act as hunter education and teach young hunters responsible hunting and gun safety primarily. But it also provides them with incredible opportunities at the deer of a lifetime. That's exactly what happened to 14-year-old Micalah Millard of Oklahoma in 2015.
Interestingly, the buck didn't show on the Millard family's game cameras until just before Micalah shot the monster buck during Oklahoma's youth deer hunting season. The big buck later netted 179 7/8, making it the fourth biggest typical ever taken in Oklahoma and the largest by a female hunter. And, her dad was there for the whole thing. Talk about an awesome memory neither one will likely ever forget!
The Clayton Brummer Buck
Showing that youth seasons aren't just about learning hunter safety and gaining hunting experience, 16-year-old Clayton Brummer also learned a little about hunter ethics in the 2015 Kansas youth deer season with this monster non-typical. The first shot opportunity he had at this buck wasn't an ethical one, and Clayton and his dad had to watch the monster walk away.
Fortunately for them, the big boy showed himself just two days later, and this time, he gave Clayton a clear shot. The Brummers practice quality deer management and it definitely shows! The 230-inch buck still had the majority of its velvet hanging from his antlers.
The Makayla Hay Buck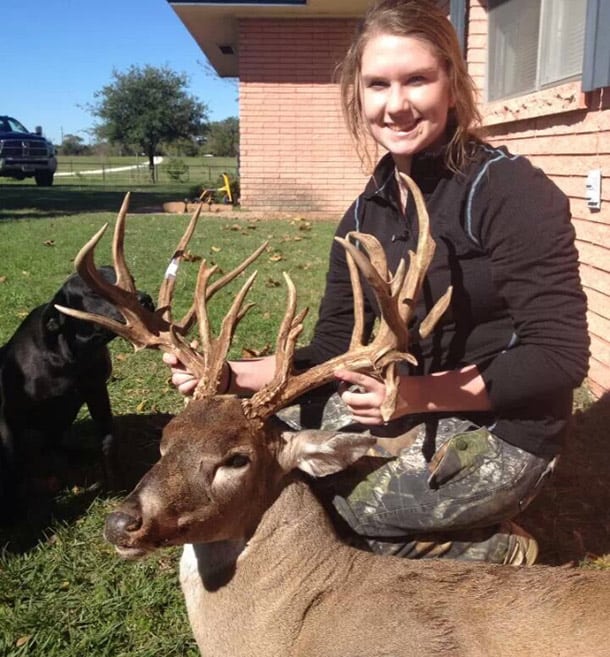 Before the 2013 Texas deer season, 15-year-old Makayla Hay and her father learned about this monster 23-pointer's existence when they saw a photo of it swimming a river that appeared in their local newspaper. She was determined to hold out for this buck after seeing the picture.
Her father didn't believe she'd have the willpower to pass up other bucks for this deer, but he quickly realized how wrong he was when Makayla passed up two other bucks and then downed the 205-inch non-typical giant Nov. 2!
The Brian Andrews Buck
This buck received a bit less attention in 2003 because the news of the Lovstuen buck was eating up all the headlines. But, no one should overlook the accomplishment of 16-year-old Brian Andrews or his place in whitetail hunting history.
The teen used a borrowed bow to down this 253-1/8-inch 26 pointer in Buchanan County, Iowa, Nov. 13. Sadly, this story ends on a sour note because Brian's buck was stolen right off the wall of his family's home just seven months later. To this day, no one has recovered it.
The person who ruined this awesome hunting experience for such a young hunter should be ashamed. If you have any information on this crime, call the Buchanan County, Iowa Sheriff's office at (319)-334-2567.
The Ella Sander Buck
Not every mega youth harvest is a product of a special youth hunting or hunter education program. The monster whitetail deer 15-year-old Ella Sander harvested last season came on the opening morning of Wisconsin's regular firearms deer season.
The mega buck was Ella's first and grossed over 210 inches. Good luck topping that one the rest of your life, Ella!
The Tyler Knott Buck
This monster non-typical was nicknamed "Junkyard" by 15-year-old Tyler Knott and his father. After taking one look, it's easy to see why. Tyler took the 222-inch monster in early November 2016. Unbelievably, Tyler missed this buck twice and his dad wounded it in the knee in 2015. That had to be a disheartening experience.
But the third try was the charm a year later when Tyler finally rattled in and arrowed the monster buck on Halloween morning 2016.
NEXT: #WHITETAILWEDNESDAY: NOT EVERY BIG BUCK IS POACHED OR A HIGH FENCE DEER
WATCH
https://rumble.com/embed/u7gve.v3v4j9/
Enjoy the outdoors?
Sign up for daily stories delivered straight to your inbox.