The holiday season is about giving. Obviously, that means spoiling your dog with some new gear thanks to the vodka for dog people, Tito's!
Nothing says "'Tis The Season" like a holiday sweater. However, sporting a Mike Tyson-themed fit or similar ugly Christmas sweater might mean you need a little liquid courage. Our friends at Tito's Handmade Vodka in Austin, Texas were kind enough to send over a sneak peak at their holiday attire, and honestly, I am still wearing their limited edition sweater as this sentence gets written.
Tito's is taking their holiday sale one step further, though. Selling sweaters, beanies, scarves and mixology kits isn't meant to put money in their own pockets; Tito's is donating 100 percent — Yes, 100 percent — of all net proceeds from online sales to four organizations doing incredible work of their own. Plus, YOU choose at checkout which of the amazing nonprofits you'd like to donate to!
Tito's Vodka for Dog People: Holiday Gifts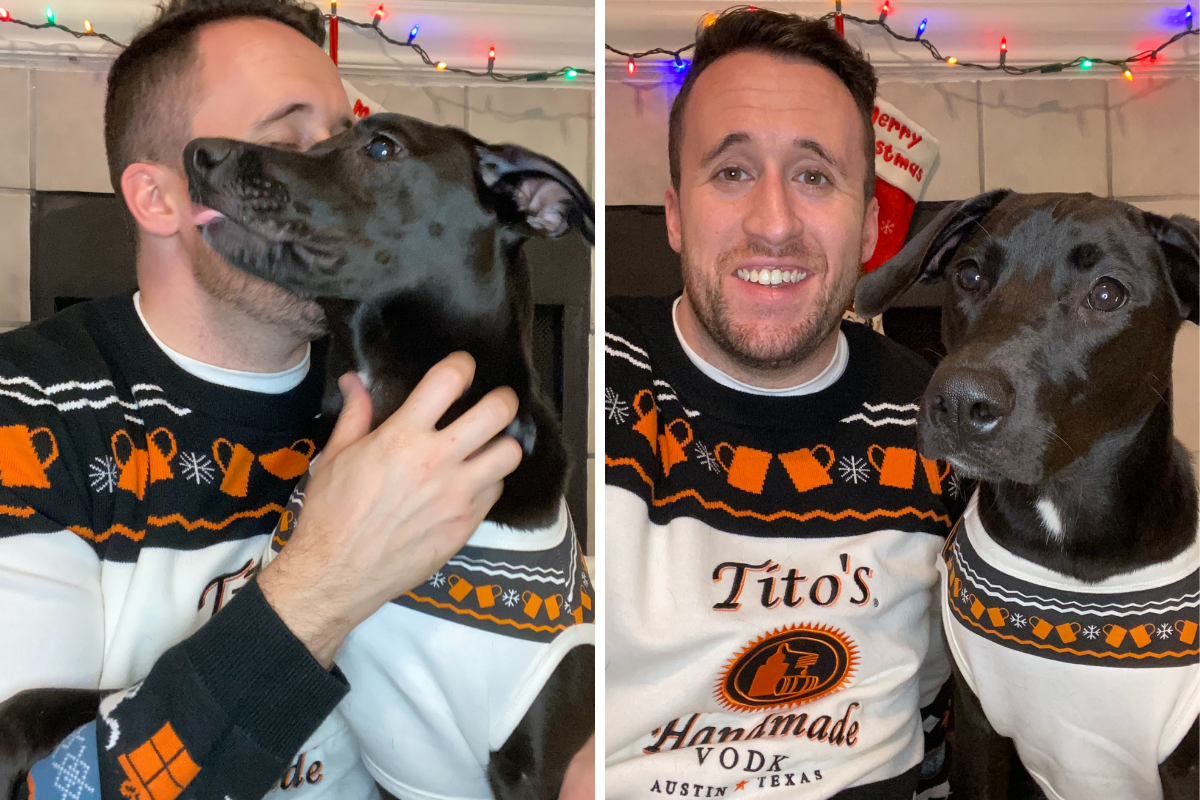 That's me and my dog Layla. Yes, we do look fantastic in our matching Tito's Ugly Sweaters. Yes, Layla did get about two dozen treats during our photoshoot to get the perfect shot.
You can click here to visit Tito's webstore to get your limited edition Tito's Ugly Sweater. After that, check out Tito's Ugly Sweater for Dogs. The 85-15 split of polyester and cotton makes it soft and breathable, and Layla quickly fell asleep while wearing it!
Tito's Dog Toys & Tail Waggers Kit
On top of looking great, keep your pooch busy with some "vodka" of their own! Tito's Dog Toys squeak when squeezed and are machine washable. Pair that with a brand new leash, collar and bandana set to really show your love of Tito's by clicking here.
Did I mention 100 percent of all proceeds for items purchased on the Tito's webstore will be donated to some amazing organizations?
Nonprofits Supported by Tito's Vodka
Keep spirits raised and stockings stuffed with Tito's-inspired trinkets, sparkly bottle ornaments, and signature socks...it is the holidays after all. Just pick your gifts, choose @OurOcean at checkout, and give back this season. #LoveTitos https://t.co/VVJTmJW8My

— TitosVodka (@TitosVodka) December 5, 2020
Team Rubicon
Team Rubicon mobilizes veterans who continue to serve their communities. Through initiatives such as supporting local food banks and running mobile COVID-19 testing sites, Team Rubicon is working harder than ever to fulfill their core mission during the unprecedented coronavirus outbreak in 2020.
Emancipet
Providing affordable veterinary care to all, Emancipet works day after day to provide our furry friends with the treatment they need. Emancipet kept their low-cost clinics open throughout the pandemic to keep patients, clients and staff safe, yet still need your help to maintain those standards as the pandemic drags on.
James Beard Foundation
Perhaps no businesses were decimated more due to social distancing guidelines and restrictions like the food and beverage industry. The James Beard Foundation committed its entire staff to the Open For Good campaign, and they will spend the next year aiding in the rebuild of local, independently-owned restaurants that were hit hardest during the COVID-19 outbreak.
Ocean Conservancy
Without our planet's oceans remaining in top shape, the human race as we know it couldn't survive. Ocean Conservancy is using science-based solutions to build back healthy oceans and support the ecosystems that depend on it.
The beauty of Tito's initiatives is that at a minimum $25,000 donation will go to each nonprofit regardless of overall sales. Tito's Handmade Vodka for Dog People is just that, but this Austin-based company is proving that human aid starts with a little kindness, a jigger of alcohol to unwind, and some amazing ugly sweaters for dogs everywhere.
Click here to visit Tito's website, or follow them on Facebook, Twitter and Instagram.
Enjoy the outdoors?
Sign up for daily stories delivered straight to your inbox.