The Ravin R500 represents a new way of thinking about crossbow designs. Oh, and it hurls arrows at a blistering 500 fps.
When it comes to innovative crossbow and archery technology, Ravin Crossbows is the company at the forefront.
The new R500 crossbow takes that innovation to the next level with its new proprietary HexCoil Cam System. It rotates the cams an astonishing 360 degrees and has changed the very shape and configuration of the crossbow.
The final result is the fastest, most accurate, and most compact design ever produced.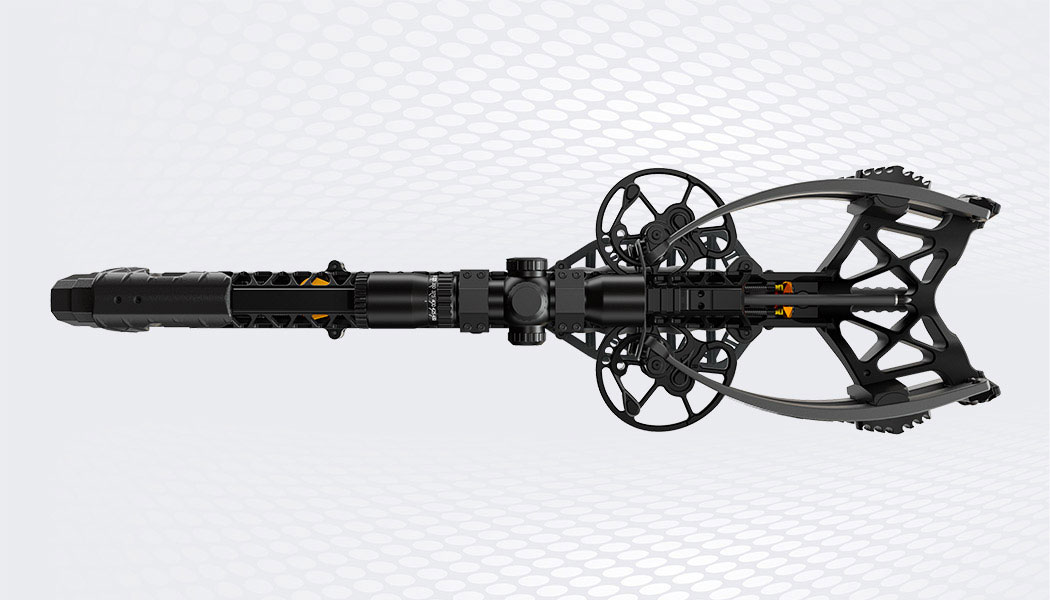 Remarkably quiet, the new R500 draw handle cocks back to a slim 3.6-inch axle width when fully cocked, and fires arrows at 500 feet per second. The crossbow's new VersaDrive Cocking System has an internal screw drive that moves the Trac Trigger Firing System back and forth. The internal clutch within the VersaDrive system eliminated over-cocking and allows cocking and uncocking to be stopped or resumed at any time during the process. Decocking is also easy and safe.
Users can upgrade to the R500E by adding the new Electric Drive Kit which uses the new Ravin electric drive system, which cocks the crossbow with the push of a button.
The R500 Sniper Crossbow Package will also be available for shooters who want pinpoint accuracy and prefer a scope on their xbow. It comes complete with the new Adjustable Turret Scope as well as the Ravin Scope Level and .001 Premium Arrows. The R500 Sniper can also be upgraded to the R500E Sniper.
The R500 is expected to be available Spring 2021. The MSRP is $3,049.99.
Ravin R500 Crossbow Specs
Color: Slate Gray
Speed: 500 fps
Weight: 8.4 lbs.
Length: 28"
Width Axle to Axle Cocked: 3.6"
Width Axle to Axle Uncocked: 7.6"
Power-Stroke: 15"
Kinetic Energy: 222 ft-lbs.
Draw Force: 17 lbs.
Additional Features:
HexCoil Cam System
VersaDrive Cocking System
Fully Assembled/Pre-Tuned
6 - Ravin .003 Arrows & Field Points (400 Grain Total)
1 - Removable Draw Handle
1 - Quiver/Mounting Bracket
100 Yard Illuminated 550 FPS Scope
Anti-Dry Fire/Auto Safety
Built-in Sling Mounts
NEXT: 6 POPULAR CROSSBOW BROADHEADS TO SHARPEN YOUR SHOT
WATCH
Enjoy the outdoors?
Sign up for daily stories delivered straight to your inbox.