Products featured on Wide Open Spaces are independently selected by our editors. However, when you buy something through our links, we may earn a commission.
These pop-up canopies are perfect for your summer adventures and gatherings.
We may be well past the fourth of July, but the summer is not over and there is still plenty of warm weather fun to be had this year. A quality canopy or sun shelter can really help make the outdoor experience a lot more pleasant in most instances.
A good shelter will keep the rain off or tame the sun's harmful rays. A screened-in shelter will also help keep the bugs off you when relaxing at your favorite campground.
Whether you are looking for a simple beach canopy for the long, dog days of August or something a little bit larger for that end of summer outdoor party, you are sure to find something you will like and that is affordable on this list.
Quictent EZ Pop Up Canopy Gazebo Party Tent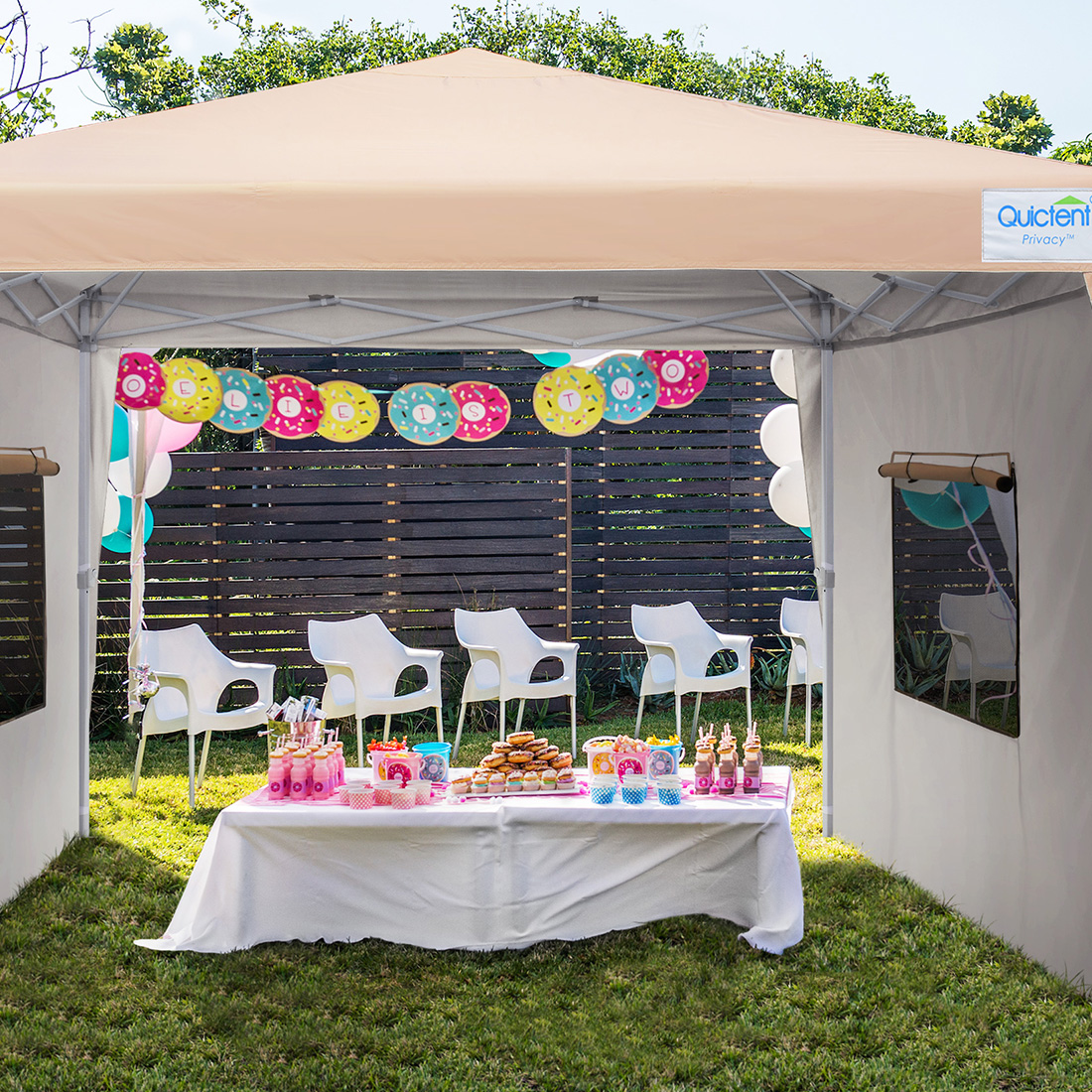 If you are looking for something heavy duty that offers an easy setup and superior protection from the elements, the Quictent is one to consider. This canopy has a large 8x8 ft footprint and comes fully assembled. No fumbling around with poles. The steel frame is powder coated to be corrosion resistant and the sides are made of a tough 420 oxford fabric that is both waterproof and provides superior sun protection. Setup is simple as well thanks to the quick release buttons. Use it with or without the sidewalls with mesh windows for extra shade or protection from the wind. This canopy comes with a roller bag for easy transport to your next campsite or outdoor event.
Ozark Trail Portable Sun Shelter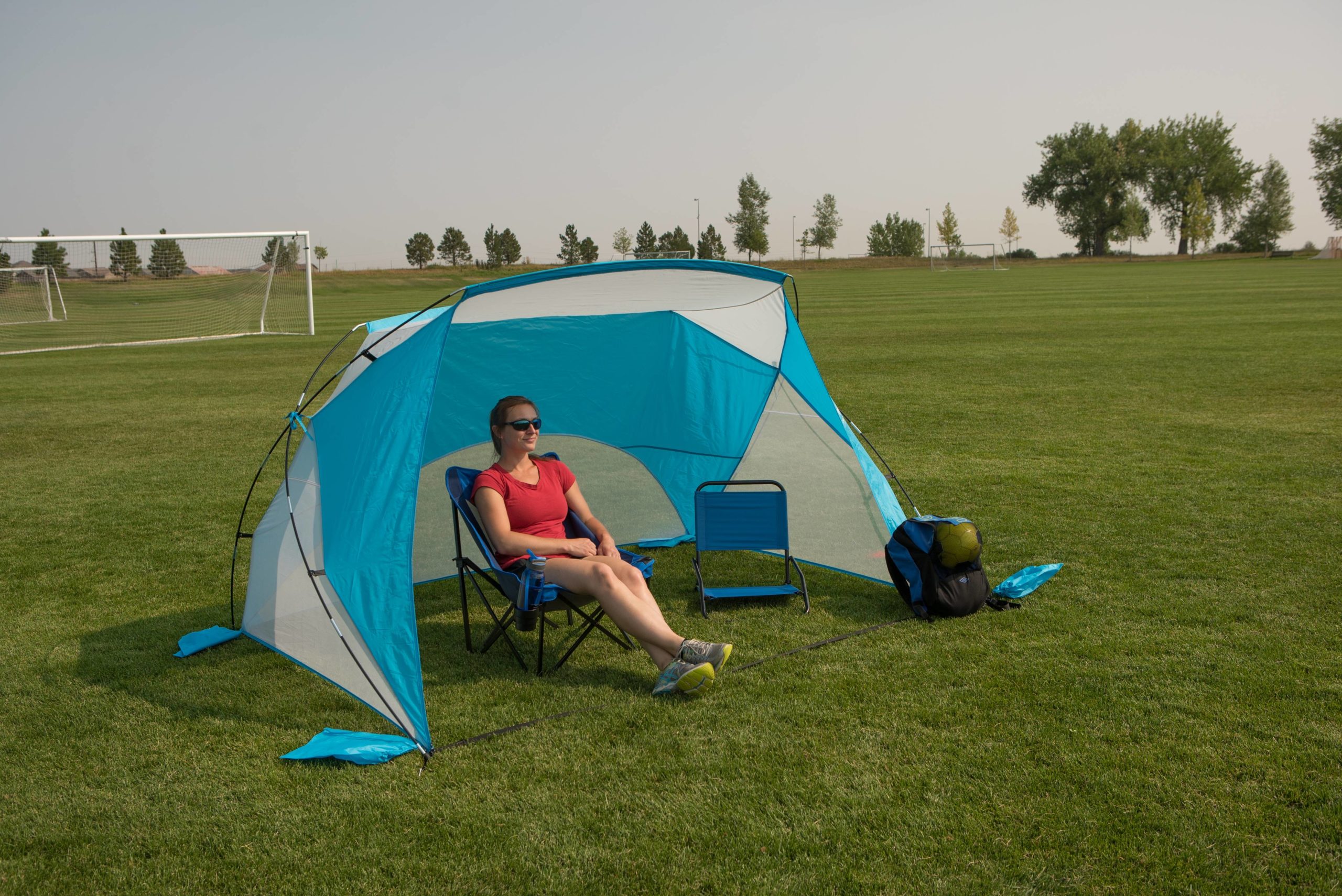 This offering from Ozark Trail is a solid option for anyone looking for something that is quick and easy to use. This sun shelter is rated to 50+ UPF to keep you safe from the sun without having to apply a bunch of oily sunscreen. It only weighs 4.8 pounds and packs down to 25.5 x 4.5 x 4.5 inches, which makes it simple to store anywhere.
This shelter is up and ready to go in about five minutes, making it a perfect sunshade for the beach or backyard. It would be a great option for those late summer/early fall sporting events with the kids too. Ozark Trail includes four sandbags to help you set this thing up anywhere, even a parking lot for a pre-game tailgate. For only $35, this canopy has a lot going for it.
Sinowell Outdoor Pop Up Canopy Screen Party Tent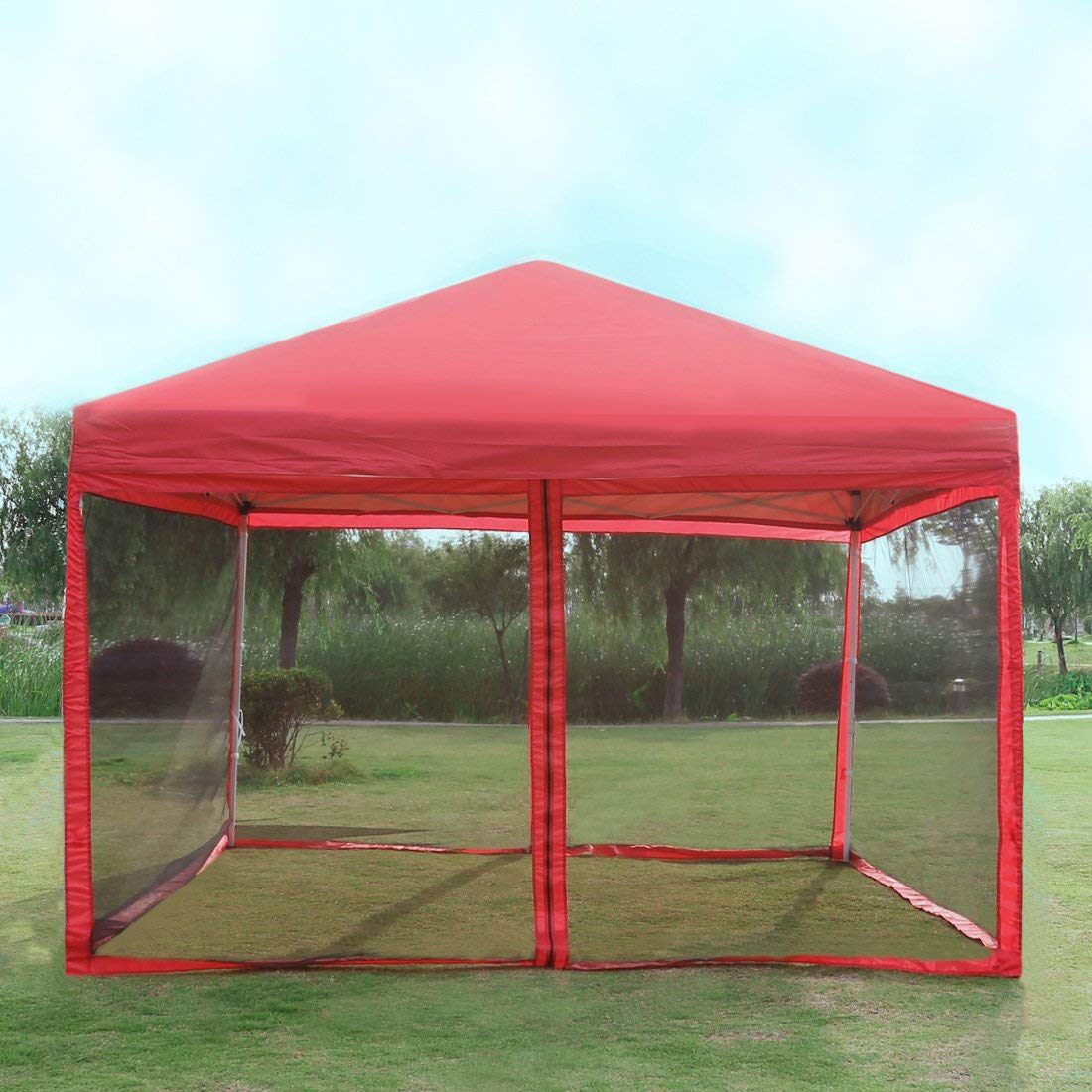 This large, 10 x 10 ft outdoor pop up canopy is perfect for anyone who wants protection from both the sun's harmful UV rays and bugs, but also enjoys a nice breeze. This canopy is made of a 300-denier oxford fabric for maximum durability and features large mesh side walls that allow the fresh air to flow through. It's the perfect way to have a bug-free picnic once the mosquitoes start to get bad. The side walls can also be removed if you just need a roof shelter.
This is an instant pop up canopy which goes up in just a few minutes and in three easy steps. It comes with its own carry bag and ground stakes to lock it down for as long as you need it.
Eagle Peak Straight Leg Pop-Up Canopy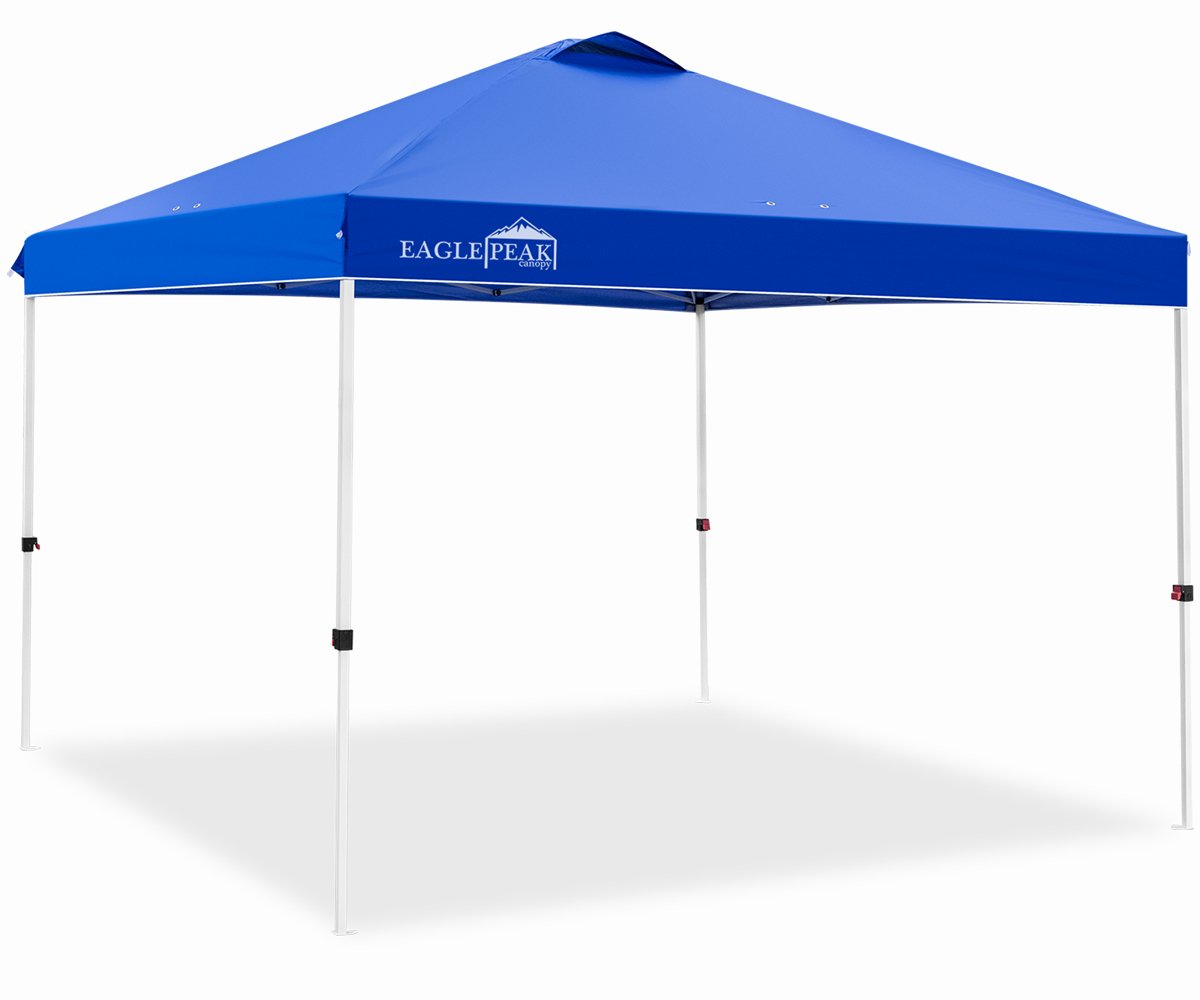 The Eagle Peak can be ready to go quickly by just one person thanks to the ability to set it up from the center. You won't have to hassle with stubborn leg sliders one at a time. This canopy offers approximately 100 square feet of shade. This canopy is made from a 100-denier oxford fabric and packs away into a compact wheeled bag when not in use. The Eagle Peak has two grommets built into each side to help drain water if it rains. This is a great option when you have limited time and need an instant shelter to get you out of the sun or rain quickly.
EasyGo Cabana 6x6 beach and sports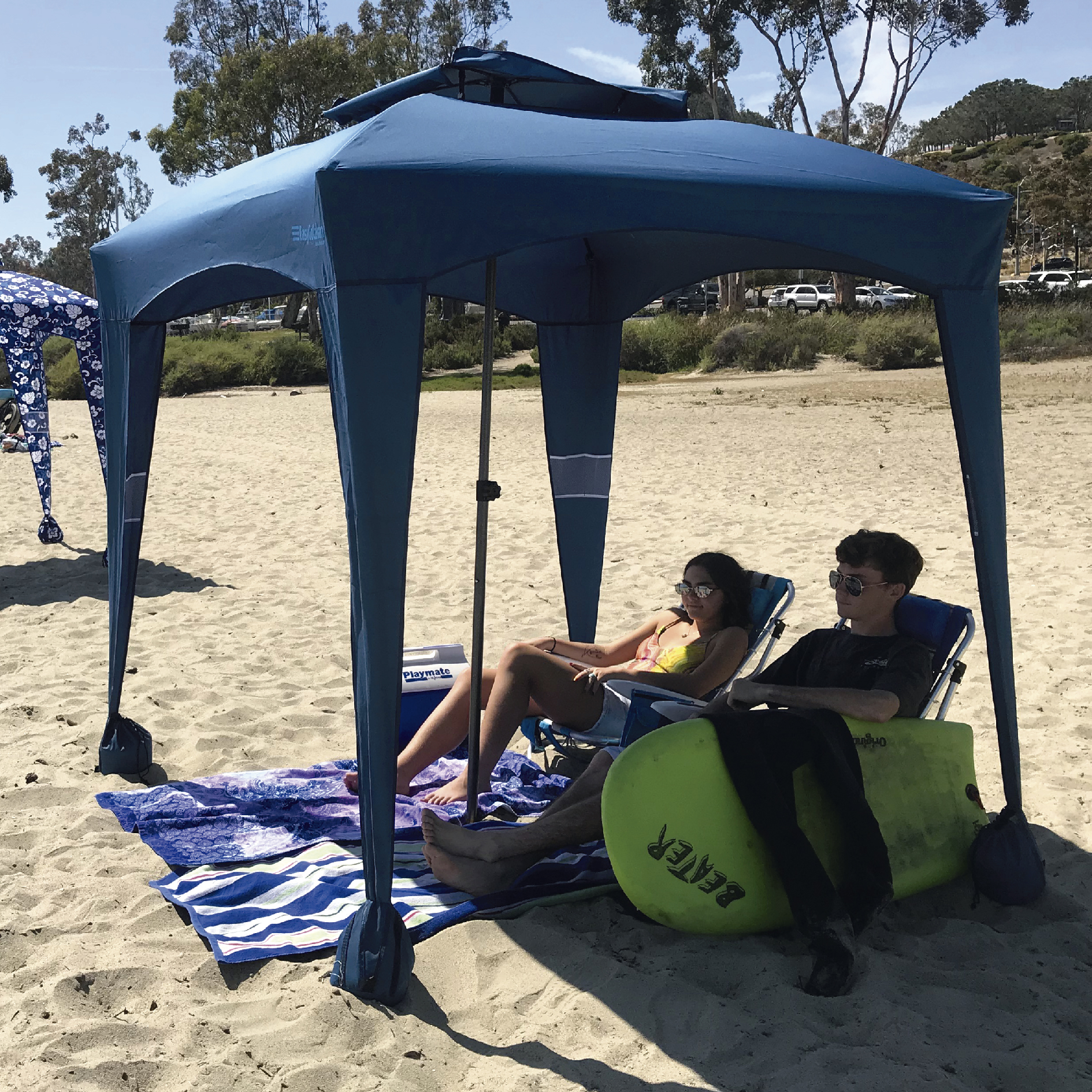 This pop up shelter offers excellent wind resistance, especially for locations like the beach. At the same time, it folds up compact enough to stow easily into a trunk or camper's storage area. The high quality EasyGo is made of polyester canvas to offer excellent UV protection during all your summer activities. This canopy has a feature many others do not, and that is the addition of small mesh storage compartments on all four legs. Use them to hold your phone, sunglasses, or wallet up off the sand or forest floor. The carrying bag includes a shoulder strap to make transporting it easy. The EasyGo Cabana is instant shade wherever you need it.
Coleman Back Home Instant Setup Canopy Sun Shelter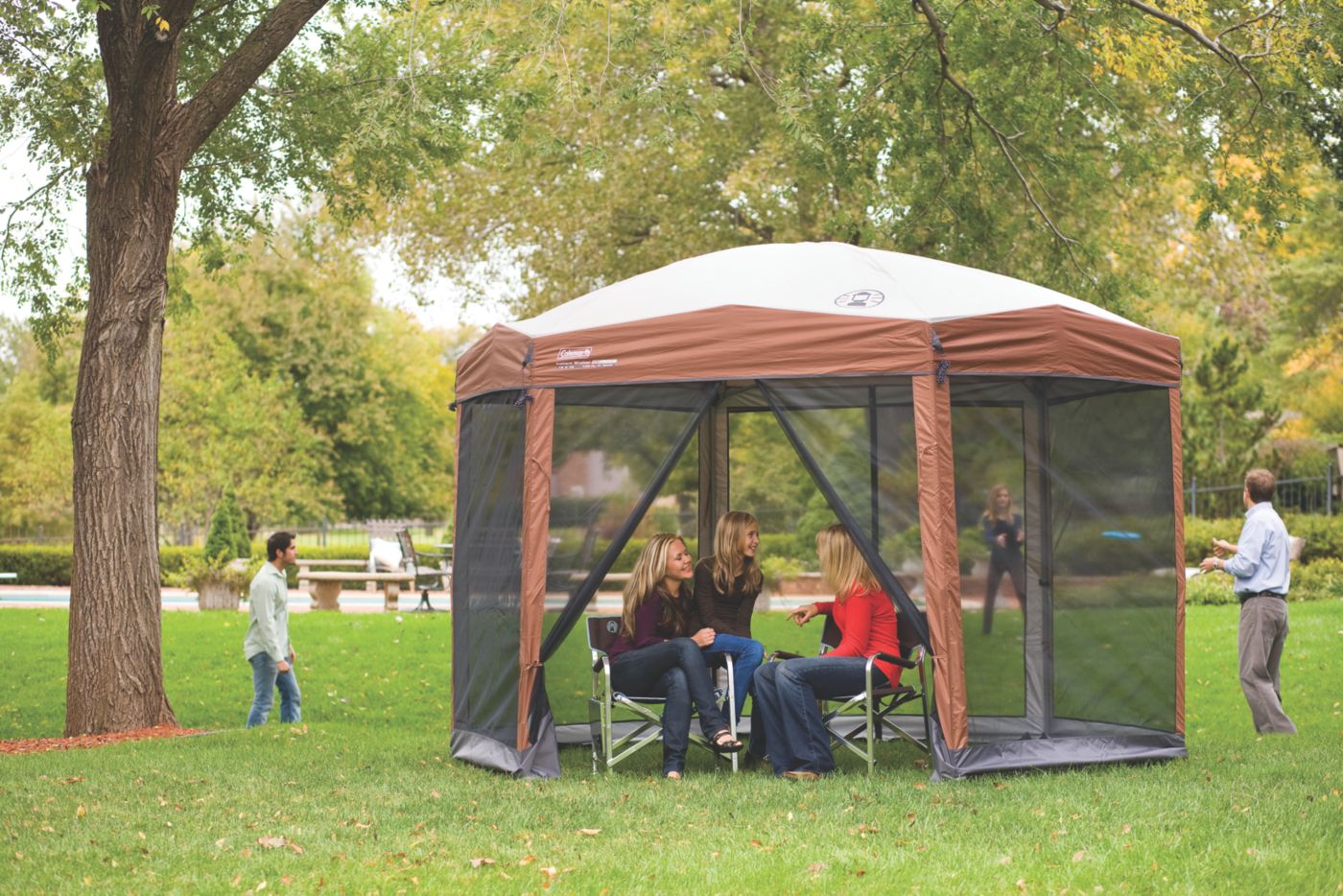 If you need a large shelter with tons of space, the Coleman might just fit the bill. This canopy is built with a rugged polyguard fabric that offers 50+ UPF protection from the sun's rays. Coleman built this one with large feet on the poles that help with extending them. They also built in telescoping poles that eliminate some of the annoying pinch points of other shelters. The side walls are screen to allow air in and keep bugs out. At the same time, there are two doors for entry into either side. No need to worry about the positioning of your shelter anymore. This one also sets up in only about three minutes and takes down easily for storage into a wheeled bag for storage in the off-season.
NEXT: THIS PORTABLE CAMPING HAMMOCK HAS A BUILT-IN MOSQUITO NET TO KEEP PESKY INSECTS OUT
Enjoy the outdoors?
Sign up for daily stories delivered straight to your inbox.