Here are the essential family camping gear supplies you need to ensure you've covered all your bases.
I've been an avid camper all my life, and I really looked forward to reaching a point where I could share those experiences with my kids. My wife was easy to convince of the joys of the outdoors, and my young boys have both embraced it too.
But an eye-opening moment occurred recently as we packed the car in preparation for a three night camping excursion. We've got a lot of stuff. It happens to parents as their kids get older and the possessions increase, but this time I realized things were becoming a little ridiculous.
It got me thinking: What are the essentials, the things that you really need, when you're gearing up for a family trip? The camping equipment list could be narrowed down, and I thought it would be handy info for young families embarking on their early camping trips together, as well as anyone else interested in putting together a collection of camping gear they'd use for years to come.
Keep in mind, we wanted to talk about things that work for families, namely car camping and public campground stays, rather than backpacking into the wilderness and requiring everything to be easily packable and transported. Camping with kids, especially for the first time, is going to come with some obstacles. If you have all the camping essentials on hand, you've set yourself up for success.
Here are the eight things to focus on, and a few thoughts and reminders regarding each one.
After that, some extra stuff might still be wanted, but you'll know you've got the essentials covered.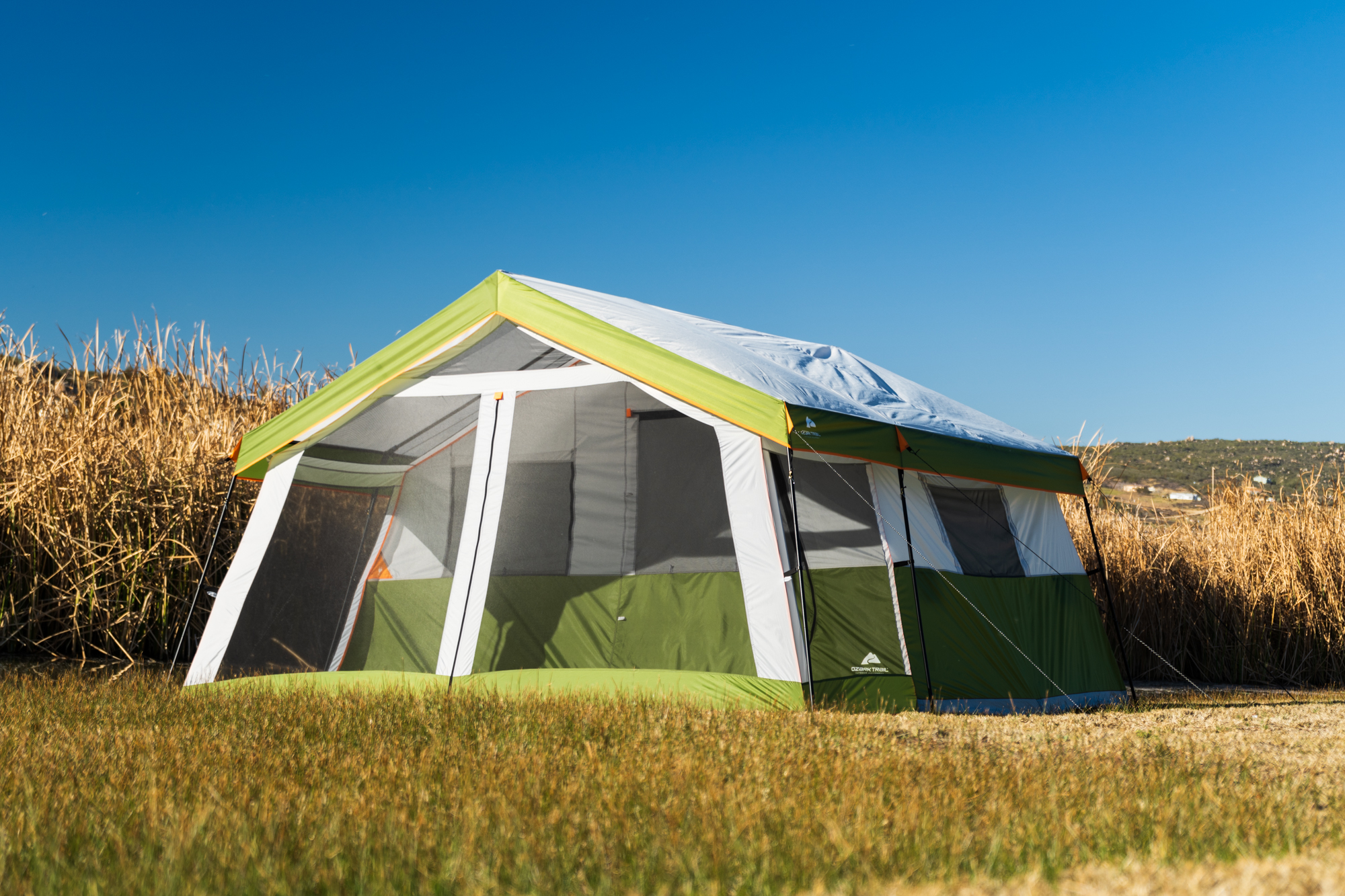 First thing's first, right? A good-sized tent should sleep at least four, but be sure to think about not only the number of family members, but also the extra gear you may want to store inside. Duffel bags and coolers can quickly take up room, so always opt on the generous side when you're choosing a tent size for your family camping trips.
Many larger tents have multiple rooms, which can be a big benefit. Pick one that comes with an included rain fly and good airflow, and aim for an easy set up process. While most tents are touted as "simple to pitch" these days, some are still easier than others. You can typically see a tent's assembly instructions on retail sites like Walmart.com, and that can give you an idea of the time and effort needed for set up.

There are lots of options in this department, and some decide against an inflatable air mattress entirely. Cots and sleeping pads are common enough, but there's something about sleeping on air that makes camping a little more enjoyable. We think you'll appreciate the comfort a full air mattress can provide on your family trips, and work with the assumption that you've got a way to inflate it at the campground. Plus, if you've got a big enough tent, you can probably fit multiple air mattresses inside.
Coleman, Ozark Trail, and Intex all make reliable air mattresses. You'll need a pump, preferably one that works through the outlet in your vehicle, to inflate the mattress you choose.

You might be tempted to pack up a bunch of sheets and blankets for your multi-night camping trip. Trust us, this isn't the best way.
Sleeping bags are the obvious choice, as they take up less space when rolled and can usually spare to get a little dirty without ruining their effectiveness. Think about the conditions, and specifically temperatures, that you'll be camping in, and pick a bag accordingly. Some are for far colder conditions than most families will encounter, so choose wisely or risk overspending for a sleeping bag that will only make you sweat.

Really, a variety of camping lights are going to be best for after dark, but a lantern is the ideal way to shine some light on a large area. Though oil lanterns are nostalgically cool, the modern day era of LED lights (and the battery life they can boast about) is here, and we aren't going to fight it.
Pick a few smaller headlamps or handheld lights for each member of the family, and opt for at least two lanterns for inside the tent and out.

Cooking over a campfire is a big part of the fun, but even then you'll likely need some sort of supplies. We suggest taking things up a notch and using a portable camp kitchen, ideally with a propane heating element, for meals out of doors.
When you have a griddle and stovetop with adjustable heat sources, the list of fantastic camp meals you can make becomes nearly endless. That's a big part of the fun, too. Plan your meals with the whole family ahead of time, and ensure you'll be making things everyone enjoys.
You'll also need a cook set, so consider a cast iron frying pan and a Dutch oven if you still want to maintain some of that old school, nostalgic mentality.

Perhaps under-appreciated, an exceptionally great cooler might just be the most important item for a family camping adventure. Proper family meal planning for multiple days requires a lot of food, not to mention drinks and condiments. And remember, ice isn't always readily available.
You can spend a wide range of money on a cooler, but it's worth it to do your homework and choose something proven to retain ice and hold temperature for a good amount of time. You'll also need something big enough to hold what you need, or you may have to resort to multiple coolers. For example, we bring one cooler camping that holds our food, organized by meal, then have another for drinks and things like ketchup, mustard, pickles, and the like. Make sure to remember that ice requires a lot of cooler space, so you can't always envision how much one will hold just by glancing at it while empty.

In my family, everyone has their own camp chair, chosen individually and used for each camping trip we head out on. It was actually pretty fun for the kids to pick out their own chair, and my wife and I made sure to find ones that were extra comfortable and included the features we've come to expect. They all have cup holders, feature a sturdy construction, work on a variety of ground surfaces, and are packable and portable.
Oh, and if you want to add one more piece of outdoor furniture to your camping checklist, go with a hangable, portable hammock. They don't take up much space at all, and there's nothing better after a long hike or swim than a nap outside in a hammock.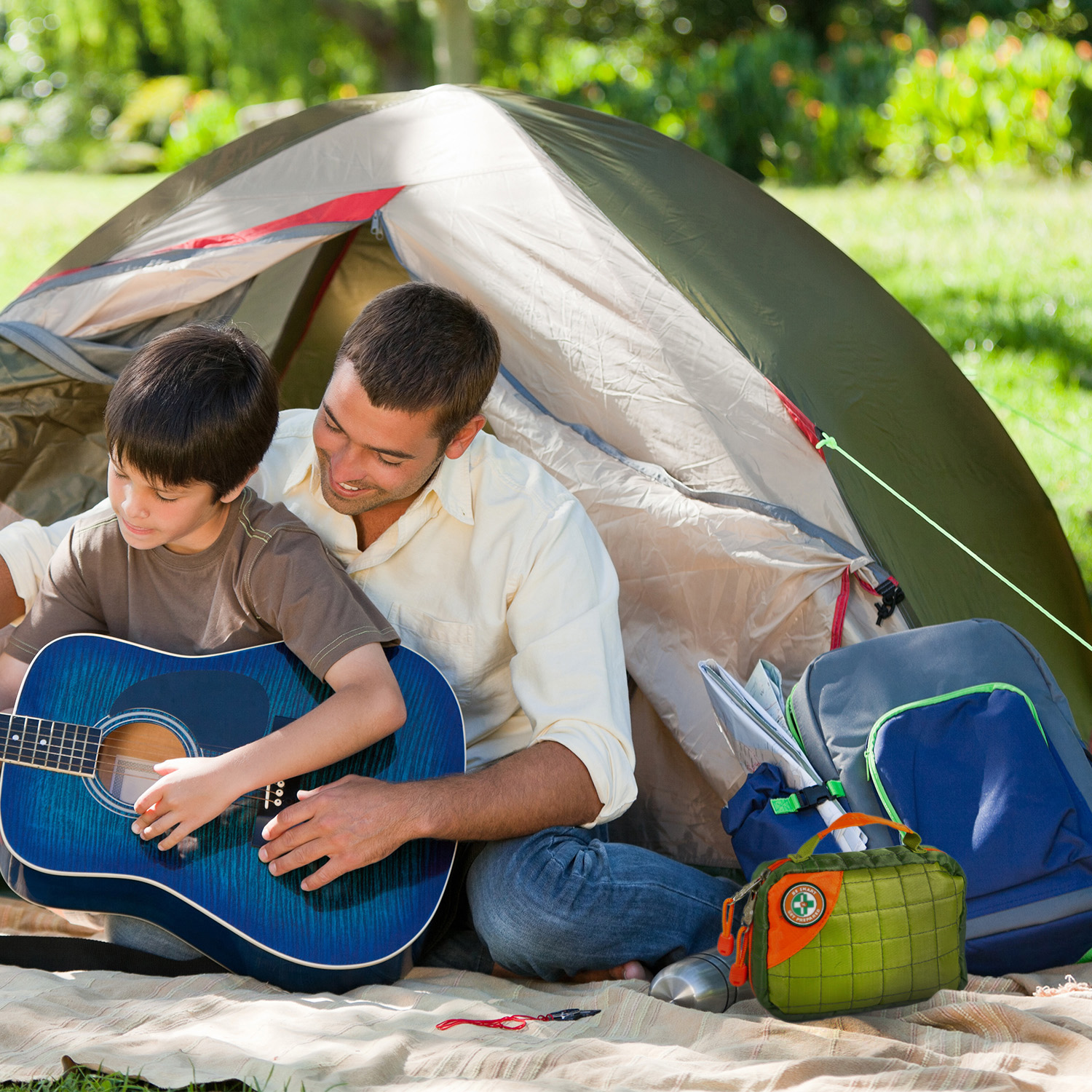 Don't underestimate the importance of a good, well-supplied First Aid Kit. There are plenty out there on the market, and you should be well-suited with most. Just make sure you also supplement your kit with any necessary medications or specific first aid supplies that you and your family might need.
If we're going to make a suggestion, this new Happy Wanderer Outdoor First Aid Kit includes 134 pieces, and is catered towards outdoor activities like camping. It features Silvex Wound Gel, which can inhibit the growth of bacteria and create a protective barrier on your skin. It's not always easy to clean a cut in the wilderness, so this sort of thing can really come in handy.
Any outdoor adventure that includes overnight stays should be embraced as a wonderful opportunity to share the love of the outdoors with those closest to you. And really, the camping equipment one family requires might be different from another. But when you boil down the list, these eight things ought to rank high for most anyone.
NEXT: HEADLAMPS, LANTERNS, AND FLASHLIGHTS FOR CAMPING: 14 SELECTIONS FOR ANY KIND OF TRIP
Enjoy the outdoors?
Sign up for daily stories delivered straight to your inbox.