Hurricanes, tornadoes, and fires are challenging enough for us humans, but they can wreak havoc on pets. Having a pet disaster preparedness kit can help you and your pets move quickly if disaster strikes.
When natural disasters strike, having a go-bag can make it easier to leave your home quickly. As important as it is for you to have one, it is equally important to prepare your pet disaster preparedness kit.
Kits can be pre-done, or you can put together a DIY kit. Either way having an emergency kit during any emergency is a must-have for pet owners.
How to Prepare Your Pet for a Disaster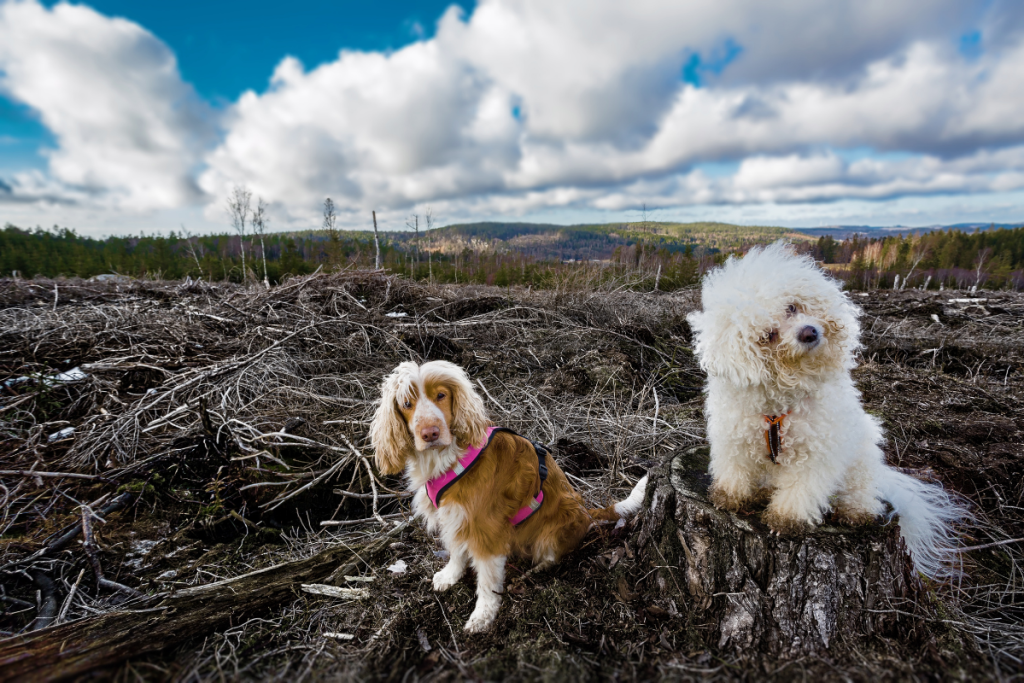 In an emergency, your pet needs to have a microchip if you get separated, and your pet ends up in an animal shelter. Ensure your contact information is up to date, and you have a copy of your pet's vaccination records and medical records. It is best to put these in a waterproof container with your emergency supplies.
Also, make sure your animals have the appropriate id tags so they can be identified and returned to you promptly. Ensure you and your family members know your evacuation plan and have your pet emergency kit and your go-bags close together to make things simple. Accessibility is critical when you are trying to get somewhere quickly.
The ASPCA also has a sticker that you can put on the windows in your home where you can list how many animals you have inside. Stickers like this let first responders know if they need to look out for small animals while they are in your home. This comes in handy in fires, hurricanes, and more.
Some of the items you want to gather for a pet disaster preparedness kit are:
Pet carrier
Pet food
Plastic bags
Paper towels
Pet records
Leash
Favorite toys
Blanket
What Are The Risks to Pets During a Disaster?
Don't forget to include your pets in your family's emergency plans. Share this 1-minute video: https://t.co/RZ3Z98DHYQ #PetPreparedness pic.twitter.com/jzIWB45f7M

— ElectriCities of NC (@ElectriCitiesNC) June 15, 2021
It is essential to plan for disasters. Pets can get easily disoriented through all of the stress and get lost. In massive emergencies, shelters become overwhelmed, and it can be months before you see your pet again.
If you have a horse or other farm animals, scope out a temporary shelter or boarding facility you can take them to. Many fairgrounds open up during emergencies to handle the influx of animals.
According to the CDC, natural disasters are prime time for the spread of diseases. Some illnesses are just passed from animal to animal, though some can be transferred from animals to humans.
Some things to watch out for are:
Rabies
Leptospirosis
Lyme Disease
West Nile Virus
Also, watch out for other diseases that fleas and ticks can spread. Keep up with your pet's regular preventative treatments so they will be at a lower risk of contracting illnesses from parasites.
Pet Disaster Preparedness Kits
June is Pet Preparedness Month! Don't forget to:

?Make a list & check it twice. List the address & number of all the places you can take your pet in an emergency. #PetPreparedness pic.twitter.com/4vAhYU27cp

— Philadelphia OEM (@PhilaOEM) June 15, 2021
Whether you supplement your own kit or go for a pre-done one, you will need to grab a kit checklist and make sure you have everything your pet needs to feel safe and comfortable in an emergency. Here are some great options for making Fido and Felix feel at home when they are not.
Emergency Zone Cat Survival Kit

Just for cats! This supply kit comes with an emergency litter box and cat litter for your feline friend, plus water, a first aid kit, and some favorite toys for keeping your furry feline entertained. With toys and the essentials, your cat will feel like they are in a safe place no matter where they are. The kit also includes a guide with suggestions on things to add to the kit and information on how to treat basic injuries.
If your at is partial to canned food, you will want to add a manual can opener to the kit to ensure your kitty will eat in the already stressful situation.
Be Safe! Pet First Aid Kit

If you are putting together a DIY pet disaster preparedness kit, you will need to include a first aid kit. This kit includes disinfectant wipes, gloves, gauze rolls, reflective tape, dressing pads, and more. All first aid items are perfect for keeping your pets safe and can be used for both cats and dogs.
Pet Evac Pak, LLC Emergency Survival Kit

The Pet Evac Pak has everything you need to enact your emergency plan. This set is made for small and medium dogs and has everything you will need for them to survive for 72 hours. The included dog food has a five-year shelf life, and there are collapsable water bowls and 12 bags of water. The kit also has a first aid kit, a leash, and some doggy toys.
Pet Identification During Disasters
Take care of farm friends in an emergency. Pack emergency items for them too, including vehicles and trailers. #PetPreparedness pic.twitter.com/gyPbTUqnk5

— lincoemgt (@lincoemgt) June 15, 2021
RELATED: Our Road Trip Survival Guide for Traveling With Any Dog
One of the most important things for your pet to have during an emergency, aside from their pet disaster preparedness kit, is proper identification. If your pet, whether they are a cat or dog, or a farm animal, ends up in a shelter or temporary boarding facilities, they must have the appropriate emergency contact information on them.
I.C.E. Products USA ManeStay Emergency Identification For Horses

These clever identification tags clip into your horse's mane (mules and donkeys, too!) for a quick way to identify your barn animal in the case of an emergency. Use a sharpie to write your emergency contact information inside, including your phone number, and clip it on. Simple and done!
Secure ID Pet ID Card With Key Tags

These nifty pet ID cards are literally a pet version of a human's ID card. The card has all of your pet's pertinent details from their name, breed, hair length, and even their date of birth! The card also tells people their names and where they belong. The set comes with a credit card size one plus three keyring tags. You can even put a picture of your furry friend on this waterproof card.
WINGKIND Pet Emergency Alert Kit

These cards are dual purpose. The set comes with two key tags, four wallet cards, plus two key rings, a necklace, and an aluminum carabiner clip. This tag lets people know that you have pets at home and how many. This is perfect for if you get hurt or separated from your pets.
Products featured on Wide Open Pets are independently selected by our editors. However, when you buy something through our links, we may earn a commission.
Do you have a disaster plan in place for your pet? Tell us over on our Wide Open Pets Facebook page!
This article was originally published June 15, 2021.
Enjoy the outdoors?
Sign up for daily stories delivered straight to your inbox.