If you've ever considered a King Ranch whitetail hunt then here is what you need to know.
The King Ranch legacy is one of the original American success stories, and it comes straight out of the Lone Star State. In 1853, Captain Richard King purchased the now famous creek-fed oasis in the Wild Horse Desert of South Texas and the rest is history.
At some 825,000 acres, the King Ranch is bigger than the state of Rhode Island and is the home of some of the nation's largest major agribusiness: citrus fruit, cotton, grain, sugar cane, and yes, whitetail deer hunting.
Let's look at some of the history, the animals it harbors, and its renowned legacy of Texas hunting opportunities.
The King Ranch is still known as a capitol of cattle ranching, the same as it began back in 1853, and now it is just as well known as the brand behind the Running W imprint that's become so popular. It's also a place where land stewardship is paying off and excellent hunting remains to this day.
King Ranch History
The King Ranch was founded by Richard King, a steamboat captain born in 1825 in Orange County, New York, who was coaxed to Texas during the Mexican War where he became a steamer pilot on the Rio Grande River.
The Texas State Historical Association describes the King Ranch as covering "nearly 1,300 square miles, an area larger than the entire state of Rhode Island, on four separate Divisions of land known as Santa Gertrudis, Laureles, Norias, and Encino."
This south Texas ranch began as a Spanish land grant in 1853 and went on to become the largest ranch in the United States.
Mainly started as a cattle operation, the King Ranch had a foundation stock that was built on Longhorns, many of which were bought in Mexico. In the 1870s, King bought several Brahman bulls, and later added Shorthorns and Herefords to the Ranch.
Other operations include quarter horses and turf grass, as well as a saddle shop and multitude of licensing partnerships, most notably with Ford trucks and their King Ranch edition customized pickups.
Eventually, the King Ranch developed into one of the earliest conservation-minded properties in the U.S. Thanks to a strong commitment to wildlife conservation and habitat maintenance, the ranch managers set apart sections of the vast property as a wildlife preserve for whitetail deer, quail, ducks, wild turkeys, and Nilgai antelope.
King Ranch Deer Hunting
The King Ranch's long history of wildlife management has helped it become a Mecca for hunters the world over. For North American whitetail deer hunting enthusiasts, it is a bucket list hunt beyond compare. Many will say that hunting the trophy bucks on King Ranch is an experience that is second to none, and in the state of Texas that's saying something.
Due to their mastery of controlled access and strictly enforced quotas, deer hunting on this South Texas ranch is the stuff of legend. The likelihood of seeing a 100- to 130-inch Boone & Crockett buck on a guided hunt at King Ranch is significantly higher than a lot of other places.
The best part is that whitetail bucks of a much higher quality are available and taken each season.
The Ranch's website states that "Some common hunting methods include safari style, spot-and-stalk, still hunting, hunting on ladder or ground type stands (predominately archery hunts), rattling, and/or other methods as chosen by your professional guide to fit the appropriate time of season, location, and hunter desires."
Hunts are as you might expect: booked at least a year in advance for a relatively high price and largely limited by the number of hunts available. Like with other outfitters, hunts are sometimes made available during the season due to cancellations. According to their website, a guided hunt for one hunter looking to bag a mature buck that's 5-1/2 years old has a base fee of $2,200 (as of November 2021) for a day hunt. A nilgai bull is the same.
Other Hunting Opportunities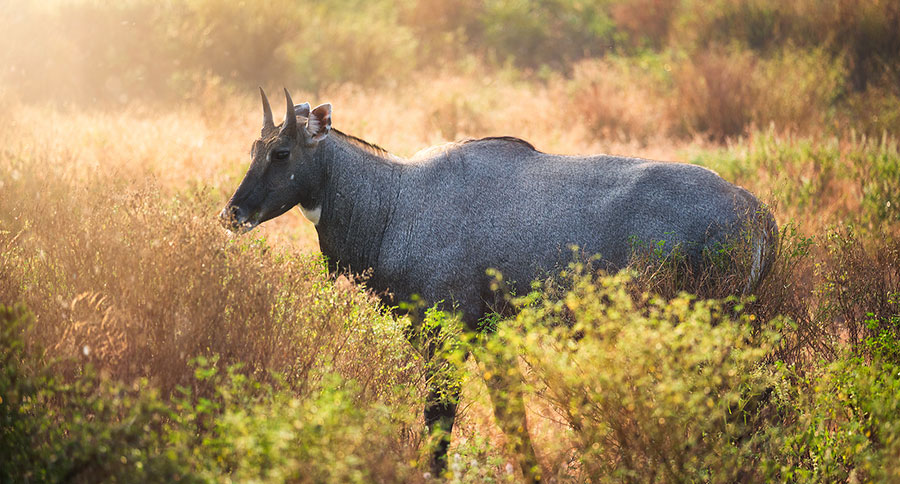 The King Ranch is considered a low-fence hunt for free-ranging deer and other wild game. Fair chase rules are in place for management bucks, nilgai bulls, javelina, Rio Grande turkey, and quail. You can find out more and inquire about your own hunt here.
As of November 2021, a turkey hunt cost $3,700, a dove hunt and fishing trip combo cost $1,900, and a predator hunt that includes unlimited coyotes and feral hogs is $1,000, the least expensive hunt offered on the King Ranch's Hunting website.
The whitetailed deer remains king at the King Ranch, and the possibility of bagging a Boone and Crockett trophy whitetail is real. But other game species exist and are available through their guided hunts as well. Bowhunters can embark on a mature bull nilgai hunt, which would make for the memory of a lifetime.
Feral hogs, doves, duck hunts, and predator hunting are available at the King Ranch. You can even even book a bay fishing excursion, since much of the ranch is directly on the Gulf of Mexico shoreline. Planning a trip to the King Ranch isn't impossible, but it promises to be an exclusive, one-of-a-kind hunting experience that would check a lot of boxes for a lot of American hunters.
Would you want to go to the King Ranch for a deer hunt?

Looking for a new way to display those antler sheds? Go to Rack Hub and use the coupon code Craiger. Be sure to follow my webpage, or on Facebook and YouTube.
NEXT: HUNTING BLIND CHAIRS: OPTIONS FOR COMFORT, UTILITY, AND DURABILITY