Do you know how lucky we are? Not only do Americans have well over 400 million of acres of public land where we can camp, hike, and play, but those lands are also studded with beautiful campgrounds, campsites, and cabins, available to all of us at a very reasonable cost. But if you've been camping lately in national parks or forests, you'll no doubt have noticed they're more popular than ever, meaning you have to do a bit of planning and research to be sure you'll end up in the campsite of your dreams.
In my younger years, the thought of camping in a developed campground was far too tame and civilized for my taste. I spent my time in a sleeping bag dispersed camping on river banks while rafting or in some nondescript location that seemed to be the perfect location for that moment. However, after the birth of my second son at the end of my 20's, and the new chapter of my life as "a parent in the outdoors" rather than simply "a person in the outdoors," I quickly became a connoisseur of the public land campgrounds of the Western United States and all the amenities that accompany them. The notion of camping in a camper, in a PAVED campground, once nose turning, became the ultimate camping paradise for a family with kids peddling trikes and training wheels. I knew every strategically placed campsite on every paved roundabout in every campground within 400 miles of my home-all in an effort to provide an enjoyable camping experience for the adults while keeping the kids busy and happy. My children may have been the catalyst to broaden my horizons and experience developed campground, but I have never looked back.
This guide to camping in national parks, forests, and other public lands is based on years of experience- times that I camped in spots that seemed like paradise and times where I didn't get what I was looking for. Since the pandemic-fueled boom in camping has made some of my favorite campsites harder to get, the tips and tricks I've learned through the years are more important than ever. Whether you're planning a bucket-list trip or just a quick weekend getaway, the campsite of your dreams is out there, ready for you to find it.
Millions of Campsites, One Website
To book any camping location in any type of federally managed public lands, there is one website that rules them all: Recreation.gov - Camping, Cabins, RVs, Permits, Passes & More from National Parks to National Forests, if it is a campground, cabin, fire lookout, or other reservable amenity, this is where you can find it and book it. Rec.gov has slowly improved over the years, and now it and the app version are very helpful and user -friendly. Whether this is your first time booking or 50th on this site, when a tutorial pops up, take a few moments to take in the new information. They are constantly improving and adding features that make your experience easier and better than ever. But before you start poking around, looking for campsites, you need to ask yourself some questions to help focus your search.
How are you going to travel? Will you car camp (sleep in your car or truck), car camp with a tent (park your car and sleep in a tent), or will you have a camper/RV of some sort? Once you know your mode of travel, you can search each campground for the type and size of site you need.
One very useful feature on the website is that you can select a campground based on a destination you are aiming for, or if you are on a road trip or the distance to your chosen location is farther than you care to drive in a day, you can plot a route, and the website will show you every campground on the route. I often do this even if I don't plan to camp along the way because it's a fantastic way to learn about new locations that you may have otherwise driven past and been none the wiser. I've found some of my favorite spots this way.
As you review general information about the campground you are researching, you will find details like maximum days you are allowed to stay, amenities offered, rules around pets, quiet hours, interpretive or educational opportunities, recreation opportunities and rules, and more. If you didn't do this research before you showed up at the campsite, don't worry: this information is always physically posted at the main check-in bulletin boards as well. When in doubt you can almost always find a campground host to ask any questions you may have, although some locations only have hosts during peak season. (Tip: Take a few minutes to get to know your campground host. They are often some of the most interesting and kind folks you will ever meet, and in general, they love to visit and learn more about your travels.)
As you have a look at Recreation.gov - Camping, Cabins, RVs, Permits, Passes & More, a key detail to keep in mind is that in many campgrounds there are both reservable sites and first-come, first-serve (FF) or 'walk in' sites. If you are set on a specific campground, reservations are a good idea, especially in peak season or in the most popular destinations. If you have flexibility in your schedule and like to fly by the seat of your pants, you can roll the dice and try to grab a spot that is first-come, first-serve. It's best to arrive early in the day to find the sites that are open, recently vacated, or about to be vacated. The later in the day you arrive, the greater the possibility of a full campground. If you have no reservation, a great tip is to always drive through the sections of reservable sites. There will be a small date card on each site's number pole that indicates when the next reservation is scheduled to arrive. If that date is farther in the future than that day and the length of time you intend to stay, you can usually stay in that site. It is best to check with the camp host to make sure the dates are current.
RELATED: 15 Funny Camping Puns to Release The... Tent-sion
If you make a reservation, you pay at the time you book. If you are staying in a first-come, first-serve site, you will pay at the main entrance of the campground. You will usually find a pay box and envelopes at the main bulletin board. You will fill out a bit of information, insert your money (make sure you bring cash), tear off the envelope stub to attach to your site number pole, and place the envelope with the cash in it into the secured pay box. Camp hosts will patrol the sites to make sure you have your pay stub posted.
If you plan to do first-come, first-serve, make sure you find a couple of campground options in an area in case you hit one that is full and need to move on. Make sure you scout the campgrounds online before you lose cell coverage to see how many first come first serve sites can accommodate your mode of travel. In general, it is usually easier to find spots for tents and gets harder for campers. And the bigger your camper, the more difficult it can be.
Something I learned the hard way is that if you are traveling with children, do your best to make reservations to make your life easier. Nothing is worse than driving through multiple campgrounds for hours late at night with hungry, sleepy kids.
Speaking of cranky kids, if you're camping with children in a national forest and your campground is near a ranger station, swing in to say hello and see if they have any goodie bags for the kids. They often include toys and educational information, and should keep the kids busy- especially if the weather drives you into your camper or tent.
Picking a Campsite 101
Beyond determining if you will need a site for a tent or an RV, there are many other factors to consider as you become a connoisseur of campground sites. When booking reservations online there are often photos of sites within that campground that can give you a sense of what it is like to be there. Depending on the campground, you may find some sites with power, water hook ups, and more. Do you want to be close to water? If you are trying to find a site that is a little quieter than others, make sure you avoid being close to group sites, boat launches, or other common areas. Do you want a short walk to the bathrooms, which means others will walk past your site often, or will you opt for a longer walk with less traffic? If you are in a tent, you want to be as far away as you can from campers that may have loud generators.
When it comes to actually reserving a spot on the webpage, you will see that each campground is set up on a grid system with the Y axis being the campsites and the X axis being the dates. You can see multiple sites and a two-week window or more in order for you to best see what is available. FF marks sites that are first come first serve, A is available, R is reserved. By clicking on each site you can see what amenities are available. Make sure to apply the filters (tent, RV, etc.) at the top so you are searching for the sites that will work for you.
In many developed campgrounds, the ground cover and condition can vary. So whether you are pitching your tent on a gravel tent pad, worn uneven ground, or grassy ground cover, always lay down what is referred to as a ground cloth first. Many tents come with this extra layer of protection from moisture and sharp or bumpy objects. If your tent does not come with this layer, just buy a simple tarp to make your own. If you are in an RV, remember that campgrounds are usually a little tight, especially older ones. Newer campers and vehicles are getting bigger and bigger, so keep that in mind when you are maneuvering your way through. If you are not comfortable with backing up a trailer, look for 'pull through' style spots that allow you to pull into a spot straight and leave the same way you came in.
Cabins and Fire Lookouts
Throughout our public lands, you will find many opportunities to stay at historical ranger cabins, fire lookouts, and more. These accommodations are usually located in some of the most spectacular and strategic locations and will make memories that will last a lifetime. Because they are some of the most unique experiences out there, they can be very hard to get. Many people stay late or get up early to book on the first available day season dates are released. Before a specified date, you cannot book these locations. Weekends usually fill up first to accommodate those of us weekend warriors, but if you are flexible during the week, you can often find availability. Explore these opportunities and plan ahead.
At all these amazing locations, from campgrounds to lookouts, please always remember to be respectful of the surroundings, habitat, and amenities that are provided. If campgrounds say 'pack it in, pack it out' that means you need to take all your garbage with you. Never leave your campfires unattended and make sure they are completely out when you leave. Always use the bathrooms provided, and never leave toilet paper on the ground if you have to use nature (yup, bring a ziplock to pack it out). Being respectful and responsible just makes everyone's stay more enjoyable. Now get out there and enjoy the great outdoors in one of the many public campgrounds we all share.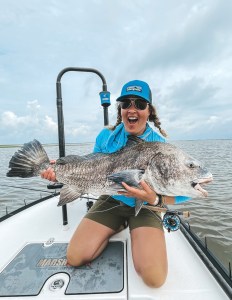 Though embedded like a tick in her hometown of Whitefish, Montana, Rachel Schmidt has spent her life adventuring across the continent. Her career spans a spectrum of the recreation industry and conservation work with a pitstop for a term as the Directory of the Montana Governor's Office of Outdoor Recreation. Most of the time she's fly fishing, camping, hunting, skiing, rafting, boating, drinking whiskey and/or chasing her two teenage sons and Hal-the-bird-dog. Instagram @mtraerae.
What do you love about rafting? Share with us on our Wide Open Roads Facebook!