Campers know the drill: before setting off, you first research paid campsites at your destination of choice. Campground availability and holding fees are standard questions of note, which raise more issues from the time you'll spend here, campground amenities, and waste disposal options, just to name a few. Often, designated campgrounds are infiltrated by "glampers" — you know, folks who enjoy camping with the comforts of home and are mainly searching for that perfect Instagram opportunity.
But as outdoor excursions become mainstream once again, many seasoned, and even novice campers, have begun searching for dispersed camping sites. More and more, "roughing it" is bringing interested outdoors men and women closer to nature than ever before.
What Is Dispersed Camping?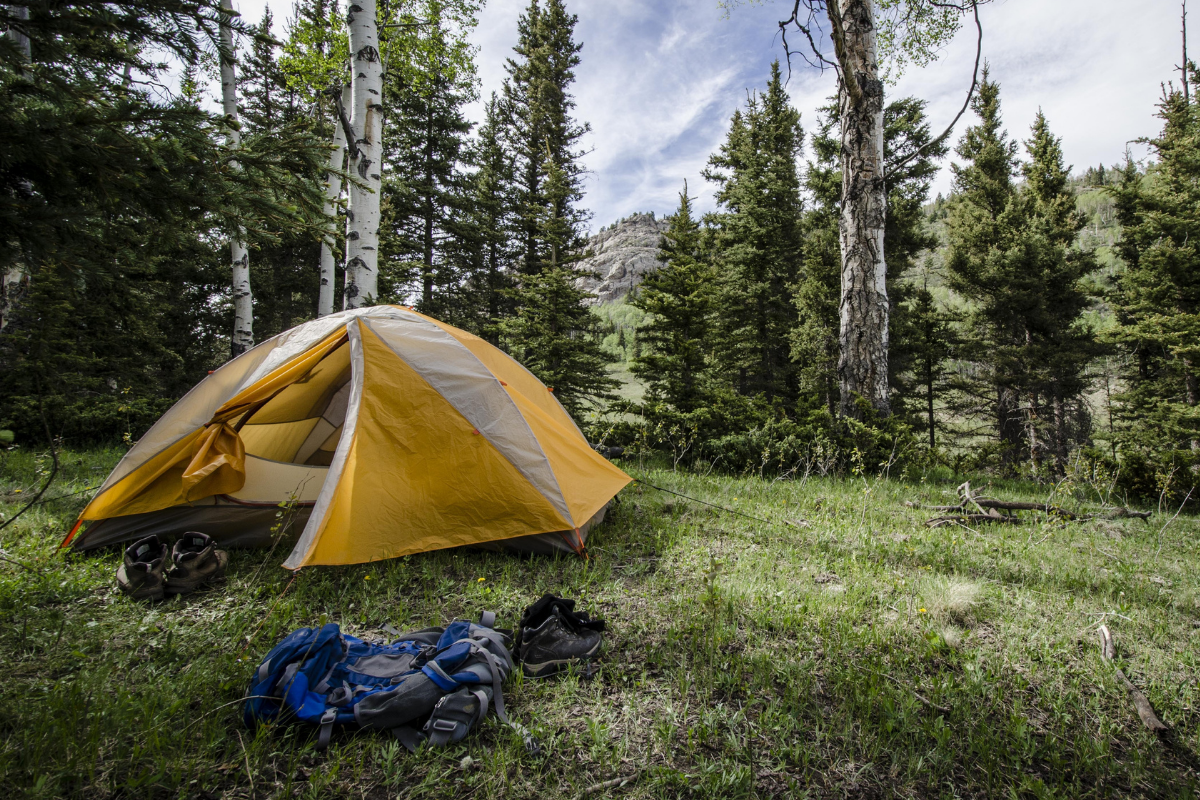 By definition, "dispersed camping" takes enthusiasts off the beaten path to set up camp in areas of uninhabited wilderness, as opposed to polished and protected campsites. When dispersed camping, it's highly unlikely you'll be congregated around other campers, and thus, able to fully enjoy the solace of nature.
There is one important caveat, though: dispersed camping does not mean setting up shop anywhere in America's backcountry. This style of primitive camping is exciting, but there are still regulations and restrictions to be aware of.
What to Bring Dispersed Camping
https://www.instagram.com/p/CDoGKz2JeHg/
Dispersed campers opt for the bare essentials. The golden rule of dispersed camping is "pack it in, pack it out." For those unfamiliar, this means, essentially, take with you everything that you bring in. Leave No Trace principles outlined here by the U.S. Forest Service range from tips on human waste disposal via "catholes" to avoiding natural resource damage with the ultimate goal of leaving dispersed camping areas exactly as you found them.
The U.S. Forest Service outlines various rules for primitive campers to be cognizant of, including:
? Campsites must be at least 100 feet from streams and water sources.

? These are self-contained camping areas; Water, restrooms, picnic tables, existing fire rings, and trash removal are not provided.

? You may occupy an area for 16 days. After that, campers must move five road miles away to another site and cannot return to a used site for a minimum of 30 days.
Is Dispersed Camping Free?
Yes! The major draw of this up-and-coming camping experience is that no fee exists. (However, larger groups may need to obtain a special permit.) The absence of protected recreation areas and parking lots don't phase many, making backpacking trips up lightly-used dirt roads and deep into the countryside all the more exciting.
Free camping under Colorado skies sounds like a perfect deal, there are limits; Typically, you can find usable areas on National Forest Land or Bureau of Land Management sites. While it seems enticing to spend a weekend in Lassen Volcanic National Park in California, many state parks do not allow dispersed camping, instead funneling weekend warriors onto their developed campgrounds.
When in doubt, contact the local ranger station or Forest Service office if you're heading for BLM land or other public land around the United States for information on fire restrictions, entry points away from trailheads, etc.
Popular States to Find Dispersed Campsites
Colorado
Lots of areas west of Denver offer everything from national forest to grassland areas for sleeping bag enthusiasts and veterans of "boondocking" — this term is reserved for RV and camper van aficionados looking for off-the-grid camping.
Check out this map for dispersed camping in Colorado.
Arizona
Dozens of areas in "The Grand Canyon State" can be found, but topping many wish lists is Coconino National Forest. Given the dry climate here and chance of wildfires, it's mandated to only use small, established fire pits when setting up your sites.
Click here for info on dispersed camping in Arizona.
Oregon
Various sites along Oregon's west coast exist, including throughout the Deschutes & Ochoco National Forests. You'll be hard-pressed to find better views when camping here.
Check out more dispersed camping in Oregon here.
Michigan
As previously mentioned, dispersed campsites in Michigan must be at least one mile from a rustic state forest campground. "Pack in, Pack out" rules are in place, but areas from Council Lake to Bear Lake offer gorgeous views of Michigan's Upper Peninsula.
Click here for site info when dispersed camping in Michigan.
Any tips for dispersed camping? Share them at our Wide Open Roads Facebook!