The Alien Gear Cloak MOD OWB Holster has all the features of the perfect holster.
In particular, its distinctive modular design allows the user to carry according to preference. Here's what I discovered when I got a chance to review the Alien Gear Cloak MOD OWB Holster.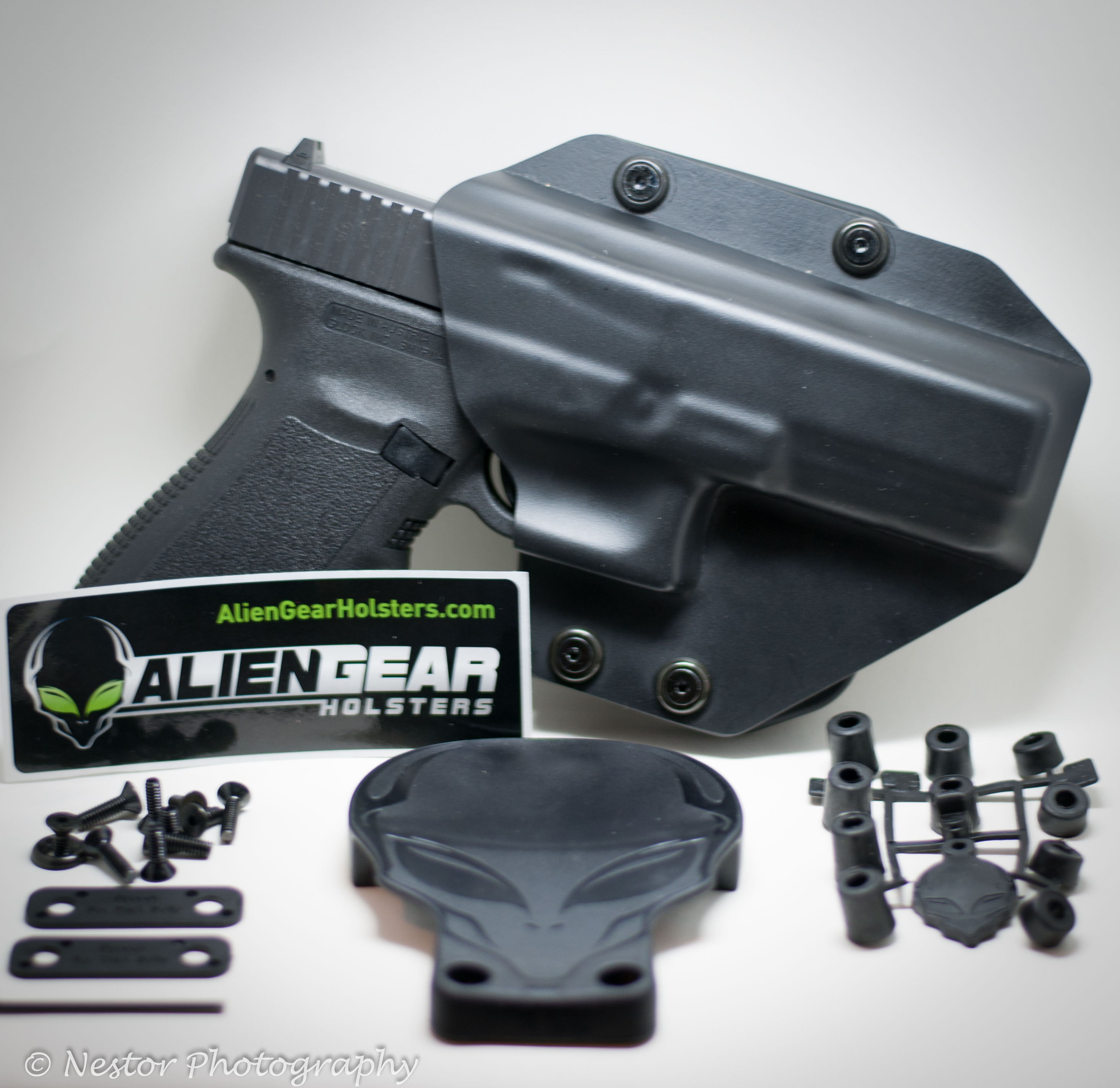 The Alien Gear Cloak MOD OWB (outside waist band) holster, as pictured above, was requested for the full size Glock 20 SF in 10mm. I found it also fits the .45 ACP. caliber Glock 21 due to its similar dimensions.
This mighty Glock is carried by many woods travelers for defense against bears and other threats. In the city, it speaks authority against two-legged threats. However, it is a larger sized handgun that causes problems for comfortable concealed carry. Good thing the Alien Gear Cloak MOD OWB Holster comes with an array of parts and options that will allow you to carry in your preferred way.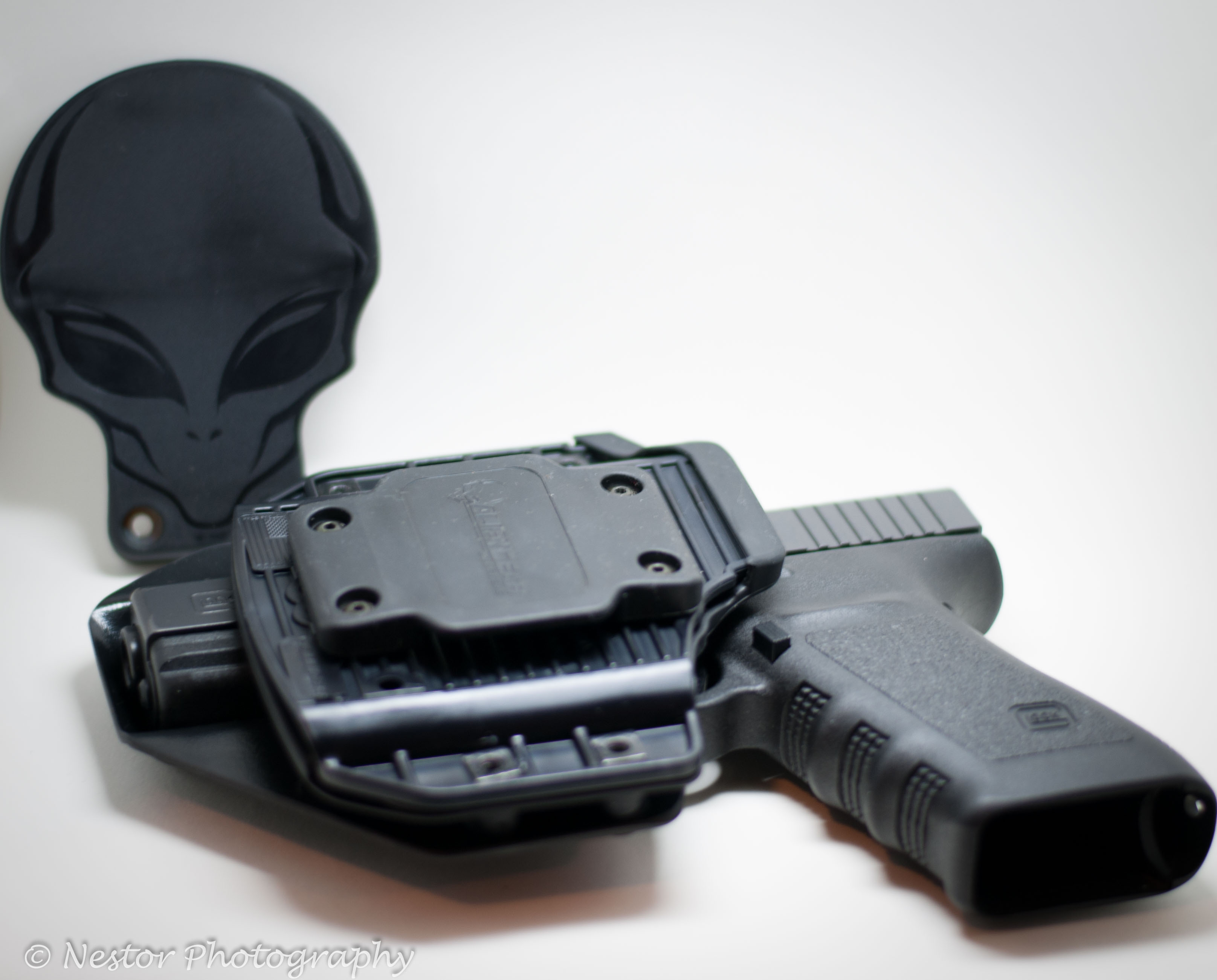 The Alien Gear Cloak MOD OWB Holster is pictured above with a belt slide attachment that is quite different from the ordinary more rigid (available also) belt slide option. This one is made from rubber, allowing for a more comfortable fit while wearing a proper holster belt.
The alien head paddle in the background can be mounted instead of the belt slide by the user. The paddle allows for quick placement or removal of the holster. That indeed is a handy option when your sidearm needs to be secured and not carried into certain locations and described in your local laws.
The holster itself is a high-quality, modular build. The outer holster shell is weapon specific. Changing the shells with just four allen screws allows other sized holster shells to be used. This allows for a quick change to a different handgun. A steel flex plate is the retention provider sandwiched between the retention membrane and the rigid nylon backer.
The flex plate and how tightly you secure the four allen screws allows you to achieve the perfect retention for your needs. Cant angle can be adjusted too. Once again, everything is very user friendly and modified by following the simple instructions that are supplied with the holster itself.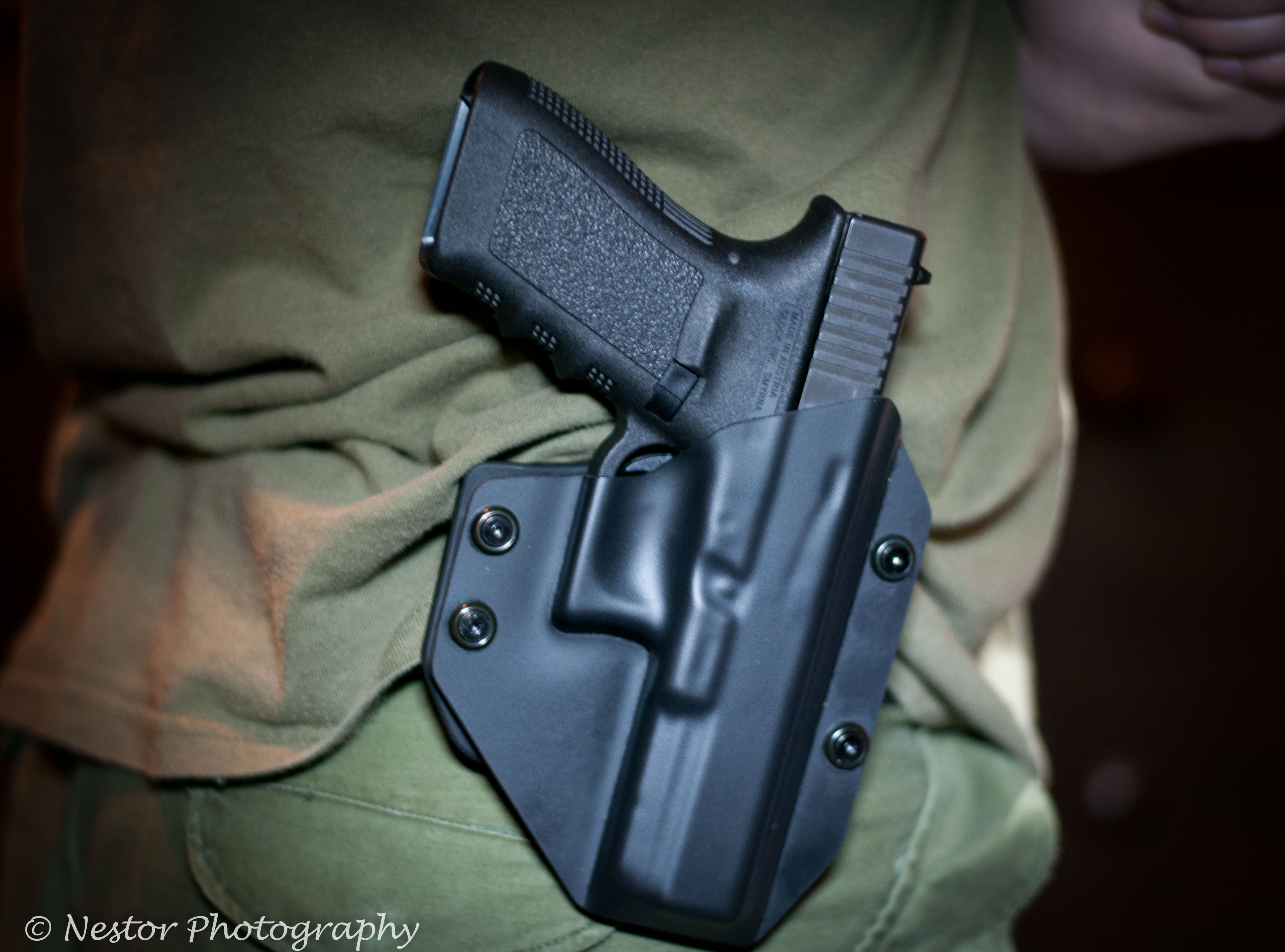 The most important question is, "How well does it carry?"
One word comes to mind: phenomenal. I hit the woods while carrying the Alien Gear Cloak MOD OWB Holster with a fully loaded Glock 20 in 10mm as danger repellent. On one occasion I used the paddle attachment and the other trip I used the rubber belt slide. Bounding up and down ravines and scaling ridge lines I found the holster in both formats rode really comfortably. At times I did forget my Glock was riding underneath my jacket during these excursions.
The retention was perfect, since I had adjusted it myself to my preference. The Alien Gear Holsters and Alien Gear Mag Holders are very user friendly. That is really what I like most about Alien Gear teamed with their great customer service.
Check out the whole line of exciting Alien Gear Holsters and accessories online at their website. They have made a fan out of this shooter.
NEXT: HOW MUCH ABUSE CAN THE ULTRA-TOUGH RHINO BLIND SURVIVE? CHECK THIS OUT
Enjoy the outdoors?
Sign up for daily stories delivered straight to your inbox.