Bud Lilly is a fly fishing legend, but he was equally as famous as a tireless conservationist and political activist for wild trout.
Arnold Gingrich, co-founder of Esquire Magazine, called Bud Lilly "a trout's best friend." The appellation fit Lilly so well that he titled his 1988 autobiography with it. If one man can fairly be credited with changing the trout angling culture to one of preservation and sustainability, Bud Lilly would likely be that man.
Lilly beat the drum for catch-and-release fishing when it was an idea that was not only sneered at, but was thought to be just plain stupid. His efforts also helped shape the modern philosophy of fishery conservation programs employed by many state game and fish agencies.
But we're getting a little ahead of ourselves. Let's provide a bit of the biography of this American trout fishing icon.
The early years
Walen Francis (Bud) Lilly II was born in 1925 in Manhattan, Montana. His father, Walen Lilly, was a barber who shared his love of fishing and baseball with his son. The younger Lilly excelled at both.
One time, as a 15-year-old second baseman, Lilly played in an exhibition game against a traveling Negro League team that included renowned pitcher Satchel Paige. Lilly was able to manage a ground ball hit against the multifaceted pitching phenom.
He was offered a minor league contract with the Cincinnati Reds, but World War II put a hitch in that path. Lilly joined the Navy, where he was placed in a special training program. After attending the prestigious Montana School of Mines, he was sent to officer school where he earned his commission. Lilly served for 18 months in the South Pacific before being discharged in 1946.
"When I got back," he said, "I no longer had interest in playing baseball."
Using the G.I. Bill, Lilly got a degree in Applied Sciences from Montana State University and taught in Roundup, Deer Lodge, and Bozeman for several years while continuing to feed his fishing passion.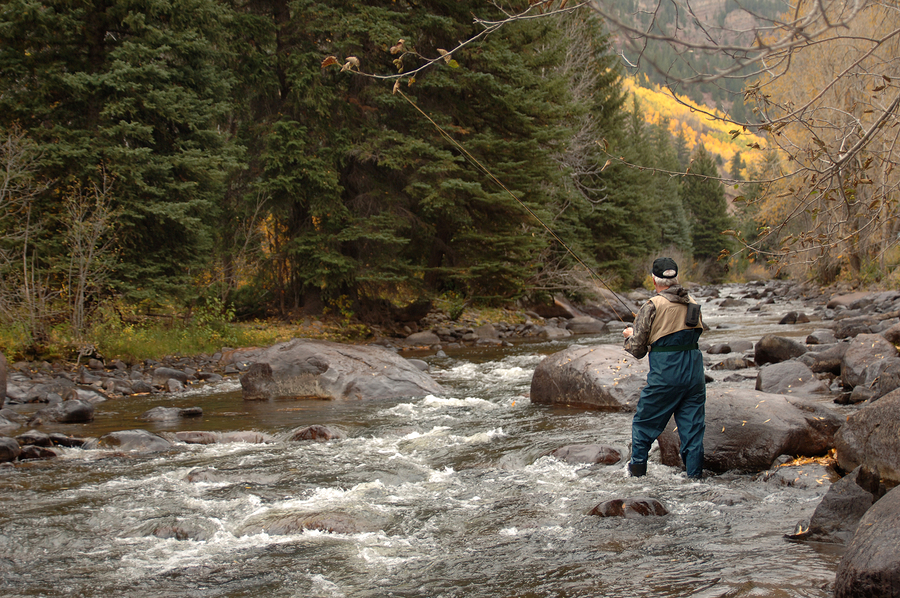 Then, in 1952 he purchased a fly fishing shop in West Yellowstone for $4,500, and so began a new chapter in the sport of fly fishing in Montana.
The Dean of Fly Fishing
Lilly operated Bud Lilly's Trout Shop and worked as a fishing guide and promoter of trout fishing and Montana in general. The fly shop was a family affair, and Lilly's knowledge and ability to read water and fish soon earned him the moniker "The Dean of Fly Fishing" from the locals.
He guided the well-heeled and famous, including Curt Gowdy, Tom Brokaw, Charles Kuralt, and Jimmy Carter. Lilly fishing trips with the rich and famous were also inadvertent promotions for his home state. He proudly declared that many of the people he guided also started businesses, invested, or built homes in Montana.
Back in his early guiding days, many Montana trout rivers were "put-and-take" fisheries. The Department of Fish, Wildlife and Parks raised and planted hatchery trout for anglers to catch.
Lilly thought there was a better and more economical path to good trout fishing. He petitioned the state to modify their fish stocking practice. Rather than stocking hatchery trout he pushed for programs that encouraged wild trout to grow to their natural limits.
Under Lilly's plan, money that was formerly used to raise non-native fish could be redirected to habitat improvement and law enforcement. Lilly and others advocated for this format, which resulted in both more and bigger wild fish being caught than could be achieved by stocking hatchery trout, and at a more economical cost.
This model has become the standard fisheries program format followed by western state game and fish departments today.
Catch-and-Release
In the 1960s a couple of anglers from the East told Lilly about a funny new concept called catch-and-release. It was a lightbulb moment for Lilly.
"It made sense to me," he told the Montana Standard in a 2015 interview at his home in Three Forks. Catch-and-release was a vital component to Lilly's plan to rely on wild trout over hatchery fish.
If anglers could be convinced that releasing trout unharmed would lead to superior trout fisheries, well, that would change everything.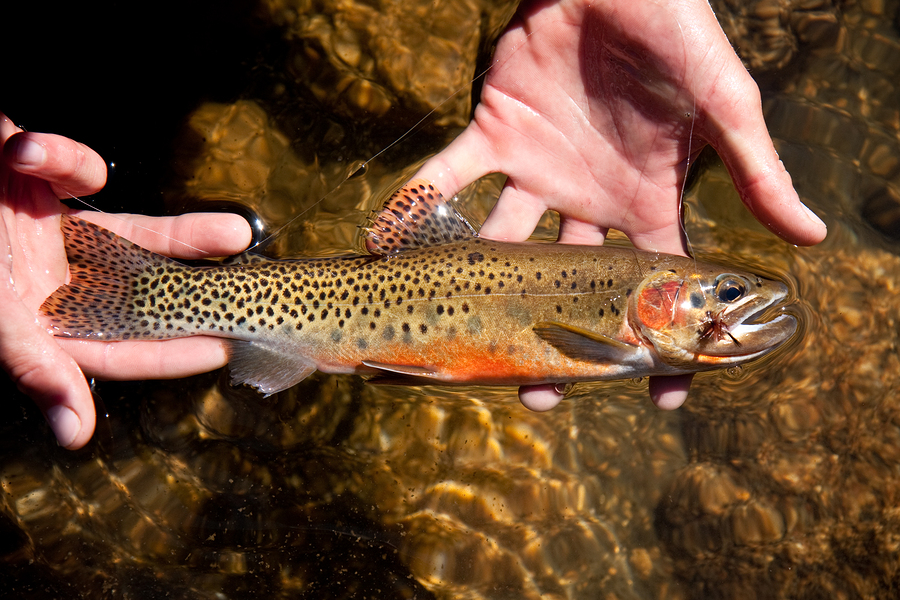 He created a catch-and-release club in his fly shop. Club members would receive silver buttons for the release of trout of various lengths.
"The club caught on and a lot of anglers wore one or more buttons on his/her vest," recounted Paul Schullery, co-writer of Lilly's autobiography. "Presumably, the button kind of replaced the trout as the 'trophy.'"
"He was a real leader in a lot of things that have shaped where we are right now," said John Bailey, who runs Dan Bailey's Fly Shop in Livingston.
Lilly was a tireless promoter of catch-and-release, and eventually the sneers and raised eyebrows stopped and an army of true believers in the new conservation ethic was formed. The catch-and-release conservation ethic is the norm today, and Bud Lilly is largely responsible for its prevalence.
"He had a megaphone, and people picked up on what he said. He wasn't the only voice, but he was probably the most prominent one." declared Bruce Farling, executive director of Montana Trout Unlimited, the organization that Lilly founded along with Pat Sample and Dan Bailey. "
Spreading the love for fly fishing
Lilly was also instrumental in helping to make fly fishing, a typically male sport, more appealing to women. He offered women-only guided fishing trips and helped establish women's fly-fishing clubs. Not coincidentally, Lilly's daughter Annette became the first female fishing guide in Montana.
In addition to these efforts, Lilly was intimately involved in many conservation programs and organizations. He was either the director or a board member of several conservation organizations, including Trout Unlimited, The Greater Yellowstone Coalition, The Whirling Disease Foundation, American Wildlands, Montana River Action, The Montana Land Reliance, Montana Trout Foundation and more.
Lilly had his hand in so many conservation projects that you have to wonder if he had time to enjoy fishing for himself. He did. But for Lilly, fishing wasn't only about catching fish.
"Fly-fishing is the total experience because it's in wild country and wild rivers and wild trout and wild women," he told the Bozeman Daily Chronicle in 2011 with characteristic humor. "It's the opportunity to be in the out-of-doors, to think by yourself and learn."
Lilly was also responsible for assembling the Bud Lilly Trout and Salmonid Initiative, a 10,000-volume collection of books, manuscripts, and personal papers at Montana State University.
All of these projects and efforts Lilly undertook for the simple love of trout, rivers, nature, and conservation.
But Lilly was no fly fishing snob. He believed that there was plenty of room for anglers of every persuasion and every method.
"A good bait-fishermen or lure-fishermen is just as talented as a fly-fishermen," he said. He preached streamside courtesy and mutual respect, and the philosophy that there is enough river for all of us. "You have to learn to share," he said.
Bud Lilly passed away January 4, 2017. He was 91.
The next time you release a trout to catch it another day, you might think of Bud Lilly and silently thank him for his efforts on behalf of this wonderful game fish.
Like what you see here? Experience more articles and photographs about the great outdoors at the Facebook page, Stumpjack Outdoors.
NEXT: HISTORIC OUTDOOR PEOPLE: CARL AKELEY IS ONE BADASS TAXIDERMIST
WATCH: 10 FLIES FOR TROUT WORTH TRYING OUT
Enjoy the outdoors?
Sign up for daily stories delivered straight to your inbox.