Their euthanization dates were set for March 5, 2018.
Abilene Animal Services thanked an anonymous donor on their Facebook page for paying the adoption fees for all their at-risk dogs.
"Thank you to the good Samaritan who came in and paid the adoption fee(s) for ALL the dogs on the At Risk List !"
The dogs will now be free to anyone who visits the shelter at:
925 S 25th St
79602 Abilene, Texas
There were five dogs that were slated to be euthanized.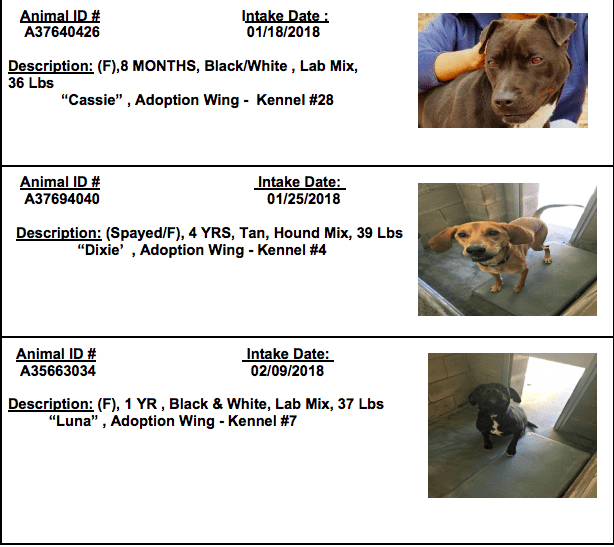 The dogs are currently still at the shelter and if you or someone you know would like to adopt one of these second-chance pups call the Abilene Animal Shelter at (325) 698-0085.
It is assumed that all the dogs are still at the shelter waiting for someone to take them home for free.
Followers of the Abilene Animal Services Facebook page were overjoyed that someone took it upon themselves to at least make it easier for these dogs to find homes.

Eventually, someone commented that it was their wife who was the anonymous donor. They made it clear, though, that if the dogs are still at the shelter, they will still be considered at risk even with their adoption fees paid.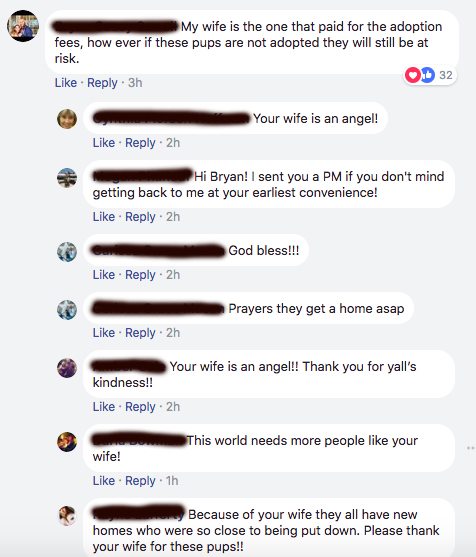 UPDATE!
The dogs have all been adopted according to the City of Abilene Animal Services!

https://www.facebook.com/cityofabileneanimalservices/posts/2035187553414960

Covering the adoption fees at your local shelter is a wonderful way to ensure at-risk dogs get adopted faster. Making a donation to your shelter will also help with their fees and operating costs.
It is a sad reality that shelters in the U.S. do turn to euthanization if they have too many animals. While so many shelters and rescues are trying to go no-kill, some simply don't have the resources. Approximately 6.5 million animals enter shelters around the country each year according to The American Society for the Prevention of Cruelty to Animals (ASPCA). If the shelter doesn't have room for the animals they take in, they are put on at-risk lists. While the number of euthanized pets has steadily declined since 2011, approximately 1.5 million animals are put to death each year.
What do you think of this story? Tell us in the comments below.
WATCH NOW: Rocket the Dog Goes from Death Row to Search and Rescue Team
Enjoy the outdoors?
Sign up for daily stories delivered straight to your inbox.