The best way I can describe it? It's like a neon sign. The colors seemed to glow, and even change in brightness and hues as I stared at it. It was the first dorado I'd ever caught, and it was the beginning of a memorable fishing excursion to the southern tip of Baja California Sur, where I was targeting species I'd never even seen before, let alone reeled in.
I was there to soak in the sights and sounds of La Paz and Los Barilles, Mexico, while also getting a chance to participate in a first-of-its-kind sportfishing tournament called Fishing in the Five, a unique format highlighting the best angling in the five municipalities (La Paz, Loreto, Los Cabos, Comondu, and Mulege) of Baja California Sur.
I'd been to Mexico plenty of times, but this was the first time saltwater fishing was so prominent on the itinerary. I was in for an awesome experience, and got to spend time in a region with a burgeoning fishing industry that deserves some more attention.
South of the Border
The trip (and particularly the flights) down to Los Cabos were a breeze, and before I knew it I was driving through the rustic, elevated landscape of rural Baja California Sur with my hosts and a fellow media member who specialized in food and travel. We were moving from the airport in the big tourist destination (well-known for its party atmosphere) toward the much smaller fishing town of Los Barilles, which was more in my vacation wheelhouse. Don't get me wrong; a cold drink at a beach resort is great, but these days I'd rather have a marina (or at least a dock) with a fishing boat waiting for me. Luckily, that's exactly what Hotel Palmas de Cortez featured.
We arrived at the resort and were shown to our rooms, each one fully set up for lengthy stays and high levels of comfort. The impressive pool area was just what you'd expect, but my crosshairs were set on the dock that sat directly adjacent to the hotel, just across the white sand beach. I set the alarm for an early wake up call, ordered a Mexican beer, and enjoyed a great meal overlooking the water while rays breached the surface, slapping their fins in an attempt to impress potential mates.
A spicy seafood dish at one of the resort's several restaurants and another regional beer was all I needed to cap off the day. We had fishing to do in the morning.
Hit the Water Running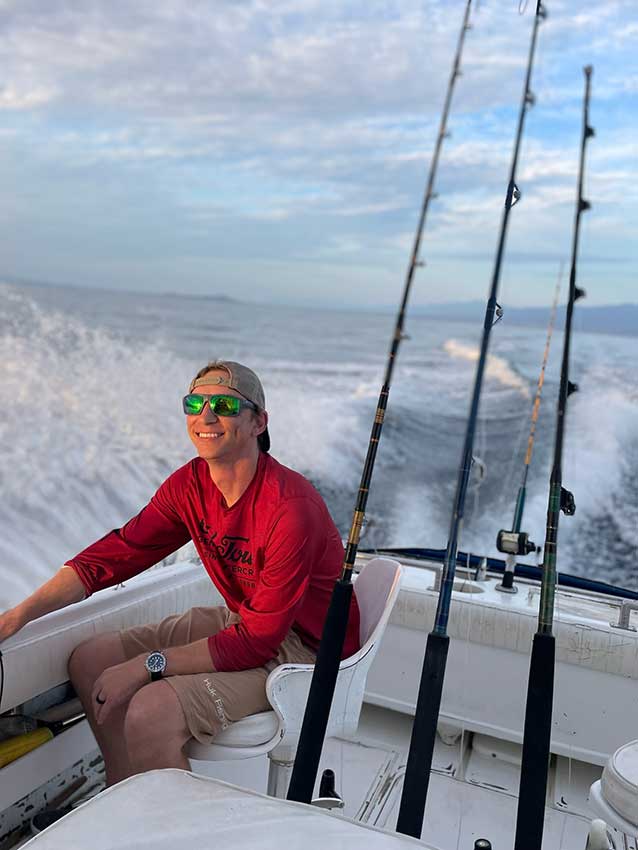 Predawn is usually the best time to start a deep sea fishing trip, and apparently a lot of folks in the Sea of Cortez agree. The dock I'd scoped out the day before was packed with boats and anglers rushing to gear up, load up, and speed out of there.
We connected with our captain and his mate, who spoke some (but not a lot) of English, and I flashed back to all those Spanish classes I took in high school. Would anything come back? I was glad to be accompanied by a couple of fellow travelers who would hopefully help fill any gaps in my linguistic knowledge.
The hour-plus ride out was great, and we watched the sun rise with flying fish and dolphins seemingly wanting the same view.
Once we were determined to be within range, lines were quickly rigged with a combo of live bait and Molcraft-style lures and we began trolling. It took a little while before any action, but when it finally started it was exactly what I was hoping for.
"Line! Dorado!" the captain yelled from his perch above us, and I was ready. Almost as soon as I started reeling in, the dorado, or mahi mahi as it's also known, made itself known with an impressive leap while it attempted to work the hook free. I knew I was in for a fight.
I certainly got one, but it was honestly shorter than I thought it would have been. In less than 15 minutes the dorado was boat side and a quick gaffing job brought it onboard. That's when I got my first up close look at this incredible species, and it was made all the more special because I landed it.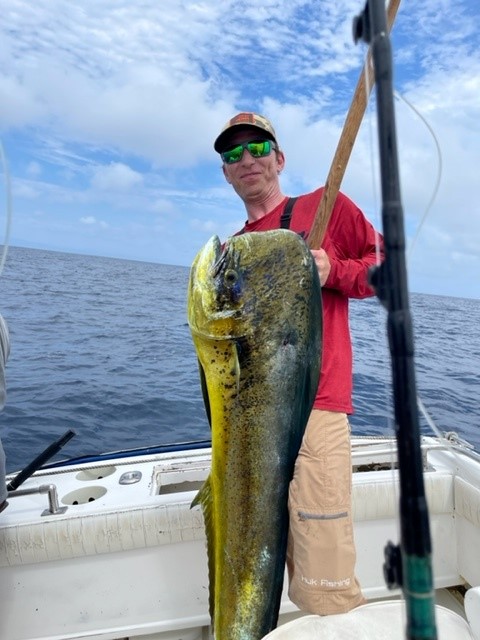 I wasn't kidding when I said it looked like a neon sign. Greens, blues, yellows, and an iridescence as it angled against the sunlight were flashing in my eyes, and I lifted the long, single dorsal fin that ran from its head nearly to its tail. Like a peacock's feathers, it revealed a pattern only Mother Nature could come up with. The dorado was placed in our ice box and we dropped more lines.
After that we encountered a school of tuna, and three sub-15-pound specimens found their way into the boat via rod and reel. Another dorado was landed by my colleague, the first saltwater fish she'd ever caught, and we were pinching ourselves over the beginner's luck.
Little did we know, there was plenty more luck yet to come.
The Most Memorable Marlin
Having already landed my first dorado, I was letting my mind drift a bit to the possibilities of a marlin catch. Not only had I never accomplished it, I'd never even tried. The odds were in my favor but I wasn't going to get my hopes up too high in fear of merely getting let down.
Sure enough, a lull in the middle part of the day was quickly broken up when a striped marlin smashed one of the lines on the outrigger and immediately began bending the rod. The captain confirmed it was indeed a marlin, and I locked in. How long would it take? How strong would it be? How big was it?!
Incredibly, the fight with this massive beast didn't last nearly as long as I thought it might. Granted, I would up handing the rod off for a quick five-minute break, but took things back into my hands to finish it off. Within less than 30 minutes, the marlin was within reach.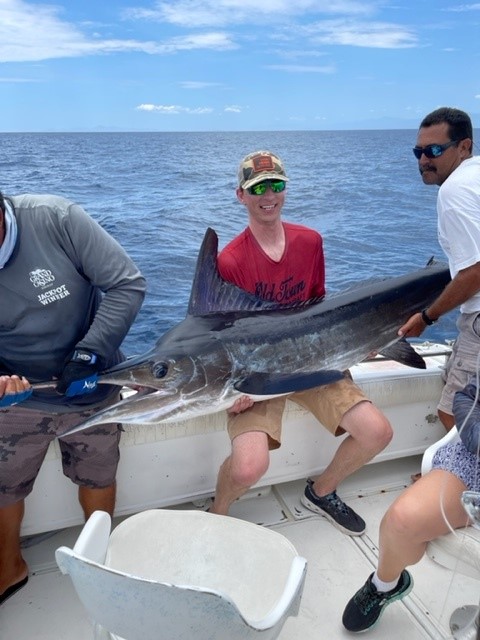 It's worth it to point out that this part of Mexico has relaxed restrictions on marlin compared to a lot other places. Whereas some situations require marlin to stay in the water, ours allowed for this huge fish to be brought onto the boat for a photo opportunity. I knew we weren't going to keep it, and I wouldn't have wanted to if I could. It was too big, too beautiful, and too important to be taken as a prize, or a meal, or any other reason.
The captain and his mate did their job dutifully, brought the striped marlin to my arms for the picture and short video, then swiftly got it back into the water in a minuscule amount of time. The captain gave it a rough estimate of 160 pounds, and I struggled to pick up my jaw from the boat deck for the hour or so following the catch.
All in a day's work on a fishing boat in Baja California Sur.
On to La Paz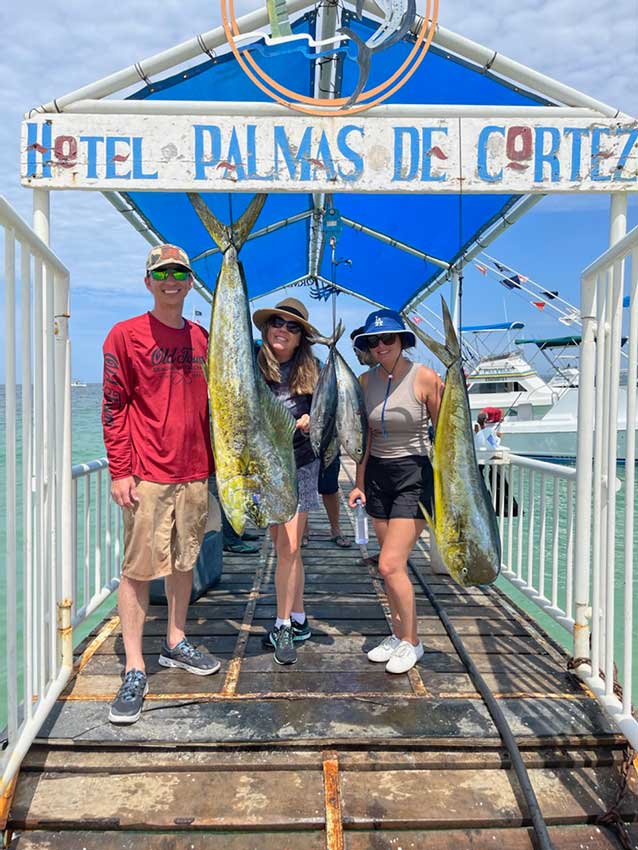 Our experience put everyone in a great mood, and we arrived back at the dock to meet our host Jose and depart for La Paz. Jose knew exactly what to do with the tuna and dorado fillets, and of course, had a cooler waiting in his vehicle.
We were headed to the Baja Club Hotel, a small but luxurious spot right in the heart of La Paz, where we'd spend the next couple nights. Dinner was at Origen, a unique joint with an expert mixologist and seriously skilled chefs. The tuna and dorado were exquisitely prepared and the entire meal quickly made its way up my list of best ever with each new course.
La Paz was preparing for the Fishing in the Fives tournament, which officially kicked off the series of events that would stretch through the summer. We were going to be back on the water the next morning, hoping for similar success to our previous time spent fishing.
Unfortunately, we didn't land the fish we'd hoped, but just being a part of the huge group of boats was a thrill in itself. The official shotgun start saw more than a hundred total boats take off at the same time, and the excitement buzzing through the marina and out on the water was contagious. You could really tell that every angler on every boat was more than just happy to be there.
The best part of the Fishing in the Fives tournament, in my opinion, is the fact that it is organized and put on by FONMAR, the region's agency working to preserve marine species in conjunction with tourism promotion and local economy boosting. Leadership orgs like this are vital for the well-being of not only the fish in the surrounding waters, but the people who make a living in the area.
We didn't show up on the tournament's leaderboard by any means, but still got to see more amazingly scenic oceanside locations as we trolled through promising spot after promising spot. And the locally-made burritos and ceviche that Jose brought along didn't hurt, either.
Adios, Baja California Sur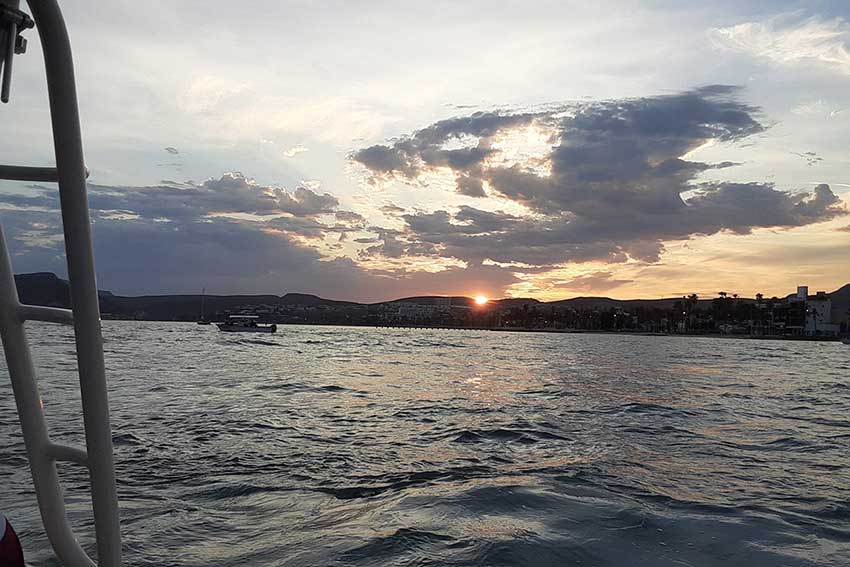 It didn't take long for me to realize this was a special place. Not only fishing, but surfing, off-roading, and snorkeling were notable area activities I wish I'd have gotten a chance to try out. Heck, Jacques Cousteau had dubbed this location "the world's aquarium" and I was beginning to see why.
With such a great trip now notched in my belt, I knew I'd forever be comparing any deep sea fishing excursions with this memorable experience.
I also bookmarked the location for a future trip with my family, because I knew even if they weren't up for an all-day trip out on the water seeking more marlin and dorado, they'd still have plenty to do and keep them busy in a lovely, welcoming place. Besides, if I returned, they'd be jealous since I gushed about the trip the days following my return home.