Without volunteers, a farm sanctuary doesn't exist. If you love going to your state fair (for the animals and not the corn dogs) or visiting the local farm stand so you can hang out with the goats, pigs, and chickens, then start researching where the closest farm sanctuary is at where you live! There are no better organizations to donate (feed, gift cards to feed stores, and dog crates) items to or volunteer at especially when the lives they save thank you with snuggles, snorts, some grunting, a roo's famous crow and squawking. Some of the stories are heartbreaking.
We recently had the opportunity to tour a farm sanctuary in Washougal, Washington called Odd Man Inn. The Camas Post Record tells us,
"The founders of Odd Man Inn in rural Washougal have opened their land — and home — to a variety of abused, neglected or abandoned animals."
Founded in 2014, they are a nonprofit refuge for wayward, abandoned, mistreated, or otherwise displaced animals of many species. Their motto is, "Everyone deserves a forever home!!!" Based on the tour, we can vouch that not only does every animal get a better home, they are shown the love they deserve here at Odd Man Inn.
Farm sanctuaries across the country have similar missions, as each provides a safe and healthy environment for sheep, horses, cows, goats, llamas, alpacas, chickens, roosters, and in some cases, cats and dogs.
We learned so much from our tour and one of our Wide Open Pets staff even adopted a rooster for her flock of seven hens!
The Rescue Animals at Odd Man Inn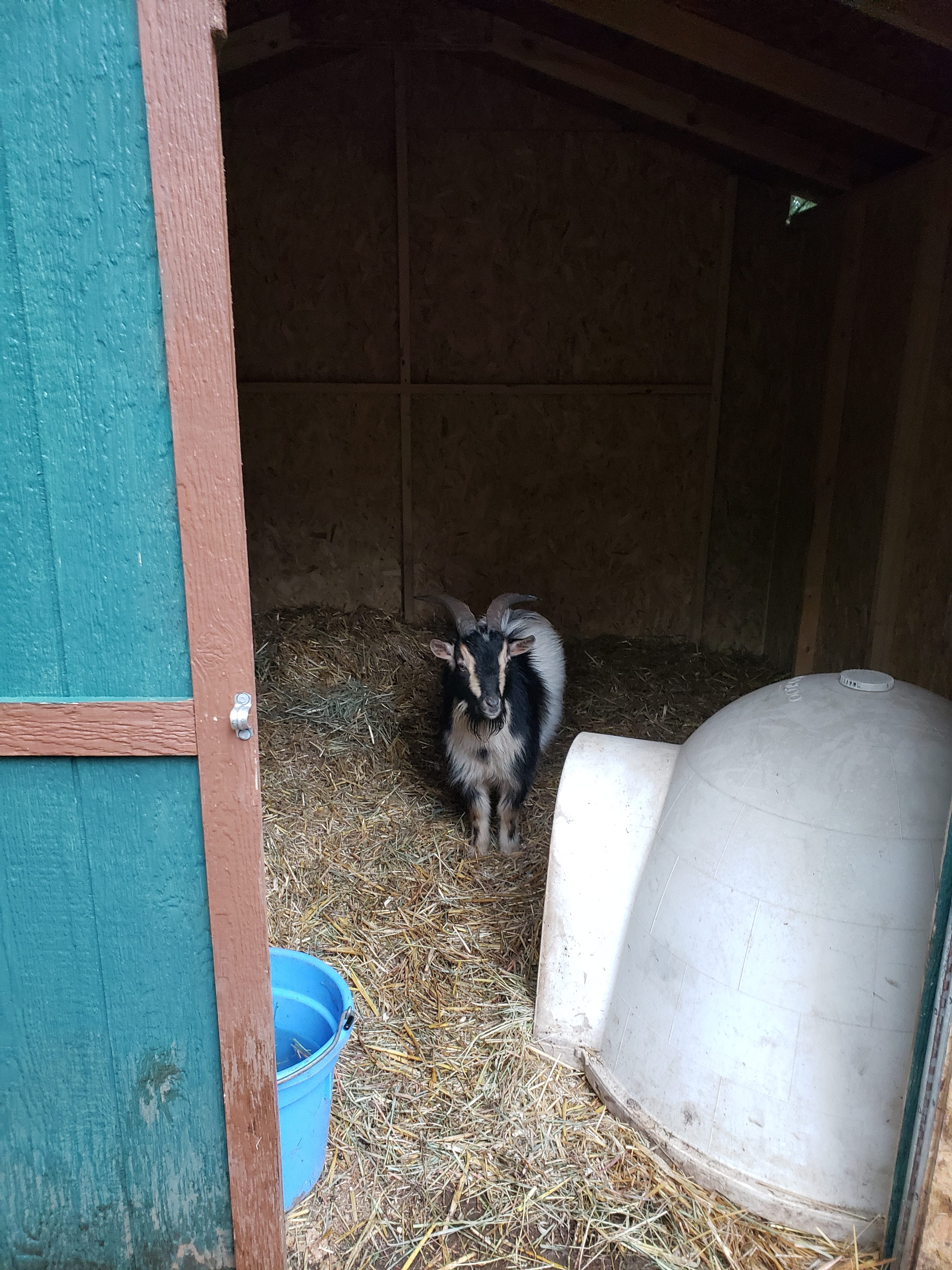 Sweet goat for adoption (Christy Caplan)
This is Jake (Elwood is another goat resident that hangs with Jake) and they are officially roaming the manor. They are adorable and need a home!
Every day, they feed 36 pigs. The custom bowls include fresh fruits, veggies, pig grain, warm water, and love, of course! Many farm sanctuaries need food donations and volunteers to help with the hours it takes to feed all the animals.
Some pigs live outdoors and some are house pigs (potbellied pigs) and live inside with the humans. Just like Esther the Wonder Pig, a celebrity, that all animal lovers want to meet.
This rooster is now a happy member of a local flock with seven hens. This is a Barred Rock rooster and beautiful! It didn't take long for him to win over the ladies.
The Volunteers
The co-founders are Josh and Wendy Smith, and the Smiths treat every animal as a family member. The sanctuary has many volunteers that help with activities including feeding the animals and planning events throughout the year that bring in donations that help with items like animal shelter and housing. There are a lot of structures when you have 36 pigs! On any given Sunday, volunteers help unload hay, scoop poop, clean the barns and build roofs.
Contact your local farm sanctuary if you're interested in volunteering. The tasks are wide-ranging and typically include feeding and watering animals, cleaning pens, sweeping floors, doing dishes, preparing produce, and helping move the animals outside and inside to socialize and interact with the animals.
Behind the Scenes
Some of the animals at the sanctuary have grown to be social media celebrities. Visiting with Gomez is a highlight for every visitor. We fell in love. The Camas Post Record explains in an article after interviewing their co-founders about Gomez,
"Gomez, a curious Chinese swan, has a tendency to get right up in your face, but he doesn't charge or bite. He just wants visitors to scratch his neck and admire him."
Human celebrities you'll recognize that decided to pursue their love for farm animals include Jon Stewart and wife, Tracey Stewart. They rescue animals from the factory farming industry. After leaving The Daily Show, Jon Stewart decided to become more involved in this important cause.
The Farm Sanctuary organization has a wonderful adopt-a-farm-animal program, and this is very common at non-profit organizations and farm sanctuaries across the country. Farm Sanctuary's shelter animals are in need of loving "parents" to sponsor their monthly feed, shelter, and veterinary care costs.
These sponsorships are tax deductible. Consider looking on the websites of your fave animal sanctuaries and their social media to see if there is an animal that needs a second chance that you can help support. The items The Farm Sanctuary sells in their online farm sanctuary shop are adorable!
Are you an animal rights advocate or animal agriculture nerd? There are many resources available to folks that want to get involved and Rodale books is a publisher you can research on Amazon for all the titles you will ever need to start preparing your own farm animal sanctuary. It's important for everyone to help end farm animal abuse.
Whether you live in Philadelphia, California, New York, Los Angeles, or NYC there are farm sanctuaries everywhere that need help and support. Many of the animals that have health problems are discarded or neglected and end up at these very special organizations.
Start following Gene Baur the cofounder and president of Farm Sanctuary. The film, Forks Over Knives, became a spark for national change. The film was a hit and the accompanying book became a New York Times No. 1 bestseller. You'll gain a new awareness for the movement and your new best friend just may be a new roo or goat!
If you could save a farm animal, what type of livestock would it be? Leave us a comment below!
WATCH NOW: Mangalitsa Pigs Are Like Little Sheep
Enjoy the outdoors?
Sign up for daily stories delivered straight to your inbox.