Even paws need a little bit of TLC!
Just because your dog may be the toughest on the block, doesn't mean they couldn't benefit from a little soothing, especially when their paws are getting beat up from the elements. That's why paw balm is such a necessity when it comes to caring for your dog's feet, especially during both summer and winter seasons.
Summer can be brutal on your dog's paw pads. Your dog will love you for providing a protective coat of balm before and after they go for a walk in the dry heat or in the cold and salt. This is not a substitute for a boot if you're walking on trails but a nice layer to help give some added comfort.
Winter can be really tough as well. The combination of cold snow and ice, plus the salt that is on the sidewalks and roads, can cut up your dog's feet. Additionally, frigid temperatures can chap up your dog's noses and ears. Using paw balm can help protect your dog before they go out into the elements and afterward, to help soothe any cuts or ruptured skin.
Editor's Note: This DIY recipe was created by the DIY Network.
Recipe for Soothing Paw Balm for Dogs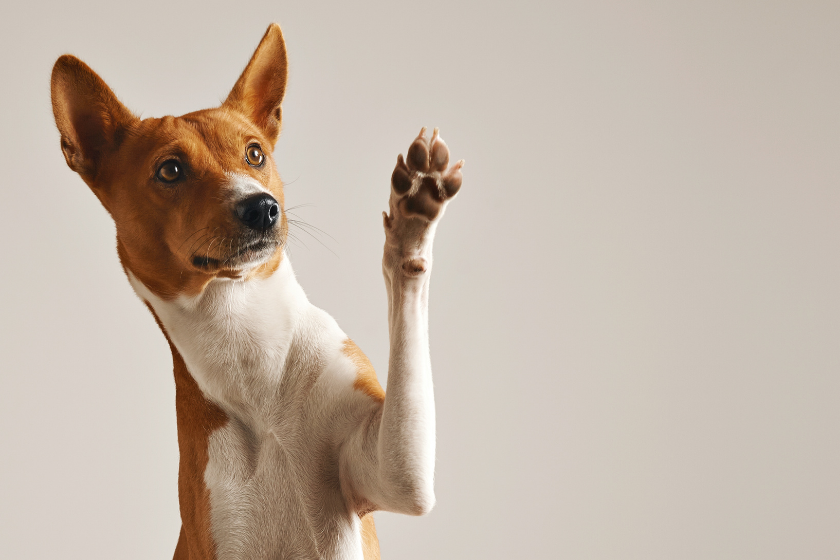 Ingredients:
2 tablespoons coconut oil
2 tablespoons shea butter
2 tablespoons beeswax
2 tablespoons olive oil
20 drops lavender essential oil
4-ounce glass bowl
bamboo skewer
4-ounce wide-mouth container and lid
Directions:
Mix the beeswax, shea butter, coconut oil, and olive oil together in a 4-ounce glass bowl.
Place the bowl into the microwave and heat on high in 30-second intervals until the ingredients are melted together. (Note: The beeswax should take the longest to melt.) Stir with a bamboo skewer until the beeswax is broken down and blended.
Add about 20 drops of lavender essential oil. Use whatever scent you like, but lavender is ideal for its anti-inflammatory and anti-fungal properties. Pour into a wide-mouth glass mason jar or tin until it cools and solidifies.
The DIY Network explains how to apply your new DIY paw balm and give your dog a fun and relaxing massage!
"You can use your fingertips to scoop up a bit of the balm and rub it into your dog's paws. Our preferred method is to place the paw into the balm container and then rub the balm into your dog's paws. Whatever works for you and your pup. Our dogs are squirmy and it's easier for us to just put their whole paw in. Gently rub the balm into the paws. Dogs love having their paws rubbed!

"The oils absorb well and the beeswax leaves a light protective coating on the paw. Our dogs were not too fond of the lavender smell, so they were not interested in licking it off. Just make sure you don't put too much on and rub it in well to discourage licking."
Paw balm is such a necessity when it comes to caring for your pet's paws! Homemade dog paw balm is easy, and you can swap in ingredients and essential oils you know your dog will enjoy. This recipe is just like any dog treat recipe for homemade dog treats.
It's time to pamper your dog!
Dog moms and dog owners should consider how dry paws may benefit from a paw soother and then determine the natural ingredients they'd like to use. Consider ingredients like almond oil, cocoa butter, Vitamin E oil, and even sweet almond oil!
Your dogs will thank you for preparing for the winter months and cold weather by having a few paw balm recipes researched and stored away. We started to become addicts and researched homemade dog shampoo and other DIY projects we can do on the weekends.
If you want to try making a lip balm, moisturizer or salve for yourself you can research more recipes on Pinterest. Expand your search to include DIY paws balm, homemade paw balm, DIY paw balm, paw wax, DIY paw balm recipe, dog balm, dog paw balm recipe, and DIY dog paw balm.
All pet owners will find these search terms have hundreds of salve recipes for paw pads! Happy DIYing!
Do you have a favorite paw balm recipe? Tell us on the Wide Open Pets Facebook page!
Enjoy the outdoors?
Sign up for daily stories delivered straight to your inbox.