Products featured on Wide Open Pets are independently selected by our editors. However, when you buy something through our links, we may earn a commission.
What do you get for a kitty who is ready for Christmas? A cat toy Christmas advent calendar!
If you love the classic countdown to Christmas with a holiday advent calendar, you're going really love getting your feline friend a cat advent calendar this holiday season. This way, both you and your kitty can start the purrfect holiday tradition of opening up an advent calendar, and what better way is there to get some new toys! Here's a sneak peek of what one of this season's popular Christmas countdowns looks like.
Merry & Bright's Cat Toy Advent Calendar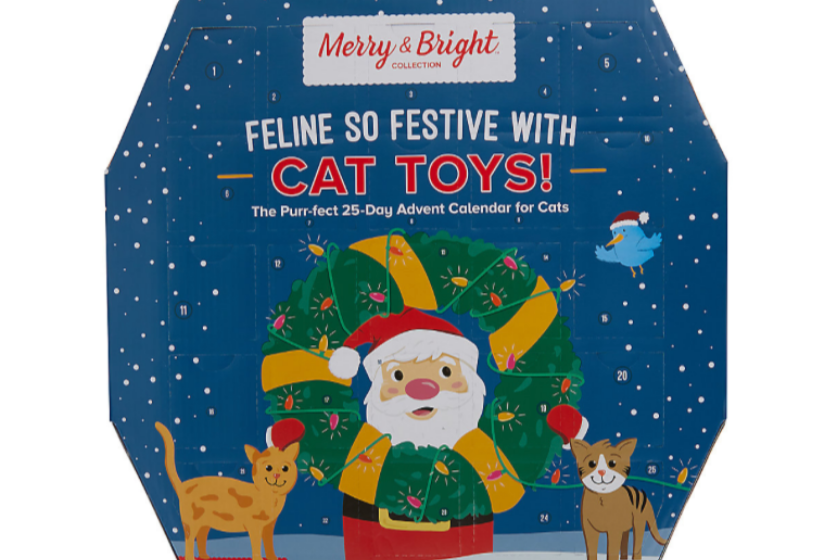 RELATED: 10 Useful & Affordable Christmas Gifts for Fur Babies and Awesome Pet Parents
The Merry & Bright Holiday Feline So Festive with Cat Toys 25-Day Advent Calendar is just what your cat needs in their lives. You can order this pet advent calendar online here or get it at your local PetSmart. Counting down the days of Christmas alongside your cat as you open each door is tons of fun! My cat Bandit and I had the opportunity to get a sneak peek of this adorable Christmas Cat advent calendar, and it is filled with some really fun Christmas-themed plush toys, balls, and catnip-filled toys — There was even a cranberry-colored tinsel ball. The box definitely has all the ingredients for some merry-makings!
From candy canes to gingerbread men, the calendar is filled with a variety of toys for your furry friend. There is even a Christmas tree! The flaps are easy to open, and you have quick accessibility to the toys inside. I see why so many of these calendars end up on gift guides and wishlists year after year. The toys inside are adorable, safe and entertaining for cats and humans alike. (I'm not sure who liked the crinkle toy more, my 2-year-old or Bandit!) These goodies will definitely keep the family playing together all throughout the holiday season.
The advent calendar is almost better than a cat toy gift set. Your cat will be so entertained leading up to Christmas that Santa's job will be easy. They just need to stick a chewy cat treat or two in their stocking and your cat will be set!
If your kitty cat is more into wet cat food, Fancy Feast has one of the best cat advent calendars filled with food. Check out our review!
Have you ever purchased an advent calendar for your cat? How did they like it? Tell us on our Wide Open Pets Facebook page.
Enjoy the outdoors?
Sign up for daily stories delivered straight to your inbox.