I made the decision to finally adopt a puppy as the great coronavirus quarantine of 2020 took hold of Austin, Texas. Being home with Layla (no relation to the Eric Clapton song) allowed time to properly train her, learn about her, and clean up more than a few accidents. Missing from that, however, were lots of interactions with other dogs, something we're still working to overcome.
Thanks to Canine Commons, having a safe, secure, indoor environment to get Layla lots of exercise is going to be a breeze.
What Is Canine Commons?
Canine Commons describes itself as "safe and happy spaces for dogs and their people." The COVID-19 outbreak affected the timeline for the dog park's original start date, but co-founder Jon Cady is trusting and being patient before finally opening.
"It's important that we open when it's safe to do so," Cady said via press release. "We're incredibly grateful for how patient everyone has been with us as we solved some tough problems and created new things to enhance the customer experience at Canine Commons."
Original plans from 2019 detailed a facility spanning 50,000 square feet that included an indoor dog walking track and reportedly cost $16 million. Canine Commons detailed several reasons why those plans were changed, including safety and design issues, not offering outdoor space, and wanting both of its Austin locations to offer similar amenities.
To be frank, the "customer experience" in the works makes this place sound like all-access spa for dogs and dog lovers.
Canine Commons Facility in Austin, Texas
Labor Day Weekend 2020 brought the unveiling of designs for a flagship location in downtown Austin, Texas — It's one of two in The Lone Star State's capital city; the other will be located in North Austin at The Domain. Austin's downtown location offers a high-rise view of Lady Bird Lake, climate-controlled indoor dog park, off-leash space outdoors on the mezzanine, trained staff to monitor everything, private training rooms, and a coffee shop that sells Zoomies Blend coffee, created specially by Lucky Lab Coffee Co. in Austin. (This amenity is dog owners only. Please don't get your dog a macchiato.)
Canine Commons has announced locations and openings also coming to Nashville, Tennessee, Omaha, Nebraska, and Phoenix, Arizona.
Activity Sensing Technology
Fresh-brewed coffee and beautiful views aren't the only things dogs will be getting, though. Canine Commons announced its brand-new technology called Activity Sensing, which is available to any dog with a yearly membership.
Think of Activity Sensing like a Fitbit for dogs — Owners receive a collar monitor that allows them to track distance traveled by their dogs, set personal fitness goals, track active and resting time, and even link to their pooch's "Best Friends" via a mobile app.
Your dog might be popular than you as their "friends list" grows, and you can set up play dates with like-minded pups!
Membership Fees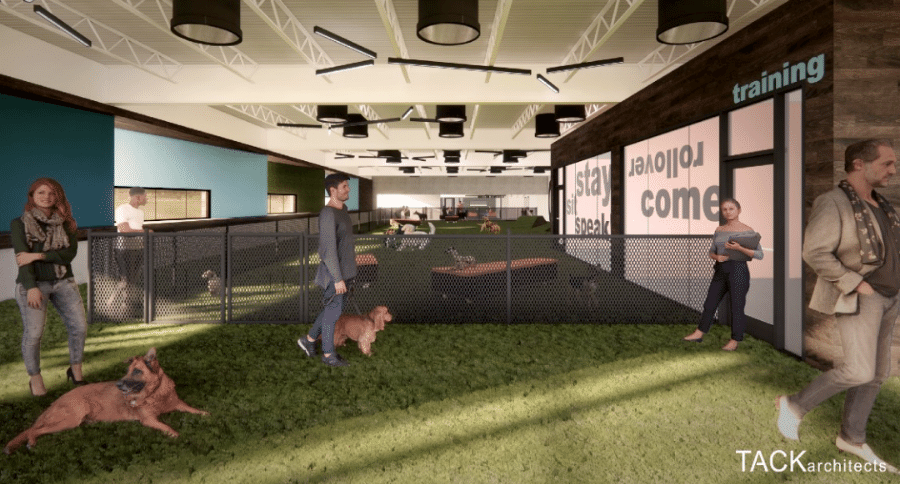 Monthly memberships at Canine Commons are listed at $89 for single dogs and $109 at the multi-dog level — This includes unlimited access and training courses offered at the facility. Access to the Activity Sensing technology is listed as $99 annually, which for me and my chubby puppy sounds like a no-brainer.
The downtown Austin location plans to open in 2021 and introductory memberships are available for purchase at the Canine Commons website here.
Will you be checking out Canine Commons in your city? Let us know in the comments!
Enjoy the outdoors?
Sign up for daily stories delivered straight to your inbox.