Can-Am has an off-road machine for everyone, and they're only getting better.
No matter your calling to the outdoors, you and I are almost certainly able to find the same joy in a number of activities. As outdoorsmen, we all have our own niche to which we devote our precious time, but a mutuality for anything that leans into the defiance of nature's elements.
Regardless of whether you count down the days until you can hike through the next state park on your bucket list, or if you're one who's willing to take two weeks of vacation to chase moose through Interior Alaska, we thirst for the same sustenance.
Off-road machines will tantalize the senses of any outdoorsman, but have also become a staple of functionality in a wide variety of outdoor practices.
During a recent trip to northern Georgia, I was able to feast on both the fun and functional offerings of modern ATVs and UTVs with one of the best brands on the market: Can-Am.
Welcome to Dahlonega, Georgia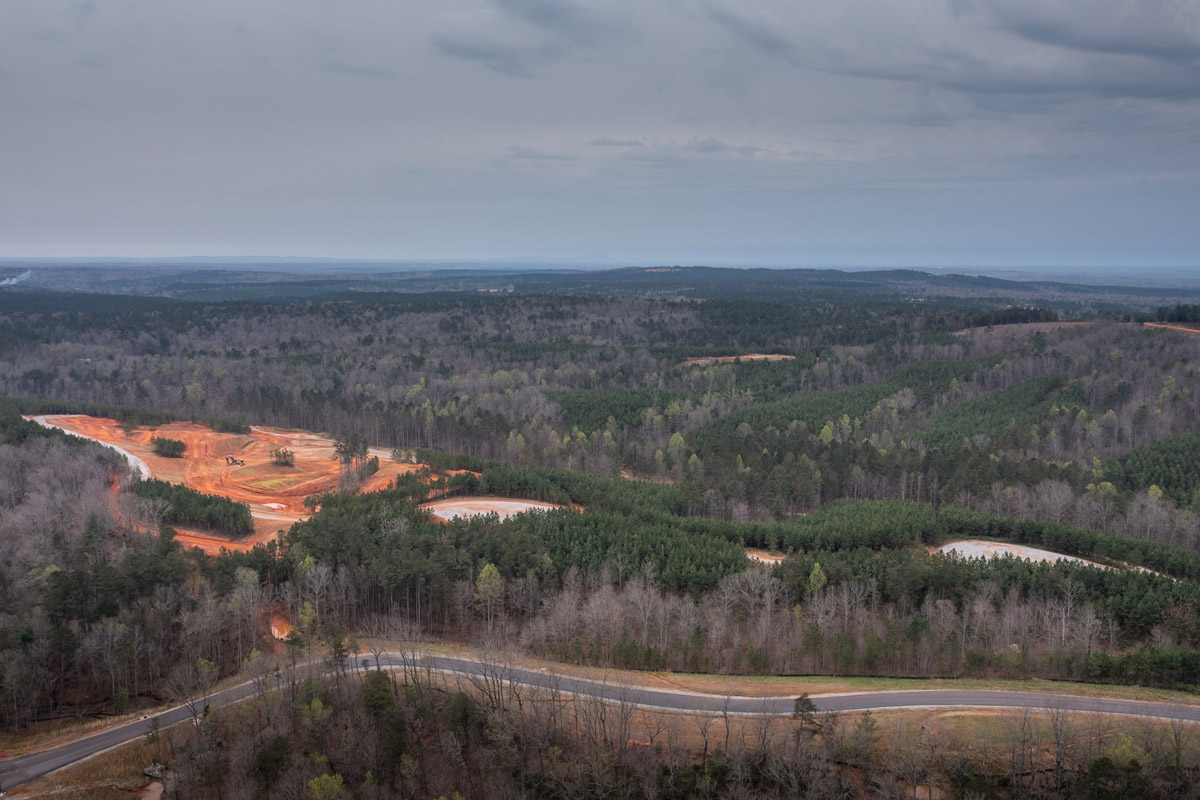 After a series of travel complications, I fortunately landed in Atlanta and arrived in Dahlonega, Georgia, just before the group of Can-Am and fellow media folks finished dinner. While it's never fun to show up late, we at least had the opportunity to introduce ourselves to one another and talk about the morning's activities just enough to make sleeping difficult.
The day was just as advertised, too, as we could hear the echoes of high-octane exuberance before we even stepped out of the truck at Iron Mountain Resort. Awaiting our arrival was the Can-Am team, joined by brand ambassadors Dustin Jones and Dale Brisby, all of whom welcomed us with the kind of enthusiasm that goes hand in hand with unbridled anticipation.
Following a thorough safety walkthrough and a quick synopsis of the daily itinerary and the conditions we had to work with—a torrential downpour of rain and sloppy red clay—we strapped on helmets and split up into groups.
Maverick X3 X RS Turbo RR
My group would start with the fleet of Maverick X3 machines, led by Jones, a professional racer who drives this very machine in competition. As a UTV World Champion, a multi-time Mud Racing Champion, and the Mint 400 Champion, it's safe to say Jones is as experienced as anyone when it comes to pushing the limits of a side-by-side off-road machine.
We started by driving as a group, essentially playing a game of "follow the leader" as Jones led us through the clay trails of the park. Fortunately for us, the rain was light during the early part of the day, so we were able to push our machines a little harder without much concern for slippage or drifting.
I'd actually driven a Maverick X3 before on a different trip with Can-Am up in Quebec, but there we had machines equipped with tracks rather than tires. I already knew how much power these things had when you really pushed them, but having open road and tires on a machine this powerful is undoubtedly something to behold.
We covered as much of the 4,300-acre property as we could in half a day, knowing we had to get back to swap groups, and yet it took me until the very end of our run to have a real understanding of just how much travel the Maverick X3's suspension offers its drivers. Even as someone who grew up with ATVs and off-road trails, instincts still urge me to slow down for rough topography, as you don't want to hit a ditch and lose control. But these machines feel like they just cruise right over everything.
By the last stretch of the lap, I felt like I was going as fast as I possibly could, trusting the machine to do all the legwork for me, even as the rain started to unload on us.
As I stepped out and took off my helmet, I felt a sense of accomplishment for not playing it safe and driving with caution, a feeling Jones would cruelly stifle only moments later.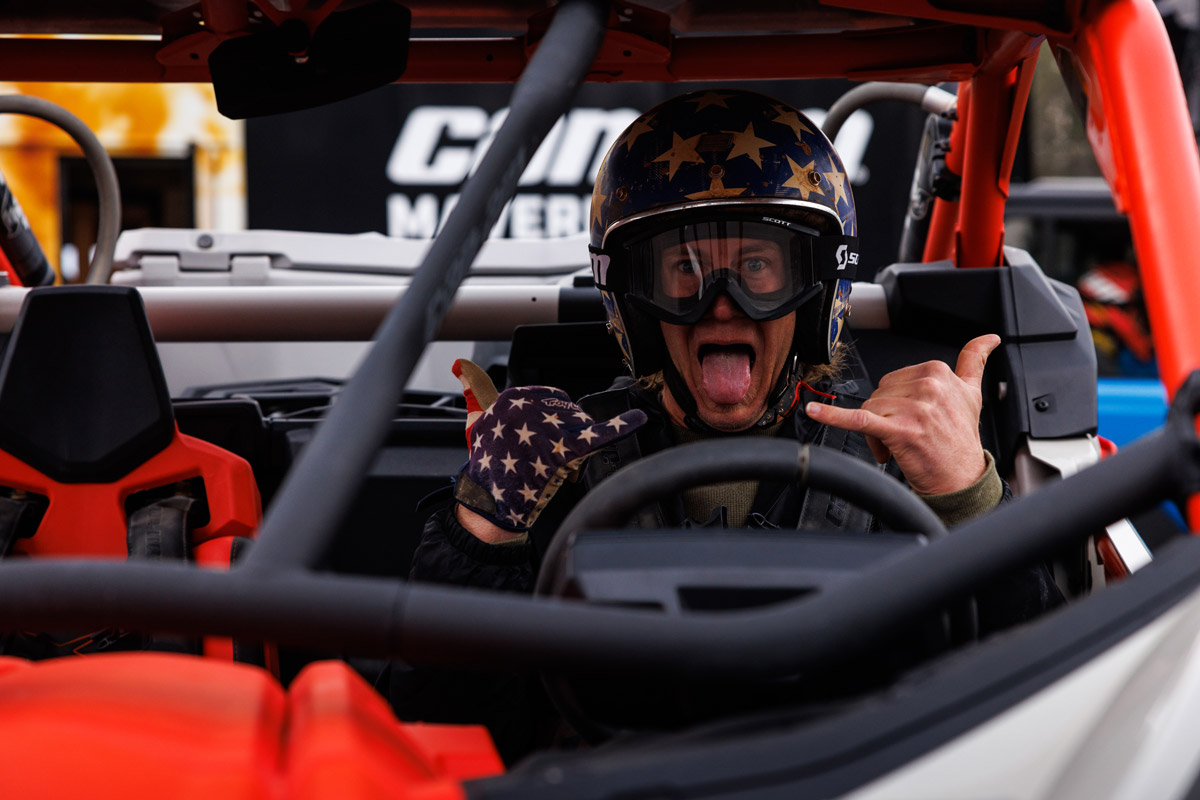 "Who wants to go on a speed lap?" Jones exclaimed with euphoria, as if he was suddenly possessed by Evil Knievel's immortal spirit.
I looked around at the rest of the group, seeing a collective expression of apprehension that I felt within, and hearing a daring silence that seemingly muted my fear of trusting a man who looked to have gone mad.
As I inched forward, Can-Am's Valerie Windsor leaned in close and whispered, "Just do it."
Without overthinking it, I threw on my helmet and and threw up my hand. There was no turning back.
"I have just one request," I said to Jones and he started the engine. "Just don't kill me."
Jones laughed and fastened his chin strap, revving the engine two or three times before turning to me and reinforcing every fear I had when getting myself into this situation.
"Son, do you know who I am?" he screamed at the top of his lungs, as he simultaneously slammed on the accelerator and threw the machine into a full-blown donut on shiny-wet pavement, seamlessly straightening out into the mouth of the trail we had just hit.
I would've told you it was impossible for anyone to drive through those trails that fast without killing themselves. He was drifting around muddy corners so tightly that I could've reached out and broken my arm on a passing tree.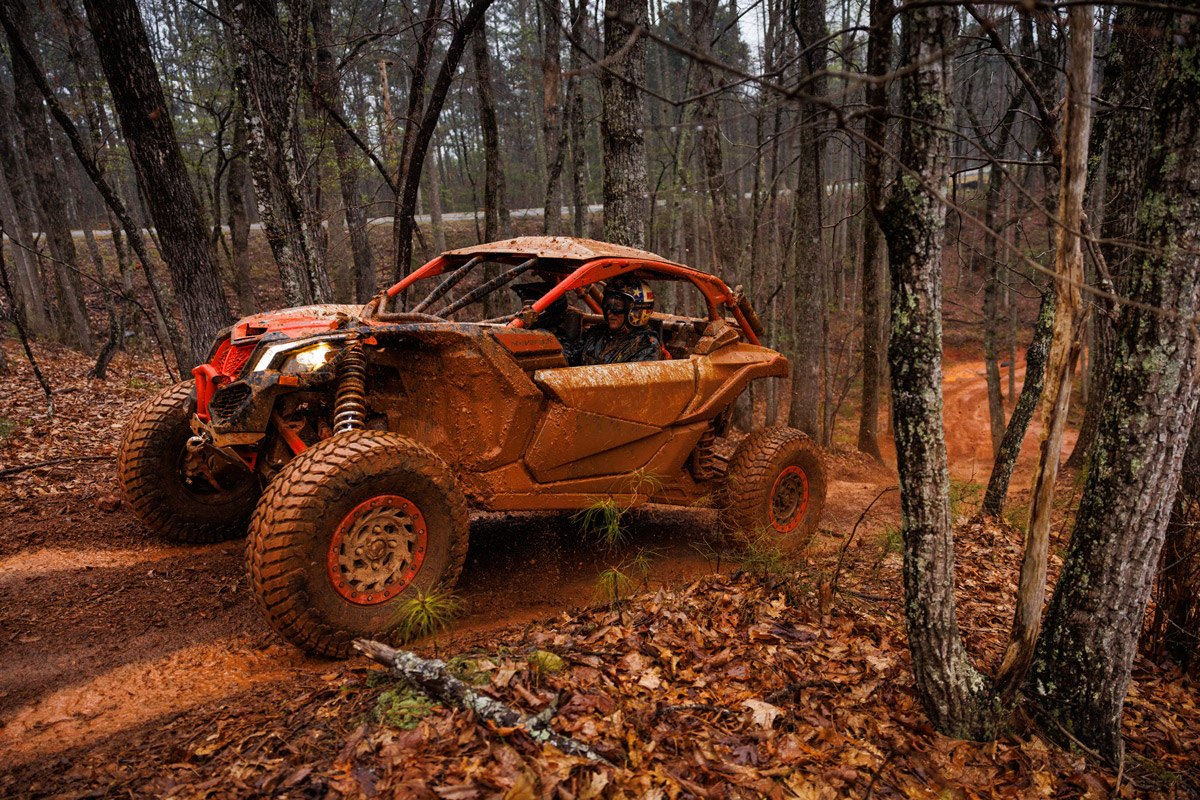 While the entire lap took a fifth of the time we took as a group (if that), I never stopped screaming. I never let go of the grips I'd used to brace myself. I wanted to close my eyes, but somehow that was even scarier.
More than once we caught multiple seconds of air jumping off bumps in the trail, and landed as it would in a simulated video game. He never once slowed down for anything.
I don't know if it was the mud that covered my body or the look on my face, but something about my appearance told the story of what I had just experienced, as the group of fellow media members laughed as soon as I turned the corner and approached them.
If you're wondering just how fast you can go in one of these things on a trail, take it from me: you have no earthly idea.
Defender Pro XT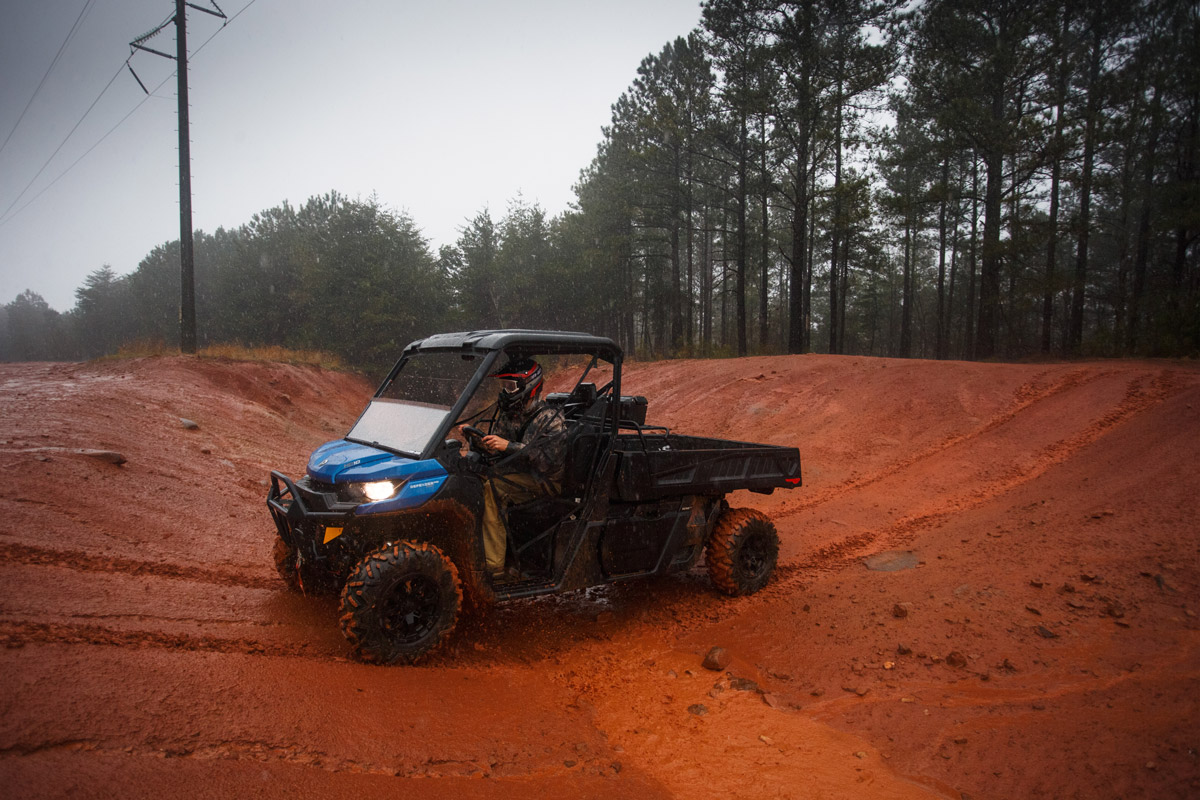 By the time we switched groups, the rain had absolutely unleashed. It was a blessing as much as it was a curse, as I made the mistake of choosing an open-cab machine, but I also needed a way to wash the mud off my jacket and pants. So even though I was drenched, I did somehow come back cleaner.
On this run, we followed Brisby, the bull-riding, rodeo-loving YouTube sensation. Each of us grabbed a Defender, a machine I've had more than my fair share of experience with.
I drove a Lone Star Edition Defender on a West Texas hunt where we chased aoudad, cow elk, and javelina. I drove the same machine on a turkey hunt in central Texas, and again on a ride-along event down at Y.O. Ranch near Kerrville. I even got to try out a Defender with tracks on that aforementioned trip to Quebec. But never have I had the opportunity to put one of these machines to work with someone in the rodeo community.
The Defender truly lives up to the "utility" genre that it inherits, as its off-roading capabilities match its functionality. With such a wide variety of different offerings, any hard-working outdoorsman can make their lives easier by employing one of these machines.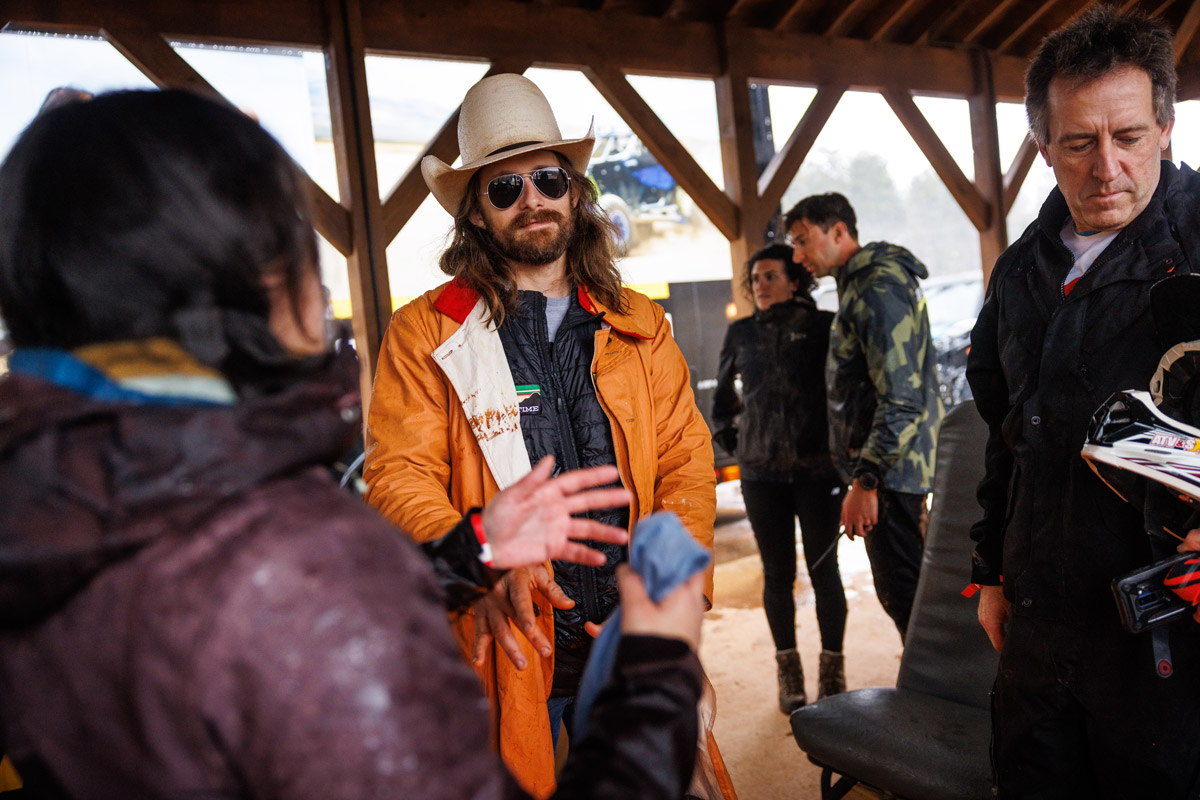 After driving through some brutally muddy terrain, we made our way back to the Iron Mountain lodge, where Brisby could show us the basics of roping while sharing stories of his rodeo lifestyle on his ranch, as well as all of the uses he has for his own Defender machine.
The rain cut off much of what we originally had planned in terms of ranching activities, but picking his brain did allow us to step into a world many know nothing about.
Maverick X3 X RS Turbo RR Tech Specs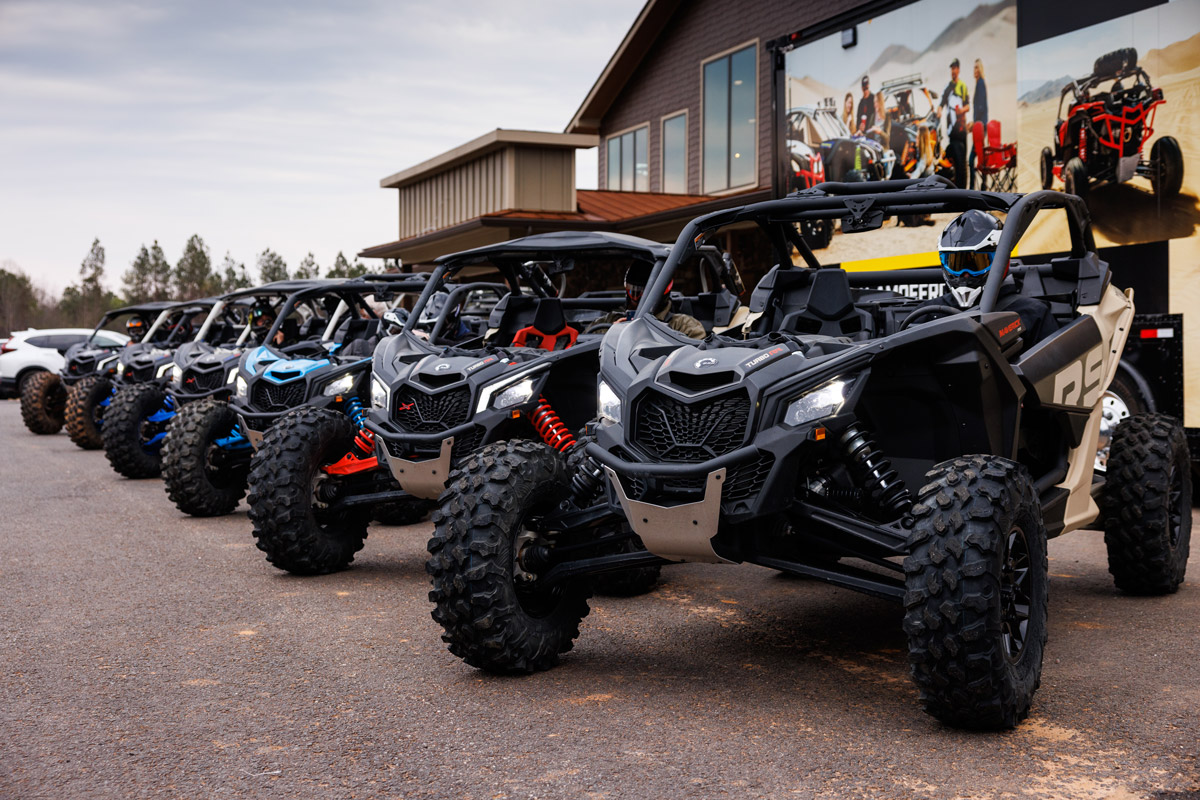 Trademark Can-Am DNA with next-generation design
Low seating position
Ergo-Lok cockpit with four-way adjustable seats
Industry-leading 200-horsepower turbocharged and inter-cooled Rotax® ACE engine
Advanced airflow dynamics
QRS-X transmission
TTX suspension with industry-leading travel
Ultra-efficient and lightweight chassis
Sharpest handling features
72-inch-wide platform
102-inch wheelbase
16 inches of ground clearance
High-torque Dynamic Power Steering (DPS)
Up to 24 inches of suspension travel
Rear tow hook
X RS Turbo RR Package
Belt-monitoring system
200-horsepower Turbo RR engine
Smart-Lok front differential
FOX 3.0 PODIUM RC2 shocks with bypass
14-inch aluminum beadlock wheels
32-inch Maxxis Carnivore tires
4-point harness with shoulder pads
HMWPE full skid plate
Full roof
X-package graphics/seats
7.6-inch digital display with keypad
Can-Am LED signature
Painted color options
Defender Pro XT Tech Specs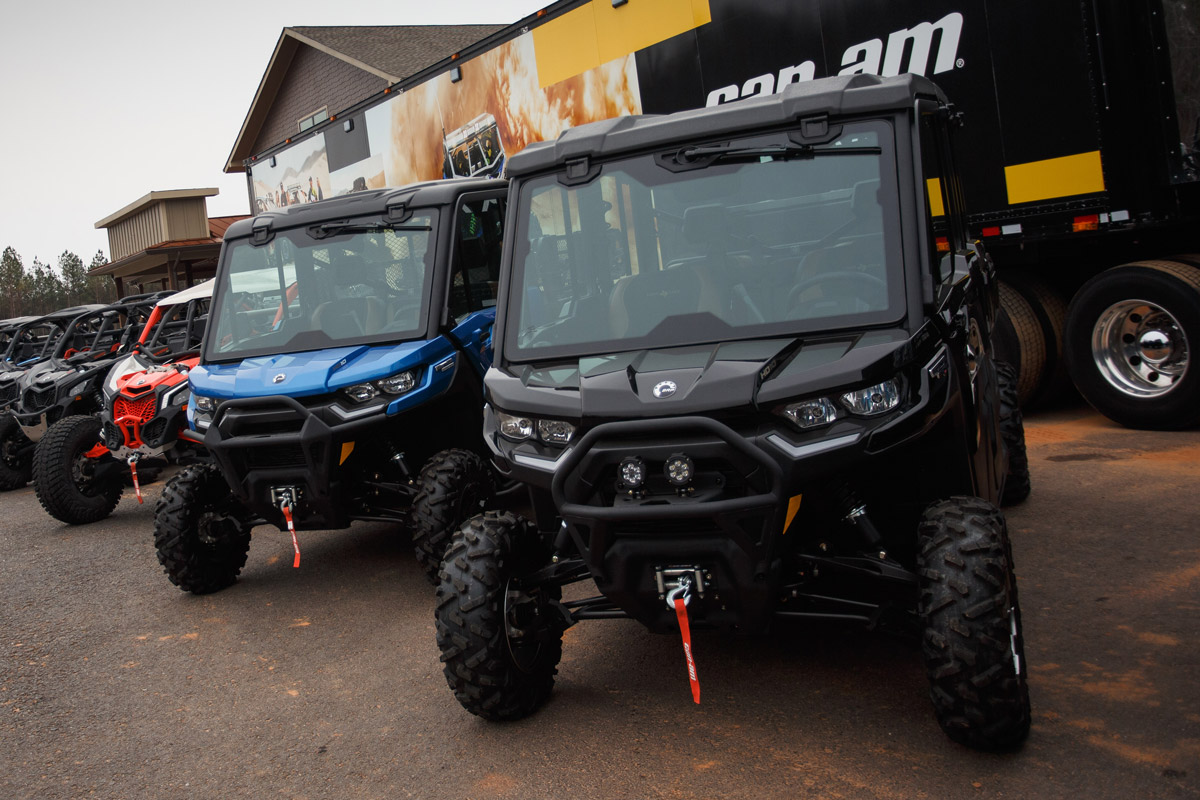 Heavy-duty Rotax® engine
Smooth, durable and responsive transmission
True Can-Am DNA with a strong identity
Work or ride with confidence
Meaningful and versatile functionality
Easy handling and capabilities
Advanced comfort and intuitive cockpit with optimized visibility
Multifunction cargo box with sturdy tailgate and smart storage
1 year maintenance-free and easy access to key maintenance components
115.5-inch wheelbase
13 inches of ground clearance
Dynamic Power Steering (DPS™)
2,500-pound towing capacity
Multifunction cargo box
Rear differential with Turf mode
4.5-inch digital display
Pro XT Package
64-inch wide with arched A-arm
Visco-Lok QE front differential
14-inch cast-aluminum wheels
28-inch Maxxis Bighorn 2.0
VERSA-PRO bolster bench seat with reinforced XT seat skin and adjustable driver seat
HMWPE full skid plate
4,500-pound winch
Hydraulic power-tilt bed
XT front bumper
Full hard roof
Brake holding mechanism
Lower box storage with 83.6-gallon capacity
A Proper Georgia Send-Off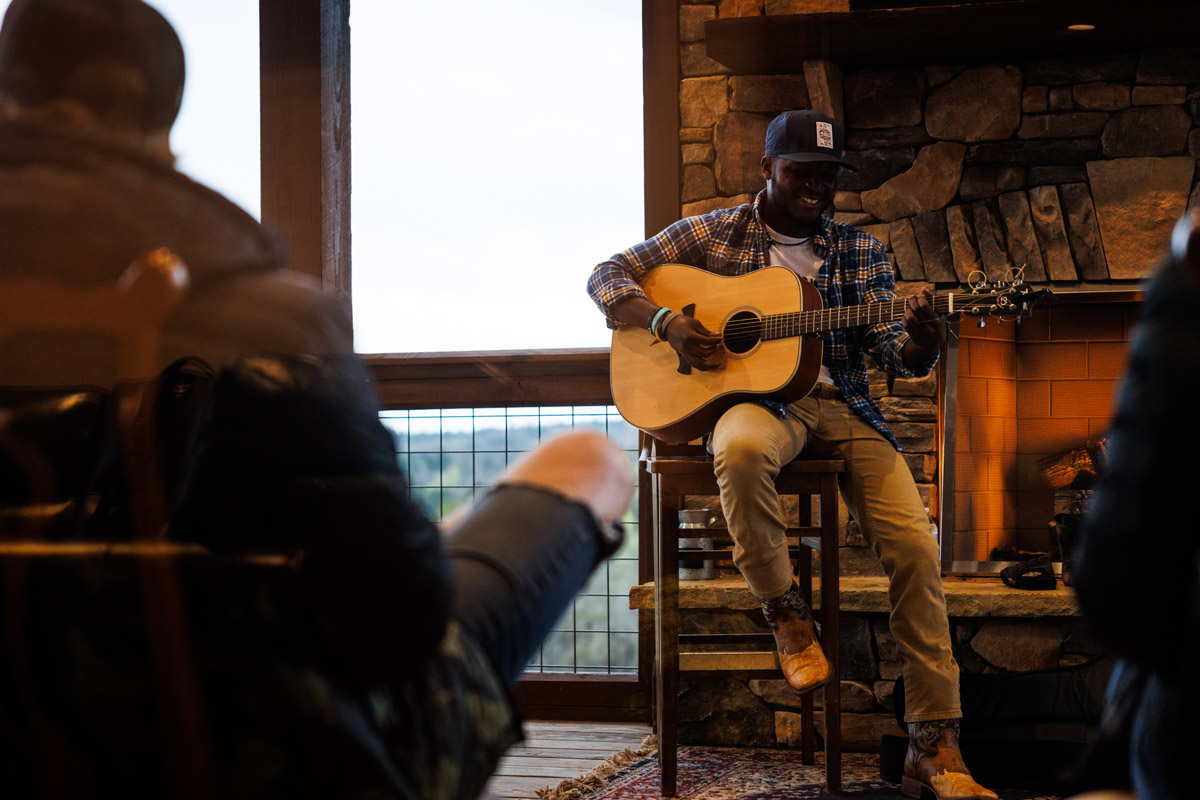 Once the helmets and the gloves came off, there was no choice but to go back to the hotel and clean ourselves up, as we were far too wet and muddy to sit down in the lodge. Upon return, however, we received some of Georgia's finest hospitality, including pulled pork barbecue, and some live country music in an intimate setting.
Cold beer and funny stories naturally coincided, marking the proper end to any great wild excursion. Many of us will still stay in touch, and likely reminisce about that time we went off-roading in that relentless Georgia rainstorm and threw mud all over each other, which in turn, will only reinforce my theory that certain activities will win over any outdoorsman.
Can-Am has become a mainstay in the outdoors community—particularly among hunters—for their combination of functionality and performance. However, the sport side of off-roading arguably brings just as much to the table.