WATCH THE VIDEO NOW:
The Can-Am Outlander Mossy Oak Hunting Edition is as good as it gets for serious hunters.
Back in August, the folks at Can-Am were gracious enough to invite us up to Carl Kuster Mountain Park in British Columbia to try out their new off-road machines for 2019.
CKMP sits between Sicamous and Revelstoke, two very popular riding areas for off-roaders and snowmobilers alike. Its prime location allows guides to take riders across almost 100,000 acres of breathtaking terrain.
After one of the most exhilarating weeks of my life, during which I drove a variety of machines through the kind of country I'd only seen on my screensaver, I think I found the perfect ATV for hunters.
Welcome to British Columbia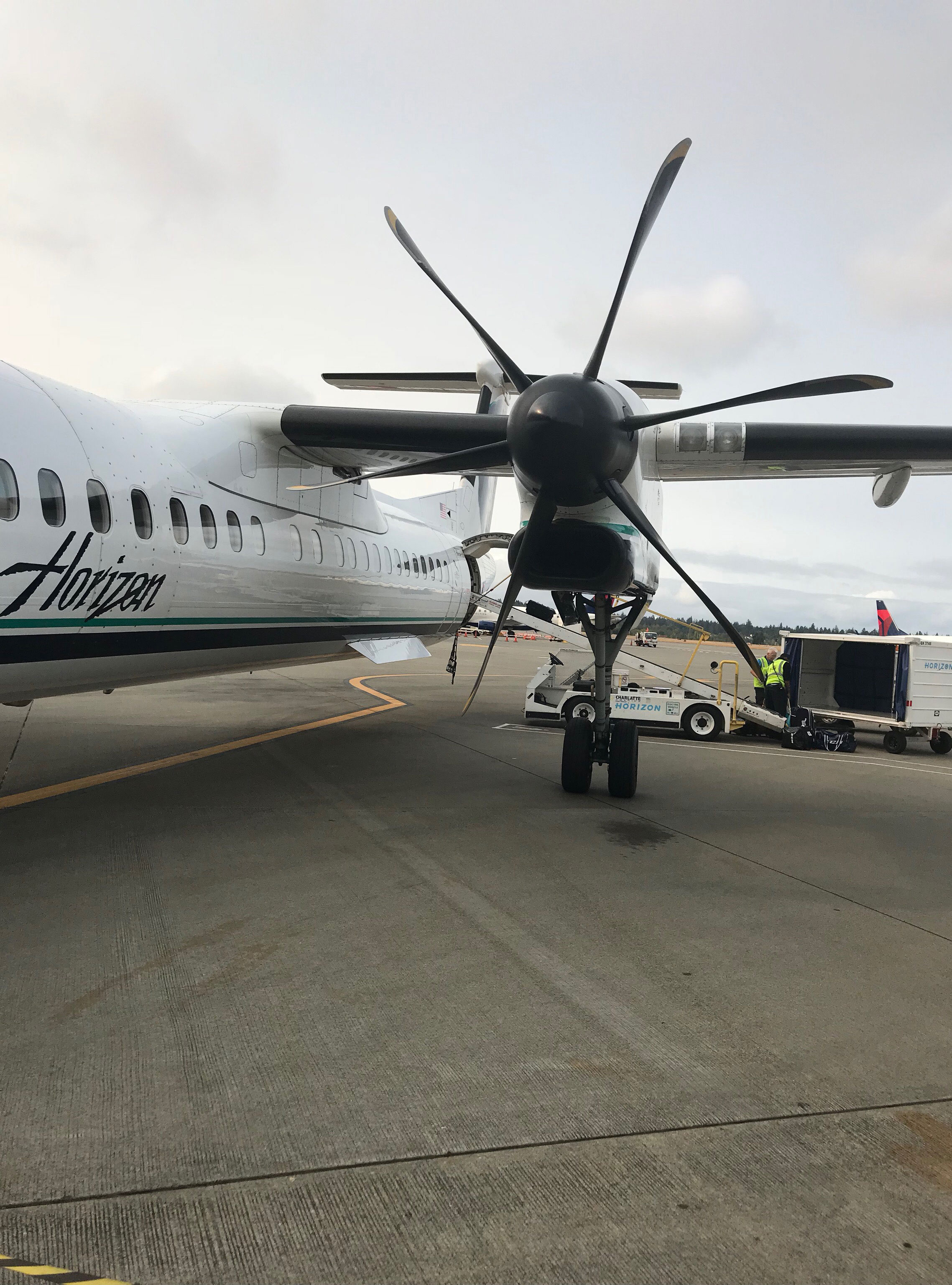 As the wheels of our propeller plane connected with the runway in Kelowna, the rich aroma of burning wood filled the cabin. Upon stepping out of the plane and onto the runway, I realized this smell was one from an actual fire, as smoke blurred the beautiful scene like a hazy film.
I then boarded my shuttle bus and made my way to the lodge, immediately searching for the mountains I'd seen pictures of, but could only see what looked like a heavy fog.
"They're out there," my driver said to me in a thick Canadian accent. "We're currently passing through one of the most scenic parts of British Columbia right now. These wildfires make it impossible to see anything."
After asking about the timeline of the fires and the effect they could have, I realized there was a chance I wouldn't be able to see all that much from the mountains we were supposed to traverse in the following days.
While it was a little deflating, the crews from Can-Am and CKMP reassured all of us the ride would still be gorgeous. And, they were right.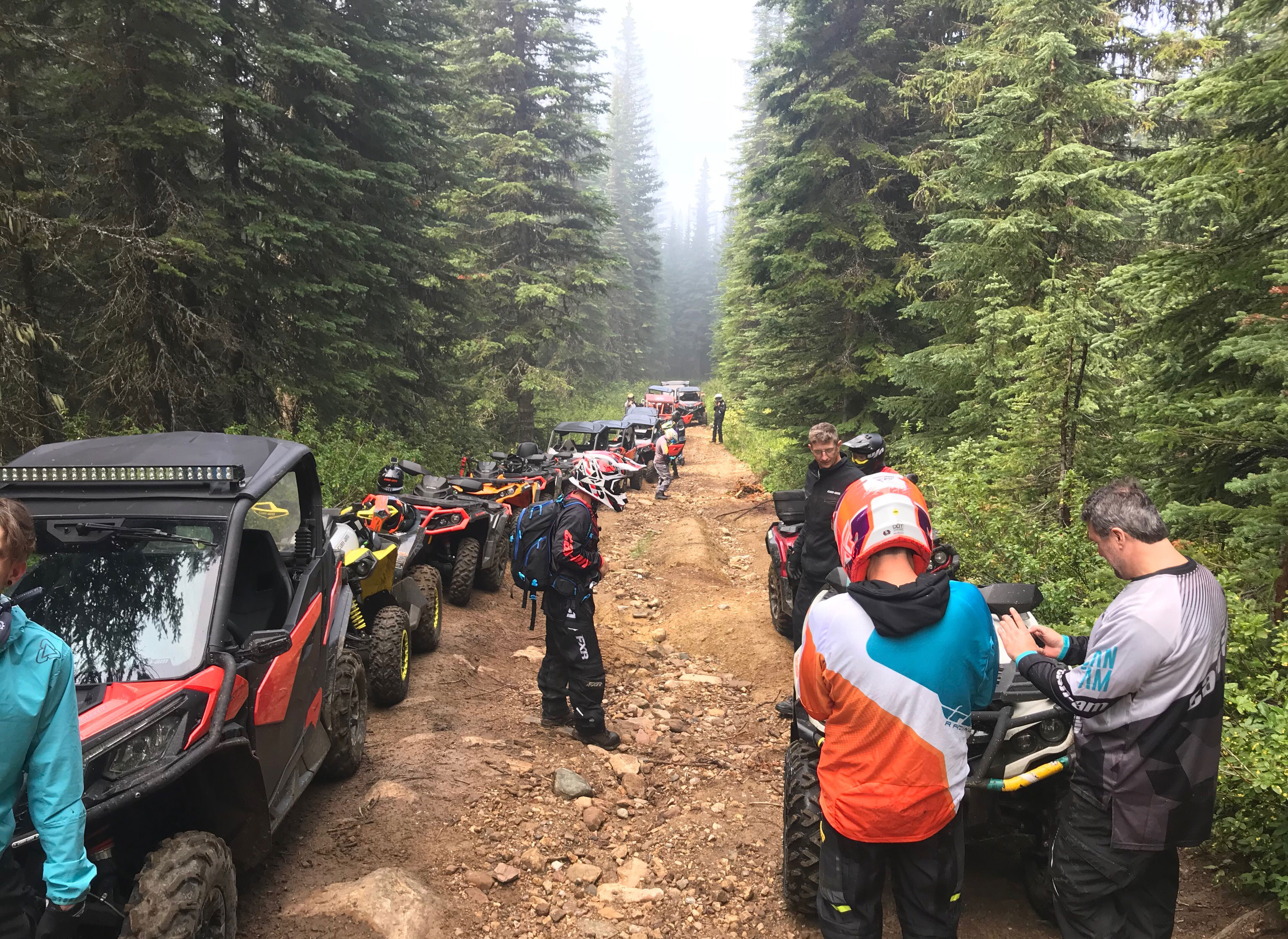 There was still a heavy smoke the first day, but it wasn't enough to stop us from squeezing in a ride. And even with the smoke, it was still beautiful. Just the magnitude of the towering spruce trees was enough to make you feel the power this place exuded.
We took turns trading machines and experimenting in different conditions, ultimately finding our personal favorites.
As we climbed higher and higher up one of the park's tallest mountains, the smoke started to get lighter and lighter. It was almost as if every time you felt your ears pop, it somehow affected your sense of smell, too, as the scent of burning timber was fading.
Then, when we finally reached the peak, it seemed like all the smoke had cleared. We had traveled high enough to surpass the effects of nature or weather, making it feel like we were truly on top of the world.

The smoke ended up clearing throughout the week, but it was actually what made this view so special. It's easy to go into things like this with expectations, but when those expectations are stripped away, seeing something like this is hard to forget.
Testing the Outlander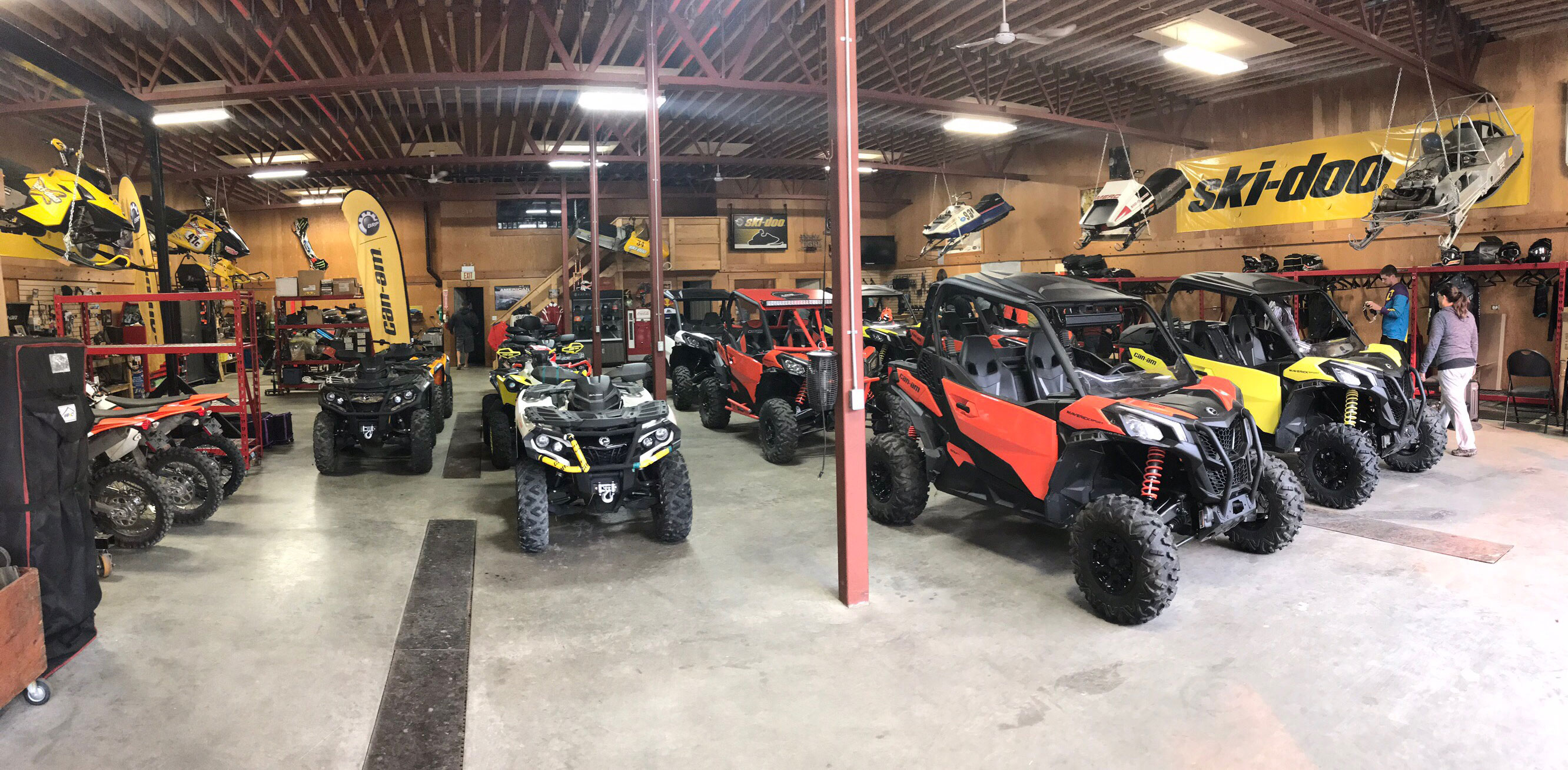 We had the privilege of trying two different SSV machines—the Maverick Trail and the Maverick Sport—but it was actually one of the ATVs that really caught our attention.
We started with the Renegade, which is Can-Am's high-performing sport quad. Just like SSVs, it was unbelievably fast and an absolute blast to ride. However, it wasn't the machine for me. I'd be in the market for something with a wider variety of applications.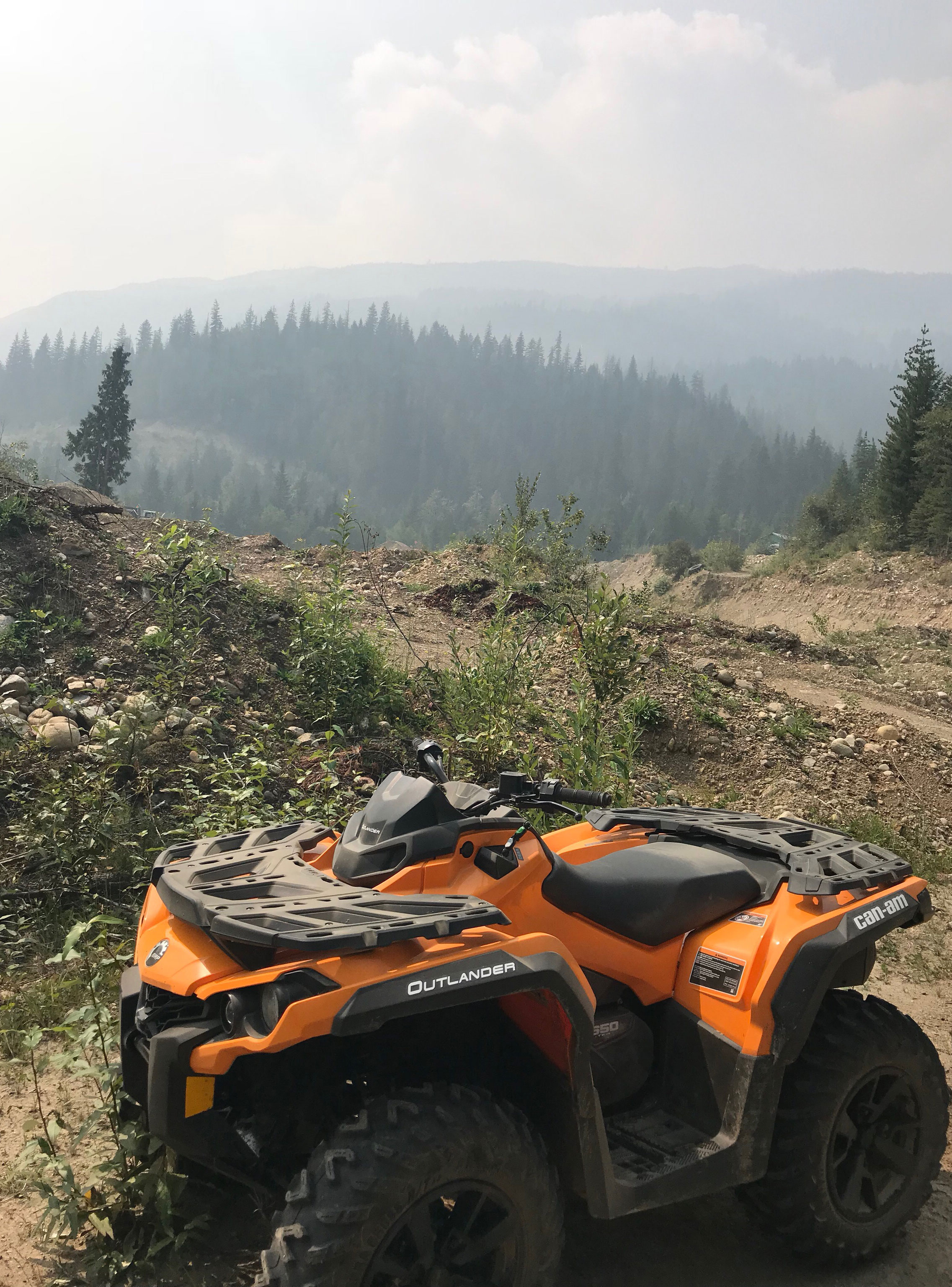 Then I got on the Outlander. This is Can-Am's industry-leading utility ATV, available in 650, 850 and 1000R options. I had the opportunity to ride each size, and couldn't find a drawback to any of them. I'm 6 feet, 3 inches tall and the 650 was more than enough for me to keep up with everyone else. Similarly, the 1000R had more power than I'd ever need, but it certainly wasn't too much to handle.
I knew I'd eventually make my way over to the only camouflage Outlander they had, as after all, I was there to represent an outdoors publication.
Outlander Mossy Oak Hunting Edition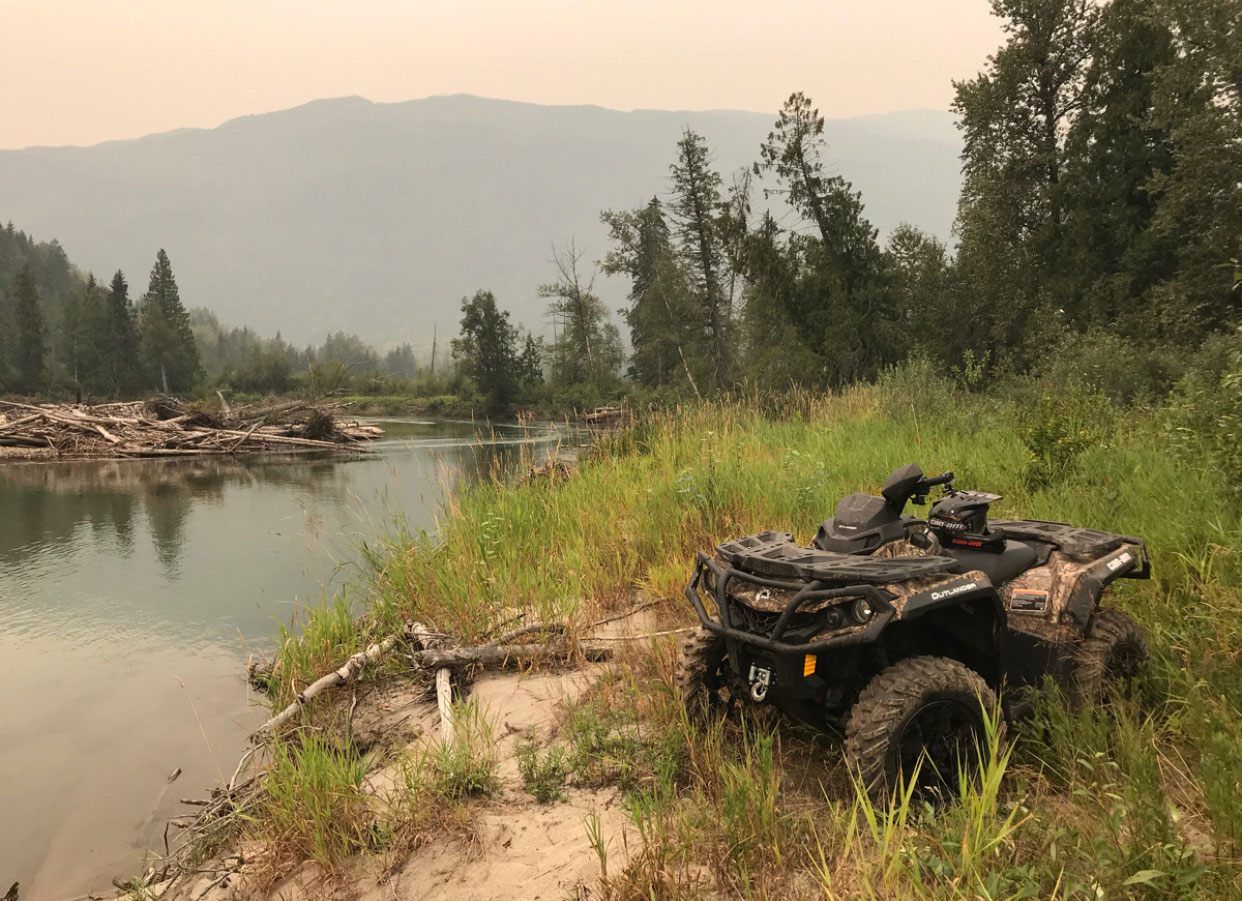 I've ridden my fair share of ATVs and SSVs during past hunting trips. And, I can confidently say I've never ridden anything that compares to the Outlander Mossy Oak Hunting Edition.
First off, it felt right as soon as I got on. Just like every other Outlander model I tried, it didn't feel underpowered in comparison to the Renegade or the SSVs; this thing was chock full of power. I was often slowing myself down because it continued to surprise me with how much giddy-up it had.
Second, the Outlander handled better than any ATV I've ever driven. Not only could it handle any terrain I threw at it, but it also featured a CVT transmission with an extra-low L gear. So, not only could I get out of virtually anything, but I also didn't even have to shift, which made off-road driving a cakewalk.
It has everything you could ever need for hunting, too. It sports the sleek Mossy Oak Break-Up Country camo, as well as a gun boot and Can-Am's LinQ System, which allows you to attach a wide variety additional accessories.
It also features a WARN ProVantage winch with a 3,000-pound weight capacity and a 1,650-pound towing capacity.
So, in a nutshell, this thing does it all, it rides like a dream and you can make it into the machine that fits you individually as a hunter.
Tech Specs
Engine: Rotax® V-twin engine
Fuel delivery system: Intelligent Throttle Control (iTC™️) with Electronic Fuel Injection (EFI)
Transmission: CVT, P / R / N / H / L, standard engine braking
Suspension: A-arms & TTI HMWPE protectors
Steering: Tri-Mode Dynamic Power Steering (DPS™)
Fuel capacity: 5.4 galons
Storage capacity: 5.7-galon water-resistant rear compartment
Winch: 3,000-pound WARN winch with roller fairlead
Wheels: 12-inch cast-aluminum wheels
Tires: 26-inch Carlisle ACT HD 6-ply tires
Extras: Heated grips and throttle, wind deflector, Kolpin 6.0 Impact Gun Boot
NEXT: HIGHLIGHTS FROM OUR WEST TEXAS TURKEY HUNT
Enjoy the outdoors?
Sign up for daily stories delivered straight to your inbox.