WATCH THE VIDEO NOW:
We got to try the new Can-Am Apache Backcountry LT track system in the deep snow of northern Quebec.
I'd never seen so much snow.
That's not some dramatic way of embellishing the scene. I'd barely seen a fraction of that much snow at any one point in my life.
It doesn't help that I've lived in Texas for the last three years. But I came here from West Virginia, so I'm no stranger to cold weather. This was something else.
Roughly six feet of snow lay between me and the earth, allowing one ill-placed step to suck you down chest-deep.
The folks at Can-Am surely weren't expecting so much when they extended media invites, but whether they liked it or not, the trip was booked.
And, we were coming to test out what claimed to be a revolutionary track system fit to handle any snowy conditions, so it was time to put up or shut up.
Headin' Up North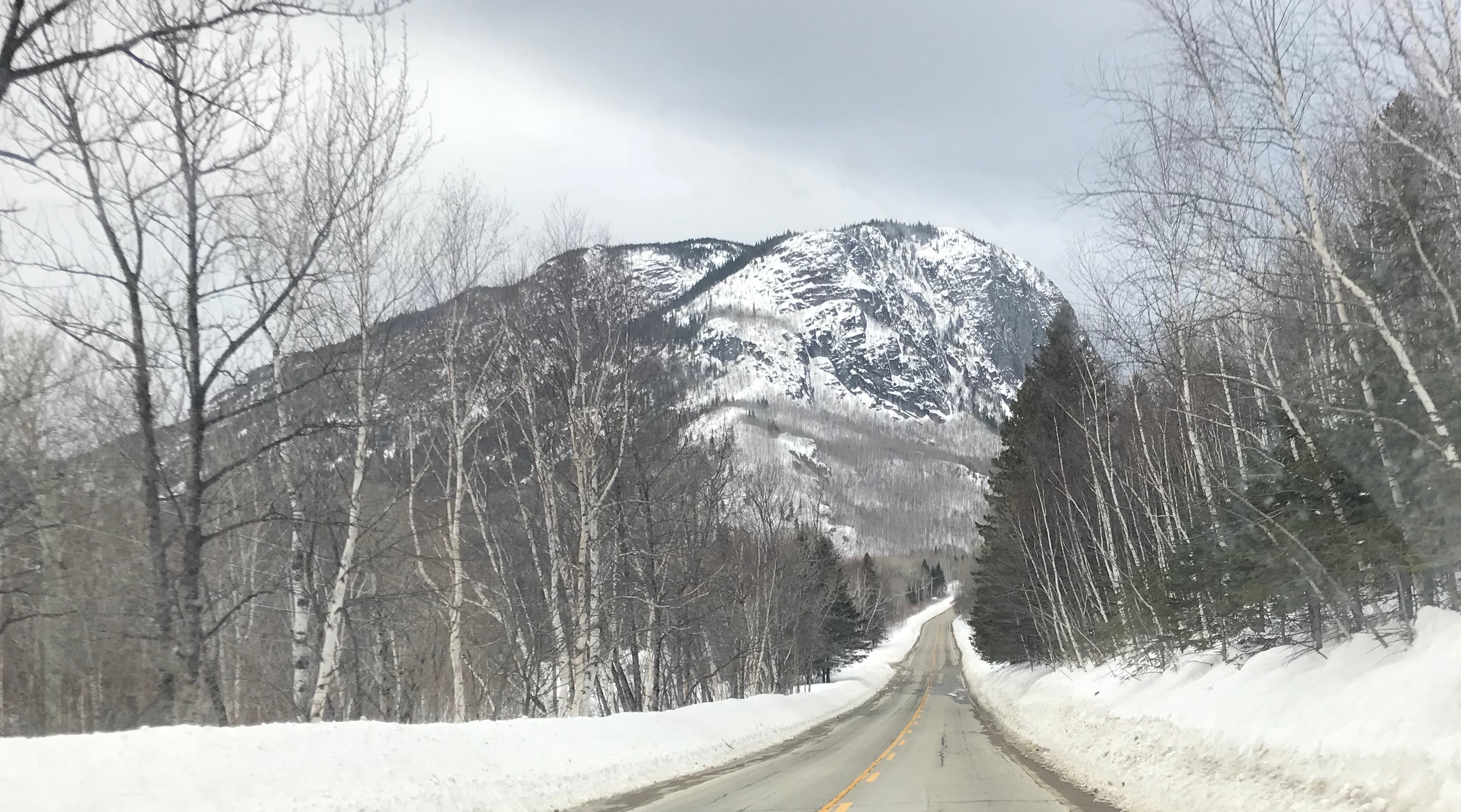 Two flights grounded me in Quebec City, Quebec, where I would catch a three-hour shuttle ride up north to Pourvoirie du lac Moreau, Auberge du Ravage Lodge. The outfitter sat on about 20,000 acres of vast, mountainous land littered with a whopping 32 lakes.
Never having traveled farther northeast than New York City, I wasn't sure what to expect. However, I certainly didn't anticipate rigid mountains that altered the horizon so drastically.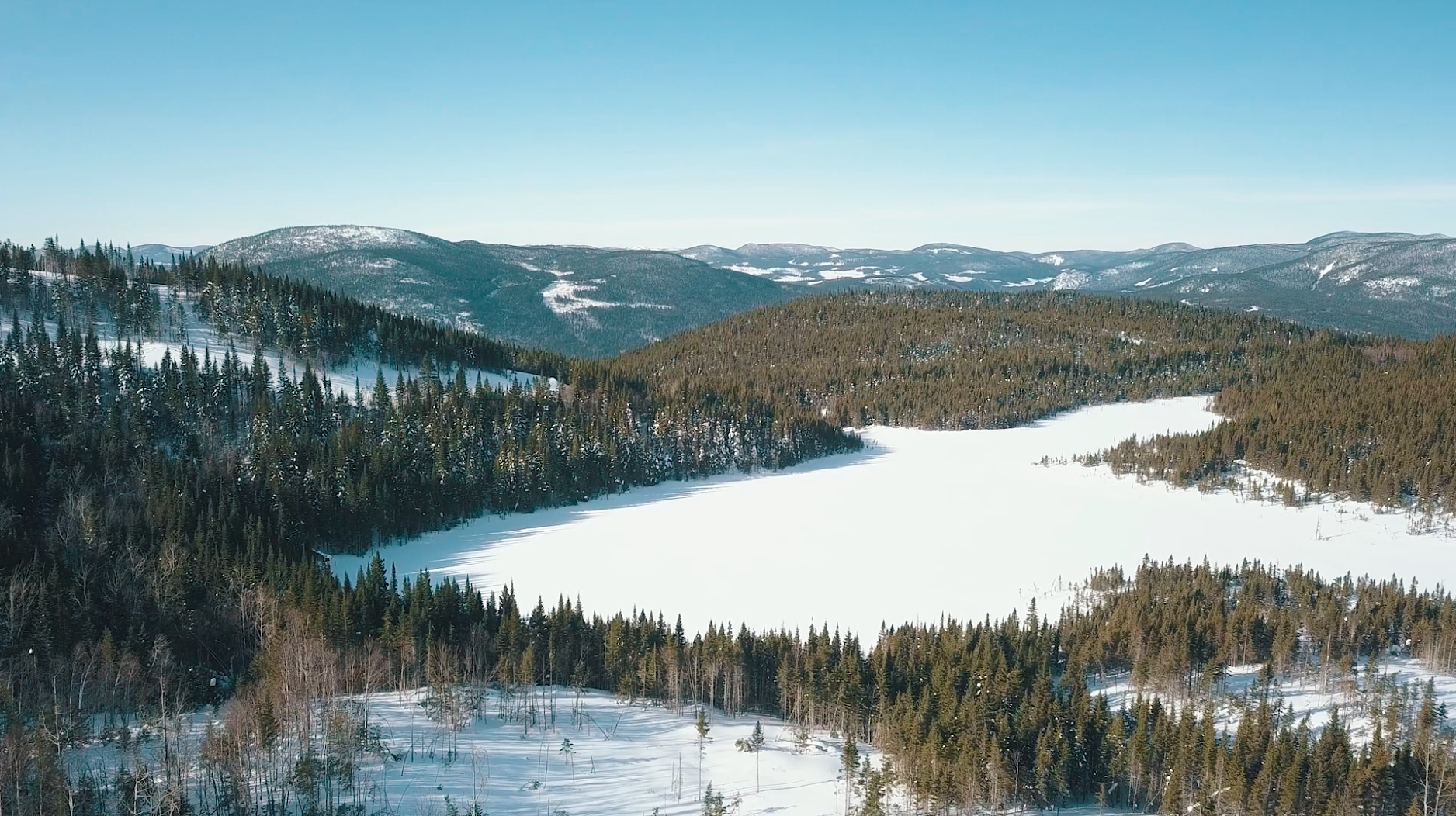 Aside from a difference in vegetation and what looked like the aftermath of a region-wide avalanche, it was oddly similar to the country I trekked with Can-Am in British Columbia back in August.
Pourvoirie du lac Moreau, Auberge du Ravage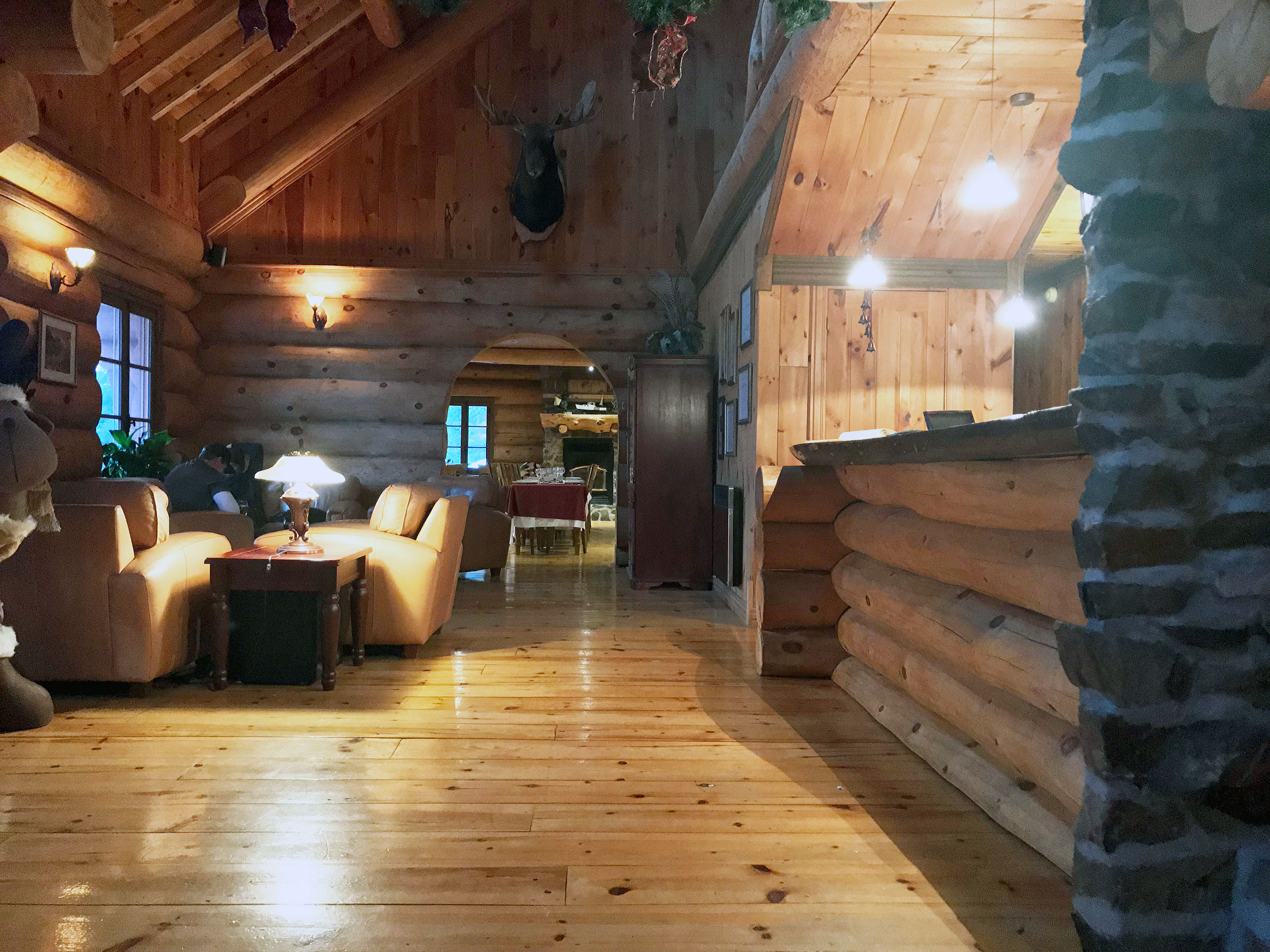 The lodge was impressive to say the least, featuring beautiful wood architecture, 20 rooms, a pool table, a bar and a necessary moose mount or two.
To say the food was top-notch would be an understatement, as they were seemingly aiming to please hunters more than anyone else. In two dinners, I ate venison ravioli, elk gnocchi, fried quail liver and venison blood sausage, and that didn't cover even half of the menu.
While the majority of those working in the lodge only spoke French, they still managed to make each of us feel at home.
If this wasn't already a nice getaway, we still had a full day of riding ahead of us.
Pick your machine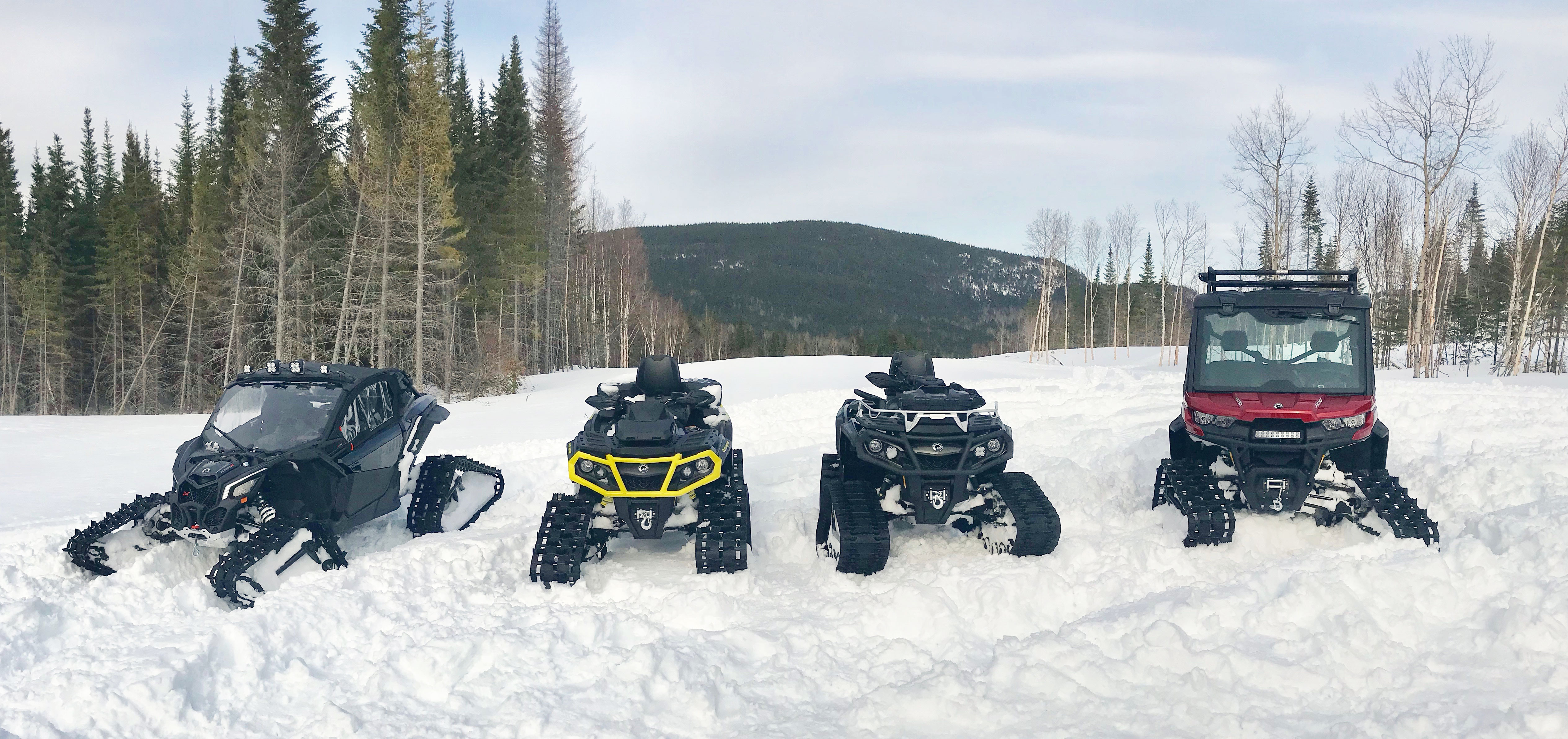 There were several different variations of each, but I was really testing out the Apache track kits on four machines: the Outlander, the Defender, the Maverick Sport and the Maverick X3.
I'd spent a considerable amount of time on the Outlander and the Defender prior to the trip, becoming partial to both for different reasons. I focused on the aspects that apply exclusively to hunters, but there's no reason they wouldn't work as all-around machines.
After riding the Outlander in British Columbia for about three days straight, I found it to be the best option for someone who wants an ATV they can use on a public-land hunt.
It's small enough that you can still fit it in the back of a pickup truck, it accepts an exceptionally wide variety of hunting accessories, and it sits at a price point most people can manage.
I've employed the Defender on two different hunting trips in the last year—a spring turkey hunt and a backcountry Aoudad hunt—where it consistently stole the show.
Having the luxuries of a back seat and a bed changes the landscape of a hunt, especially when you're with a group. However, additional size and features do come with a couple drawbacks.
Its capabilities alone definitely warrant the price point, but I think it best serves as an all-purpose UTV for those who hunt and manage their own land.
Both can comfortably fill either role, but work best in these parameters, in my opinion.
The Maverick Sport wasn't entirely foreign to me either, as I'd hunted with the Maverick Trail before. However, the Maverick X3 and I needed a proper introduction.
While the X3 has no practical hunting use, I wasn't about to start my trip riding anything else.
Maverick X3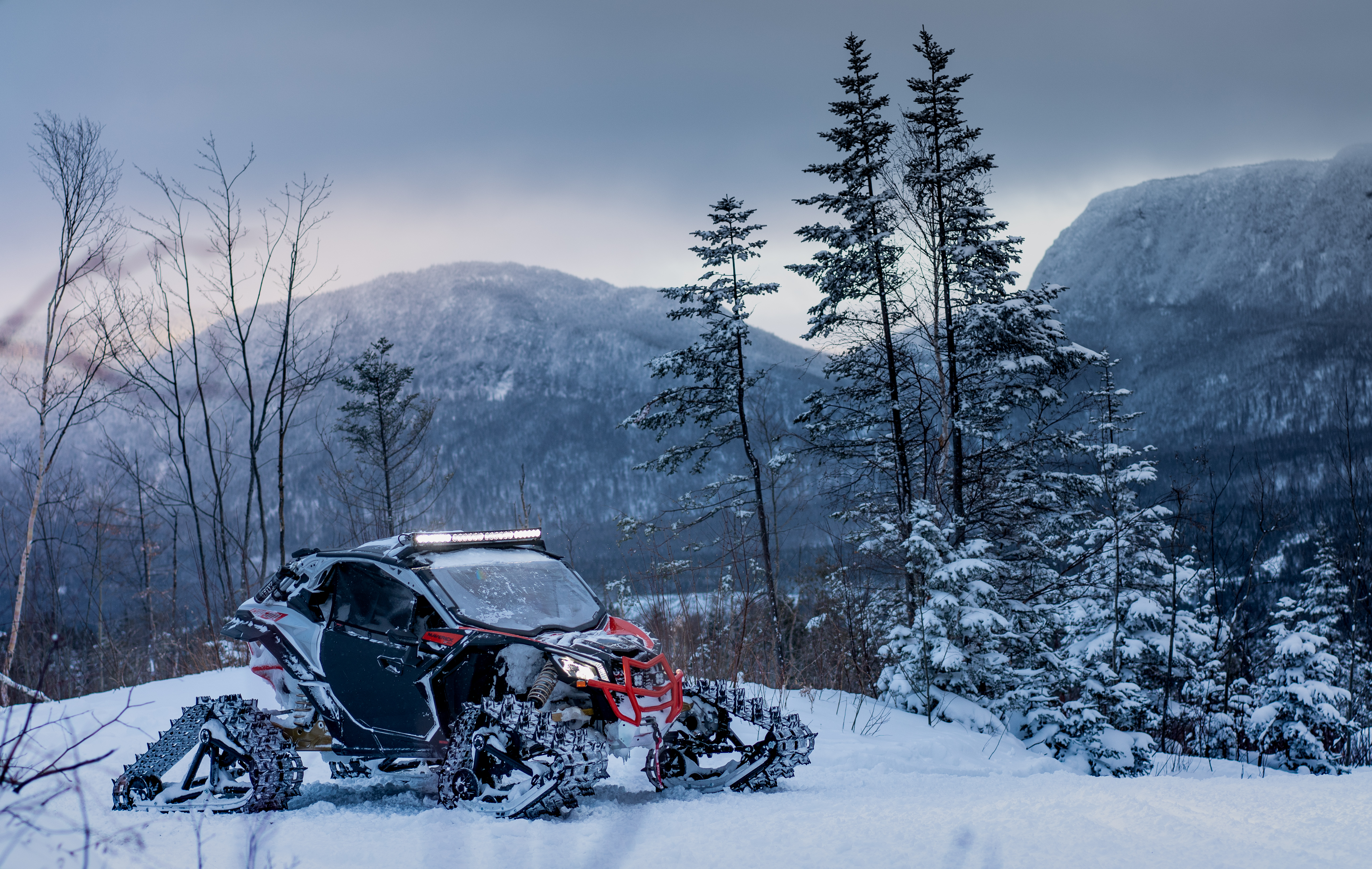 Each machine was fitted with an Apache track system, but even these varied. The X3 I would be driving for most of the day used the Apache Backcountry LT tracks, which were designed to get elite performance out of snowy conditions.
So, while these tracks won't work anywhere else, they're fit to handle the most taxing snow conditions on the planet, including backcountry trails buried in six feet of powder.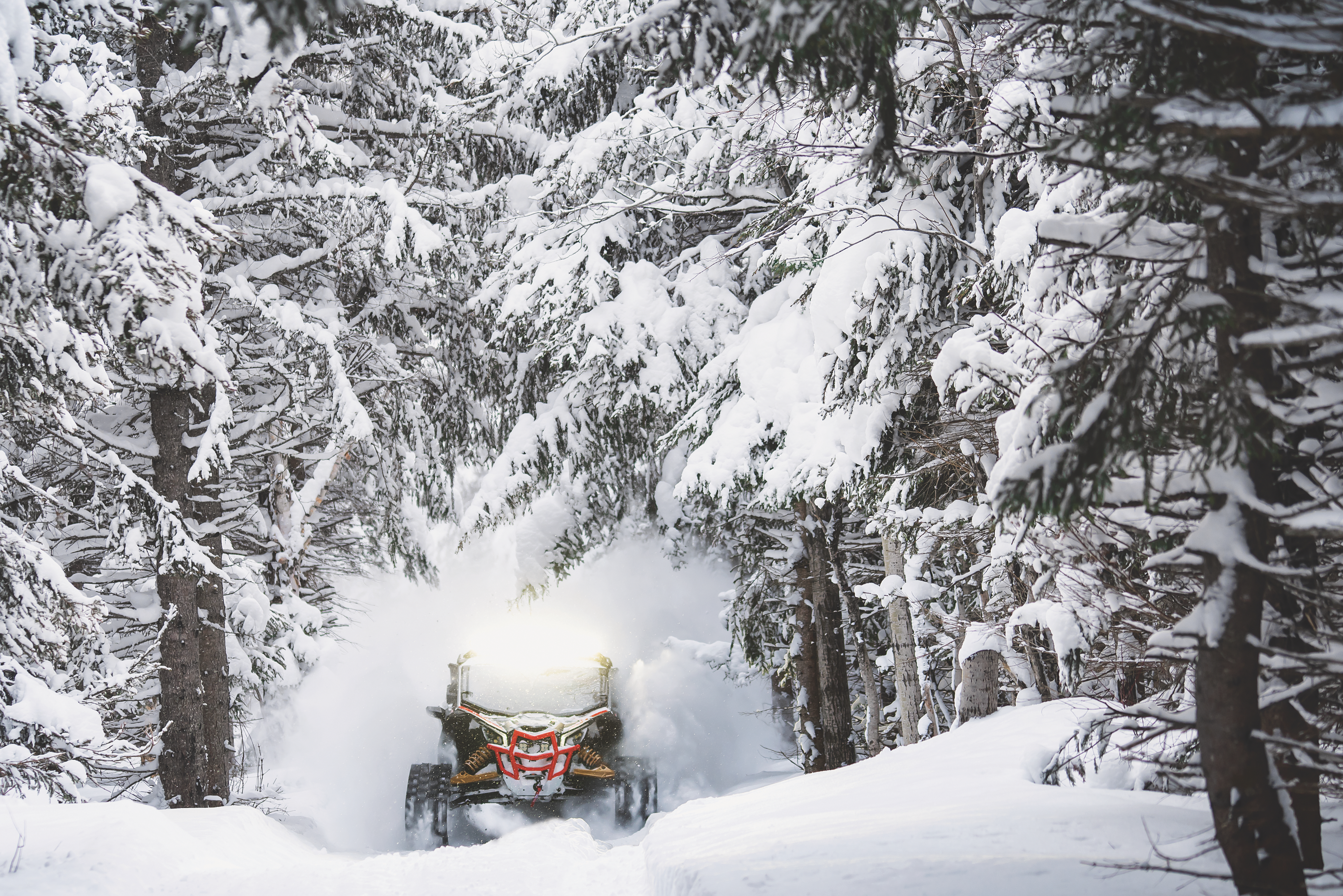 The X3 is the ultimate performance vehicle, built for those whose top priority is speed. When I was behind the wheel, it almost felt awkward not to punch the gas, and every clear cut tempted my foot to violently stomp the floor.
So while it might not be realistic for the everyday hunter, it's still an exceptional machine for the speed freaks out there. I've been around off-road vehicles for most of my life, and I can confidently say the X3's off-road capabilities are lightyears ahead of the industry.
Maverick Sport Max DPS
My time in the Maverick Sport was limited, as I spent most of the day in other machines. I did find the Maverick fascinating in that it has the abilities of any top-notch performance SSV, but boasts the option of a backseat.
It's the perfect off-road machine for a family that still wants the freedom of speed and versatility. And, with the Apache Backcountry LT tracks, it made short work of the wintery elements.
Riding with a machine full of people is hard to beat. Blasting through snow at high speeds is exhilarating. Being able to do both at the same time is downright awesome.
How can you not become quick friends with people when you're having such a good time inside such an awesome machine? Language barrier aside, I laughed more with my guides and hosts on this trip more than any other I can remember.
Defender XT Cab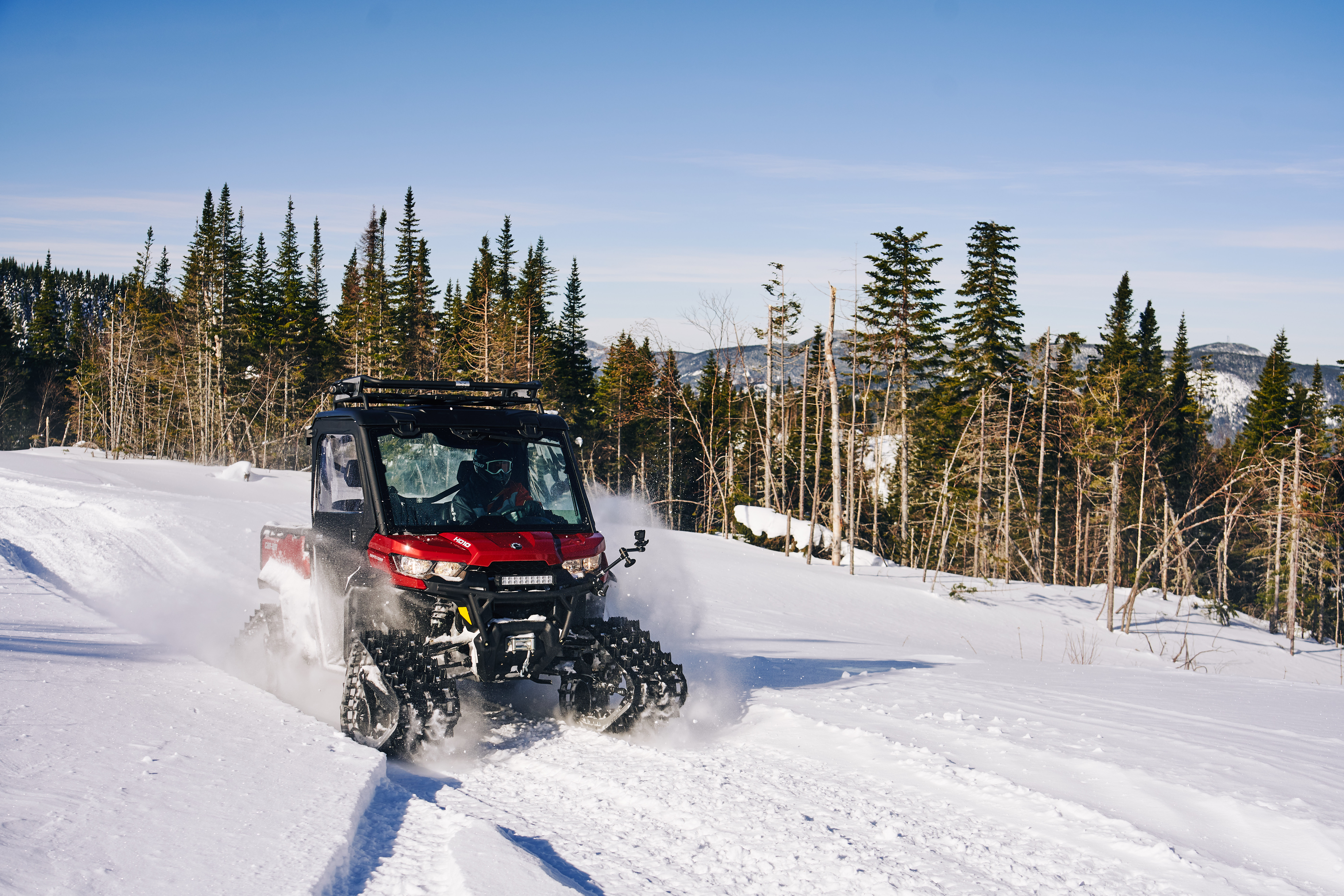 Prior to my border hop into Quebec I'd only ever driven the Defender Max Lone Star, which was especially appropriate for our two Texas-based hunts.
Just a handful of feature variations made the Defender XT feel like a completely different machine.
First off, it lacked the back seat, which is irrelevant if all you want is a reliable work vehicle. However, it was the closed cab that really showed its worth in the cold weather.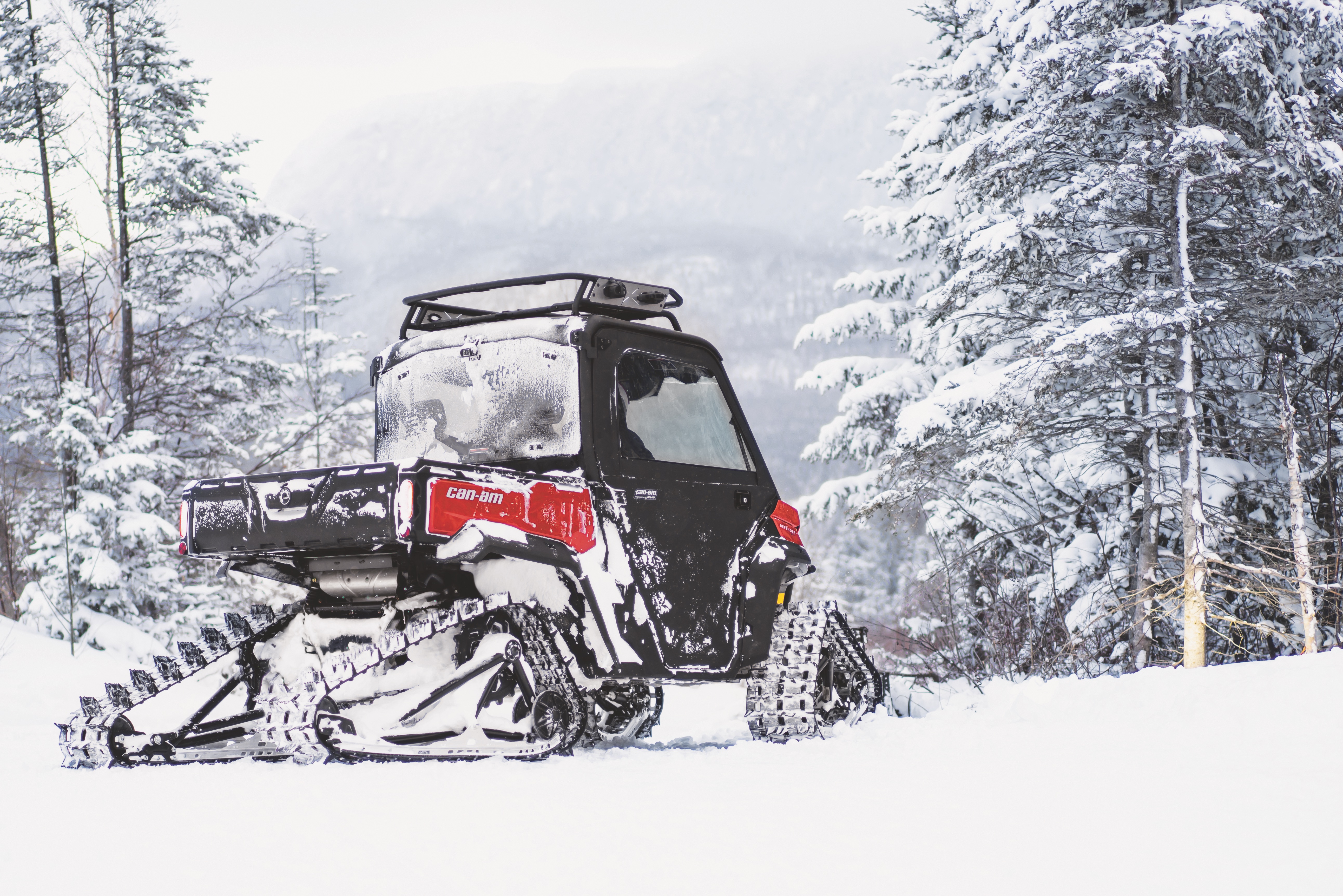 The heater kit alone makes this machine a game changer for those up north. Paired with the Apache Backcountry LT track system, the Defender truly is the ultimate winter workhorse.
Outlander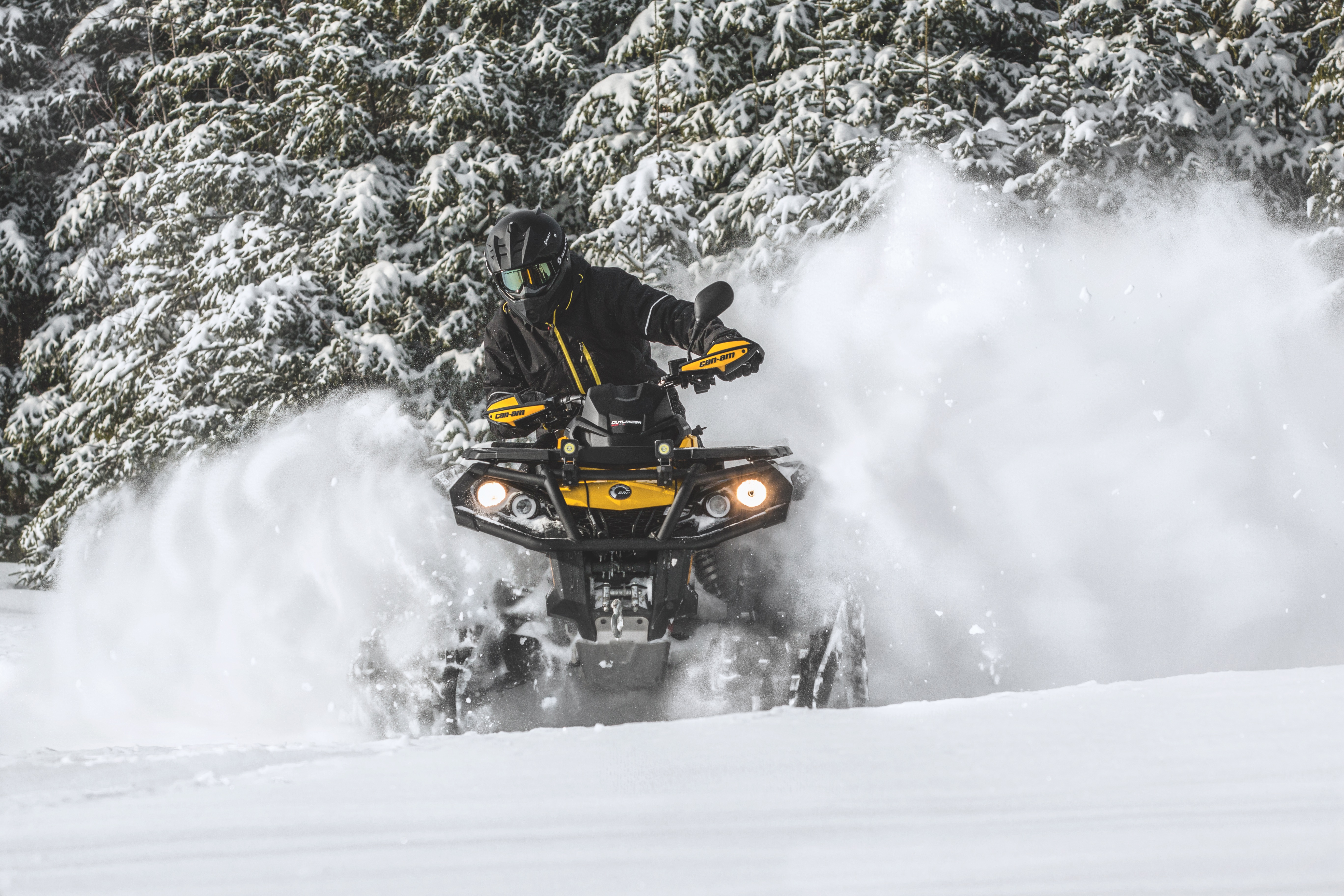 As someone who mildly gushes over the Outlander, I probably anticipated trying this machine with the Apache Backcountry LT track system the most.
It did not disappoint. This was easily my favorite ride of the trip.
The most glaring difference between the Outlander and the other machines was the shortage of a cab, although that was actually my favorite part.
Cabs undoubtedly serve a purpose when it comes to off-roading machines, and not having one can be limiting in particularly harsh weather conditions. But, I think my favorite part about off-roading is catching the wind and having a clear, 360-degree field of view.
I was mildly skeptical after driving the bigger, wider machines all day, but the Outlander handled the snow in spectacular fashion.
I also rode a second Outlander fitted with the four-season Apache 360 LT tracks, which offer a little less traction in the snow, but the ability to roam any desired terrain.
The 360 LT tracks had no problem in the deep snow, although I did notice a slight difference in sharp handling situations.
Apache Backcountry LT Track System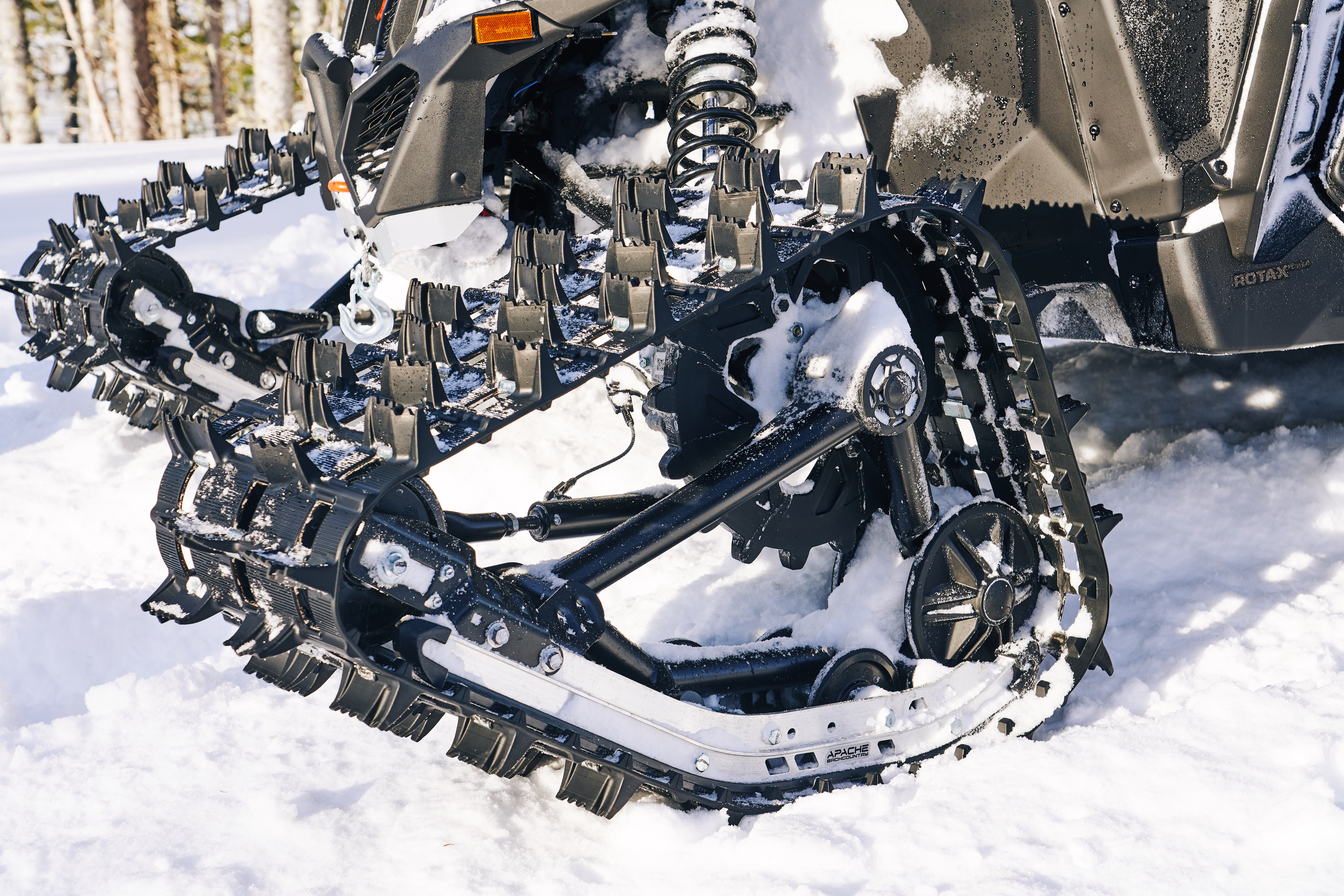 Using a 2-inch lug height and a 3-inch pitch, the Can-Am Apache Backcountry LT systems use a more aggressive track design with better deep-snow performance, better floatation, and more power than any machine on the market. And, backed by the same technology as BRP's world-renowned Ski-Doo snowmobiles, the foundation is sturdy for the future of the Apache systems.
They also add seven inches of ground clearance (compared to standard tires) and a 29-percent-bigger contact patch, which proved useful when the snow conditions changed for us.
The first half of the day was highlighted by giant clouds of powder, and a generally easy ride. As our day of riding was coming to an end, the temperatures were actually hiking up, causing a lot of snow to melt.
The problem with snow melting when there's that much is that there's simply nowhere for it to go. So, instead of turning to water and running off, it gradually changed to a sticky, gooey state.
This kind of snow has the power to halt any four-wheel-drive vehicle, and yet I didn't find myself in a single rut I couldn't get out of.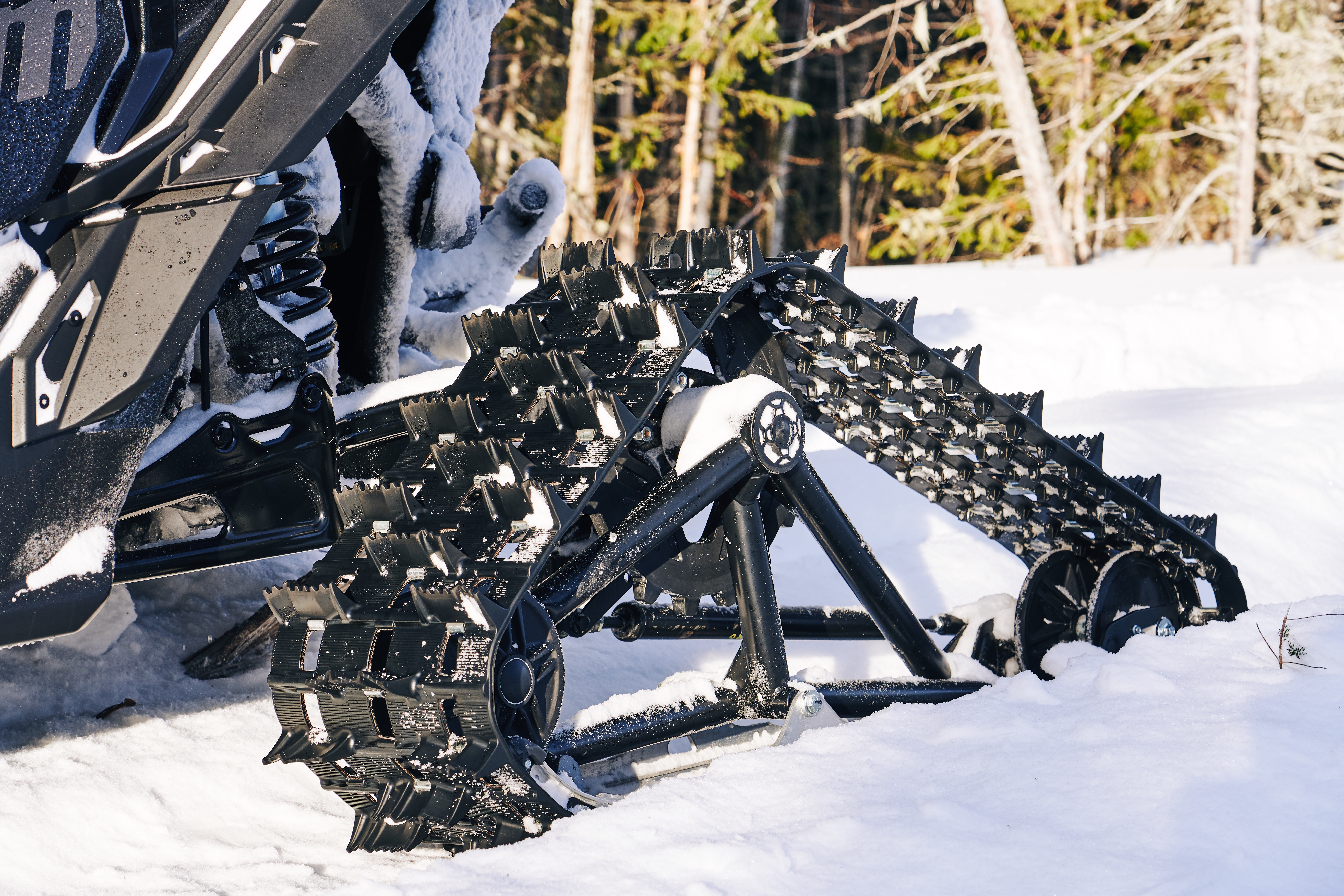 The Can-Am Apache Backcountry and Backcountry LT track systems are primed and ready for any alpine hunting expedition or northern ice fishing trip on your bucket list.
If there's one thing I've learned, it's that snow of basically any level is no match. Can-Am knew what they were doing when they stuck these on their machines, and you're going to have the time of your life if you set yourself up.
Who's in?
NEXT: CAN-AM DELIVERS THE PERFECT HUNTING ATV
WATCH
Enjoy the outdoors?
Sign up for daily stories delivered straight to your inbox.