While many bass lures come and go, there will always be those select few that hook the gift of timelessness and travel across generations of anglers. The best bass lures set new standards among bait companies, while simultaneously delivering hopeful anglers and beginners alike with ole' reliables they can always turn to when it seems like nothing is biting.
Of course, bass fishing is about more than just using a slam-dunk lure. You have to know everything from what kind of cover smallmouth and largemouth bass like, the spawn cycle, ideal conditions, and their preferred baitfish. And, of course, there are other types of bass fishing lures that work well not on our list, like the Carolina rig, Texas rig, and drop shot rig.
But when you need the stars to align, many fishermen and women can take a stringer full of fish home for a feast (or just have a lot of fun with a day of catch and release).
READ MORE: How to Fillet a Bass the Boneless Way
And it always starts at the tackle box. The best bass lures of all time on this list have long since established themselves not only as bass-catching greats, but also as the most effective way to release these fighters back into the water to grow.
Spinnerbaits
Among bass fishing lures, spinnerbaits have a great way of finding actively feeding fish like no other. Let it be said that there are multiple types and brands of spinnerbaits out there for the discerning bass angler, but each of these deserves a spot in the tackle box.
Terminator Pro Series Tandem Spinnerbait - The Terminator series of spinnerbaits has been a mainstay in my tackle box since they came out and it will always be there. The hand-tied skirts and big eyes always make them stand out.
Strike King KVD Painted Blade - Since the day veteran bass pro Kevin Van Dam released his series of spinnerbaits, everyday anglers and pros alike have been using them with great success. With the onset of the painted blades and the included trailer hook, these baits draw attention and hook bass even when they strike short.
Mepps Basser Kit - Why not go with the entire kit since it gives you so many of their best choices? Mepps are continually well-made year after year, with the Aglia series being probably the top choice for bass fishermen.
Booyah Colorado Single Blade - Booyah understands that sometimes a little less flash and a lot more vibration is what really turns bass on. These baits work well in low-light conditions as well as stained water, especially when retrieved near the top.
Topwater Lures
Topwater lures as bass bait are what keep us coming back to the tackle box over and over, whether we're fishing in Florida, Colorado, or the Midwest. If there is one thing that we can all agree on, it's that topwater strikes in clear water are the most exciting way to catch fish.
War Eagle Buzzbait - These custom American-made topwater baits are a favorite due to the fact that they hit the water running and stay running. The Mustad NeedlePoint hook they use grabs bass by the lips and keeps holding even when they start leaping out of the water.
Rebel Magnum Pop-R - Not many lures have the reputation as a bass magnate like Rebel lures do. The vaunted Pop-R series of baits are made in the USA with enough weight to throw for distance, while only delivering its commotion on the retrieve.
Arbogast Jitterbug - This offering has been around since the before the days when bass fishing tournaments were invented, and it has stayed around for good reason. Many have tried and failed to imitate the jitterbug's unique action and the bubbles that it leaves behind, making at least one or two of these baits a necessary part of your arsenal.
6th Sense Vega Frog - There are a plethora of topwater frog baits, and for good reason. Brands like Strike King, Booyah, Lunkerhunt, and Live Target all make great "scum frog" baits and bass destroy them with impunity. They are weedless, land silently, and hook fish when nothing else will.
Rapala Skitter Pop - The Skitter Pop can be fished in a variety of ways making it another worthy selection from the venerable Rapala company. They are just light enough to keep from spooking fish close to the surface, yet have the size to keep the biggest bass interested.
Soft Plastics
Once they found a way to mimic our favorite fish food—the nightcrawler—the rest was history. Now, soft plastic baits come in every size, color, pattern, shape, and style that you can imagine and they keep coming every year. They yield some of the best bass fishing for smallmouth and largemouth bass, but also for bluegill, crappie, and other fish hanging around.
Yamamoto Senko - Sometimes less is more when it comes to soft plastics, and while that's true of the Senko, don't be fooled into thinking that makes them less attractive to bass. They can be rigged wacky style or just tossed right the water, but remember to hang on to your rod.
Bass Pro Tender Tube - Tube baits have been a go-to bait that many bass anglers use year round, and since their inception, the choices are now endless. Virtually every discerning bait company makes one version or another of tube baits and they all perform like clockwork once they hit the water.
Mann's Jelly Worm - These have been around since I was a much younger man, and I've bought and used a million of them. Every quality bass-lure producing company makes some version of the soft plastic worm—Z-Man, Zoom, Culprit, Strike King, Berkley, Yum, Googan, just to name a few—and they all work like a charm.
Berkely PowerBait Lizard - You haven't been bass fishing long enough if you haven't yet tied on a soft lizard. There are so many different lengths, colors, and flavors (scents) to choose from that it can be a daunting task to find one that you prefer, so you're just going to have to buy them all.
There are also craws, crawfish, creatures, frogs, leeches, and grubs to choose from.
Crankbaits
Crankbaits come in several types including stickbaits, jerkbaits, blade baits, swimbaits, and lipless crankbaits. Any lure that you can tie on, throw, and rip it back in is fun for any bass angler since it keeps us moving the entire time and gives us something to do.
Don't forget to have a good grip on your rod, though.
Rapala Shad Rap - As the name implies, the Shad Rap mimics one of the best bass baits that swims and bass love them. These balsa wood baits are some of the best made lures that you can buy, all while being the epitome of a bait that runs true right out of the box.
Bomber Model A - The Model A crankbait has been a staple of bass fishermen for many years. This is one of a long line of deep-diving crankbaits that dig down to where the bass are and stay there long enough to be attacked. Others include the Rapala Fat Rap, Norman Lures Deep N, and Strike King Pro Model, just to name a few.
Rat-L-Trap - This is the one that started it all and spawned one thousand lookalikes. When it comes to lipless crankbaits, the original Rat-L-Trap was one of the first to dare us to grip it and rip it. The only thing we ever found wrong about this bait is all the other fish besides bass that will pounce on it!
Bass Pro XPS Swimbait - While this version of the popular swimbait is more reasonably priced, swimbaits can routinely cost upwards of $30 or more, some even coming in at over $70. Swimbaits are to bass fishing what wax figures are to a wax museum. They are the life size, look amazingly real, and get the most attention.
Smithwick Rattlin' Rogue - One of a series of stickbaits that can be reeled all the way in, or paused for a suspenseful wait while a big bass sizes it up in shallow water. Stickbaits come in many styles and shapes, not including all the colors and patterns to go along with them.
Jigs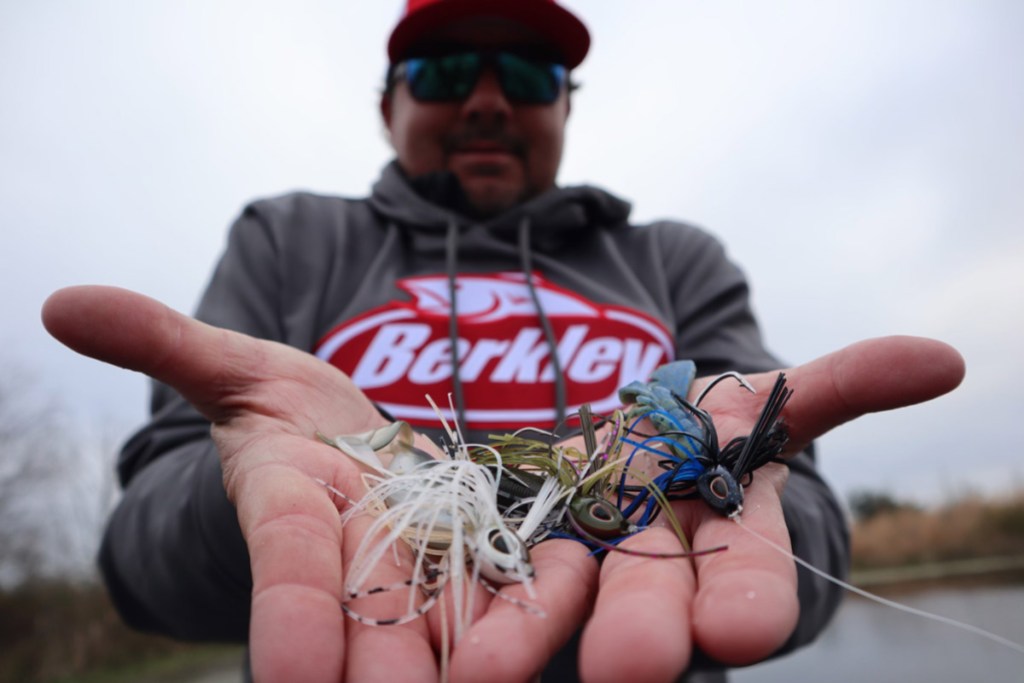 Jigs are one of the oldest fishing lures known to man, and as anyone who has used them to catch bass will tell you, they work with regularity. There are football jigs, swim jigs, and finesse jigs and that's not all, but the bottom line is that anglers use them for every species, including smallmouth bass.
Terminator Pro Series - Another offering from fishing folks that come in under the name of a flippin' jig. They can be tipped with a pork rind or just used as is right out of the package, but flipping jigs are easy to tie on and quite simple to use.
Strike King KVD Swim Jig - As the name suggests, this is one of many jigs meant to swim through the heavy cover, more so than other versions that are used in a wiggle or wobble motion. Many swim jigs, like this one, have a rattle embedded in them to give it even more bass attracting power.
Z-Man CrossEyeZ Football Jig - One of the best things about football jigs is their ability to thrive around rocks, stumps, logs, and other gnarly bottoms or heavy cover without a snag. They cast well and stay stable through rough terrain while giving out their familiar wobble action to mimic minnows.
As with any jig, it can be tipped with a pork or a soft plastic trailer.
Read More: The 15 Best Places for Bass Fishing in the U.S.
Enjoy the outdoors?
Sign up for daily stories delivered straight to your inbox.