The giant eagle was banded in 1983.
A 34-year-old eagle was rescued recently by a game warden in the state of Maine. Surprisingly, it was the third call about an injured eagle the game warden's office had received in two days. Responding to the call was game warden Joe McBrine and U.S. Fish & Wildlife Biologist Amanda Hardaswick. According to a report, McBrine was able to capture the injured bird without a struggle.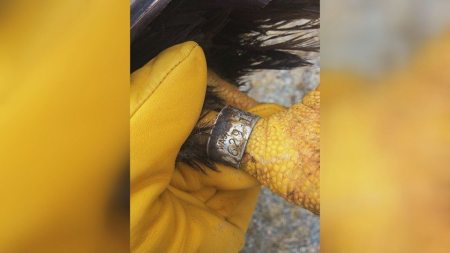 It was discovered soon thereafter that the bird had sustained damage to its left wing. The damage was likely due to altercations with another eagle.
Many of Maine eagles are also struggling with lead poisoning. Blood work for this impressive old bird confirmed high lead levels which likely effected the bird's ability to remain coordinated and defend itself during the fight.
Like what you see here? If so, click here to read more great hunting, outdoor, and shooting articles by Reid Vander Veen. Also, check him out on Twitter @ReidVanderVeen and on Instagram.
NEXT: INCREDIBLE VIDEO OF BOBCAT ATTACKING TURKEY HUNTER
https://rumble.com/embed/u7gve.v3tom3/
Enjoy the outdoors?
Sign up for daily stories delivered straight to your inbox.