Here are 15 solar powered tools for todays sportsman. Do you have any of these?
These weren't your dad's idea of what you need for outdoor tools. Whether you're hunting, fishing, camping, or need general outdoor necessities you may have a use for most or all of these things.
While your grandpa may look at this stuff as zany, you and your dad have seen the light. With technology becoming the spearhead for outdoorsmen of all types, keeping your battery operated tools charged, or being able to leave some of those things in the field unattended is now paramount to having more and more success.
Check out some of the things you may have, been thinking about getting, or possibly are seeing here for the first time.
1. Solar Backpack
At 6.5 Watts, it will power up your tablet, phone, or other such device while you walk plus provide plenty of space for your other gear.
2. Solar Phone Charger
For those who don't need the expense of a new backpack, this will fit quite well in your existing one. At two amps it will charge you up quickly. It also comes with a built in LED flashlight.
3. Emergency Radio by Voyager Pro
This model has four full methods of charging including a hand crank, solar panel, optional AC adapter, and by USB port.There are a lot of features on this NOAA full hazard radio.
4. Solar Oven
Said to reach temperatures of 550 degrees (F) this particular stove will cook a meal even in cloudy conditions. It will even heat water by turning 80 percent of the gathered sunlight into usable heat. Here is a quick video.
5. Shed Light by Designers Edge
Don't let the word 'shed' bother you. These could be mounted inside of your remote hunting camp. Can provide two or four hours of light depending on use. 16 feet of cord will allow you to find the light in your neck of the woods.
6. Motion Detector Light
One of the worst things sportsmen have to face is the inevitable presence of thieves. If they want to get in your camp, they will try, but when one of these pops on from the eve, or a nearby tree it always garners some doubt in them.
This one has too many features to list here.
7. Trail Cam Charger
A favorite among many this tool will keep your camera going when you can't be there. You'll need to make sure that it's compatible with your unit, but this one will charge lithium and 12-volt batteries all day long.
8. Varmint Light
Call it a hog light or a coyote light, it will recharge while you're at work and it will be waiting for you and your favorite varmint gun.
9. Pest Repeller by Pest Soldier
Because when you have livestock or keep feed and seed you need to know that critters that want to eat your hard earned dollars will be kept at bay. All weather and all season, it works for 30 days on a single charge.
10. Game Feeder by Wildgame Innovations
Adjustable feed setting triggers automatically one hour after sunrise and one hour before sunset.
11. 2-in-1 Lantern Flashlight
Good for camping or just out in the backyard. Comes in three sizes and can be plugged in or just let the solar cell do the work for you.
12. Dock Cleats
Cleats, dock lights, piling lights whatever. You don't need to walk out onto the dock at night without being able to see anymore. Easy to install and stays lit for 18 hours on a full charge.
13. Multi Tool Kit
Has a flashlight, fan, and charges any USB powered device. Weighs only four ounces and also works well with POV cameras like GoPro.
14. Yeti 400 Goal Zero Solar Generator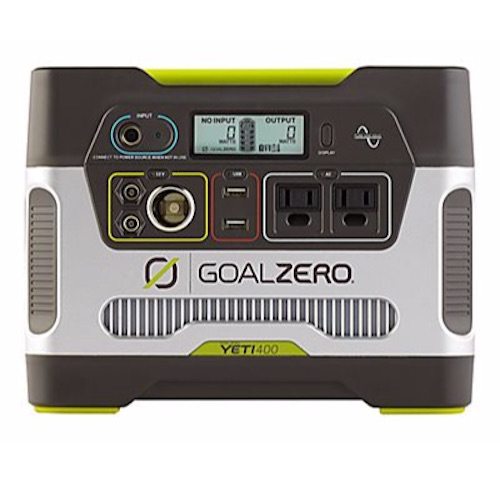 Retail at $459.99 but is a great, reasonably lightweight answer to all your camp needs. Can recharge from the wall or even from your vehicle, but get the sold-separately Goal Zero Nomad Solar Panel and you'll never be out of power.
15. Water Purifier
Another backpack, but preppers unite! Water is life especially in an emergency situation. At a whopping $1,380 you may think that it's out of your reach, but when you or your family is thirsty what's a few bucks?
Since we've all made a call or a text from the old treestand we can safely say that the cell phone isn't going away.
Outdoorsmen and women everywhere are coming around to the fact that our environment matters more and more. With the sustainability of renewable green energy like the sun, why not use it?
Whether you're fishing, hunting, camping, or hiking there are solar powered products and tools out there for you and your family.
The only question now is what's missing from this list? What do you power your outdoor experience with?
NEXT: 11 THINGS THAT EVERY DEER HUNTER DIDN'T KNOW THEY NEEDED
Enjoy the outdoors?
Sign up for daily stories delivered straight to your inbox.