DIY dog toys can keep your dog just as entertained as store-bought.
Who said fun had to be store-bought? Keeping your dog occupied can sometimes feel like a full-time job, and you would need several high-paying, full-time jobs to cover the cost of all those dog toys you know your pooch loves.
Dog toys don't come cheap, but here's a thrifty solution. All you need is a little bit of effort and a dash of creativity to fill your pup's toy box with affordable—and even free—DIY dog toys.
Pin these 11 ideas to inspire your creative side!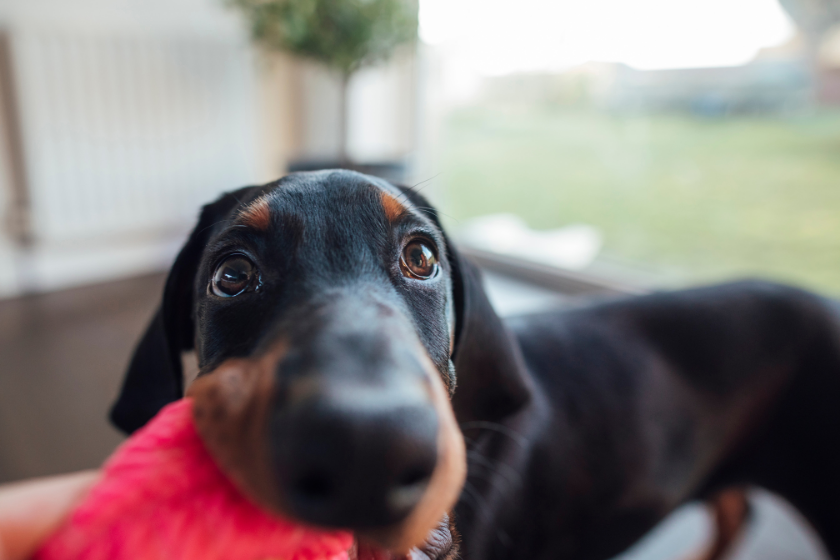 Frozen Sock Toy
The dryer has already eaten a few of your socks (or maybe that was your dog), so why not put those lonesome singles to good use? All you have to do for this DIY dog toy is roll a sock into a ball, soak it in water and let it freeze.
Bottle Spin DIY Dog Toy
This DIY dog toy may require a little bit of craftsmanship, but for a treat-motivated pooch, it provides hours of fun.
This toy can be made entirely out of recycled materials, and it's durable enough to be kept outside.
Treat Feeder
Some PVC pipe, a drill, and a handful of your dog's favorite snacks is all you need to make this creative treat feeder.
Now instead of stealing your socks or chewing up your sofa, your pooch will occupy his time with this rewarding game.
Prey Stick
If your dog has a high prey drive, he'll chase everything from the neighbor's cat to a leaf floating in the wind. That kind of behavior isn't ideal when you're out on a walk, but when you're playing with this handmade prey stick, it means you're in for an entertaining show.
Your supplies include PVC pipe, some kind of durable rope, and your dog's favorite toy. Once you have it all strung together, it's guaranteed to be your dog's new favorite game.
Poochie Person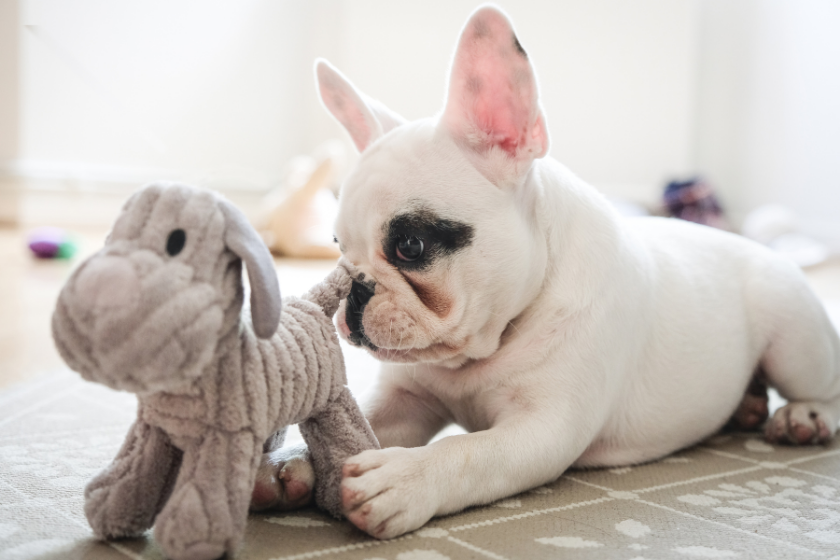 For those hardcore chewers, you're going to need something tough to stand up to their determination to destroy.
This poochie person toy is made from nylon rope and a tennis ball. It's woven together tightly enough that even after hours of play, it won't unravel. You can't say the same about many store-bought toys.
Spider Toy
Unlike the real creepy crawlies, you'll love having this DIY spider dog toy in your home. The different knots and spikes make it an interesting chew toy to keep your dog busy.
The best part: all you need is nylon climbing rope and some knot knowledge.
Indestructible Denim
Instead of sitting in your closet taking up space, your old denim jeans could be bringing your dog hours of good fun.
Denim makes a great chew toy because it's tough and durable. All you need to do to make this thrifty toy is cut up a pair of old jeans and then tie the denim in a knot.
Braided Ball DIY Dog Toy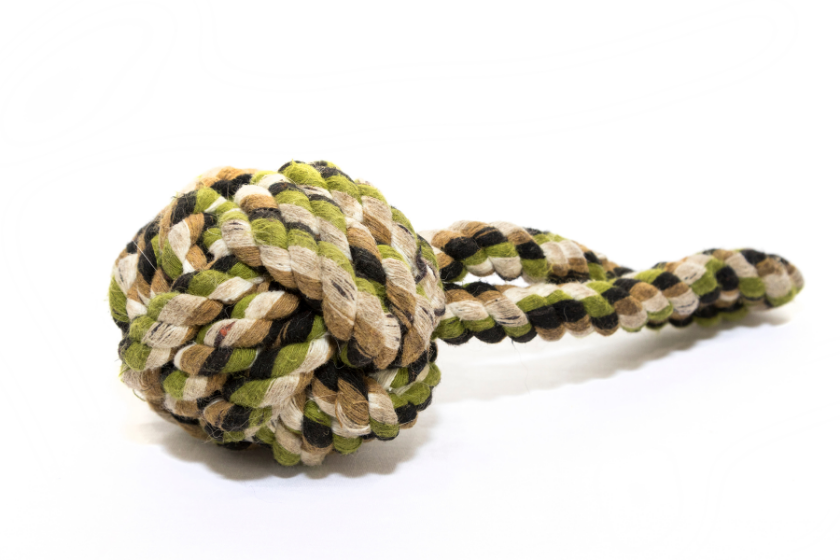 Fetch and tug are two of your dog's favorite games, and this DIY toy combines the best of both.
Find a scrap of fabric you don't want (could be an old t-shirt or part of an old blanket), strip it into thirds and braid it. Next, cut a hole in a tennis ball and thread it onto the braid. All you have to do now is knot the ends and say, "Fetch!"
Treats and Tennis Balls
Two of your dog's favorite things! It turns out that tennis balls are good for more than just rousing games of fetch. Their hollow centers and flexibility make them great treat dispensers.
Simply use a knife to (carefully) cut a slit into the ball. Load it up with treats and toss it to your pup!
Tug DIY Dog Toy
This DIY dog toy will benefit both your closet and your dog. It uses strips of cut-up T-shirts woven together and knotted on the ends.
Don't worry, yours doesn't have to look this perfect. Your dog will love it even if your handiwork isn't up to par.
Crackle Bottle Toy
Sometimes the sound a dog toy makes is just as much fun as the toy itself. Store-bought squeaker toys can be expensive, but the sound of a plastic bottle crunching and cracking between their teeth will keep your pooch just as engaged.
This simple bottle dog toy is made by wrapping an old piece of fabric around a plastic bottle. The ends are cut into strips and then braided together.
Keeping your pup happy and occupied doesn't have to drain your bank account. Your house is full of possible DIY dog toys, you just need to know how to put them together.
There are so many DIY dog toys you can add to this list! What about small dog treats in a water bottle? Our dogs love this toy (should be supervised). Homemade dog toys are so easy to make and so are homemade treats! Bake some sweet potatoes for your dogs!
Now that you're good and inspired, put on your crafting pants and get busy!
Do you have a favorite DIY dog toy? Tell us on the Wide Open Pets Facebook page!
Enjoy the outdoors?
Sign up for daily stories delivered straight to your inbox.