Saying goodbye is hard, so make the memories of your pet last a lifetime.
Pets leave their marks on our hearts and on this earth, but their time here is often so much shorter than we wish it would be. When a dog, cat, turtle, guinea pig, horse, bird, or any beloved animal companion dies, it is difficult to transition to a daily life without them.
However, honoring their memory is a positive way to both help you heal and let their memory live on in the world.
1. Hold a memorial service.
Organize a small gathering of family and friends whose lives your furry, scaly, or feathered friend touched. Some states will even allow public cemeteries to offer burial services for pets.
2. Create a memory stone.
Whether its a plaque for their cremated remains, a tombstone, or an engraved rock in the garden, mark your pet's memory with their name, date, and a memorable saying. You could even turn a small memory stone into jewelry.
https://www.instagram.com/p/BfgWFGKhWUH/?tagged=petmemorial
3. Share the news.
If you prefer a more private memorial service but want to share the news with people you love, consider sending out a postcard or an email with a photo collage detailing some defining moments in your pet's last, hopefully happy and peaceful, days on earth.
In the wave of social media, many pet parents have also started sharing the news with a photo and anecdote about their best friend.
4. Donate.
Make a donation to an animal charity in your pet's name. Some suggestions include your local shelter or sanctuary, your neighborhood dog park, Wings of Rescue, or the World Wildlife Fund.
You can watch a tree grow and as it gets taller and stronger, it shows the passing of time, but also the strength of your bond and the memories you shared with your pet. Planting a tree in your pet's favorite spot outside can also be a visual reminder that they are never gone.
Instead of a tree, you could also plant flowers. Or, if your pet was more of an indoor animal, you could take to nurturing a plant in their favorite spot indoors.
6. Get a tattoo.
A lot of pet parents turn to permanent ink to memorialize their pet. From pet portraits to names and sayings to paw prints, many options exist. Be creative with your pet tattoo!
This poem is a constant reminder that your pet is up in heaven somewhere frolicking in the fields and puddles and sky, and one day you'll be reunited again.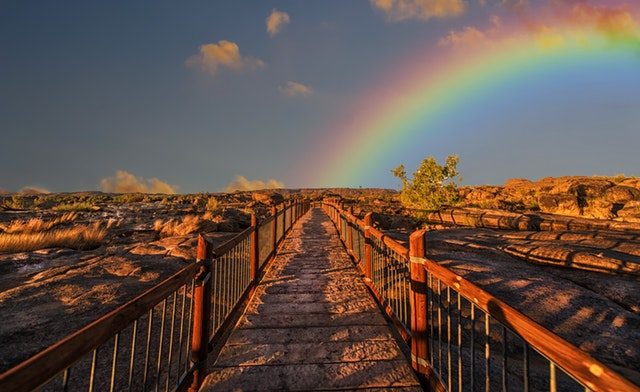 Frame your favorite photo or lots of favorite photos and place them on the mantle or around the house. You could also put together snippets of your companion for a memorable video.

9. Volunteer.
Start volunteering at local shelters. Who knows? You might just meet another best friend. They won't be a replacement, but they can help your heart heal.
10. Share your pet's favorite things
Whether they loved treats or toys, hand out free things to share your pet's love of life with strangers and friends.
What other ideas do you have to memorialize a pet? Share your ideas in the comments below!
WATCH NOW: Woman Gets Tattoo out of Cat's Ashes