Every deer hunter loves a big 8-pointer!
For today's #WhitetailWednesday, we decided to look at some of the biggest 8-point bucks ever taken.
It takes some impressive measurements for a buck to crack the 170-inch minimum to make it into the Boone and Crockett record book with only eight scorable points. In fact, it has happened less than 40 times in the club's storied history. The whitetail bucks on this list are some of the biggest of the bunch.
The Mike Kemble Buck
Ohio hunter Mike Kemble took this magnificent buck back in 2011, and at the time, it was thought to possibly be a new world-record 8-point. The buck grossed an eye-popping 186 inches. For only eight scorable points, that's an unbelievable number!
Unfortunately, after the mandatory 60-day drying period, the buck fell just short of the record. But this is still an incredible deer at 179 5/8 inches, and Mike is probably the envy of every hunter in his area.
The Vic Bulliner Buck
Michigan isn't traditionally thought of as a big-buck state, but that's where this former world-record came from in 2001. Vic Bulliner shot this monster during firearms season in Hillsdale County, which any southern Michigan hunter will tell you is a true big-buck factory. This buck remained a perfect 8-point for most of its life, as two sets of sheds were found from the same deer. One of those sets sported tines that were 13 inches long!
This is as close to perfection as a buck can get. The Bulliner buck grossed 184 1/8 and netted 180 3/8, sharing the world record for a short time with the Vernon Winter buck. Even more impressive than the huge main beams and towering tines, though, is this buck's incredible mass.
Poached Minnesota Monster
This one is most unfortunate. This buck was sadly poached back in 2009 near Cannon Falls, Minnesota. Photos have spread far and wide across the internet in the years since. The unbelievable rack grossed 190 5/8 and netted 181.
It's sad a deer hunter's name isn't attached to this buck. The Minnesota Department of Natural Resources now has the antlers on permanent display at their headquarters in St. Paul. They also have four replicas on display in their "Wall of Shame" locations to show poaching doesn't pay.
The Jason Sanders Buck
Technically, this old buck is a 9-point, but most people look past the 1-6/8-inch sticker on the buck's right G2 and call this one for what it is, a world-class Illinois 8-pointer. In fact, it's the current Boone and Crockett world record, grossing 192 3/8 and netting 184 7/8.
Numerous daytime trail camera photos of this buck teased Sanders before he finally caught up with the beast November 26, 2011. He took the buck down with a well-placed shot from an open-sighted Mossberg 500 shotgun at just 35 yards.
The Vernon Winter Buck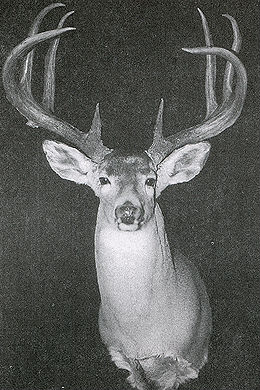 The interesting thing about this list is how many of these bucks have come in just the last 10 years or so. Big 8 pointers aren't a new phenomenon. The Vernon Winter buck was shot in South Dakota back in 1965 and has been one of the largest 8-points in the books for decades ever since with a net score of 180 3/8.
There are very few details and even fewer photos of this buck, but its sweeping main beams and towering tines make it a buck anyone would be proud of.
We do have to wonder if perhaps this buck got less attention because it's an 8-point. It also has us wondering how many other world-class bucks might be gathering dust in a garage or attic somewhere, unknown to the deer hunting world because it's "just an 8-point."
NEXT: LESS IS MORE: 10 AWESOME BUCKS WITH SIX POINTS OR FEWER