Here are five good choices when you're ready to add to your Smith & Wesson handgun collection.
Let's be honest: the first thing that we're looking for in a solid handgun is function and capability.
If we're being true to our nature, then a sharp looking pistol is going to catch our eye and very possibly some of our hard-earned money.
If those things can combine, you've got yourself a good gun.
Gun enthusiasts everywhere, along with concealed carry fans and even law enforcement officials, have long known the fame behind the name Smith & Wesson. They've made standard guns mass produced to satisfy the needs of the well-armed, as well as the Performance Center models that have captured our interest and intrigue in the custom gun category.
Smith & Wesson is one of the oldest, and most storied franchise names in United States firearm history. Founded in the 1800s, this revered gunmaker specialized in revolvers and firearms like the Model 3 American, which went on to become extremely popular. It didn't stop there, as their modern semi-automatic pistols have revolutionized the firearm industry in more ways than one.
Granted, not everyone will agree on which are best, and not all are specifically subcompact or designed for concealed carry, but when it comes to performance and self-defense applications, a Smith & Wesson could easily find itself in your gun cabinet or holster.
Here are five that are worth looking into. Even if you already have some or all of these Smith & Wesson handguns, at least you'll be able to kick back, smile, and know that you made some really good choices.
Smith & Wesson M&P 2.0 FDE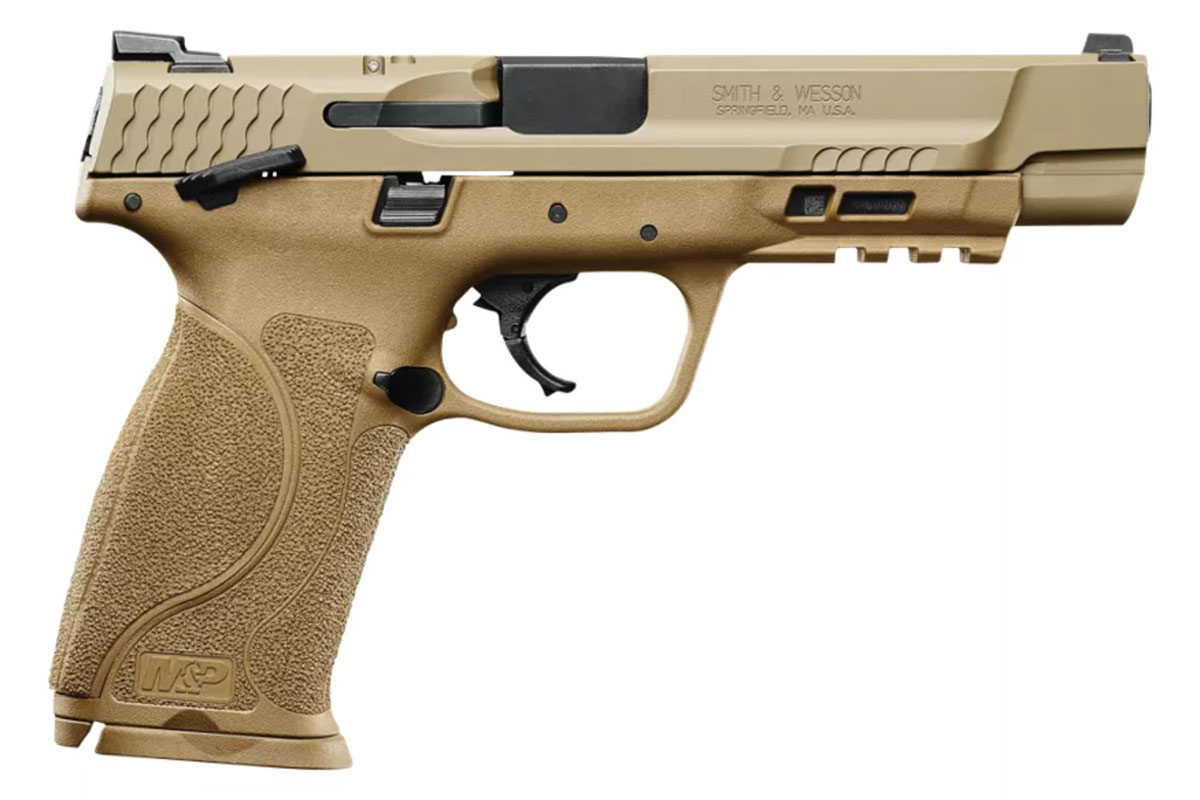 With a capacity of 17+1 this firearm is still light enough to allow the shooter to get sights back on target faster, especially with a well-controlled muzzle climb. As said, the 9mm version sports a seventeen round magazine plus one in the chamber, for a total of eighteen rounds. The pistol also features an optional loaded chamber indicator and optional thumb safety.
Interestingly enough, it comes with four different palmswell grip inserts, enough to give every shooter the grip they would prefer. S&W says, "Designed for personal, sporting, and professional use, the M&P M2.0 delivers an entirely new platform, introducing innovative features in nearly every aspect of the pistol."
S&W Model 500
The Model 500 is not your great-grandaddy's S&W, but that doesn't mean that he wouldn't want one.
This bad boy is a hammer with a trigger, especially if you're going to need a protective firearm in bear country. This one isn't going into your canceled carry holster anytime soon, but it should go into your gun safe.
Sure, it comes in shorter 4- and 6.5-inch barrel lengths, but there's something about 8.38 inches of stainless steel that really makes this gun attractive. And it's going to cost you more than a lot of other handguns, plus ammo might be a little tough to acquire. But we didn't say that owning all the best Smith & Wessons would be cheap. A .357 Magnum revolver would be hefty enough, but graduating to the 500 S&W caliber is noticeably bigger.
As S&W says the power is in the massive "X-Frame," making it "the most powerful production revolver in the world." They even added that this is "A hunting handgun for any game animal walking."
Need we say more?
Smith & Wesson M&P Bodyguard 380
Not everyone wants a pocket .380, but those who do own a concealable micro pistol like the Bodyguard 380. The ergonomic grip and high-strength polymer frame get into your hand quickly and easily, and especially with the feel of the grip, it seems like the carrier has instant access to the firing position.
The gun comes with finger groove and flat butt plate magazines, has a manual thumb safety, and uses double action fire control. S&W says, the "overall length of 5 ¼ inches and an unloaded weight of only 12.3 ounces making it perfectly suited for concealed carry."
Smith & Wesson 1911TA E-Series
Ever since John Moses Browning's extremely popular and iconic semi-auto 1911 design series has been available for all manufacturers to use, most have done it with style and aplomb. This beautiful edition comes calibered in .45 ACP with a 8+1 capacity with the obligatory beavertail to keep your hand safe.
The company makes both full-size Government and smaller Commander handguns and in some cases comes with an accessory rail for the mounting of laser sights. The S&W 1911TA is not only very functional, but has great style as well.
S&W Performance Center Pro Series 442
Smith & Wesson J-Frame revolvers have been around since about 1950 and they haven't lost a thing to "old age." As S&W says, "The Model 442 Pro Series is a variation of the Model 42 Centennial Airweight that integrates the time-tested features of the original with modern advancements and competition specifications and features."
The 442 Moon Clip, called that thanks to the included clips that hold multiple cartridges together for easy extraction, is not only a handsome, well-made revolver, but at just over $500 it is a relatively easy edition to your collection. It is a great defense revolver, particularly since it is rated for continuous +P use. It's double action only and comes in .38 Special.
The Debate Over the Best Smith and Wesson Firearms
As with so many of the veteran firearms manufacturers, one click onto almost any page will give you so many variations of each model that we could never own them all, right? Well, think again gun guru, because some of us like to live by the old adage, "He who dies with the most guns wins."
In all honesty, just one visit to S&W's J-Frame page and you will realize that there are almost too many choices. Smith & Wesson pistols, for various reasons, have had the eyes and ears (and more specifically, the trigger fingers) of firearms enthusiasts everywhere. Their names keep coming up in best of lists, so we rounded up some of the best of the best.
We never make lists of any outdoor gear without including a proviso of "to each his own," especially when it comes to our love of firearms. Hunting aside, the shooting sports are maybe the biggest and best equalizer when it comes to both men's and women's abilities, and S&W has recognized that long ago. Their products are helping people improve their knowledge and skill with a firearm, safely and productively.
Currently, their M&P Shield EZ is getting a lot of attention from the female shooting crowd as an "easy to rack, easy to pack" concealed carry gun, and rightly so. S&Ws made today are quite popular for the concealed carry pistol crowd, which is why there are so many holsters available for them.
As you probably knew, there's a lot of reasons to like them.
Since Horace Smith and Daniel Baird Wesson first formed a partnership in 1852, S&W has been at the forefront of firearm innovation and design making them one of the most recognized brands anywhere on earth. A new Smith & Wesson will almost always fit in the gun cabinet, and maybe one of these five mentioned will be the one.
Looking for a little more or even hot lunch for your hunting blind? Follow my webpage, or on Facebook and Twitter.
NEXT: WHO ARE SMITH AND WESSON?
WATCH