Revolvers can be a strong choice for concealed carry guns, as they're reliable and easy to use. Not everyone loves using small, semi-auto pistols for concealed carry. As a matter of fact, there's a large crowd of shooters that will only carry revolvers for self-defense. Of course, semi-autos might be more popular, but when you get down to ease of use and functionality, it's hard to beat a good ol' wheel gun. So, if you're in the market and want to know what the best concealed-carry revolvers are, these 10 guns are a great place to start.
10.
Rossi 352
The Rossi 352 shoots .38 Special in a five-shot capacity. Simply remove the gun from its holster, cock back the hammer and you're ready to roll. It doesn't get much easier than that. However, seeing as this gun does have a hammer, some may not like it. But, considering this is a Rossi, it's a good gun.
Even though Rossi sold their revolver department to Taurus, you can still find the 352 on the used gun market.
9. Ruger GP100
This may be a lot of gun to conceal, but if you have to defend yourself, you want to win. That's where this small, palm-sized cannon comes into play. Firing .357 Magnum rounds out of a 3-inch barrel with a six-shot capacity, this gun won't let you down.
8. Smith & Wesson Bodyguard 38
Probably one of the two or three most popular revolvers for concealed carry, the lightweight Bodyguard just won't let you down. The hammerless design won't get stuck in your pocket and the five-shot capacity of .38 Special ammo will make you feel safe and sound. It's a black beauty, too, and those looks make it one of the best revolvers you can own.
7. Ruger LCR-22
Wait... a .22? Yes. When it comes to a situation where you need a gun, any gun is better than no gun. The concealability of the LCR is second to none, and being able to produce one in a hurry can make the difference between life and death. What you might lose in stopping power, you'll gain in follow-up shots. The LCR allows for an eight-shot capacity of low recoil, highly accurate rounds.
6. Smith & Wesson 442
Looking for another hammerless option? Alongside other Smith & Wesson J-Frames, this model has gained a lot of popularity in the United States in regards to self-defense performance.
5. Taurus Protector
Who doesn't love a small .357 revolver that can be concealed super easily? Well, Taurus sure figured it out here. This small little pocket shooter only has a 2-inch barrel. After that, it fires five rounds of either .38 Special or .357 Magnum. Regardless of your choice, this is a good one, and far easier to carry than the Taurus Judge.
4. North American Arms .22 Revolvers
The size of these revolvers alone will astonish you. The .22 Short pictured above has a barrel length of just 1.125 inches. Ultra-light and inexpensive, these not only make a great sidearm, but also eliminate any excuses for not being armed once and for all.
3. Ruger Super Redhawk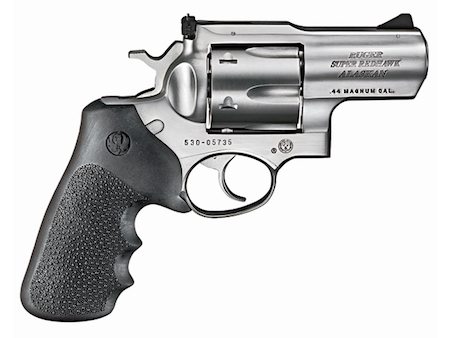 Got some extra money laying around and want a gun that can put down the threat with one shot? Well, here you go. From bad guys to grizzly bears, or anything else between, this gun should have an advantage over most semi-automatic pistols. However, the stainless steel Ruger Super Redhawk will be harder to conceal than others, but for a winter carry gun, go for it. You can get this gun chambered in .44 Magnum, .454 Casull or even .480 Ruger, all sporting a six-round capacity.
2. Smith & Wesson Governor
When the situation is calling for it, reach for the Governor. Feel at ease knowing you will be firing .410 shotgun shells at the bad guy who won't know what to do when those rounds start going off. This gun just flat out overpowers about anything you would encounter.
1. Taurus Raging Bull
The .44 Magnum is a great round for self-defense. The problem is most guns that can fire this round are big, bulky and not designed to be concealed. Thankfully, Taurus has the Raging Bull. This gun can deliver a five- or six-round capacity of either .44 or .454, depending on your preference. Regardless of your method of personal defense, this is a gun you can trust your life with.