The outdoor possibilities are near endless in Puerto Rico.
If you have been looking for a place with beautiful beaches where the opportunities for land and water sports are nearly endless, you may have overlooked the natural wonders of Puerto Rico. The Caribbean Island may be extremely small, but it makes up for that with a rich culture, thriving nightlife, and tons of possibilities for outdoor recreation.
We recently got the chance to travel to the tiny U.S. Territory and came away impressed by just how many fun activities can be packed into just a few days on the island. Whether you are just interested in sightseeing the cobblestone streets of Old San Juan or want to do something more adventuresome like scuba diving or ziplining, there appears to be something for everyone in this beautiful Caribbean getaway.
Today we are more focused on the outdoor aspects of visiting the island rather than the distillery and food tours more common in the cities. Even if you only have a day trip planned, here are just a few of the activities you can pack into a visit to Puerto Rico.
Snorkeling
Beyond those white sand beaches is a whole world of underwater aquatic beauty in the many coral reefs that lay just offshore. All you need is a snorkel, a pair of goggles and some flippers. The waters are warm and crystal clear. If you have a GoPro, bring it. Because you will see colorful fish and other sea creatures found nowhere else on Earth. We snorkeled near Steps Beach near Rincon which is where I captured the above photo of the school of blue fish. There are also some guided tours available where locals will take you to some secret spots further offshore. Other hot spots to check out include La Parguera Nature Reserve, Tamarindo and Flamenco beaches on Culebra Island, Mosquito Bay and Playa Pata beach on Vieques Island, and Condado and Escambron beaches in San Juan. Snorkeling is a great way to spend a half-day trip on the island.
Surfing
The Puerto Rican surfing community is extremely friendly, and active. There is no shortage of places to go and catch some waves. And do not worry if you have zero experience. Because there are plenty of great instructors waiting and eager to give you lessons. We recommend Surf Lessons Puerto Rico Adventure Company and instructor Ramses Morales, who had me up on my knees and nearly standing on the board in only about an hour of instruction. They take people of all ages and skill levels too. Ramses told me he has given first time lessons to people in their 70s. If you have always wanted to try it, the time is now. For experienced surfers looking for the best beaches, check out Flamenco Beach in Culebra, Playuela beach in Aguadilla, Buye Beach in Cabo Rojo, and Domes Beach in Rincon.
Kayaking
For paddling enthusiasts, Puerto Rico offers near endless opportunities for some great kayaking. There is something for everyone no matter your skill level too. Want to go off exploring on your own? Plenty of places offer hourly rentals where you can go off and explore the various bays, reefs, and mangrove swamps with either a single or tandem kayak. There are also plenty of travel guides who take groups out on more organized tours. We recommend checking out one of the bioluminescent bay tours. Some of these bio bay tours like the Laguna Grande tours in Fajardo will sometimes use glass bottom kayaks that allow an unbelievable view of the dinoflagellate organisms that naturally glow in the dark when disturbed. If the ocean is not your thing, consider a tour through El Yunque National Forest. This amazing location is the only tropical rainforest in the U.S. National Forest System making it a unique place to tour. You can easily fill a full day there kayaking and hiking the spectacular natural sights.
Fishing
Puerto Rico gets overlooked a bit when it comes to Caribbean fishing destinations. Which is a shame because it is home to multiple world records for saltwater fish. The country has the distinction of being the home to the all-tackle world record for king mackerel, a 93-pounder, which was hauled in off San Juan in 1999. Plenty of other line class records for snook, Atlantic spearfish, skipjack tuna, mahi-mahi, and blackfin tuna have also been set here. Whether you are into offshore deep sea fishing or shallow inshore angling, there are plenty of charters to choose from on the island and they will put you on the big ones in short order. Go out for a full day or for just a few hours. Either way, it is certain to be the fishing trip of your life.
Spelunking
The mountainous areas of Puerto Rico hold many secret caves that go unnoticed by many visitors who are more interested in the beaches. However, there is plenty of adventure to be had in the country's extensive cave systems. Some of them, like Cueva del Indio, are historical landmarks and hold ancient petroglyphs and rock carvings dating back to the Taino people. To put things in perspective, the Tainos inhabited Puerto Rico long before Columbus and other explorers first arrived in North America! That makes it great for people who love caving and for history buffs. Some other picturesque caves to check out include Cueva Ventana, Cueva del Viento, and Rio Camuy Cave park. That last one is notable for hosting the third-largest underground river on Earth.
Scuba Diving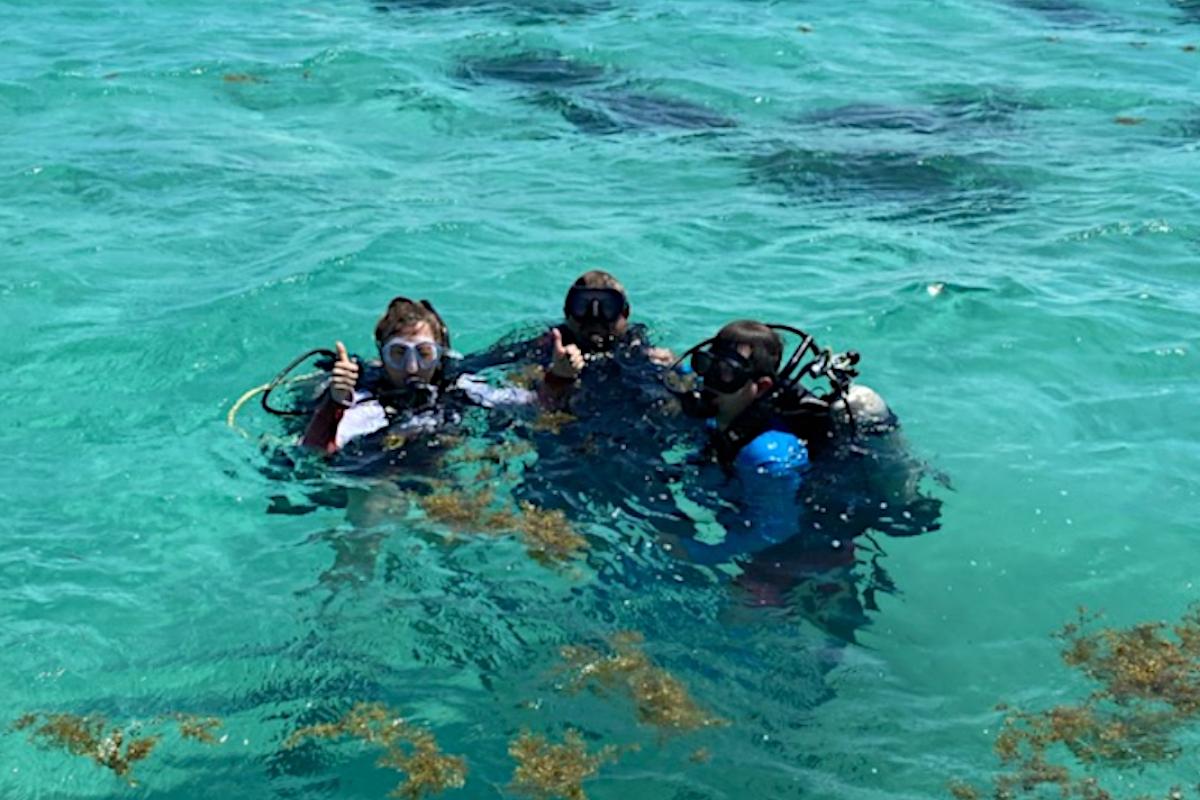 For a truly unique experience beneath the sparkling clear waves, consider taking a scuba diving adventure for a rush of adrenaline and some of the best views you will ever get of undersea life. There are plenty of outfitters who will take first time divers out on heavily supervised diving trips. No prior experience or certifications needed. Check out Taino Divers in Rincon and Paradise Scuba & Snorkeling Center as just a couple of suggestions. The instructors at these places know all the best places to dive. And they are extremely skilled in instruction, ensuring that your first scuba diving experience is a memory that will last a lifetime. Once you have done it once, you will want to try it again. Scuba diving is almost guaranteed to be the highlight of any trip to Puerto Rico.
Ziplining
If you are looking for some scenery combined with an adrenaline rush, consider giving a zipline a try. It is a real rush to fly like a bird through the island's many scenic mountain vistas. The El Yunque Rainforest is home to a series of six that can be completely in a fun-filled three-hour tour. It is a great way to explore the jungle. Combine it with a day of hiking for an excellent adventure only a short drive from San Juan. For those looking for a serious adventure, consider heading to the Toro Verde Adventure Park, which is home to a zipline that is 1.5 miles long!
Hiking
Most people only think of the ocean and the beach when they think of Puerto Rico. They completely miss the fact that the interior of the island is full of world class hiking trails in a wide range of terrain. The island's interior is home to a few different National Forests. We have already mentioned El Yunque, but there is also Rio Abajo and Toro Negro National Forests. Do not overlook Guajataca and Maricao State Froests either. Many have challenging hiking trails that will take you through jungle landscapes and to hidden waterfalls. If you take a hike to one of the peaks in the interior, you will be treated to scenic vistas of the whole island. No matter your skill level, there is something for every hiker in this Caribbean paradise.
Products featured on Wide Open Spaces are independently selected by our editors. However, when you buy something through our links, we may earn a commission.

For more outdoor content from Travis Smola, be sure to follow him on Twitter and check out his Geocaching and Outdoors with Travis YouTube channels.
NEXT: THE AXIS DEER AND HOW THEY'RE IMPACTING PARTS OF THE UNITED STATES
WATCH
Enjoy the outdoors?
Sign up for daily stories delivered straight to your inbox.