What's your preference in the saltwater fishing vs. freshwater fishing battle? We've examined some of the pros and cons of both.
Would you rather go fishing in saltwater or freshwater? Which one is the better of the two?
If fishing is life, then why are we even asking?
These are the questions in life that are not only the most important, but those that need answering. Anglers everywhere need a body of water to have a fishing spot, and luckily three quarters of Earth is covered with the stuff. So why is there even an argument?
Because fishing is life, that's why.
Some of us would love to catch a 100-pound catfish and some of us would love to tangle with a 100-pound grouper. Those who have fought a mahi-mahi aren't interested in smaller fish like the largemouth bass, but the bucketmouth is still America's most popular fish.
Where does your allegiance lie?
Let's look at the main differences between freshwater fishing and offshore fishing in saltwater and see if we can get to the bottom of it all. For those of us that like to have a fun filibuster, dig in, and see if you can think of a few things that will help either argument for the better. And for the rest, sit back and see if we change your mind at all.
Let's start on the big water.
The Pros of Saltwater Fishing
Saltwater fishing requires a special breed of outdoorsman. You'll be out on the open ocean for most of the day at the very least, and for an entire day most of the time.
Even open water ocean fishermen can use a kayak, but that is only for the brave and the experienced. Saltwater equipment is much different than freshwater fishing gear. The fact is that it is made much sturdier to resist the power of ocean-based fish and the effects of saltwater. Lines sometimes come in sizes that look as if they are as big around as your finger or as solid as wire and couldn't possibly be broken off.
Saltwater rods can have the same look as freshwater rods, but they'll sometimes have the same consistency of a broom handle. Saltwater reels can routinely hold 1,000 yards of line and look as big as your head, or they can be a big version of your favorite spinning reel that you can cast right off of the beach.
If you're fishing for marlin, tuna, or something exorbitantly large, you will sometimes need to be strapped into a seat and buckled up like a jet pilot, with the rod and reel attached to your waist. This is so a giant fish can't take you and the gear with it when it leaves. Seems exciting, huh?
The different species that you can target in saltwater are almost endless. From redfish and snapper in the Gulf of Mexico, to blue marlin and sailfish in the Caribbean Sea, the sheer numbers are impressive. There's permit in the Seychelles and Giant Trevally in tropical waters from western Mexico all the way to the east of Africa. The list goes on and on, and many of these saltwater fish species are delectable as table fare.
Saltwater fishing, and especially deep sea fishing, is an adventure that's tough to match, but one that can be enjoyed with an entire party of friends or family. Chartering a saltwater adventure is the experience of a lifetime on the open ocean, that is until the adrenaline rush of latching into a hammerhead shark on the beach in Florida!
The Cons of Saltwater Fishing
Since there's so much more to it, the gear and the lifestyle are certainly going to cost you more money. To really experience saltwater fishing without your own boat, you are going to have to eventually hire a charter to take you and your party out on the open ocean, and most will have to travel just to get to that point. A good charter captain will provide everything you will need for your trip, but their guarantees of success only go so far.
Do you get seasick? You may have rough seas on your charter. There's just no way around the fact that you'll find much bigger fish in saltwater, which means it can take great strength when fighting to reel in a very large fish. While anyone and everyone is invited to hire a charter, it still takes a unique skill level to fish the ocean, like it or not.
For those brand new to fishing, this may not be a good place to start.
The Pros of Freshwater Fishing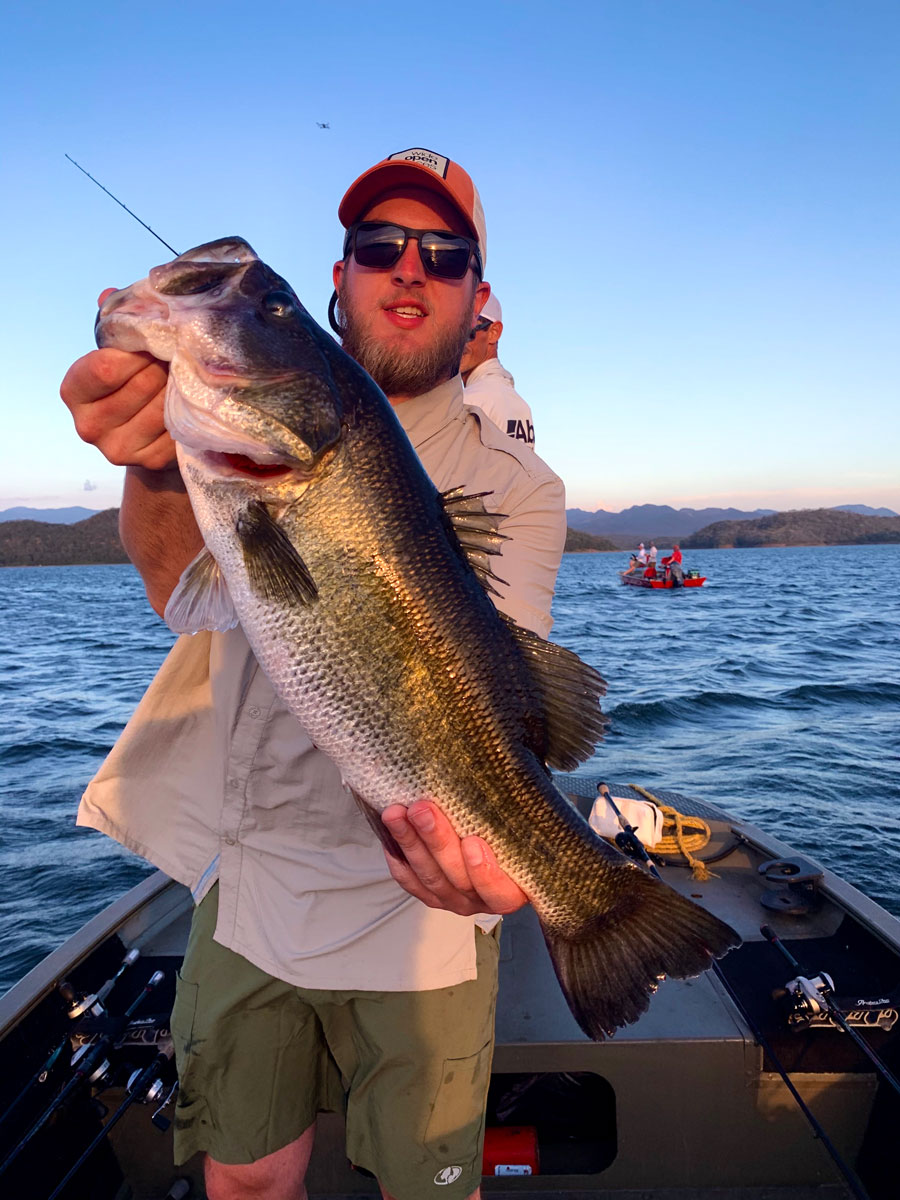 Catching freshwater fish is what most of us grew up with. When we dropped a line in a farm pond or the local creeks and rivers, we felt like we could do no wrong. We taught ourselves or had the tutelage of a revered family member, and built amazing memories to go along with it.
We caught our own bait, made our own lures, and baited our own hooks, all of which made us feel accomplished.
Freshwater fishing is is done in the mountains, hills, and valleys of our great planet, and it's the reason why so many writers spout poetry and prose about their time on the water.
You don't have to own a boat or expensive gear to go fishing in these freshwater places (but it's certainly possible); you just need a rod, a line, a hook, and some bait.
In freshwater we can often observe the bottom of the lake or river, see where the bass are bedding, learn how fish ambush their prey, and figure out what insect hatch they are eating.
And we learned right away that they will disappear if we get too close.
A freshwater angler can use a boat, a kayak, a float tube, a canoe, or wade with gear that is much lighter, but in most cases just as strong. Freshwater fishing rods can be short or long, stiff or supple, and just about anyone can use one.
If you want a greater, more learned experience, then fly fishing is waiting for you, with venerable titles of flies like the Royal Coachman, Black Ghost, and the Woolly Bugger to amuse your sense of humor.
The fishing reels are easier to handle, sometimes with only one hand necessary, and some come in a closed faced version that any kid can learn to use in a minute. Even if you used the famous Spiderman rod as a kid, you were likely benefitting from the joys of freshwater fishing.
Freshwater fishermen rarely worry about getting pulled into the water, but their fishing is just as exciting. With nearly 30 species of freshwater game fish, there may not be quite the selection an ocean fisherman can have, but millions of bass fishing fans can't be wrong.
Oh, and many freshwater species make for good seafood meals, but not everything is as enjoyable as trout or panfish.
You can charter a freshwater fishing adventure or fish on your own right off of the shore, and even take advantage of a shore lunch right on the water where you caught everything.
The Cons of Freshwater Fishing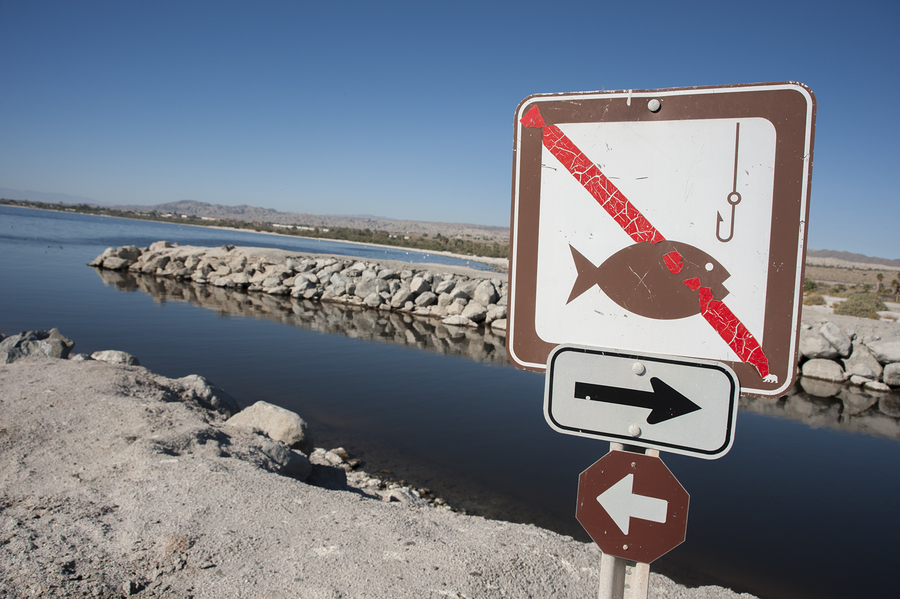 It's probably more common to get skunked fishing freshwater since even the largest bodies of water can't compare to the vastness of the ocean. Most freshwater fishing is done in the warmer weather, as winter time and cold patterns can greatly affect your odds of catching anything.
Freshwater fishing often comes with a crowd. That's not to say that ocean fishing does not come with that issue, but that it's easier to escape it. If you don't believe it, spend a Memorial Day or Fourth of July out on a popular bass lake anywhere in America, then come back to us.
Some freshwater techniques such as fly fishing come with a lifetime learning process that never seems to end, and as anyone who has ever tried to launch their boat on a busy weekend down at the local lake will tell you, you might as well turn around and go home.
The choices you have between types of fishing equipment are vast when it comes to freshwater, and that can be equally good and bad. Honestly, it's a labor of love, but it seems like we spend just as much on this type of fishing.
Final Thoughts
A quick comparison shows us the crossovers for either fresh or salt, including gear like kayaks, spinning rods, and techniques like fishing close to shore or even wading in the water. There is a science to both, but never an easy answer.
The common things you'll need are line, bait, and artificial lures; even flies and fly rods work well for either. You will need to be stealthy at times, and you don't need the biggest boat in the world for either, but you can always spend more money than you realize preparing for success with both.
With saltwater fishing you can cast around sunken shipwrecks or troll at 14 knots for wahoo. With freshwater fishing you can cast a Whopper Plopper into a weedbed and latch into huge muskellunge or troll the St. Lawrence River for 10-pound walleye.
Freshwater fishermen have a wild card: when the water freezes, they can still spend the winter pulling fish out of a hole. Saltwater anglers can fish all winter too, but it's a different, sometimes dangerous experience.
You can fly cast for permit in the sun drenched Seychelles or cast for huge Atlantic salmon in Newfoundland and Labrador. Saltwater anglers know they're in for a fight when they see balls of bait fish boiling off their bow or stern, and freshwater anglers are always hoping to sight fish a largemouth bass that could break a record.
Freshwater fishermen can fill their creel and stop to cook it onshore, while salties can cook an entire feast on their Magma Cabo marine gas grill. Both involve checking bottom structure and water temperature, using electronics, drift fishing, trolling, using jigs, cast and retrieve techniques, braided line, and custom rod and reel combos.
Did we miss anything?
Certainly there's more to it than that, but at the end of the day, we want to go fishing and we don't care where. Let the others argue about it while you and I meet at the boat launch, river, or the pier, because we don't have enough time in the day to waste over which is better while the bite is on!
Looking for a little more or even hot lunch for your hunting blind? Follow my webpage, or on Facebook and Twitter.
NEXT: LOVE 'A RIVER RUNS THROUGH IT'? THEN VISIT THESE LOCATIONS WHERE IT WAS FILMED
WATCH