Winchester Repeating Arms has a new rimfire round designed for semi-automatic guns.
Now is the time to go out and pick up rimfire ammo. After years of scarcity it feels like the shelves are overflowing with it each time I go to my favorite sporting goods store. That is great news for shooters and Winchester just added a new .22 long rifle round designed specifically for cycling in semi-automatics.
Winchester Wildcat Super Speed are copper-plated hollow points and the company says they can reach a muzzle velocity of up to 1,300 feet per second. Not bad at all for a rimfire round. Winchethster says the new rounds use a clean-burning powder. That means less time cleaning and more time on the target range or small game hunting.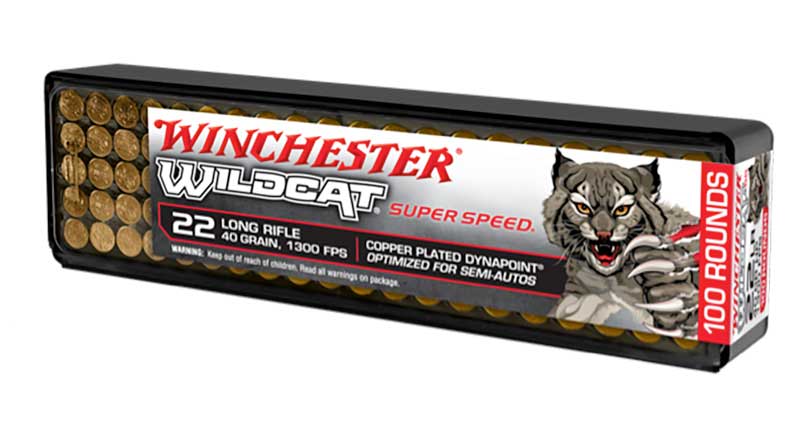 Obviously, this new ammo is optimized for the unique new Winchester Wildcat 22 rifle, which is still relatively new to the market. Here is the down low on this fascinating new rifle. It is one that is sure to turn the heads of plinking enthusiasts everywhere!
The Rifle
In a market saturated with semi-automatic rifles, the Wildcat had to be very different to draw attention away from some of the other offerings. It is safe to say the engineers at Winchester accomplished just that. The Wildcat weighs only four pounds. Much of that slim appearance comes from the skeletonized buttplate and matte black polymer stock. There is no unnecessary weight anywhere on this firearm. Interestingly, Winchester designed this gun with a striker-fired design. It utilizes a hemispheric firing pin tip that the company says strikes the rounds more efficiently than traditional rimfire autoloaders. This also allows the rifle to have a lighter trigger pull too. It cycles rounds through a straight blowback system.
But wait, there is more with this interesting design. Winchester decided to make this rifle simple to disassemble with the simple press of a button. Much like a Glock handgun, there are no tools required. Just press the button and the entire lower receiver assembly and trigger guard drops out of the stock. That makes cleaning a snap because Winchester also included an access port in the rear to push a cleaning rod through the breech end. Simple, but effective. We like the idea. Speaking of the stock, it has eyelets molded in already for attaching a sling swivel. The pistol grip design of the stock gives it great ergonomics for shooters young and old.
The receiver drops out for more than just cleaning though. You can then switch the manual safety position, effectively making the gun ambidextrous. The magazine release can also be reversed. This is also how you adjust the ghost ring rear sight. Winchester managed to find room to store a couple of allen wrenches for adjusting said sight and for removing the stock. We like the thinking here, the tools you need are always at hand and there is no need to go back to the truck if you are already in the field. The front sight is a ramped post.
The rifle has an 18-inch barrel length and a matte blued finish. The overall length of this gun is only 36 ¼ inches and the length of pull is just 13 ½ inches. That means this firearm has an unbelievably slim profile that will perfectly fit many smaller, first-time shooters and hunters, especially when you pair it with that light four-pound weight.
Customization is key
Winchester has obviously recognized how much people enjoy upgrading their rimfire rifles. You probably already noticed the integral picatinny rail section on the top of the firearm for mounting optics if you want something more than iron sights. The gun also has a short picatinny rail on the forend which the company says is ideal for a bipod.
The magazine of this firearm is where things get interesting. The standard magazine capacity of the Wildcat is 10+1 rounds through the Wildcat's rotary magazines. However, recognizing the popularity of the Ruger 10/22, Winchester made their rifle to be compatible with 10/22 magazines. That means it will be a snap to greatly increase the capacity of this gun.
We are guessing it will only be a matter of time before more aftermarket parts and accessories come out for such an interesting design. Considering the fact that the MSRP for this rifle is only $250 and most online retailers have it going for just over $200, Winchester may be a serious contender for a piece of the rimfire market for a while to come with the new Wildcat!

For more outdoor content from Travis Smola, be sure to follow him on Twitter and check out his Geocaching and Outdoors with Travis YouTube channels.
NEXT: SIG SAUER CROSS RIFLE FOLDS THE GAP BETWEEN TACTICAL, HUNTING PURPOSES
WATCH
Enjoy the outdoors?
Sign up for daily stories delivered straight to your inbox.