Not only was Ruffian the most tragic racehorse of all time, but she may have also been the greatest.
Though many years have passed since Ruffian last stepped hoof on a racetrack, her memory still haunts and inspires the racing world, reminding horse lovers and racing enthusiasts everywhere of the price that is sometimes paid for greatness. A Thoroughbred filly, Ruffian was born April 17, 1972, at Claiborne Farm in Paris, Kentucky. By Reviewer and out of Shenanigans, she was bred by Stuart S. Janney Jr. and Barbara Phipps Janney, of Locust Hill Farm in Glyndon, Maryland.
A dark bay who looked black, she was a massive filly, and earned the nickname "Sofie the Sofa" during her early training, because she was so easy and comfortable to sit on. But her brilliance became evident to the world during her maiden race in 1974, when she zipped effortlessly to the front and then maintained that lead to the wire, winning by 15 lengths and tying the track record in the process. It was a breathtaking performance for any horse, particularly for a maiden, but her fans would come to know that it was nothing unusual for Ruffian.
Many believe Ruffian was as close to perfect as a racehorse can ever come. Not only did she win every race she ever ran (except the race which would tragically claim her life), at every point of call during every race, she was always in the front. Though she didn't always break well, within a few steps she always gained the lead and stayed there throughout the entire race. She broke or equaled a record every she ran and the most impressive part of all? She did all this while her jockey, Jacinto Vazquez (under the instructions of Ruffian's cautious trainer, Frank Whiteley), was constantly trying to slow her down.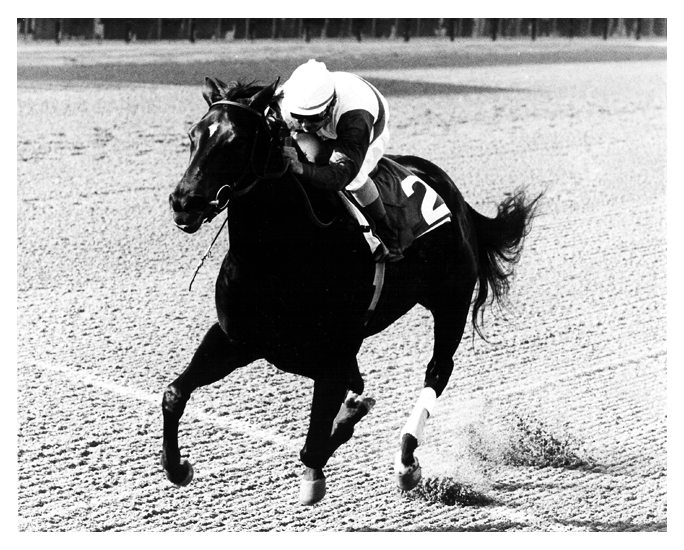 After seeing her trounce the fillies so often, fans everywhere were clamoring to see Ruffian race against the colts, but cautious Whiteley refused to give in to the pressure. He chose not to run her in the Triple Crown as a three-year-old and sent her into the Filly Triple Crown — the Acorn, Mother Goose, and Coaching Club American Oaks — instead. As predicted, Ruffian dominated all three races in her typical commanding style.
Lucien Laurin, the trainer of the great Secretariat, whose own racing career had ended just as Ruffian's began, was quoted as saying:
"As God is my witness, she may be better than Secretariat."
Whiteley planned to wait until later in her career to test Ruffian against the colts, but the Janneys had other plans. That year, 1975, a different horse had won each of the regular Triple Crown races. At the request of the New York Racing Association, and in an effort to give back to the sport of racing, which was undeniably suffering, they wanted Whiteley to get her ready to run in a special race to generate public interest in racing: the three Triple Crown winners against the undefeated filly.
However, when the owners of Belmont winner, Avatar, backed out, it put everyone in an awkward situation, because a race with two Triple Crown winners and Ruffian just didn't have the same ring. The problem was solved when the owners of Preakness winner, Master Derby, were given some good money to disappear, too, so they could craft something as exciting as the original four-horse event — a match race. The perfect Ruffian versus the Kentucky Derby winner Foolish Pleasure.
In a strange coincidence, Ruffian and Foolish Pleasure shared the same regular jockey, Jacinto Vasquez. When asked to choose which horse he would ride in the race, Vasquez chose Ruffian. Though he appreciated Foolish Pleasure's heart, he simply believed Ruffian to be the better horse.
As the date of The Great Match Race approached, the publicity stunt seemed to take on a life of its own. Instead of deciding which horse was better, the colt Foolish Pleasure or the black filly Ruffian, people across the country began to attach to it a larger significance, seeming to believe it would answer a much bigger question: which sex was better, colts or fillies? Men or women?
But amidst the pins and the t-shirts and the "women's liberation" talk, the event was still a horse race.
On July 6, 1975, Ruffian and Foolish Pleasure broke from the starting gate at Belmont, in front of more than 50,000 spectators, ready to run a mile and a quarter. As usual, Ruffian took the lead, but just before the half-mile mark something went terribly wrong. Ruffian's head dropped and she swerved into the colt. It didn't take long for Vasquez or the spectators to realize that she had injured herself.
While Foolish Pleasure galloped home to the finish line, Vasquez struggled to stop the valiant filly, but Ruffian, who had never before allowed a horse ahead of her on the racetrack, wanted to continue running, too. When he was finally able to slow her, he leapt from her back and tried to support her until help arrived, the panicked horse turning circles around him on the track.
When help arrived, Ruffian was loaded in an equine ambulance and eventually taken to an equine hospital just outside the racing grounds. As it turned out, the sesamoid bones in her right foreleg had snapped, and she underwent surgery to repair them. Her trainer, grooms, and other connections, along with representatives from the NYRA and a mixture of reporters, waited throughout the hot July night for the news.
Having broken down in the middle of the race, Ruffian had never been cooled down properly, and this made it difficult to keep the filly's vitals steady during the operation. Even so, she made it through the surgery, but it was when she awoke from the anesthesia that things took a turn for the worse.
Ruffian wanted to keep running. At least that's what it seemed like too many in attendance. As soon as she awoke, she began paddling her legs desperately, as if she had awoken in the middle of the match race. In her panic, she thrashed around enough to break her other leg. Not stable enough to undergo anesthesia again, she was humanely euthanized and has been mourned by the racing world ever since.
As a two-year-old, Ruffian was honored with the prestigious Eclipse Award for American Champion Two-Year-Old Filly, and won another Eclipse Award posthumously for American Champion Three-Year-Old filly the following year. She is considered by most to be the greatest filly racehorse the track has ever seen. And, had she lived, many believe she could have gone on to be the greatest racehorse of all time, surpassing even the likes of Secretariat and Man-O-War. Some give her that title anyway.
Even today Ruffian's legacy is unmistakable. The race that claimed her life was the final match race to be held on American soil. Furthermore, her death spurred countless advances in equine medicine, so much so that when racehorse Barbaro underwent surgery for a shattered leg in 2006 he was woken up in a pool of water where he could thrash around without injuring his other legs.
Numerous books and even an ESPN movie have been made about the filly, and in 2009, an $18 million project called the Ruffian Equine Medical Center, now known as Cornell Ruffian Equine Specialists, was opened just outside Gate 8 of Belmont Park. But the memorial Ruffian herself would probably appreciate the most is the race known as the Ruffian Handicap run in her honor every year.
Following her death on July 7, 1975, she was buried under the flagpole at Belmont Park. Even in death, her nose is pointed toward the finish line.
What do you think about Ruffian's horse racing story?
Enjoy the outdoors?
Sign up for daily stories delivered straight to your inbox.