It was like nerd heaven at the New York Auto Show as major automakers flexed their tech muscles.
Auto enthusiasts and tech-driven drivers flocked to the opening of the 2018 New York Auto Show, a mixed display of technological advances and flashy updates to standby automakers.
Car companies like Volkswagen, Nissan, Jaguar, and Toyota came to show off their own versions of automobile advances and did not disappoint.
As featured on Ars Technica, the New York Auto Show put tech in the spotlight with showings of the latest autonomous cars, digital dashboard updates, and electric SUVs, which are quickly becoming the auto world's darling. Here are a few highlights from this year's New York Auto Show.
Nissan's VC-Turbo Engine
Nissan has been keeping a relatively low profile in the world of auto tech. But its sneaky game plan has paid off with a glimpse of the sixth-generation Nissan Altima, complete with a 248-hp four-cylinder turbo engine. The Altima has always been a pretty dependable choice as far as middle-of-the-road sedans go, but this engine pick-me-up has added a great deal of sexiness.
This updated engine replaces the 3.5L V6 of the previous Altima models, but takes off a chunk of weight. The engine switches from regular combustion to the efficient Atkinson cycle at higher compression.
Beautiful Baby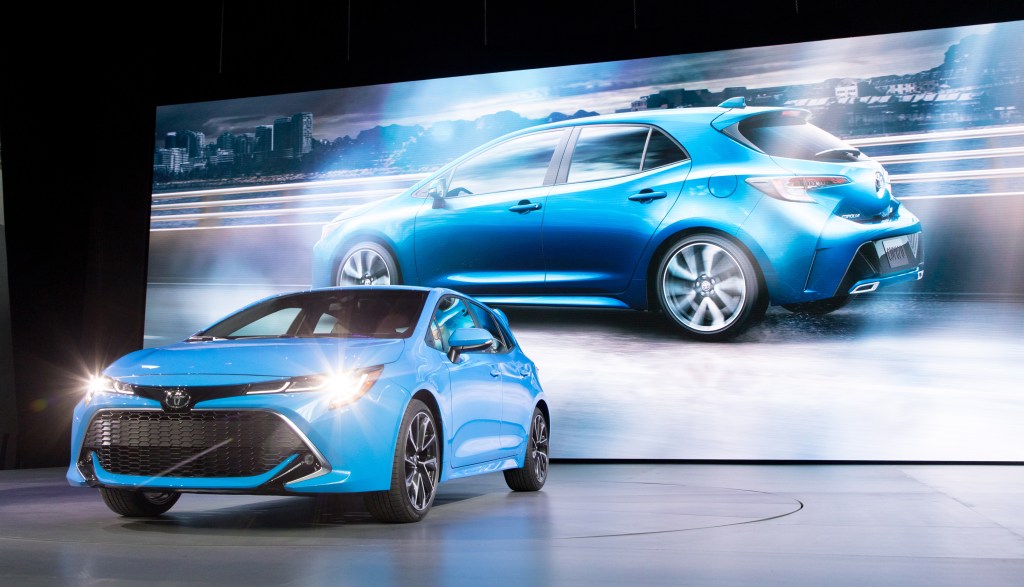 Mid-sized trucks and sedans are getting the shaft, but somehow compact SUVs seem to be staying out of the way. The trend among car buyers is to go really big or really small.
One of those really small beauties is the Toyota Corolla, which showed up in full effect at the New York Auto Show. The Corolla's full lineup of options got a complete makeover, including how Toyota describes the models. Why wouldn't you want to buy a Corolla hatchback with a theme like Shooting Robust with an interior named Sensuous Minimalism?
All tantalizing terms aside, the enhancements for the new Corolla models are more drive-friendly with a wider axle track, an eight-inch touchscreen, and an Entune 3.0 infotainment system that gets Apple CarPlay and Amazon Alexa integration. And while those little added features are great, it's the advanced driver-assistance systems like Toyota Safety Sense 2.0 and automatic emergency braking that add some security to it.
I-Pace, I Like
There were a number of great new SUVs that showed their sensuous curves (still reeling from the Corolla's newfound seductiveness), but it's the hotly anticipated Jaguar I-Pace that stole the spotlight at the New York Auto Show.
The I-Pace seems to be doing everything right including how it's being marketed, how it compares itself next to similar models like the Tesla Model X, and how it's testing so far.
The I-Pace is the driving force behind Jaguar's partnership with Waymo, building out 20,000 vehicles with the electric and autonomous software baked in. The I-Pace comes with a 90-kWh lithium-ion battery pack that can get an 80 percent charge in just 40 minutes. The electric SUV sports a 240-mile range on a fully charged battery, while pumping out a whopping 394 horsepower.
NEXT: 2019 Jaguar I-Pace Priced Less Than Tesla Model X
WATCH
Enjoy the outdoors?
Sign up for daily stories delivered straight to your inbox.