Meet the Gerber Versafix Pro, the last machete you'll ever need.
Sometimes knife collectors get a little ahead of themselves, and get a hold of big, heavy duty knives that they don't, and won't ever really need. If a machete's bought for kicks, it serves no purpose. But if it's bought for actual use, then it better be ready to handle any and everything.
Gerber is no stranger to this rule, and made it known that one of their newest knives, the Versafix Pro, is by no means a blade that's meant to sit on the shelf and be stared at.
For starters, it's a bit more compact than a true machete, with a blade length of nine inches and an overall length of just over 14 inches. The blade material is stainless steel, but has photochemical etching to prevent the blade from getting stuck.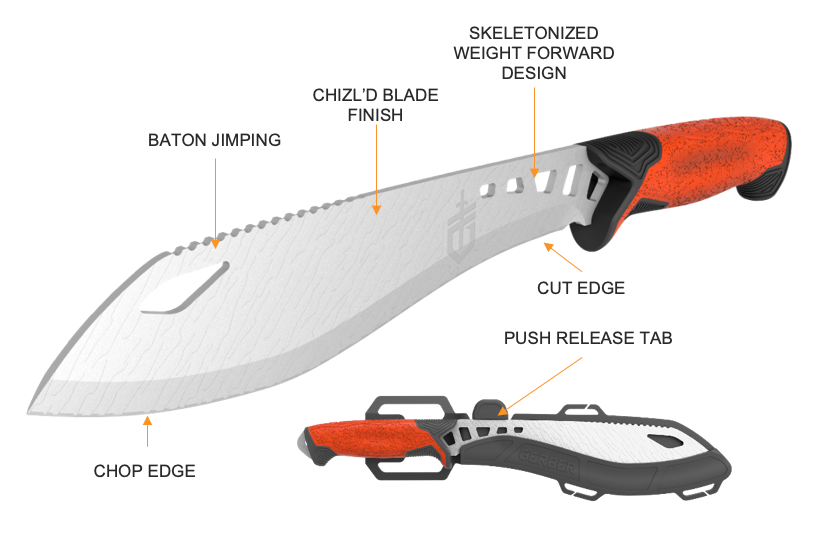 It has a skeletonized, weight-forward design like any good hack knife should, and features baton jimping.
Though it's a little big for regular EDC, the sheath and easy push release tab makes it simple to strap to a belt and consider yourself fit for shredding. The high-retention click-in mechanism works wonders, and keeps the sharp edge of the knife safely tucked away but still accessible with one hand. The sheath is pack-compatible, too.
The handle material is a mix of polymer and rubber, and it has a great, tacky feel to it. You want to talk high performance grip? This thing has it.
You can pick between a black blade with a gray and black overmold handle, or a silver blade with a red overmold handle.
If you're in the survival knife market, Gerber knives is always going to have something that will fit your needs, but the Versafix Pro seems like it could conquer most anything it faces. It'll come in at a retail MSRP of $46.
It's not available yet, but keep your eye on GerberGear.com for its release later this year. Though they have made their mark in the market of folding knives and traditional pocket knives, Gerber shouldn't be discounted; they're a versatile knife brand that's making something for everyone.
NEXT: GERBER ADDS NEW SALTWATER TOOLS TO FISHING COLLECTION
WATCH