I got to test out some great items from Sneaky Pete. Here's what I thought.
For a lot of us, concealed carry is a practical fact of everyday life. Men and women concerned about being as prepared as they can be don't leave home without attaching somewhere on their person, among other things, at least one handgun.
Carrying a handgun is as practical and routine as carrying a wallet or purse, tying our shoes or putting on a jacket when it's cold out.
There are any number of things to consider when carrying a handgun, including concealability and comfort. Sneaky Pete has built a business on those two factors. Last year I purchased one of their concealed carry holsters and several months ago I acquired one of the Sneaky Pete BUGbite ankle holsters and a Plan Ahead Survival Belt.
The holsters are cleverly designed in that they are supposed to look like one of those electronic tablet cases that some people openly carry on their belts. But instead of containing a tablet they hold a handgun. So, you are kind of open carrying a concealed firearm, if that statement makes sense. It's really pretty ingenious.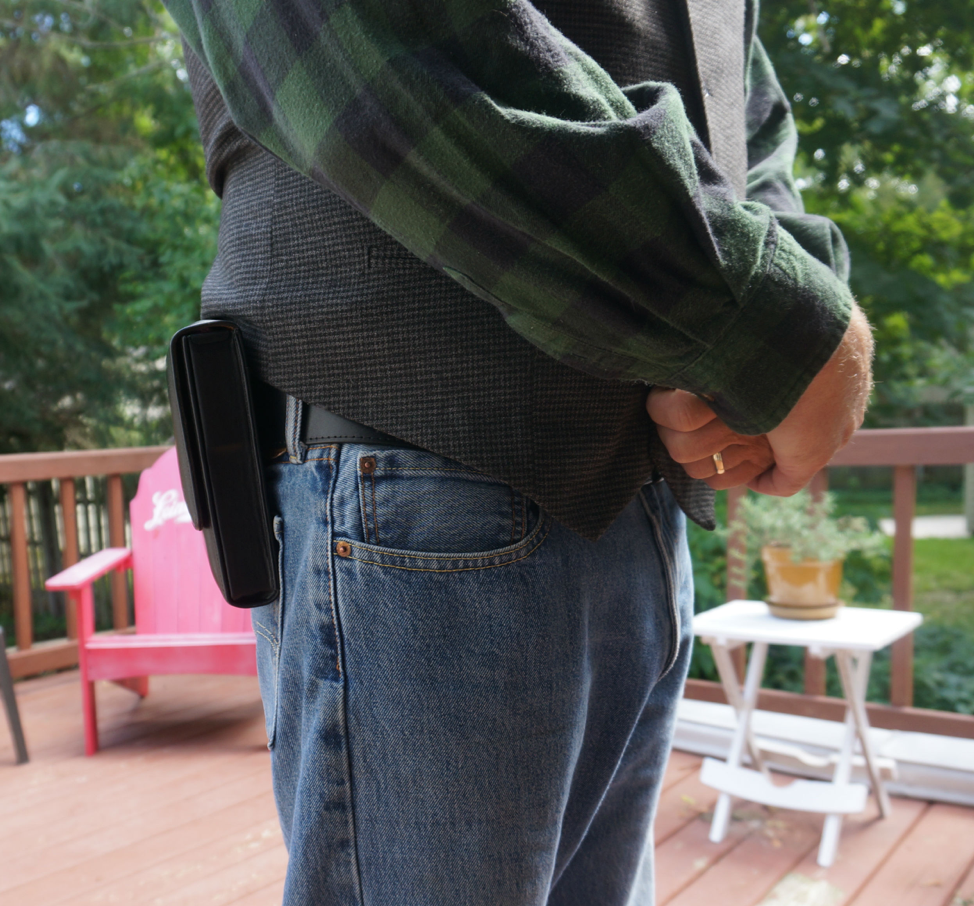 But how practical is such a system? That was what I was wondering when I made my purchase. Would I be able to wear it comfortably, both physically and mentally?
Since I don't open carry, would having my handgun exposed though hidden, so to speak, in an outside the clothing holster be a psychologically easy thing to transition to? I mean, let's face it, if you've always concealed carry, suddenly wearing your gun outside of your clothing, whether it's "concealed" in a case or not, demands a different mindset.
The holsters are built to snugly fit whatever specific semi-auto model you want to carry, so each one has slightly different dimensions. I decided to get one for my SCCY CPX-1.
When it arrived I was a little taken aback by how thick it was. Surely, I thought, nobody would be fooled into believing that I was carrying a tablet or other technology. But I was committed to giving it a fair trial. I wore the case everywhere and paid attention to any curious looks I might get from strangers.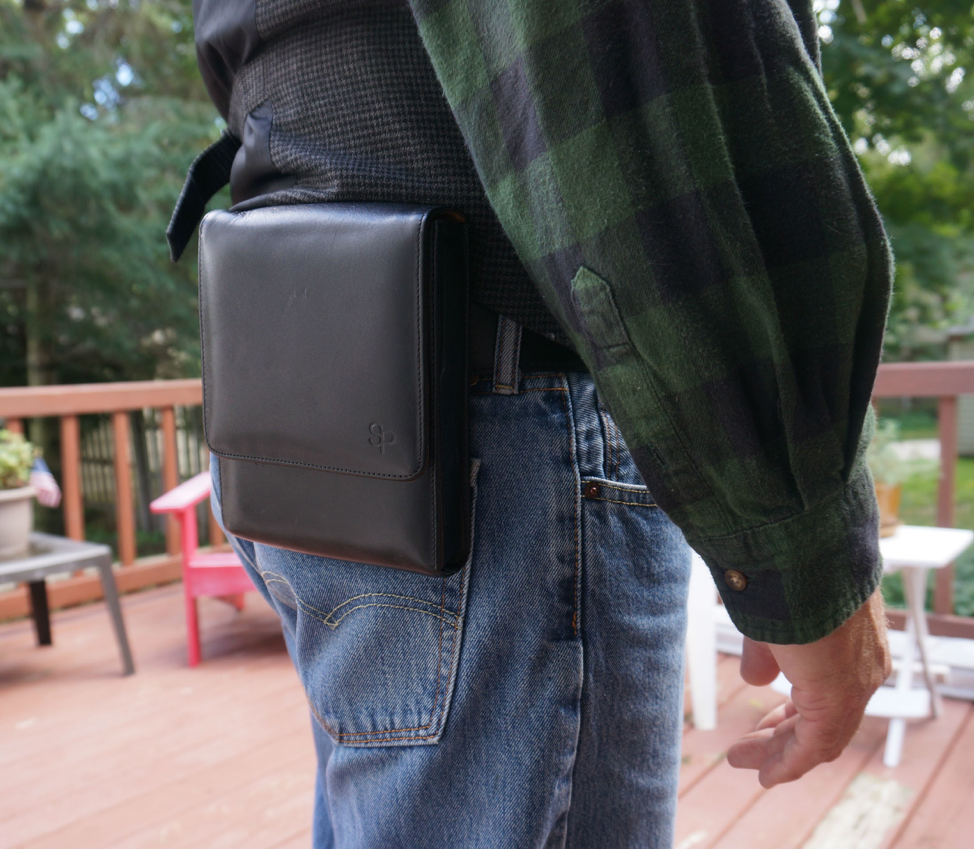 Lo and behold, no one seemed to notice at all. Or at least if they did notice they didn't seem to care or be the least bit interested in the slightly bulky tablet case I was carrying on my hip. I was very pleasantly surprised. I went to busy restaurants, outdoor events and festivals and everywhere I normally go to. I didn't receive so much as a curious glance, at least not any that I noticed.
Honestly what concerned me more was my own awareness of the holster. But the more I wore it the easier it became, until after a couple of weeks it got the point where I too practically forgot I was wearing my handgun outside of my clothing. It truly was concealed carry! Hats off to Sneaky Pete for coming up with this concept.
Now, I do not always use my Sneaky Pete holster. I find that it doesn't work real well should I wear a suit coat. I feel that the bulk of the holster prints too much under my suit coat for that application.
By the same token, it is fantastic when I'm dressed sparingly and can't really use my regular concealed carry holster, such as when I wear only a tucked in shirt and vest. In that case, Sneaky Pete is ideal. I now have two concealed carry options that go well with whatever style of dress I happen to choose.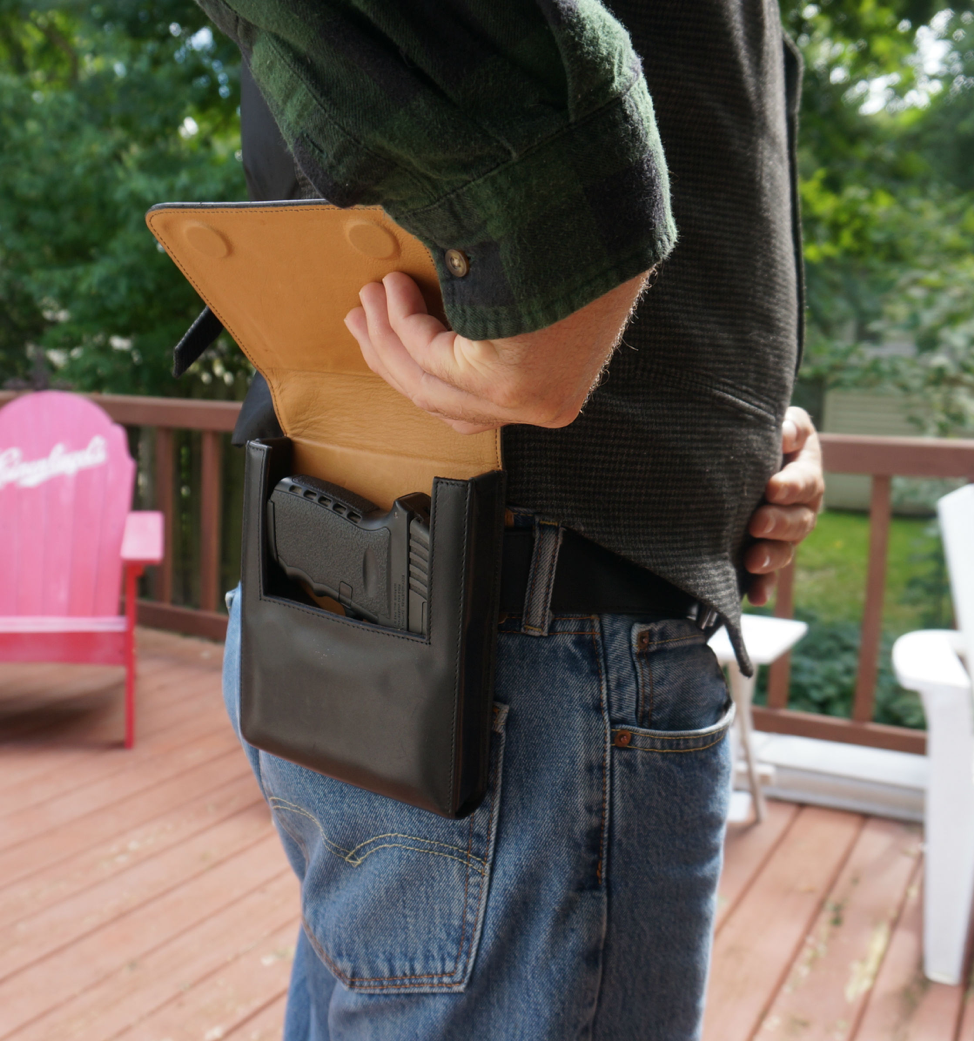 The holster is easy to access and handgun retrieval is a simple and smooth matter. No problems there. The only issue I had with it was when I'd get into my car. If not positioned on my belt properly the holster would tend to create a bit of discomfort as I sat in the car seat. I wear it further back on my belt than I do my regular holster, and I'd have to maneuver it slightly to accommodate sitting in a bucket seat.
I was so pleased with the holster that I next acquired a Sneaky Pete BUGbite ankle holster and Plan Ahead Survival Belt.
The Plan Ahead belt is a fairly thick waist belt with two small, side-by-side pockets located in the center interior. They aren't very large but they're big enough to hold 1) a slightly longer than 2-inch Gerber STL 2.0 folding knife (which is included with the belt) and 2) a key or two, a couple of folded paper money bills and possibly a small memory card or something similar.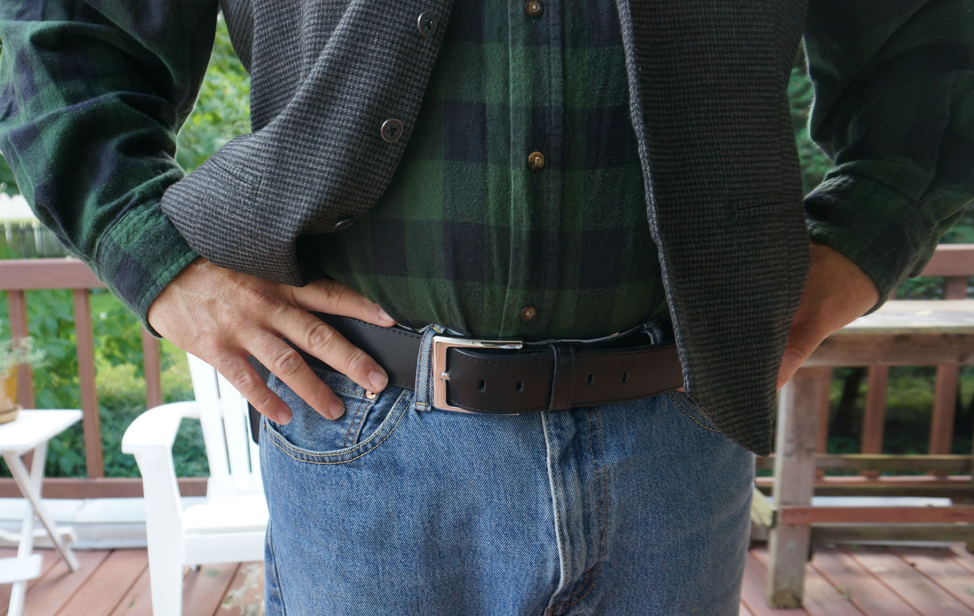 It's a good-looking belt that comes in brown or black and sports a plain silver buckle. I wear it when I want to dress a little nicer, as it isn't quite as sturdy as my thick Versacarry gun belt. It can indeed comfortably hold up to a medium-size sidearm, I've just become accustomed to a thicker and heavier belt when I carry a handgun on my hip. It does, however, work great with the Sneaky Pete Conceal Carry case. When I'm dressed up a little, with a vest and tucked in shirt, the Plan Ahead belt and Conceal Carry holster case is a great combination.
One thing I would like to see Sneaky Pete change with the belt is the addition of another buckle hole. There are five holes in the belt. Six would be preferable for me, as I've lost some weight and had to punch another hole in the belt to accommodate my reduced waist size.
These kinds of belts are great confidence items. By that I mean that they add an almost subconscious level of confidence that should an emergency arise where you need an extra blade, money or key you have those items hidden on your person. Of course they're not easy to access, but that also means that they're not easy for others to find or access either. I like that.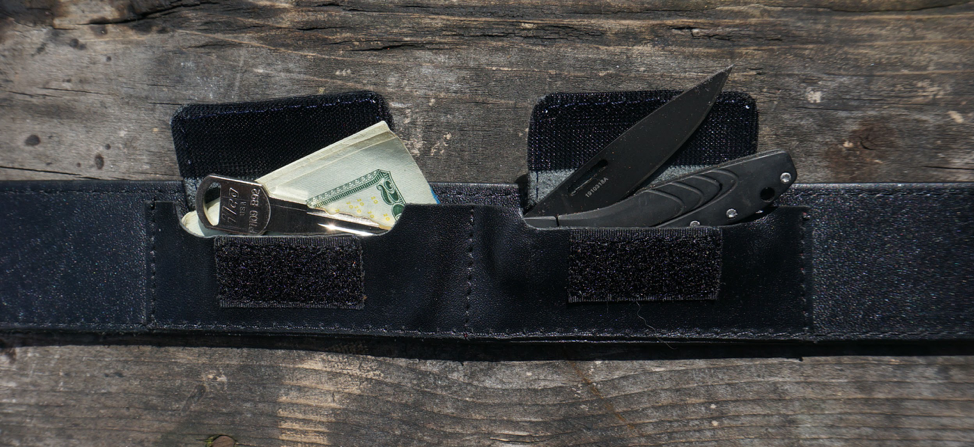 With the Plan Ahead belt I also acquired a BUGbite ankle holster, which coincidentally pairs beautifully with the belt because I either forego carrying the Sneaky Pete Concealed Carry holster or don't hip carry a weapon at all when I'm dressed up and am wearing the Plan Ahead belt. But I can still go armed with the BUGbite ankle holster. It's also a great choice should you wish to carry two handguns - one on your torso and one on your ankle.
The BUGbite is a nylon and neoprene calf and ankle sleeve that you slip over your foot. It securely holds a small to mid-size frame pistol in a stretchable nylon pocket on the side of the holster. Sneaky Pete says that "The BUGBite keeps your firearm properly oriented upwards at all times, and because the design lacks velcro or snaps, removing your pistol when you need it is 100% silent, unlike almost every other type of holster." I have found this to be an accurate statement.
I also found that the holster carries my small Ruger LCP, SCCY CPX-1 or a snub nose .38 Special revolver. The holster is designed for sleeker semi-autos and the nylon pocket does tend to grab hold of the sights on the revolver, making unholstering less smooth than with a semi-auto. But it does work.
I choose what gun I'm going to carry in the BUGbite depending on what kind of pants I'm wearing. Blue jeans call for the small Ruger LCP, baggier slacks or khakis increase my options as printing is less of an issue.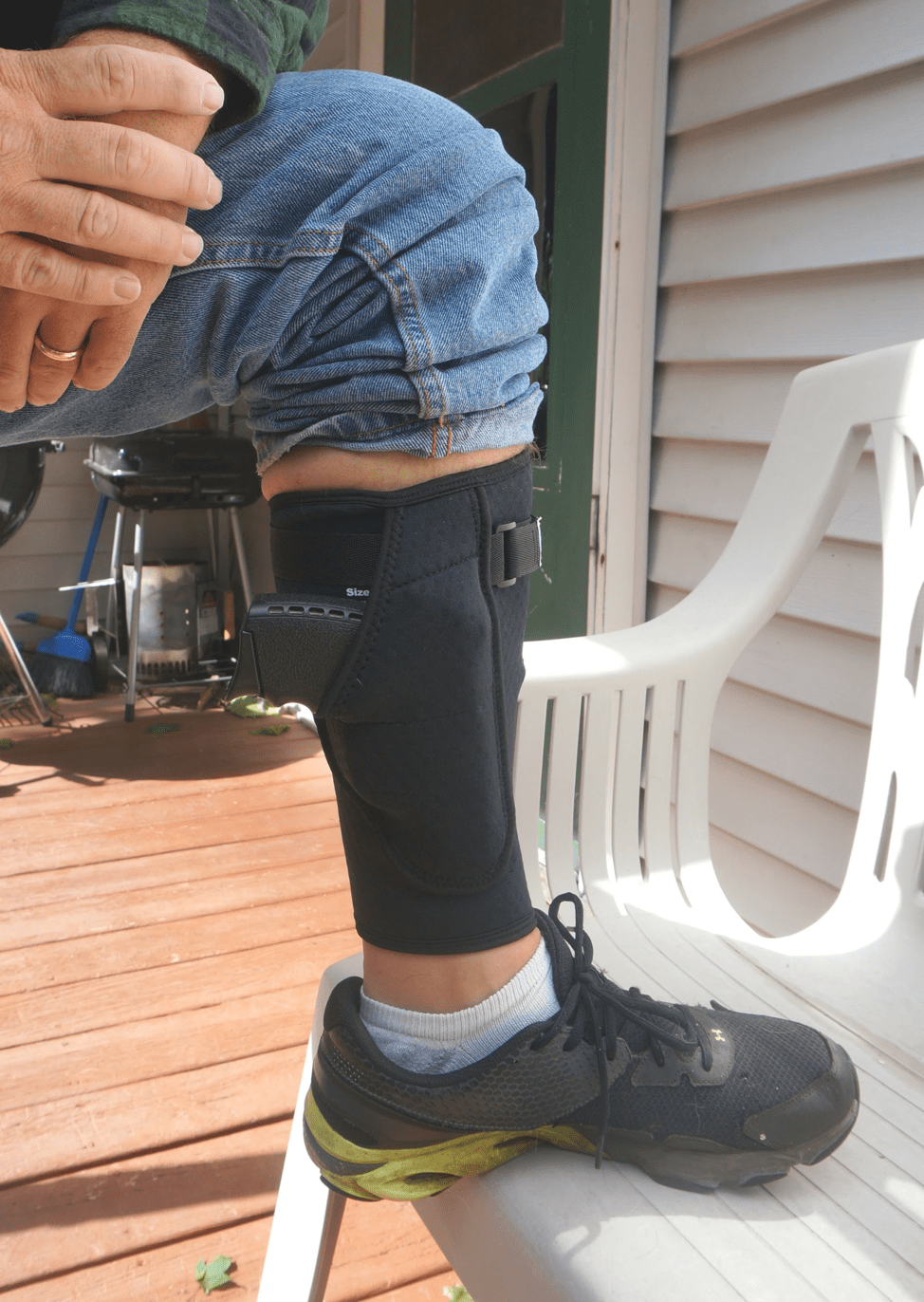 It's a very comfortable holster, and the more you wear it the less you seem to notice it. I think it's also a great holster for quick and easy weapon access when you're in your automobile. It also has a small stretch pocket on the other side of the holster where you can carry a spare magazine.
One question I have concerning the BUGbite is whether or not the pocket will stretch and lose some of its tension over time. I've only worn it for about a year now, and it's still holding up nicely, but the material is showing some memory loss. I imagine over time you may have to purchase another BUGbite just to keep your handgun secure in the holster. Since there are no snaps or velcro, it makes sense that it will eventually lose tension. No system is perfect, there are trade-offs with whatever holster you choose to use.
But I'm extremely pleased with the performance of each of these Sneaky Pete items: the Conceal Carry Case, the Plan Ahead Belt and the BUGbite Ankle Holster. They have added options to my handgun carry system that I didn't have before, which is pretty fantastic.
Like what you see here? Experience more articles and photographs about the great outdoors at the Facebook page, Stumpjack Outdoors.
NEXT: HOW TO REALLY SIGHT IN A RIFLE WITH ONLY ONE SHOT
WATCH