Now that her owner works from home there's a new system for awarding the Employee of the Month, and so far Meeka has swept the competition.
Michael Reeg, District Sales Manager for a company that manufactures drawer slides, began working from home a few years ago. While the remote position certainly comes with its set of perks, the switch took a little getting used to.
"Transitioning to a home-based position was quite a change," Reeg said in an interview with The Dodo.
"It's quiet here. You need to get yourself fired up and excited about the day. Having a faithful companion in the office certainly helps."
Luckily, his pups Meeka and Kya are there to share their company, and some of the workload, while Reeg gets acclimated with his new routine.
Well, maybe the pair may not be too much help in getting deadlines met, but their presence is what really helps keep Reeg on track, especially Meeka.
"There are times that I'll even talk to her as I work through a problem or map out a customer solution. I try out my sales pitches and presentations on her. She's not easily impressed or swayed. All she hears is 'blah, blah, blah, Meeka' — but she likes to hear my voice and I love that she pays attention. Having her in my office all day is something that we both look forward to."
Meeka has been so helpful to Reeg that he's even implemented an Employee of the Quarter award to recognize her faithful efforts! Of the four quarters the competition has been running so far, Meeka has impressively won every single one, all of which have been framed and can be found hanging in their home office.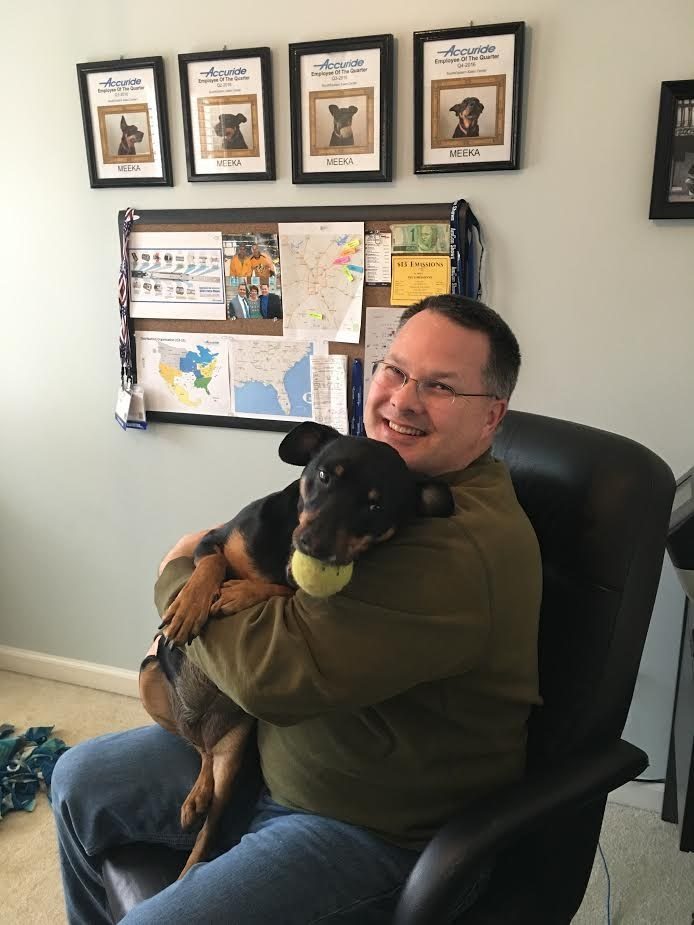 Reeg explained that Kya hasn't won any awards yet as she's his wife's dog, and sometimes doesn't even bother to show up to work (you're never going to move up with that attitude, Kya!) He does have high hopes for Kya this upcoming quarter and assures that the battle for Employee of the Quarter isn't over yet.
"Maybe a change is needed for one quarter, so that Meeka doesn't feel entitled. I want her to stay sharp."
Just goes to show how the presence of a pooch can really liven up an office!
Images: Michael Reeg via The Dodo
WATCH NOW: Photos on Dog Toys Helps Millie Miss Her Dad Less

Enjoy the outdoors?
Sign up for daily stories delivered straight to your inbox.