This month, Lamborghini donated a special edition Huracán to Pope Francis to auction off for charity.
The rear wheel drive Lamborghini Huracán LP580-2 coupe was specifically customized to reflect the Pope and the Vatican setting. Its body is painted with the livery colors belonging to the state's flag, including a Bianco Monocerus (white) color and large Giallo Tiberino-themed stripes in the classic papal yellow-gold tradition on the hood, roof, and doors.
Its delivery took place in front of the Vatican's Casa Santa Marina, the Papal residence where the Pope emerged alongside Lamborghini head Stefano Domenicali to participate in a mini ceremony, with the Pope blessing and signing the car's hood.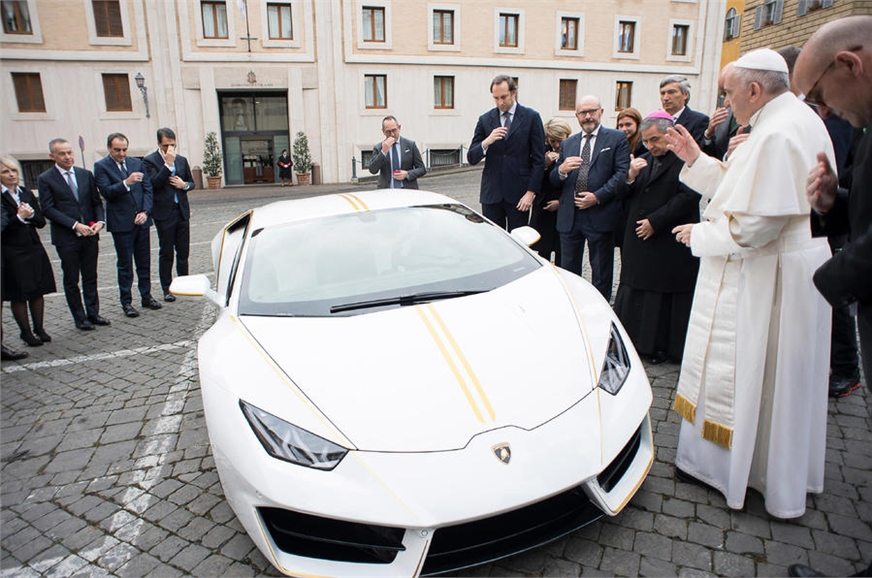 There are no plans to actually drive the vehicle.
In a statement, the Vatican said the Huracán would be auctioned off via Sotheby's, the international auction house based in London. All funds raised will go to three or four charities of the pope's choice.
Some organizations mentioned in news reports include Aid to the Church in Need, John XXIII Community, Gicam and Friends of Central Africa. The charities focus on displaced Christians in Iraq, medical aid to Africa, and marginalized members of society such as the homeless and sex workers.
The Huracán has a retail price of approximately $211,000 (?180,000 euro). Look for it to fetch a lot more at auction, similar to how an earlier Harvey Davidson gifted to the Pope was sold for $327,000 at a heavenly 97 percent markup.
The Huracán auction takes place on May 12, 2018, at RM Sothebys.
NEXT: 3 ALTERNATIVE TRANSPORTATION STARTUPS THAT HAVE OUR ATTENTION
WATCH
Enjoy the outdoors?
Sign up for daily stories delivered straight to your inbox.